Asia Pacific emerges as frontrunner in race to harness wind power
The conditions for setting up offshore wind farms are very good in this region, given the wind speeds, said the head of a multinational power company.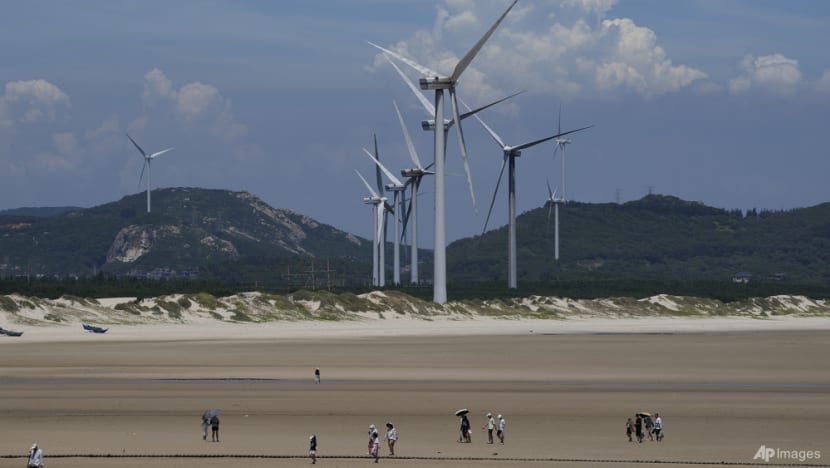 SINGAPORE: Countries are racing to harness the inexhaustible power of wind. Wind farms are popping up onshore and more crucially, offshore, energising millions of households.
They are everywhere from Europe to Asia, which is now a global leader with China a major driver.
"It's very clear that …  Asia Pacific is going to be the largest market by far going forward," said Mr Robert Liew, principal analyst of power and renewables in Asia Pacific at consultancy group Wood Mackenzie.
"In our projection, we see the cost of offshore wind in China almost competing at the level of coal power by the end of this decade. That's incredible," Mr Liew told CNA.
"Japan, Korea, Taiwan – they're looking to kind of slow down nuclear, slow down coal and replace that with offshore wind. So they're going to ramp up too."
Danish multinational power company Orsted is among the firms tapping into the Asia Pacific with a focus on one of the fastest-growing markets, Taiwan.
IMPORTANCE OF ASIA PACIFIC
The firm's president of Asia Pacific business Per Mejnert Kristensen said he believes that the region is very important in terms of the green transition.
"Orsted has a vision to create a world that runs entirely on green energy. And if you want to do that, Asia Pacific is obviously very, very important," he said.
"It's an area where a lot of energy is consumed. It's also an area where we are seeing the effects of greenhouse gas emissions."
He added that the conditions for setting up offshore wind farms are very good, given the wind speeds. Taiwan has the potential to become one of the frontrunners in the transition into renewables, he said.
Wind is the largest and fastest-growing source of renewable power globally. It generated nearly 8 per cent of all energy last year. Combined with solar, it tallies to 12 per cent.
However, fossil fuels are still generating 80 per cent of total energy. Environmental professionals say that even with wind power generation seeing double-digit annual growth, it would not be enough.
NEED TO INCREASE WIND ENERGY
The Global Wind Energy Council said yearly wind energy installations must scale up by four times in this decade to help keep the worldwide average temperature rise below 1.5 degrees Celsius.
Energy think tank Ember said wind power must account for more than 20 percent of global electricity by 2030 if net-zero emissions goals are to be achieved.
Growth may be the only solution for the wind industry, and this requires bigger turbines, bigger blades and bigger farms.
China now boasts the largest offshore wind turbine at more than 250m tall. Its 128m-long blades can sweep an area equivalent to around seven standard football fields.
But while bigger is better, it presents another problem.
THE ISSUE WITH LARGE WIND FARMS
Giant wind farms are more complicated to install and maintain. They require very specialised and expensive ships, according to Singapore-based fund Seraya Partners.
Last year, the investment firm launched Cyan Renewables, a company that owns, operates, and leases vessels for offshore wind farms.
"We enable wind farms to be built across Asia. And we provide the vessels, specialised vessels, … to help build and maintain these wind farms," said the fund's chairman and managing partner James Chern.
However, Cyan Renewables is trying to solve a major problem – the demand for their ships far outstrip supply.
"There are only five or six major shippers in Asia, maybe one in Europe. They're still churning out new vessels. And generally, it takes about three years to build new vessels," said Mr Chern.
"But the demand has increased by tenfold. So, there's a natural mathematical supply-demand gap that cannot be overcome, structurally, at least for the next 10 years."
Wood Mackenzie's Mr Liew said that advanced vessels need to be installed in the oceans but differentiating rules in every country may prohibit foreign vessels from operating within their territories.
"You have that gap where there's not enough specialised vessels, and you have that gap in policy where the government does not allow so many foreign vessels to come in. So that's where the bottleneck is happening," he said.
ARE FLOATING WIND TURBINES THE FUTURE?
While challenges remain, nothing seems insurmountable for companies such as Orsted. It is also focused on the next frontier – floating wind turbines.
"In the longer term, the world is going to have to transition into also having floating offshore wind. The oceans are vast and wind speeds are very good at the oceans. But you don't have shallow seas everywhere to put up fixed bottom offshore wind turbines," said Mr Kristensen.
In "not too many years", the building of floating offshore wind will take off, he predicted.
"It is a technology that is not yet fully matured. Obviously, there are only a few demo projects in place right now. But Orsted will also be one of the frontrunners when it comes to floating offshore wind and we have a number of projects that we are proceeding with now," he said.