Couple in Indonesia's 'crazy village' open their home to those with mental illness
Ahead of World Mental Health day on Oct 10, CNA traces the journey of how Heru Setyawan and Lamini started volunteering and helping hundreds of people with mental health problems.
PONOROGO, Indonesia: Sobi had just finished her lunch when she suddenly walked towards a tree.
Under the tree, the 65-year-old squatted and lifted up her yellow dress. Then, she defecated. 
Housewife Lamini, who goes by one name, tried to stop her in vain.
As a caregiver of people with mental health problems like Sobi, she and her husband Heru Setyawan are familiar with such situations.
"I'm used to it, so I don't think it's disgusting anymore," Lamini, 44, said when interviewed by CNA.
At their home in Paringan village, often dubbed "crazy village" in East Java's Ponorogo regency, they open their doors to people with mental health problems.
They have named their place Margo Widodo, which means path to goodness in Javanese language. The couple hopes that their home and way of life will lead to wonderful things.
They have three rooms in their backyard specially built to house people with mental health problems.
The duo have been doing voluntary work for 15 years and currently take care of eight women who were sent to them by their own families. 
"It is my calling," said Setyawan when asked why he has taken in the strangers.
Lamini said that most of the women they are housing have been diagnosed with schizophrenia. 
She admitted that she was initially not fond of the idea of having strangers with mental health issues in her home.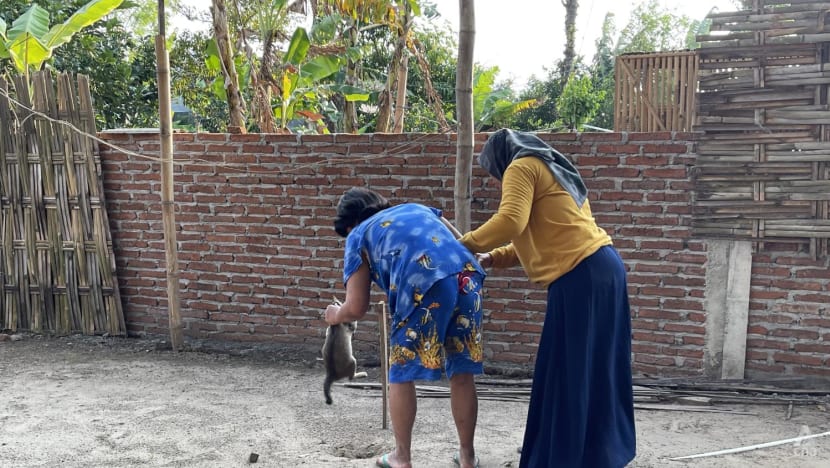 FROM VOLUNTEERING TO OPENING THEIR HOME
It was high-school graduate Setyawan, 53, who first got involved.
When he was still in secondary school, one of his older brothers suffered from depression and hallucinations.
As the seventh child out of eight, Setyawan was tasked to care for his brother because his other siblings had other responsibilities.  
Since there was no psychiatric hospital in Ponorogo, Setyawan had to take his brother for treatment in the regency of Malang and Solo in Central Java.
But in the 1980s, it was about a five-hour drive away from his village.
The bus journeys were often tiring but Setyawan was committed to helping his brother.
Over the years, word spread that Setyawan was familiar with how to travel to Solo and Malang for mental health treatment.
The people of Ponorogo started to ask for his help to take their loved ones for treatment.
Setyawan did not mind helping out and continued to do so while working as a village secretary in Paringan, which is located within Ponorogo regency. He married Lamini in 1998. 
In 2005, Setyawan had to stop volunteering. "I had to stop doing it cos I had tetanus," he recounted. He almost died but eventually managed to recover. 
He told CNA that the near-death experience made him decide to dedicate his life to helping people with mental health problems. 
In 2007, someone asked Setyawan to pick up two men, aged 37 and 45, who had been discharged from a psychiatric hospital.
As their families did not welcome them back, Setyawan decided to take them home.
Lamini remembers being shocked when Setyawan came home with the strangers.
"To me, it was just strange. Why should we have them at our house? 
"We were still a young family and I wanted attention from my husband but was forced to share it with strangers."
Eventually, she began to understand why Setyawan wanted to help.
"I realised that people who suffer from mental health problems also need attention, affection and love like us normal people," Lamini recounted.
Setyawan added: "And now actually it is the other way around. She is the one who takes care of them."
For the next 10 years, they took in mainly men who suffered from mental health issues.
But in 2017, they decided to house only women as Setywan started to take a step back due to health reasons and Lamini became the main caregiver. 
Setyawan and Lamini do not charge a fee for looking after those with mental health problems. However, most of the families give the couple a small token sum to help out with their expenses. 
When funds run low, the couple would draw from their savings. They have also received donations from the public. 
Margo Widodo can take care of 12 people at once.
When CNA visited in mid-August, they were tending to eight women aged between 29 and 65. They call them their children.
Three are Ponorogo natives, and the rest are from other parts of East Java province. The pair have also sheltered people from outside of Java like Kalimantan and Sumatra. 
SHORTAGE OF MENTAL HEALTH RESOURCES
According to 2018 statistics by the Indonesian health ministry, about 9.8 per cent of the country's 270 million people suffer from mental health disorders.
The statistics also revealed that in every 1,000 households, seven of them have at least a member who suffers from a severe mental health problem. 
Last year, the health ministry said that the prevalence of people in Indonesia having mental health problems is about one in five.
Additionally, in 2020 about 6,500 people with mental health problems are believed to be shackled in the archipelago, according to the health ministry.
This practice is common in rural areas where access to mental health treatment is an issue.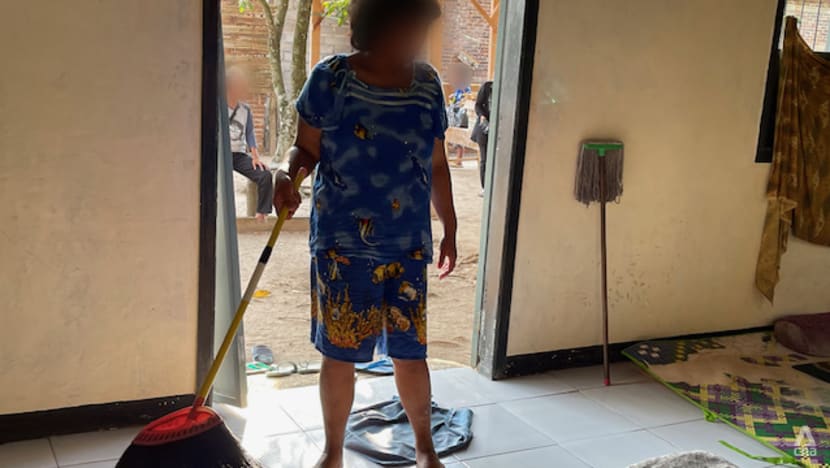 Despite the high number of cases nationally, there are only about 50 psychiatric hospitals in Indonesia. As of last year, out of 34 provinces in the country, six did not have a psychiatric hospital. 
In this context, the work of Margo Widodo has received media attention. In an interview, Setyawan was asked how many people in Paringan village suffered from a mental health disorder.
Setyawan replied that the figure was about 60 people out of a population of around 6,000, but according to him, the journalist reported it as 60 per cent of the village's population instead.
The report quickly went viral and people started referring to Paringan as the "crazy village".
"WE ARE VERY SAD BECAUSE OF THE STIGMA"
This lowered the self-esteem of Paringan villagers.
"We were very sad because of the stigma. It made villagers feel down and not confident when they mention they are from Paringan," said village head Suwendi who goes by one name. 
The villagers have reacted to the stigma by working on various community improvement projects to show that they have much to offer. 
For example, the villagers produced their own mineral drinking water called Bali water.
Their hard work has paid off and the village is now being recognised. Last year, Paringan won second place for the best village in East Java.
The contest was organised by East Java's community and village empowerment agency. 
The media attention on Paringan has also resulted in more mental healthcare resources being available locally.
In Indonesia, every district usually has a health centre which offers the most basic form of public healthcare.  
But now Paringan village has a local health centre, specifically set up to handle mental health cases.
It was set up by the government as officials from East Java's health agency heard that there were many people in the village with mental health problems.  
To Setyawan and Lamini, the health centre makes their job easier as it provides medical services for those who stay with them.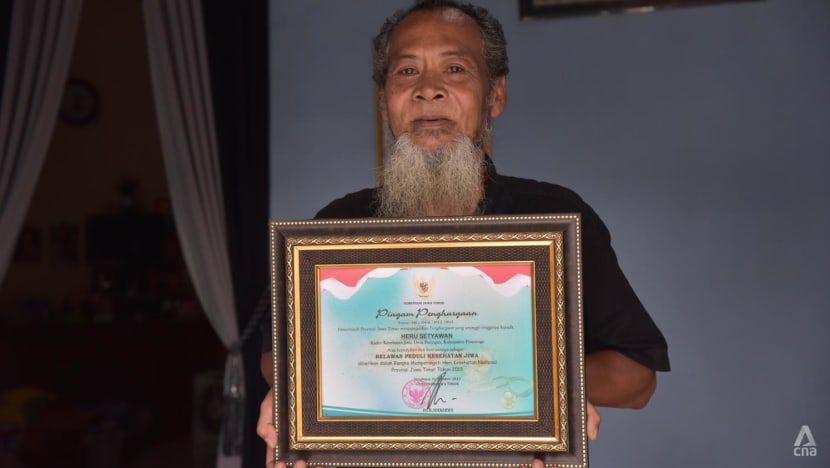 Therefore, the pair can focus on tending to the women's daily needs and ensuring that they take their medications. 
They train the women to live normal and self-sufficient lives as far as possible, doing household chores like sweeping the floor and washing the dishes.
Those living in Margo Widodo also make handicrafts together with Lamini and learn hydroponic farming. 
Some of the women have been at Margo Widodo for a few months, but there are others like Sobi who have been there for years. 
Siti, 33, has been there for four months. She suffered from depression as she felt that her life did not work out as planned. 
But she is getting better slowly. "I hope I can go back home. I want to continue living my life, a better life," she told CNA.
Meanwhile, Danang, 36, has trusted Setyawan and Lamini to take care of his sister Dian for the past eight years.
Danang said that he has seen improvements in his 34-year-old sister's condition since living at Margo Widodo. 
"She is more obedient living here. When people are (mentally) ill, they are unstable, sometimes they are emotional and sometimes they digress.
"When she was at home, she would fight my mother and me but here, she is obedient. She is manageable and can do tasks such as sweeping the floor and buying groceries," he said. 
When CNA was at Margo Widodo, Dian seemed happy to receive visitors.
Setyawan's and Lamini's good deeds have also not come unnoticed. 
In 2013, Setyawan was given a certificate of appreciation by the governor of East Java for his work as a mental health volunteer. 
"This is my most precious treasure," Setyawan said as he showed his certificate.
Over the years, the couple said they have helped hundreds of people with mental health problems but their journey is far from over. 
"I hope there will be future generations who will take care of people with mental health problems, whether in East Java or in other provinces," said Setyawan.
The full names of those with mental illnesses and their family members have been withheld in order to protect their identity.
Watch CNA Leadership Summit live on 10 October 2022 from 1.30pm SGT via cna.asia/leadership-summit.