By the age of 65, one in two Singaporeans could develop severe disability in their twilight years and require long-term care. This statistic weighs heavily on the mind of Ms Sheila Koh, 64, who is single.
Influenced by the hardships her late family members experienced towards the end of their lives, Sheila Koh is adamant that her story will play out differently.
The experiences of her late father and older brother are not far from her thoughts either. "My father was in his early 70s when he started losing muscle strength due to ageing. It gradually affected his quality of life, until he passed away at 93," said Ms Koh, the youngest of four siblings. "I also had a brother who was hospitalised for half a year after a bad fall. Because he had not taken out insurance, his family had a hard time paying for his long-term care."
That is why Ms Koh, a former shop window designer who worked in Indonesia for 20 years before returning to Singapore in 2012, feels strongly about leading a healthy lifestyle and planning for the future. She watches what she eats and engages in activities to keep both mind and body active. She has also signed up for CareShield Life to help cover her long-term care costs if the need arises.
THE IMPORTANCE OF A SAFETY NET
Ms Koh's father's health went steadily downhill once he started experiencing age-related muscle loss, also known as sarcopenia. It took a toll on his mobility as he went from using a walking stick to being wheelchair-bound. Eventually, he lost the ability to feed himself. "His food had to be blended, and his drinking water had to be mixed with a special powder so that it could be eaten like a jelly," Ms Koh recalled. "I told myself, 'I don't want to become like my father when I grow old.'"
She also shared that her late brother, a divorcee who lived alone, had no one to care for him at home after his fall and was eventually placed in a nursing home by his son. Shortly after, her brother was also diagnosed with Alzheimer's disease and Parkinson's disease, which require more complex and costly care needs.
"Seeing what my father and brother went through, I felt that I should have a safety net in place, especially since I am single and have no dependants," said the fiercely independent senior. Being single, Ms Koh does not need a lot of money to get by. However, it also means she would not have loved ones to care for her if she were to become ill or develop a disability in the future. Her two other brothers are now in their 70s and have their own health issues and families to take care of.
"SEEING WHAT MY FATHER AND BROTHER WENT THROUGH, I FELT THAT I SHOULD HAVE A SAFETY NET IN PLACE, ESPECIALLY SINCE I AM SINGLE AND HAVE NO DEPENDANTS."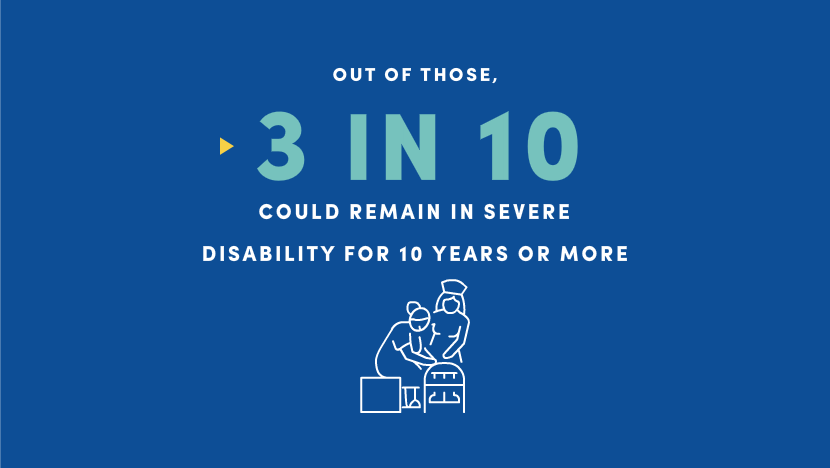 A stickler for future-proofing her life, Ms Koh bought a life insurance policy for herself when she was 24. She has since cashed it out because she does not have any beneficiaries. CareShield Life, on the other hand, suits her needs and current circumstances very well. So, she jumped at the chance to sign up for it in 2021, even though the insurance scheme is optional for Singaporeans in her age group.
"You never know what will happen to you tomorrow or even later in the day," she said. "You could be paralysed from a fall or get dementia. I do not want to be a burden to others."
LIVING WELL, PLANNING WELL
Upgrading from ElderShield to CareShield Life was a no-brainer for Ms Koh. For one thing, the ElderShield payouts would end after six years, whereas CareShield Life will provide her with higher monthly cash payouts that last for as long as she has severe disability.
"I also like that I can pay for my CareShield Life premiums using my MediSave," she added. "And at my age, I only need to pay the premiums for 10 years to enjoy lifelong protection."
This comes as a huge relief to her as she was unfortunately the victim of a scam and lost most of her retirement savings. To start afresh, Ms Koh, who prides herself on being "resourceful", took on various jobs during the pandemic, including as a private hire driver, supermarket cashier and market research surveyor. She has since found a stable niche acting in television commercials, which allows her to lead a modest and happy lifestyle.
"I ALSO LIKE THAT I CAN PAY FOR MY CARESHIELD LIFE PREMIUMS USING MY MEDISAVE. AND AT MY AGE, I ONLY NEED TO PAY THE PREMIUMS FOR 10 YEARS TO ENJOY LIFELONG PROTECTION."
Besides keeping herself busy with acting gigs and church activities, Ms Koh tries her best to stay healthy and prevent illness. She was very sporty in her younger days and enjoyed hiking, camping and windsurfing. "As I age, I don't have the physical strength to go deep into the forest like I used to. As such, I had to adjust my routine," she admitted. Nowadays, she goes for weekly Zumba Gold and line dancing classes to stay fit. She also plays online Sudoku and jigsaw puzzle games to keep her brain active.
"We have to exercise regularly and look after ourselves so that we have the strength to use the stairs and walk long distances. If you just sit at home and face the four walls, your health will deteriorate," said Ms Koh.
A self-confessed "foodie", Ms Koh has borderline diabetes but monitors her condition by going for blood glucose tests every six months. She has cut down on her favourite mala hotpot and mutton soup, and takes supplements like red yeast rice, blueberry extract, garlic and vitamin C. Sometimes, she also attends health talks on topics that interest her, such as tips for achieving a healthy diet and fighting sarcopenia.
MAKING HER LATER YEARS BETTER
Ms Koh's dreams for the future are simple: To continue staying fit and active. "I'm not the type to just sit and watch TV at home. I have to be out and about, even if it's only to window-shop. I like to stay curious," she said, adding with a laugh that she brings along an umbrella whenever she goes out, rain or shine, to protect herself from the elements.
But no stranger to hard knocks, she is also prepared in case her health declines to the point where she is no longer able to take care of herself. "Anything can happen; I could live to 100 years! No matter what happens, I want to plan for myself," said Ms Koh. She has already chosen her preferred nursing home — one which organises many in-house activities so that she will not get bored. With the CareShield Life payouts, she will be able to afford the cost of staying there over the long haul.
GET COVERED FOR LIFE
Sign up for CareShield Life by December 31, 2023, to enjoy participation incentives of up to S$4,000.
FIND OUT MORE