The last two years have shown us how volatile the world can be. Besides the global impact of the COVID-19 pandemic, we've seen how the rise of innovative new technologies like artificial intelligence (AI), big data and the Internet of Things are powering the ongoing shifts towards hybrid work, sustainability and digitalisation.
Embracing change is no longer optional. To thrive in this new normal, leaders need to equip themselves with several critical skills: Strategic, transformative leadership; a tech-powered, culturally-savvy approach; and an innovative mindset for driving sustainability and purposeful change.
EQUIPPED TO DRIVE FUTURE INNOVATION
To successfully adapt to change and find solutions to evolving challenges, innovation is key. Terry Smagh, managing director and group vice president of Asia, India and Korea at Teradata, developed the capacity to innovate through Nanyang Business School's (NBS) Nanyang Executive MBA (EMBA) programme.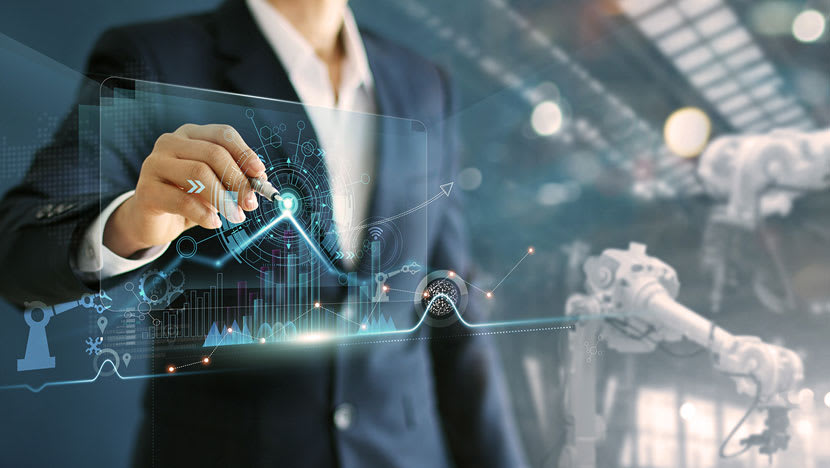 The NBS EMBA alumnus said: "Things are developing quickly in the post-COVID world, and business leaders need a massive shift in perspective. To keep up, we need to continually upskill and upgrade. I believe there is no better time to take up the opportunity to redesign your thinking than now."
Smagh's preparedness to embrace change by thinking out of the box is a trademark of Nanyang Technological University, Singapore (NTU Singapore), which leverages on its strengths in technology and innovation to equip its students with the relevant skills to lead in a digital age and to solve business and societal challenges such as sustainability, building resilient supply chains, and an ageing population.
"THINGS ARE DEVELOPING QUICKLY IN THE POST-COVID WORLD, AND BUSINESS LEADERS NEED A MASSIVE SHIFT IN PERSPECTIVE. TO KEEP UP, WE NEED TO CONTINUALLY UPSKILL AND UPGRADE. I BELIEVE THERE IS NO BETTER TIME TO TAKE UP THE OPPORTUNITY TO REDESIGN YOUR THINKING THAN NOW."
Similarly, other NBS programmes also draw on these strengths of the university. Learning to integrate tech into business processes gives participants a broader view of how business operations are impacted by emerging technologies such as AI and data analytics.
MSc Accountancy graduate Debashish Maity, manager at SS&C Technologies, highlighted how analytics and automation were just emerging trends in the finance industry pre-2020. "Now, the pandemic has catalysed the need to ride on those trends and companies are compelled to take bolder, faster, and more concrete steps to adopt new technologies."
Lily Tran, who holds an MSc in Business Analytics from NBS, said that her programme's marketing and customer analytics module taught her to wear both business and technology hats. "Our professor taught us to spot potential AI areas while sharpening our business strategy. We learnt how to optimise a process and to generate a new business model alongside tech considerations," the project manager at Techcombank added.
LEADING WITH PURPOSE AND IMPACT
To address urgent global issues in business, society, and environment, an effective leader needs to be able to form new perspectives that create value and forge new paths. NBS nurtures in its students an interdisciplinary perspective when approaching practical challenges and in designing sustainable solutions.
Collaborating with the Earth Observatory of Singapore at the Asian School of the Environment at NTU, professor of finance and associate dean (research) Chang Xin, Simba engages in research on sustainable finance, which integrates environmental, social, and governance (ESG) criteria into financial services. He explained how a business' sustainability efforts impact its financial performance.
"Financial services companies face increased pressure by regulators to become socially responsible. More institutional investors are now looking to make sustainable investments into socially responsible companies, and those that are not will be punished by the capital markets," Prof Chang observed. "Sustainability is becoming more important for consumers, so focusing on it makes economic sense for financial institutions and their clients," he added.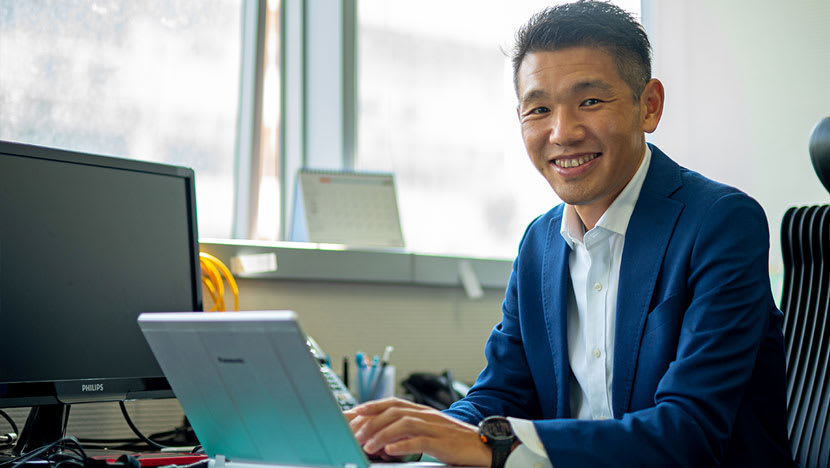 To aid in its participants' development of sustainable solutions, the Centre for Business Sustainability (CBS) within NBS acts as a platform for creating interdisciplinary research projects, events and workshops. Additionally, it drives corporate-sponsored ESG projects within its Strategy Projects at Nanyang (SPAN), a capstone module that gives MBA students the chance to apply what they have learnt to real-world business challenges of sponsor organisations. Prospective participants of the upcoming Nanyang MBA specialisation track in Sustainability and Innovation can also benefit from CBS' resources, which are integrated into the programme.
Nanyang EMBA alumnus Terumasa Takahashi, managing director at Japanese conglomerate USHIO found that the NBS economics and sustainability modules provided a global perspective on important issues – an asset in developing the ESG capabilities of his company. "They really opened my eyes to the many ways emerging technology can be applied to past and current innovation."
TRANSFORM WITH CULTURAL DEXTERITY
Mastering soft skills like communication and cross-cultural awareness is just as important as mastering technical skills, especially in fast-paced and evolving industries such as fintech.
With its Asian heritage and established networks in the region, NBS's Centre for Leadership and Cultural Intelligence offers insights into Asian cultures, consumer psychology, and the emerging markets of ASEAN – honing a brand of cultural acuity that is characteristic of the school's graduates.
"The faculty encourages participants to express their views openly and honestly, building on one another's ideas and industry expertise. This helps to polish their analytical and communicative skills," said professor of information systems at NBS Boh Wai Fong, who has conducted more than two decades of research into diverse businesses and entrepreneurs. According to her, this approach develops participants' cultural intelligence – the ability to accurately read the prevailing cultural context – which is a valuable skill for effective change management.
"THE FACULTY ENCOURAGES PARTICIPANTS TO EXPRESS THEIR VIEWS OPENLY AND HONESTLY, BUILDING ON ONE ANOTHER'S IDEAS AND INDUSTRY EXPERTISE. THIS HELPS TO POLISH THEIR ANALYTICAL AND COMMUNICATIVE SKILLS."
Polapat Naphavaranonth, a Nanyang Fellows MBA alumnus, says the global exposure during his studies at NBS helped him understand how cultural differences can profoundly impact policymaking in different markets.
"During our overseas Business Study Mission (BSM) trip, we examined how countries that embedded a strong risk culture into their policy frameworks tend to become viable hotbeds for technological innovation," the senior investment promotion officer at the Thailand Board of Investment explained. "My time in the programme helped me design better investment policies to see the growth of new sustainable businesses in Thailand. More importantly, I have built my confidence to challenge the business world with more sophisticated and innovative solutions, for a win-win outcome." 
OUR IMPACT IN NUMBERS
GAIN AN EDGE IN YOUR CAREER JOURNEY
NBS graduates receive career support from the Graduate Studies Career Development Office (GSCDO), which acts as a key recruiting partner for many established companies such as Apple, Deloitte Consulting, Goldman Sachs, Microsoft, P&G, Shopee, and more. For each programme, a dedicated career counsellor with deep industry experience advises students on job hunting, career planning, and networking with industry and alumni contacts. Participants are also invited to attend career workshops on topics like resume writing, interview preparation, networking, and professional etiquette.
Under the leadership of Associate Professor Ivy Kwan, assistant dean (career service), GSCDO is dedicated to supporting every student's career journey. "Whether this is about finding that ideal role, starting a business or switching career tracks, our team offers guidance and help open doors to achieve your goals," Assoc Prof Ivy added.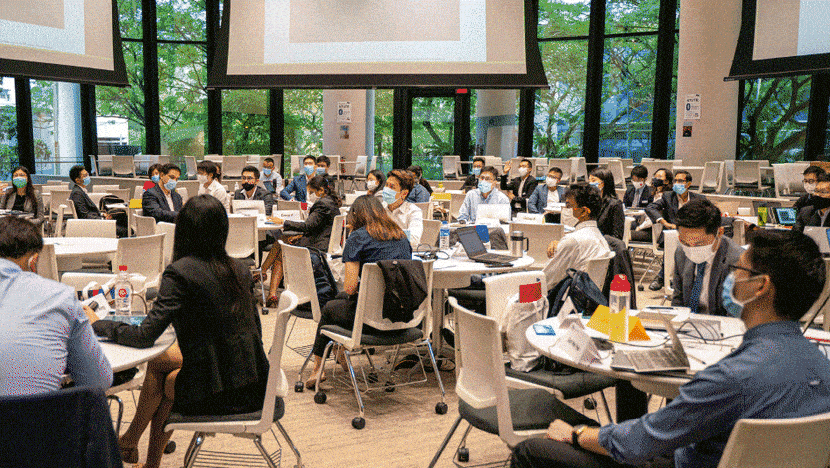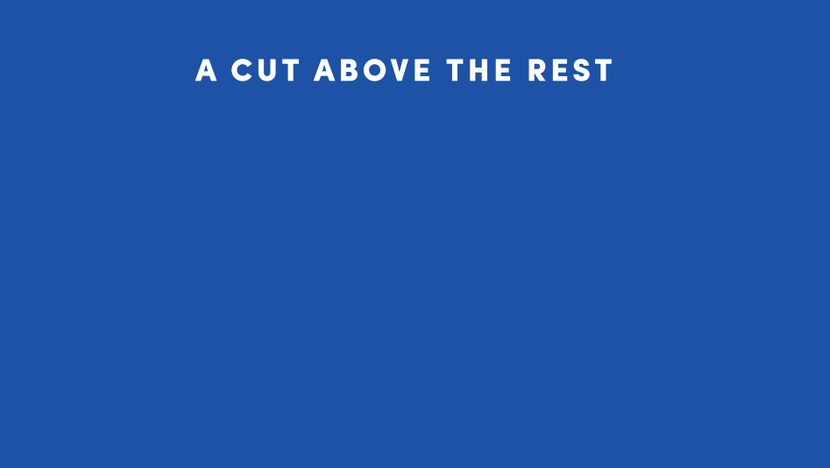 Said Ong Chao Choon, advisory leader for PwC Singapore and managing partner of PwC Myanmar, "PWC Advisory has been a major employer of NBS graduates over the past three decades. NBS graduates stand out with their solid technical skills, combined with the right aptitude and attitude."
AN EDUCATION THAT DIFFERENTIATES
NBS is the first in Singapore and the third in Asia to be accredited by both the EFMD Quality Improvement System (EQUIS) and Association to Advance Collegiate Schools of Business (AACSB) – the most widely recognised quality assurance standards for accounting and business education. Degrees conferred by NBS are globally recognised.
NBS is consistently ranked among the world's best business schools. Besides its MBA programmes, NBS' Master of Science programmes are also for those looking to deepen their expertise and skills in disciplines such as accountancy, business analytics, financial engineering, and marketing science.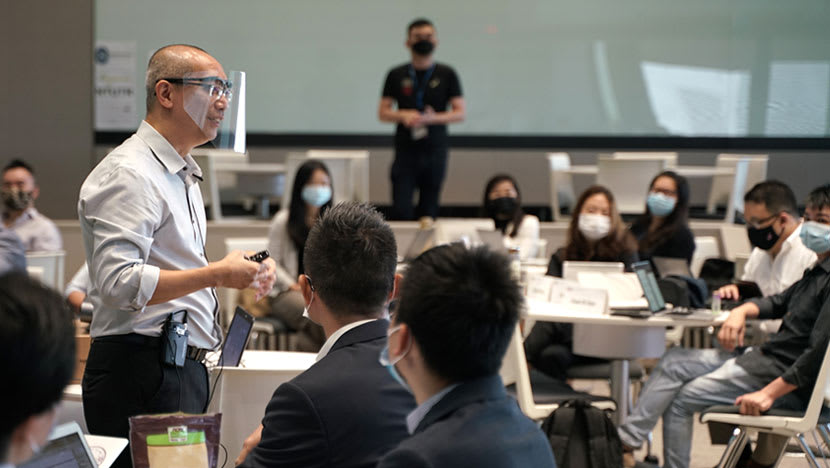 On preparing future leaders, associate dean of graduate studies at NBS, Associate Professor Sia Siew Kien said, "We want to develop trans-disciplinary leaders who are equipped to innovate for the future, who care about tackling big societal challenges, and who possess the cultural dexterity to drive impactful and sustainable transformation. These are key attributes that are absolutely necessary in the world of exponential VUCA."
Leveraging on its strong heritage of interdisciplinary collaboration and world-class faculty, the NBS suite of MBA and MSc programmes in various industry-relevant disciplines brings business and technological innovation together in a manner that is in a class of its own.
YOUR OPTIONS AT NANYANG BUSINESS SCHOOL

ACCELERATE YOUR CAREER TRANSFORMATION
Explore the possibilities at the Nanyang Business School
FIND OUT MORE