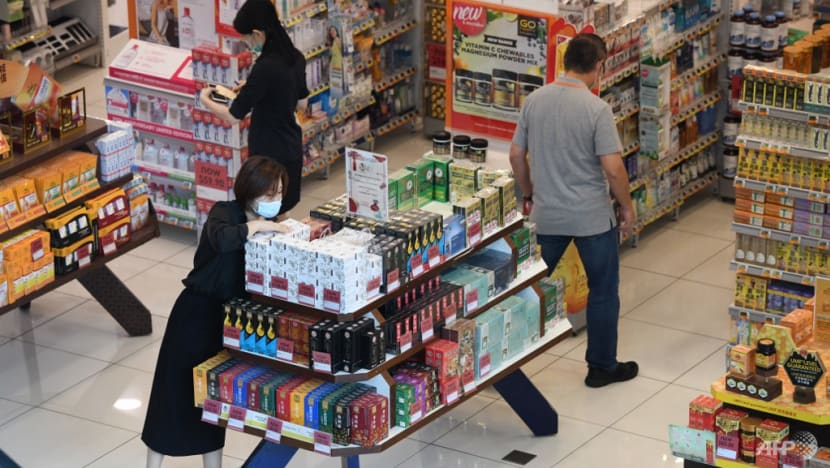 SINGAPORE: A committee set up to ensure businesses will not use the upcoming Goods and Services Tax (GST) hike as an excuse to raise prices will be focusing on daily items commonly used or consumed by households in Singapore.
These include essential food items, such as eggs, chicken, vegetables and meals from hawker centres and coffee shops, as well as non-food essentials like household products.
The Committee Against Profiteering, first announced by Finance Minister Lawrence Wong in his Budget speech last month, was reconvened on Wednesday (Mar 16) for its inaugural meeting. 
Chaired by Minister of State for Trade and Industry Low Yen Ling, the committee includes 12 other members comprising business leaders, representatives of business associations and grassroots organisations, as well as Members of Parliament.
Singapore will raise its GST rate from 7 to 9 per cent in two steps, with the first increase to 8 per cent set to take place on Jan 1, 2023. The second increase to 9 per cent will kick in on Jan 1, 2024.
Speaking to reporters after the committee's first meeting, Ms Low said: "The Committee Against Profiteering is set up to address concerns about businesses using the GST increase as a reason to raise prices."
The committee will keep a "very close watch" on the prices of essential goods and services, and will also review and investigate the feedback it receives on "unjustified" price increases, she added.
Members of the public who wish to provide feedback on businesses suspected to be profiteering from the GST hike can do so at the committee's official website - www.cap.gov.sg – from Apr 1. They can also choose to visit a community club or call a dedicated hotline that will be available next month.
Consumers will need to provide information such as details of the business, as well as the specific product and price increase.
All feedback submitted will be reviewed and further investigated if necessary, the committee said in a press release.
It added that it will work with partner agencies and organisations such as the Competition and Consumer Commission of Singapore, the People's Association and the Consumers Association of Singapore (CASE), when reviewing and investigating feedback from the public.
The committee also said it will "engage businesses to find out the reasons for a price increase and evaluate the explanations provided, to determine if it constitutes profiteering".
It may then "make public errant businesses that seek to profiteer on the pretext of the rise in GST".
The committee was first set up in 1994 alongside the introduction of GST in Singapore. It was also reconvened during the previous rounds of GST increases in 2003 and 2007.
The last time it was reconvened in 2007, the committee received more than 200 instances of feedback from the public, with about 90 per cent being related to firms in the retail and food and beverage sectors.
One case of profiteering was made public in 2007 and the committee issued a public letter to a student care centre for raising its fees, Ms Low said.
According to a Straits Times report that year, the centre, which was not named, had announced it would be raising its fees from S$270 to S$280 due to the GST hike from 5 per cent to 7 per cent that year.
The S$10 difference was nearly twice the additional amount of S$5.40 that parents had to pay for the GST hike, the report said.
The centre later reversed its decision on the fee increase, according to then-Minister of State for Trade and Industry Lee Yi Shyan, who chaired the committee in 2007.
"The most important thing (of the committee) … is to focus on strengthening transparency in pricing, to enable free market competition to function as it should be," said Ms Low.
"So genuine and honest businesses have nothing to worry about."
But amid the current rise in inflationary pressures brought about by global supply chain snarls and higher energy costs, Ms Low noted that the work of the committee is "more complex" now than in 2007.
"Some may actually conflate business cost-related price increase with GST-related hikes. The committee will follow up on the feedback very carefully," she said.
The committee, in its press release, urged businesses to be "transparent with their prices and not misrepresent the reasons for any price increase as this will mislead consumers".
It would not be acceptable for businesses to use the GST increase as a reason for raising prices before the implementation in 2023 and 2024. Businesses should also not increase prices by more than the GST hike after the implementation, while citing the GST as the reason.
Mr Hong Poh Hin, vice-chairman of the Foochow Coffee Restaurants and Bar Merchants Association and a member of the committee, said the association advised its members in 2007 to put up price lists.
This allowed customers to compare prices and decide who they prefer to patronise. 
"If there is too big of a price disparity, then your customers will no longer come to you," he told reporters in Mandarin.
"Businesses have to decide how they want to continue to attract their customers ... and they will not want to hurt their relationship with the customers just to make a bit more profit."
CASE president Melvin Yong, who is also on the committee, said the consumer watchdog will continue to push for price transparency.
Consumers are now able to tap on technology, such as CASE's Price Kaki app, to compare prices of more than 4,000 items easily. The app has seen more than 80,000 downloads since its launch in September 2019.
CASE intends to expand the app this year to include more retailers, products and services, Mr Yong added.
Apart from chairperson Ms Low, the 12 members of the Committee Against Profiteering are:
- Mr R Dhinakaran, President of the Singapore Retailers Association
- Mr Hong Poh Hin, Vice-chairman of the Foochow Coffee Restaurants and Bar Merchants Association
- Mr Andrew Kwan, President of the Restaurant Association of Singapore
- Mr Lam Yi Young, CEO of the Singapore Business Federation
- Mr Lim Hock Chee, CEO of the Sheng Siong Group
- Mr Loh Wee Lee, CEO of Lazada Singapore
- Ms Hazel Poa, Non-Constituency Member of Parliament
- Mr Seah Kian Peng, Member of Parliament and Group CEO of NTUC FairPrice
- Mdm Amatul Jameel Suhani, Chairperson of the People's Association Malay Activity Executive Committees Council
- Mr David Tan, President of the Singapore Food Manufacturers' Association
- Mr Yeo Hiang Meng, President of The Federation of Merchants' Associations, Singapore
- Mr Melvin Yong, Member of Parliament and CASE President