Digital banks have to do more to woo customers in Singapore, say analysts
The race for market share in the digital banking space has begun but new players have to do more to woo customers, say observers.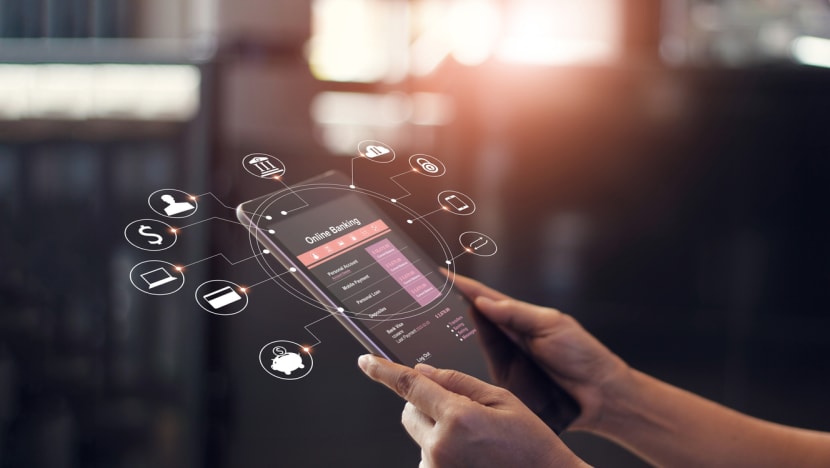 SINGAPORE: Last year, Ms Irene Ho applied for a credit card with Trust Bank, a new digital bank in town backed by Standard Chartered and FairPrice Group.
Despite already having several credit cards, the 41-year-old wanted one that could earn rebates for grocery shopping at NTUC FairPrice.
"It's where I buy most of the groceries I need at home. With inflation, every cent counts," said Ms Ho, who received a cash voucher and a bag of rice when she signed up last September.
Unlike a traditional bank, Trust does not have brick-and-mortar branches. Account openings and card applications are done entirely through a mobile app.
It is one of the five digital or online-only banks that began operations in Singapore over the past year. The other two that serve retail customers are GXS Bank, which is backed by Grab and Singtel, and MariBank, which is owned by Sea.
These banks were given the green light by the Monetary Authority of Singapore (MAS) in 2020, as part of promoting competition in the financial sector.
"The whole argument for digital banks is that they have zero physical footprint," said Mr Zennon Kapron, founder and director of consultancy Kapronasia. 
"They can operate at a lower cost and pass some of that savings onto customers in the form of better rates on deposits and lower cost of borrowing."
But these disruptors do not have it easy, given Singapore's small market and an even smaller population that does not already have a bank account – less than 2 per cent of adult residents. 
Incumbent banks have also improved their digital offerings in recent years.
So, while the initial launches have attracted some customers, the new digital banks still have a long road to success, and eventually, profitability, industry observers told CNA.
ENTERING THE MARKET
All three digital retail banks have launched savings accounts that pay higher interest rates.
They have also positioned themselves as "transparent" and "fuss-free", compared with traditional banks whose bonus rates often come with various criteria such as a minimum account balance or spending on eligible cards.
These additional requirements may be out of reach for some individuals such as entrepreneurs and gig workers, said GXS chief executive Charles Wong. The new bank, whose users are mostly digital natives in their 20s and 30s, designed its savings account "specifically to address these gaps".
Echoing a similar sentiment, Trust's chief executive Dwaipayan Sadhu said: "Too often, bank promotions are complex and attract customers with a high headline that is not realistic."
Beyond savings accounts, Trust, the first digital retail bank to launch in Singapore, offers credit and supplementary cards, a budgeting tool, as well as personal accident and travel insurance.
GXS added personal loans to its offerings in April. Targeted at gig economy and freelance workers, these loans allow customers to borrow as little as S$200 (US$150) with tenures starting from just two months.
MariBank, on the other hand, is "taking a deliberate and measured approach" to rolling out its services, a spokesperson told CNA. While the bank has not expanded on its retail offerings, it recently announced a business loan product for Shopee sellers.
It is worth noting that GXS and MariBank are currently taking retail deposits on an "invite-only" basis, largely due to a deposit cap of S$50 million imposed by MAS on retail digital banking licensees.
In contrast, Trust holds a full bank licence which allows it to function like traditional lenders. The digital bank has attracted more than S$1 billion in deposits as of last month.
"This gives Trust an advantage, as it has managed to roll out its services to the general public faster," said Associate Professor Jan Ondrus from the ESSEC Business School Asia-Pacific.
The strong ecosystem of FairPrice Group, including "extensive promotion" of the new digital bank in FairPrice supermarkets, has also given Trust a leg-up in the race for market share, experts said.
"Given NTUC's existing customer base attracted to discounts for grocery shopping, there is significant potential for a robust adoption rate," said Assoc Prof Ondrus.
The dollars and cents of running a digital bank
Digital banks have been doling out higher interest rates for their savings accounts.
Trust currently pays interest rates of up to 2 per cent a year for non-NTUC union members on their first S$75,000 in deposits, and up to 2.5 per cent a year for union members.
"This interest rate is set at a sustainable level in the current environment. It's not an introductory or teaser rate," said chief executive officer Dwaipayan Sadhu.
"The rates are sustainable as the deposits can be profitably deployed either to loans to our customers or into safe and liquid Treasury bills," he added.
GXS Bank pays a daily interest rate of 0.08 per cent per annum for its savings account, but customers can create different "saving pockets" within their account for purposes such as travel and studies. These pockets earn daily interest of 3.48 per cent per annum.
MariBank's savings account for retail customers offers an interest rate of 2.5 per cent a year.
Banks typically make money from the difference between the interest rates paid on deposits and the fees they earn from loans.
Trust does not offer loans yet but the other two digital banks do.
GXS' FlexiLoan has an interest rate starting from 3.8 per cent a year. MariBank's business loan for Shopee sellers, which allows them to access financing based on their track record on the e-commerce platform, has no fees and an interest rate of 0.5 per cent a month.
REDUCE FEES, ENHANCE USER EXPERIENCE
Experts said digital banks have to do more to attract and retain customers.
While high interest rates for deposits are enticing, traditional lenders have also upped their rates over the past year. Even with the myriad of conditions attached, these banks, especially the local trio of DBS, OCBC and UOB, still have the lion's share of the Singapore retail deposit market.
This means that digital banks need alternative strategies to set them apart, said Assoc Prof Ondrus.
They could, for one, reduce their fees to appeal to cost-conscious customers. The new entrants should also work on enhancing their user experience, such as making sure customer support is easily accessible and human assistance is readily provided in urgent situations, he added.
The work does not stop after getting a customer on board. The digital banks also have to keep customers active on their platforms, either by using the product they have signed up for or trying out other products, experts said.
Ms Ho, for example, uses her credit card from Trust only for spending at FairPrice Group merchants, as she already has designated cards for other expenses and bills. The bulk of her savings are also stashed away in an account with another bank.
"This is the case for digital banks globally, in that they tend to be secondary or tertiary accounts," Mr Kapron said. "A customer's primary account, where salary is credited and most transactions are made, continues to be with (the traditional banks).
"That makes it hard (for digital banks) to track user data and innovate because you're not going to see the deposits coming in and payments going out."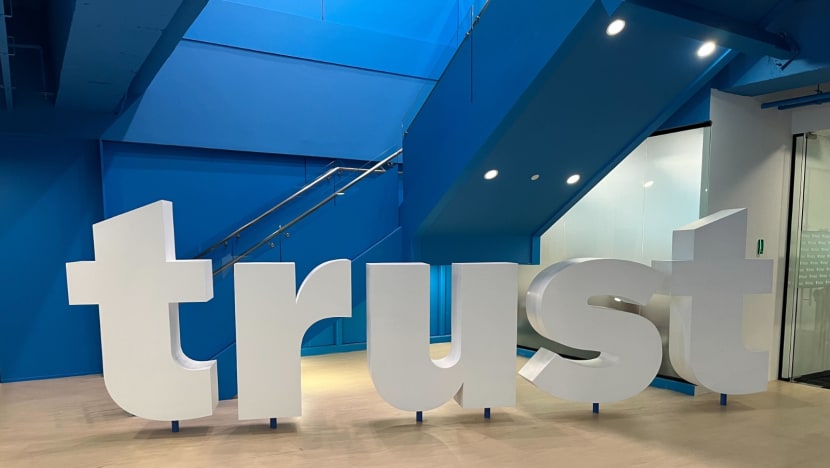 This differentiation has to be done sooner rather than later as consumer interest is waning, going by a recent survey released by the Singapore Management University's Institute of Service Excellence.
The survey, conducted last year, showed "a significant drop" from a year ago in the proportion of respondents who would apply for digital bank products.
Among those who are not willing, the majority indicated a preference for branch visits or interactions with humans when banking, and concerns over security risks, said the institute's executive director Neeta Lachmandas.
"Moreover, when the new digital banks launched in 2022, there was a general sentiment based on news reports that product offerings were not as appealing as was initially believed to be," she added.
Profitability will be a challenge for all of Singapore's digital banks "until they start offering actual differentiated products", said Mr Kapron.
"A digital bank is interesting when I can get a free bag of rice or some money off my groceries, but that isn't sustainable long term and the novelty will wear off."
He added: "Fortunately, or unfortunately, these banks have very large backers that don't want to see them fail. We may see a situation like Hong Kong, where the banks remain unprofitable, but continue to be funded by their shareholders."
Last month, Trust outlined its ambitions to become the fourth-largest retail bank in Singapore in customer numbers by the end of next year and break even by 2025.
It said its customer acquisition cost is seven times lower than other banks, thanks to referrals pulling in more than 70 per cent of customers. This is a "big benefit" to the digital bank's path to profitability, said its chief executive Mr Sadhu.
But Mr Kapron thinks otherwise, noting that Trust has spent heavily on incentives to build up its customer base and will likely have to keep spending.
Adding that very few digital banks in Asia have managed to turn a profit, he said Trust may be "too optimistic" in its growth expectations for the future when incentives run dry. It is also underestimating what the incumbents could do when competition heats up.
NEW PRODUCTS IN THE WORKS
In response, digital banks told CNA they still see strong interest from consumers and plan to expand their offerings.
Trust plans to launch its first loan product in the coming months, followed by others such as GIRO payment services and more savings options by the year-end.
GXS said it still sees gaps in the financial services available here and intends to roll out more products in the coming months.
Its chief executive Mr Wong said GXS is nearly at the limit of MAS' deposit cap and has a waitlist of customers. It is talking to MAS and hopes to make its savings account available to more customers soon, he added.
MariBank said it is also in touch with Singapore authorities on its business plans.
"Our priority is to build a robust and resilient business for the long term, and right now, our focus is on laying a strong foundation to support sustainable business growth," said its spokesperson.