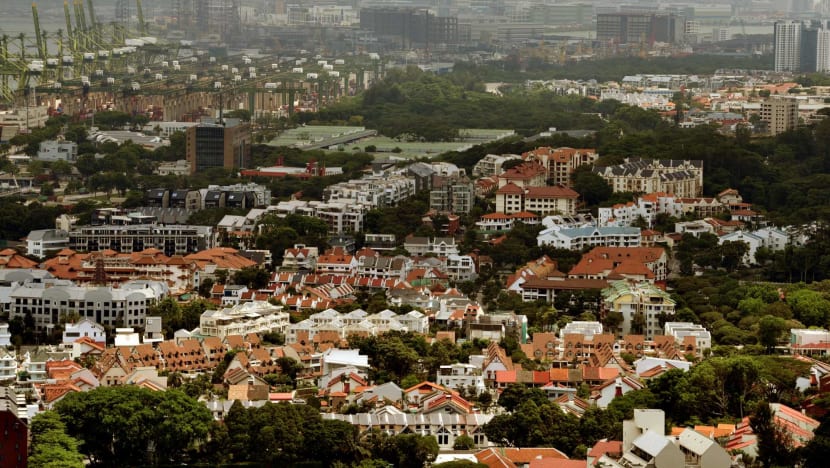 SINGAPORE: Sales of new private homes in Singapore fell 31.4 per cent in September, declining for the second straight month. 
Excluding executive condominiums, developers sold 834 units in September compared to 1,216 units in August, according to data released by the Urban Redevelopment Authority (URA) on Friday (Oct 15). 
The lower sales can be attributed to tighter home viewing restrictions amid rising COVID-19 community cases in September, analysts said. 
Fewer units were also launched in September, with 210 units up for sale.
This was 74.9 per cent less than the 836 units put on the market the previous month and a fall of 84.3 per cent from the 1,340 units launched in September last year. 
"The low number of unit and project launches reflects continued cautiousness among developers against the backdrop of the fluid COVID-19 situation," added Edmund Tie's head of research & consulting Lam Chern Woon. 
HIGHEST DEMAND FOR SUBURBAN HOMES
Suburban developments attracted the most buyers in September, with developers selling 356 units in the Outside Central Region (OCR), followed by the Rest of Central Region (RCR) with 310 units and the Core Central Region (CCR) with 168 units.
"In the absence of major launches, demand gravitated towards previously launched projects," said OrangeTee & Tie's senior vice president of Research and Analytics Christine Sun. 
She noted that the best-selling projects, excluding executive condominiums, were Normanton Park, Parc Clematis, Dairy Farm Residences, Leedon Green, and Affinity at Serangoon, Treasure at Tampines. 
However, the volume of new houses sold in the Outside Central Region last month fell by half from August, noted Propnex, due to "diminishing inventory of OCR homes". 
PropNex CEO Ismail Gafoor noted there was growing interest for centrally located homes. 
"Homes in the central region tend to be more popular amongst investors and foreign buyers," said Mr Ismail. 
"As border restrictions and safe management restrictions slowly ease up, sales momentum in these market segments should pick up slightly towards the end of the year," he added. 
Ms Sun added that in the coming months, the market sentiment "is likely to remain positive" amid the easing of COVID-19 restrictions. 
"When more vaccinated travel lanes are set up, we may expect an increase in foreign buyers returning to the market," she added. 
While there might not be an immediate spike in the number of foreign purchases since measures like the Additional Buyers' Stamp Duty is still in place, the number of transactions may be higher than last year, she said. 
Edmund Tie's Mr Lam added that while he expects developers "to remain cautious and prudent" in their launch and pricing strategies, buying activity is likely to "remain on steady footing".