SINGAPORE: Apart from "stop-start" changes in COVID-19 safety protocols, the pandemic is driving up pressure for food and beverage businesses on another front – rising costs.
Food ingredients and wages, which typically account for about two-thirds of operating expenses for F&B operators, are among the areas where costs have surged as the pandemic drags on, they told CNA.
"COVID-19 has indeed added more cost pressures upwards, in the range of 30 per cent and more collectively," said the Restaurant Association of Singapore, which has more than 450 members.
"These are due to a severe manpower crunch situation, as well as global supply chain disruptions and energy price increases, just to name a few."
Prices of some essential items have risen by 5 per cent to as much as 20 per cent over the past three to six months, said businesses that CNA spoke to.
For instance, burger bar Fatboy's said the cost of rice, frozen goods and cooking oil have gone up by 10 to 20 per cent. Modern zi char bistro Enjoy Eating House and Bar said it has been paying 5 to 10 per cent more for its supplies of chicken, beef, vegetables and even beer.
In some "extreme" cases, suppliers have jacked up prices by 50 per cent, said Minor Food Singapore's chief executive officer Dellen Soh, calling such increases "unjustified". His firm, which operates F&B chains like ThaiExpress and Xin Wang Hong Kong Cafe, is looking for alternative supplies and considering temporarily removing the affected menu items.
F&B businesses said higher ingredient costs are not unexpected, given the supply-chain snarls and rallying energy prices pushing up transport rates, as well as labour shortages affecting food producers and suppliers.
But the magnitude of recent price increases, being way above the usual 3 to 5 per cent, is becoming too much to bear amid an already difficult environment.
Mr James Ang, co-owner of Enjoy Eating House and Bar, said: "In the normal times, I would say that the impact might be bearable. But now business is down and we are making losses every month, so anything that tips the balance will lead to many problems for us."
F&B businesses are also raising wages to prevent poaching by competitors. For Mr Loh Lik Peng, the founder of Unlisted Collection, his manpower costs have gone up by 5 to 10 per cent.
Staffing costs will only go up further, with a tighter foreign worker quota kicking in next year and the extension of the progressive wage model to the food services sector by 2023, others like Mr Soh said. There will also be additional COVID-testing expenses when government subsidies come to an end this year.
Costs in other areas like food packaging and even services such as renovation are also edging up.
"It's not just food ingredients. Everything from crockery, kitchen stoves and equipment, to installation fees and renovation costs – everything has gone up," said Mr Loh, whose F&B group runs restaurants such as Meat Smith and Burnt Ends. "We are now fighting a battle on multiple fronts."
Revenue, on the other hand, remains crimped by pandemic restrictions that mean F&B businesses continue to grapple with lower demand and operate at below full capacity.
The latest easing of measures, which allows fully vaccinated members of the same household to dine in groups of up to five, has helped but only slightly, added Mr Loh.
Taken altogether, the rise in operating costs has "further (reduced) the already razor-thin margins for F&B businesses", said the Restaurant Association of Singapore.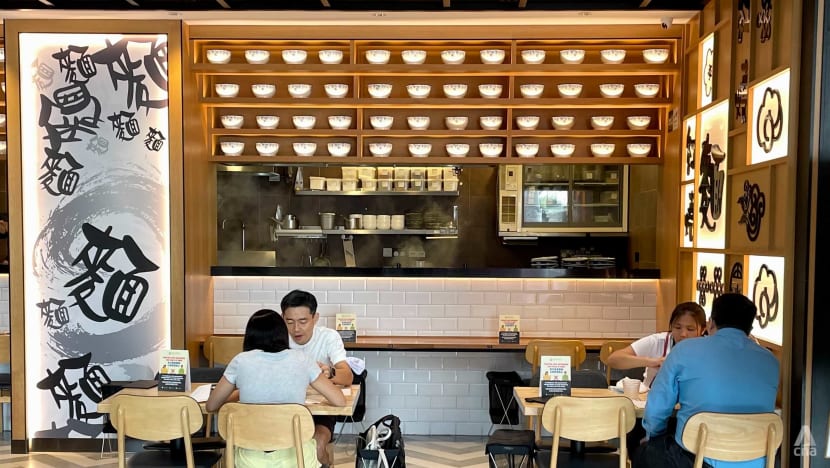 DIFFICULT TO PASS COSTS TO CONSUMERS
But raising menu prices is hardly a way out, as Mr Soh puts it: "I can't just pass on the costs to consumers. I will scare all of them away."
Mr Loh agreed, noting that there is "very strong price resistance in the market at the moment" with consumers being more cautious of every penny spent.
He does not foresee price increases at his restaurants for now. "You are not going to be raising prices in this environment if you can help it. You'd rather absorb losses and keep your market share."
Over at Fatboy's, there are no concrete plans to raise prices but the burger bar said if it does, it will "still try to keep prices friendly".
Unlike bigger F&B operators who have economies of scale, owner and chef Bernie Tay said the restaurant can only adapt to the changes and "pray that consumers ride along with us".
Enjoy Eating House and Bar has already raised its prices slightly at the end of last year to cope with rising costs, which leaves it with little room for further adjustments, said co-owner Mr Ang.
"In fact, we are going the opposite way with promotions now to attract customers because business continues to be very severely affected by the COVID-19 restrictions," he added.
At least 3,440 F&B businesses shut down during the pandemic from December 2019 to June this year, according to a written parliamentary reply from Minister for Trade and Industry Gan Kim Yong. But 5,620 new F&B businesses were formed during the period.
Total employment in the F&B sector fell by about 8 per cent in June 2021 compared with December 2019. But the Government has helped the sector through initiatives such as the Jobs Support Scheme and the Food Delivery Booster Package, the minister said.
The Restaurant Association of Singapore noted that business sustainability is "critical" for every F&B operator and the more than 200,000 workers in the sector.
"We therefore seek the understanding and support from our customers in the form of food price increases," said a spokesperson.
"If the burden of some of these additional business expenses that have been slapped on our F&B operators over the last two years – as well as future increases such as GST, utilities and crew salaries etc – can be shared among our suppliers, F&B operators and customers, our F&B sector will no doubt continue to thrive and emerge stronger together from this pandemic," he added.