Finding the 'silver economy': Singapore firms build new products, services for greying population
SINGAPORE: The memory of seeing her grandmother turn away food that she used to love was one that Shen Yiru never forgot.
The elderly woman, who suffered from dementia, had to be put on a special pureed diet after losing the ability to swallow food properly.
Every day, Ms Shen's family would put all types of cooked food into a blender and process them until they became a smooth and uniform texture. They tried their best to make the meals tasty, but the shapeless puree did not look appealing.
There were times when her grandmother would turn her face away and refuse to eat, recalled Ms Shen.
"Blending was the only way, from porridge to vegetables to meat, and it had to be thorough otherwise it can be dangerous … But when I saw her eating all the puree last time, I can't help but ask why."
Many years later when she decided to start her own business, Ms Shen knew this was what she wanted to get into.
Her medical nutrition start-up SilverConnect, founded about five years ago, creates specialised food for those with dysphagia – the medical term for swallowing difficulties.
The company modifies local dishes, such as chicken rice and rendang fish, into pureed versions before moulding them into shapes to make the meals more attractive and realistic.
Apart from ready-to-eat meals, its brand GentleFoods has since branched out into local snacks and desserts, offering kueh salat and matcha snowskin mooncakes.
"Some of our clients have told us that they didn't know what to cook so they were just cooking porridge every day. We want to help elderly and other patients with swallowing difficulties to enjoy a variety of familiar food in a safe and tasty manner," said Ms Shen.
Food can play a crucial role in the recovery process, helping to lift the spirits, she added. "For dementia patients, sometimes a familiar taste can trigger a memory."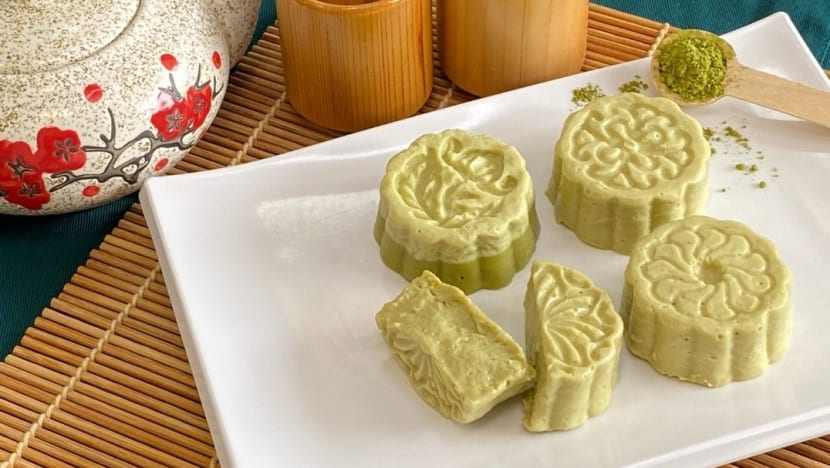 The company has since supplied its food to at least 15 nursing homes and private hospitals. It also started taking online orders from individual consumers last year and is in talks with a public hospital to include its ready-to-eat meals in a discharge kit for patients.
The local firm is keeping an eye on other emerging needs in Singapore.
"While we started with a need market, I've also been talking to (partners) about how we can all look more strategically at food for the elders," said Ms Shen. "I'm talking about seniors who are still well and what they need for healthy ageing, apart from supplements."
BILLION-DOLLAR SILVER LINING
Singapore is one of the fastest ageing populations in the world, with one in four Singaporeans expected to be aged 65 and above by 2030.
While this "demographic curve" can pose a "significant strain on the society", such as increased healthcare needs, it can also be a window of opportunity, said Finance Minister Lawrence Wong.
"It is on us to find the silver lining," he said in a speech earlier this month, noting how Singapore is "growing the silver economy so businesses can innovate to tailor goods and services for the elderly".
This "silver lining" is set to be a US$72.4 billion (about S$97.5 billion) market in Singapore by 2025, according to the Asia Pacific Silver Economy Business Opportunities Report 2020 released by business consultancy Ageing Asia.
The same report also named Singapore as the top market in terms of silver economy potential. The ranking took into account factors such as the size of the ageing population, per capita household savings and life expectancy.
Food is one immediate area of opportunity, Enterprise Singapore's assistant chief executive officer Dilys Boey told CNA. Companies such as SilverConnect are already stepping up to meet the health and nutritional needs of seniors, she added.
The agency also provides support for firms to innovate. Through a Food for Elders programme, for instance, SilverConnect received grants to co-develop pureed local snacks, such as chwee kueh, with specialist dieticians and speech therapists from Khoo Teck Puat Hospital.
Healthcare is the other immediate opportunity. Enterprise Singapore said it has observed an increase in demand for community-based technology solutions given the rise in chronic disease and the country's focus on active ageing. Beyond disease management, wellness and prevention are other growth areas.
Digital services and infrastructure are also areas that local businesses keen to capture the "silver dollar" can venture into. These include developing assisted living solutions, wellness and fitness technologies targeted at seniors, the agency said.
"As this generation of adults age, they want to do so actively, gracefully and independently. This presents new opportunities for Singapore companies to offer products and services that can be used by the elderly to improve wellness and prevent age-related diseases," Ms Boey told CNA.
HEALTHCARE AND LIVING SOLUTIONS
Singapore-based start-up Tetsuyu Healthcare is hoping to solve common pain points in wound care – an area that it expects increased demand.
"This came about from our interaction with the long-term care sector where wound management is an almost daily activity, but it can be quite manual and takes a lot more time than necessary," said co-founder and director Ng Li Lian.
Apart from being time-consuming, wound assessments done in the traditional way using rulers and probes can be painful and inconsistent. The need for early intervention of infections may also be difficult to detect by manual observation, she added.
"That results in sometimes slower interventions and unnecessary suffering among patients."
The start-up's solution is an artificial intelligence-enabled app that can measure, analyse and monitor the condition of a wound through a photo. Called CARES4WOUNDS, the app can also assess a wound's infection status and flag the need for early prevention measures.
This benefits, for example, elderly diabetic patients with foot ulcers who face the risk of amputations if their wounds are not properly managed, said Ms Ng.
The app is being used at some community hospitals and nursing homes in Singapore.
Tetsuyu Healthcare also offers a cloud-based care management platform, which has received more requests amid the COVID-19 pandemic as healthcare providers step up digitalisation.
The platform serves as a one-stop shop for care providers to assess patients' information, case notes and records, while also automating day-to-day operations such as attendance taking and billing.
"About 18 months back, it would have been difficult to get people to talk about digitalisation but COVID-19 changed that and we have seen an urgency to do away with manual processes to keep up with changing demands," Ms Ng said.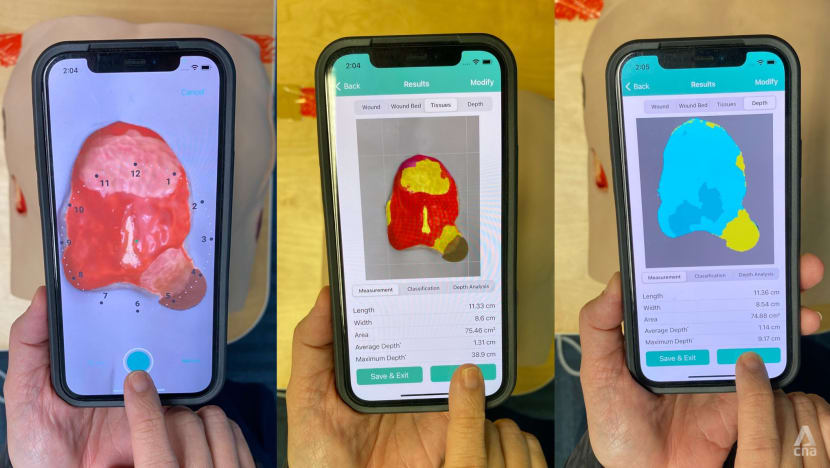 Meanwhile, home-grown architecture firm Farm is tapping the concept of co-living to build what it described as a "new generation" of nursing homes. The firm had previously been involved in designing spaces under co-living brand Lyf.
"Historically, a lot of the nursing homes came from the typology of hospital designs which focused on the most efficient healthcare model, instead of person-centric care," said Farm's director and founder Tiah Nan Chyuan. "This new generation of nursing homes hopes to put residents at the centre."
"A lot of the nursing homes that we are familiar with typically have one big space for everyone and some people we spoke to said that can be quite uncomfortable for them," he added.
Co-living spaces, on the other hand, offer a range of "decentralised" social spaces for people to break out into smaller groups and form their own communities – an idea Farm is bringing into the design of the nursing home.
The new nursing home is set to be a multi-storey building, with each level comprising multiple bedrooms of four, a corridor that links up the living rooms and other communal areas.
"You can understand it as a household of four who share a bedroom and a living room, but what we've done is to put the living room outside along a common corridor, which also leads to other amenities on the same floor," said Mr Tiah.
The need for privacy has also been considered, with residents getting their own "private" cabins where they can shift the furniture around and have control over the lights and fans.
Unlike traditional nursing homes where medical equipment is in plain sight, designers have created a "care corridor". This mirrors the "back of house corridor" in hotels, where operations like housekeeping take place but are seldom seen by guests, Mr Tiah explained.
While hidden, it lies "in the middle of the building", allowing doctors and nurses to gain quick access to residents.
"It's very hard to feel at home when medical equipment is all around you. By creating this segregation, we want to create a more homely environment yet quality care is not compromised," he added.
This nursing home is under construction but details have yet to be announced.
Mr Tiah noted that while nursing homes are typically designed to be short-term care facilities, this is not the case for some people.
"So how do we solve that discrepancy? We think allowing people to take ownership of the space can be small steps to helping them build a sense of dignity and identity, as well as a stronger sense of home," he added.
"They are residents, not patients, and with that, we hope it can lead to other benefits such as a sense of purpose and higher quality of life for as long as possible."
OPPORTUNITIES IN THE REGION
Beyond Singapore, the silver economy in Asia Pacific is estimated to be a US$4.6 trillion market by 2025, according to Ageing Asia. By then, nine markets, including Singapore, will fall under the "super-aged" category.
The report added that business opportunities in the silver economy are "wide-ranging", from healthcare services or related products, retirement homes and villages, to residential care. Technology is also an emerging area, as seniors learn new ways of communication and cope with the pandemic.
Singapore firms are looking at opportunities in overseas markets. For instance, Tetsuyu Healthcare's wound imaging app is already in use by healthcare providers in Hong Kong and it has started preliminary discussions with district hospitals in Australia.
Its end goal is to deploy the app in rural areas where medical expertise may be lacking, said Ms Ng.
Enterprise Singapore is supporting local firms to help them break into regional markets, such as Australia.
A new innovation programme rolled out in July paired up five local food businesses with students from Australia's Monash University. The students supported these small and medium-sized enterprises (SMEs) on developing and validating new products based on existing needs in Australia's aged care sector and grocery retail trends.
The three-month programme has concluded and some participating SMEs managed to come up with product prototypes, such as ready-to-eat meals, that are suitable for Australia's elderly market, said Ms Boey.
One of these SMEs is Chocoworks, which specialises in making healthier chocolates with little to no sugar.
When sales took a hit due to the pandemic last year, the homegrown brand shifted its focus to research and development. Being part of the innovation programme gave it an additional pipeline of ideas, said business director Joe Lee.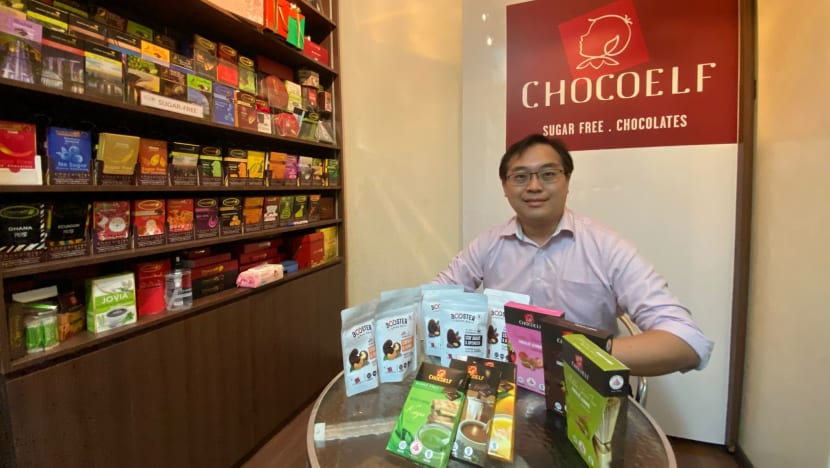 "We signed up for the programme because when it comes to developing new products, we've always been on our own. It's usually 'This sounds nice, let's try to make this'.
"What I gathered over the years is you can get a hit, but there will be many misses," said Mr Lee. "There must be other ways to do product development that can lead to better success."
Students from Monash University ran focus groups and gathered feedback, and the SME intends to apply that to its future product development.
Mr Lee said Australia is definitely a viable market given its "high" chocolate consumption.
"We had inquiries from Australian distributors before but they had concerns. For example, my chocolate bars are typically in 65-gram packaging but in Australia, the minimum is 100 grams. Our products probably won't do very well when put beside others because it is smaller and of a higher price," he said.
"With the local knowledge and better understanding of the consumers, we hope to resolve some of these issues and develop new products."
Beyond new chocolate flavours, the local brand has also been working on sugar-free snacks and functional food products to attract more health-conscious consumers.
"Because we were good at making chocolates and with the health angle in mind, we became a healthy chocolate company.
"Now I see us developing into a health food company, with an established line in chocolate, and there are many more lines we can establish to better target the silver economy," Mr Lee said.