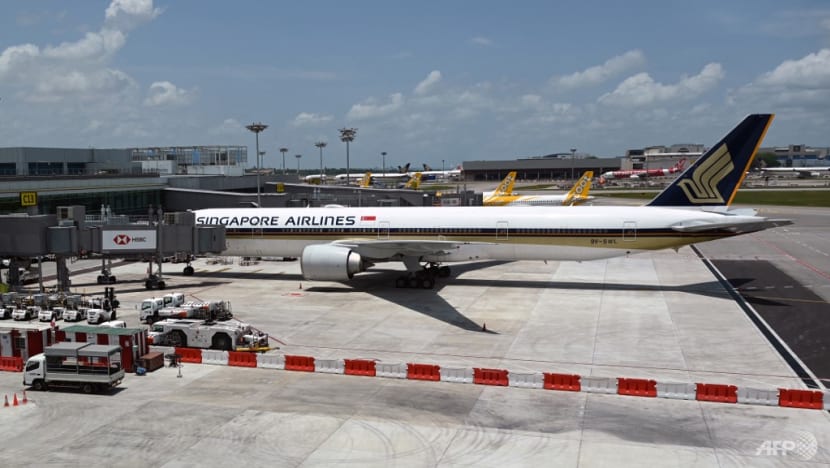 SINGAPORE: Singapore Airlines (SIA) posted a net profit of S$85 million in the third quarter on Thursday (Feb 24), helped by a strong cargo market and an improvement in passenger numbers as Singapore eased some of its border restrictions. 
The airline reported its first profitable quarter since December 2019, before the pandemic hit. The profit for the three months ended Dec 31 came in versus a loss of S$142 million in the year-ago period that was boosted by a tax credit.
Revenue rose to S$2.32 billion from S$1.07 billion in the prior year.
SIA Group said in a news release that the third-quarter performance came amid a "significant step-up" in air travel to and through Singapore in the October to December 2021 period, as well as continued robust demand and strong yields in the cargo market. 
"Singapore's launch of Vaccinated Travel Lane (VTL) arrangements and its subsequent expansion, as well as the Group's nimble response that resulted in it being the first to open sales on almost all available routes, helped unlock pent-up demand during the year-end travel season," it added. 
SIA Group carried 1.1 million passengers during the quarter, more than five times the number from a year before and double that of the second quarter of FY2021/22. 
Passenger capacity, measured in available seat-kilometres, grew 183.8 per cent year-on-year, as SIA Group ramped up flights in response to the VTLs. 
By the end of the quarter, group passenger capacity reached 45 per cent of pre-COVID-19 levels, it said. 
The Group recorded an operating profit of S$76 million for the three months ended December 2021, versus a S$331 million loss from the year before. 
As international air travel "progressive recovered" over the course of the year, SIA Group said its operating loss for the nine months to December 2021 narrowed by S$1.65 billion, or 75.3 per cent year-on-year, to S$543 million. 
Revenue grew S$2.44 billion from significant passengers and cargo flown revenue improvements, said the Group. 
Passenger flown revenue rose S$1.25 billion on the back of a recovery in passenger traffic while cargo flown revenue rose S$1.24 billion, driven by higher loads carried and yields. 
"As a result of the stronger performance for the third quarter, the Group recorded an operating cash surplus of S$322 million for the first nine months of the year.
"This reversed the operating cash burn that it had been experiencing since the start of the pandemic," it said. 
"SIGNIFICANT INCREASE" IN NUMBER OF DESTINATIONS SERVED
During the quarter, SIA Group said it saw a "significant" increase in the number of destinations it served, with the continued expansion of its network.
By the end of the December quarter, SIA Group's VTL network covered 31 cities across key markets in Australia, Europe, India, North America, Southeast Asia and South Korea. 
Its passenger network covered a total of 85 destinations, up from 65 in the previous quarter, with SIA serving 63 and Scoot serving 35. 
Based on current published schedules, SIA Group said it expects passenger capacity to reach 51 per cent by March. 
"This should result in an average capacity of 47 per cent for the fourth quarter of FY2021/22, compared to pre-COVID levels.
"The Group expects to serve over 70 per cent of its total pre-COVID destinations by the end of the financial year," said SIA Group. 
SIA is expanding its VTL network to progressively include Cairns, Darwin, Dubai, Hong Kong, Manila, New York (Newark) and Phuket from Feb 25. 
The airline will also step up frequencies for flights between Singapore and several existing VTL destinations including Bandar Seri Begawan, Colombo, Male and Phnom Penh.
Meanwhile, Scoot will progressively include Chiang Mai, Cebu, Clark, Davao, Hong Kong, Jeddah, Krabi, London (Gatwick), and Phuket to its VTL network, and will also increase its frequency for services between Singapore and Phuket.
With these new additions, the SIA Group will operate VTL services from 49 cities in 25 countries to Singapore.
SIA will also resume daily non-stop services to Newark during the Northern Summer operating season, from Mar 27 to Oct 29. With this, the airline will have three daily services to the New York City metro area alongside twice daily flights to John F Kennedy International Airport.
The Singapore-Vancouver-Seattle service, which was originally planned as a seasonal operation, will continue beyond the current Northern Winter.
A fourth daily Heathrow service will also be added, reinstating London frequencies to pre-COVID levels. Services to Cairns and Darwin will also resume in the coming months.
VTL ARRANGEMENTS A "GAME CHANGER" FOR SIA GROUP
"Singapore's VTL arrangements have been a game changer for the SIA Group, facilitating quarantine-free mass travel for the first time since the pandemic began," it said in its outlook. 
While demand should continue to recover, especially on VTL services, the Group said passenger traffic is likely to moderate in the fourth quarter after the end of the year-end holiday season. 
It added that the emergence of the Omicron variant in December 2021 resulted in the imposition of additional border restrictions by some governments.
"However, those measures gradually eased as concerns about the virulence of the variant abated.
"Several key markets have further relaxed testing requirements for incoming passengers, in line with their goal of living with the COVID-19 virus," said SIA Group. 
"The Group will remain nimble and proactive in adjusting its capacity and network, in tandem with the prevailing market conditions and regulations," it added. 
The group will also "remain alert" to all revenue and growth opportunities, such as SIA operating dedicated flights between Singapore and Beijing between January and March in support of the 2022 Winter Olympics, transporting international officials and athletes to China for the Games. 
Following a record peak period in the third quarter of FY2021/22, overall cargo demand is expected to ease in the fourth quarter. 
"This is in line with seasonal fluctuations, and the traditional slowdown in exports during the Lunar New Year holiday period.
"Nonetheless, both air and sea freight capacities are expected to remain tight during the quarter, supporting loads and yields," said SIA Group. 
It added that fuel prices have been trending higher and volatility is expected to persist in the months ahead.
"The Group will continue to keep a tight rein on costs, while supporting the expansion of operations in line with demand."