Singapore faces 'high risk' of technical recession amid external uncertainties, say economists
Weaker exports amid lacklustre external demand and a limited boost from China's reopening are among the uncertainties ahead for Singapore's economy, according to private-sector economists.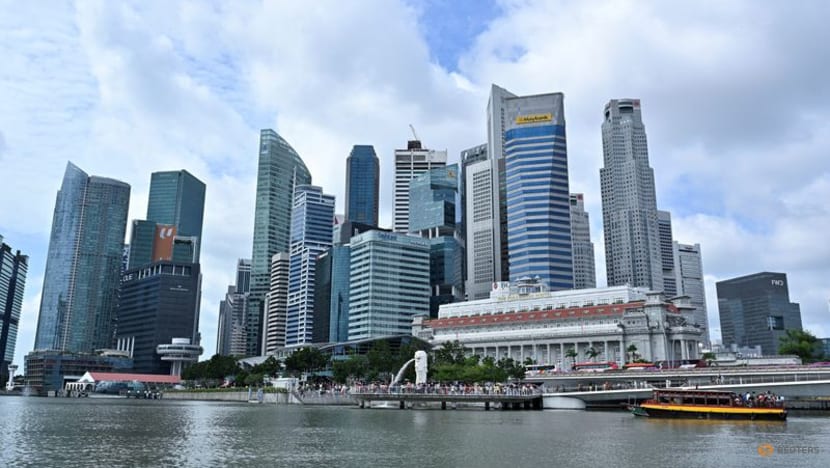 SINGAPORE: Singapore faces a "high risk" of slipping into a technical recession in the second quarter as challenges in the external environment persist, some private-sector economists said on Thursday (May 25).
These comments came after official data for the first quarter showed the economy declined 0.4 per cent from the previous three-month period on a quarter-on-quarter seasonally adjusted basis.
This marks a reversal from the 0.1 per cent growth in the fourth quarter of 2022, leaving the economy at risk of a technical recession which is defined as two consecutive quarter-on-quarter contractions.
The last time Singapore entered a technical recession was in the second quarter of 2020 when the COVID-19 pandemic cooled global growth. Domestically, the roll-out of the "circuit breaker" halted almost all economic activities for two months.
On a year-on-year basis, the economy remains in positive territory with growth of 0.4 per cent year-on-year between January and March, albeit much lower than the 2.1 per cent growth seen in the previous quarter.
Authorities have maintained their forecast for gross domestic product growth to range between 0.5 and 2.5 per cent, with the actual expansion likely to "come in at around the mid-point" of this range.
Singapore's small and open economy relies heavily on trade, but external demand has been weakening amid a slowdown in the global economy, still-strong inflationary pressures and a downturn in the global semiconductor industry.
The country's key non-oil domestic exports (NODX) have since chalked up a seven-month losing streak. Authorities on Thursday also downgraded the 2023 forecasts for NODX following a "worse-than-expected" performance in the first quarter.
"Although it is not our base case scenario, there remains a high risk that the economy slips into a technical recession, either in (the second quarter) or in the second half of the year," Mr Shivaan Tandon from Capital Economics told CNA.
"While advanced economies have held up better than initially expected, we expect that resilience to fade in the second half of the year which will weigh heavily on demand for Singapore's exports," he added.
"This dynamic raises the risk of a technical recession given the export-driven nature of Singapore's economy."
With the weaker performance in external-oriented sectors, such as manufacturing, likely offsetting the resilience in other parts of the economy like tourism, Maybank economists Chua Hak Bin and Lee Ju Ye see the economy stagnating, instead of staging a rebound, in the coming quarters.
They added that Singapore may slip into a technical recession "if the boost from China's reopening fails to materialise in the second quarter".
On the tourism front, the return of China tourists "has been more a trickle than a flood," the economists wrote in a note.
Meanwhile, exports have yet to feel a boost, with NODX shipments to China contracting sharply in April.
"(This suggests) limited boost to China import demand from the reopening," the economists added.
Domestically, falling inflation will provide some relief for households, but nominal wage growth and employment could be in for "a sharp slowdown" in the near term, said Mr Tandon.
Alongside higher debt servicing costs due to the rise in interest rates, these will dampen consumer spending in the coming quarters and keep a lid on consumption activity, he added. 
Mr Tandon expects the Singapore economy to grow 0.5 per cent this year, while Maybank economists are holding on to their estimate of 0.8 per cent growth for 2023.
However, some economists are more optimistic.
DBS economist Chua Han Teng does not expect a technical recession and is penciling a turnaround in the economy in the second half of 2023 to take full-year growth to 2.2 per cent.
"We acknowledge downside risks to our outlook, with the pace of China's ongoing post-pandemic recovery and a possible turnaround in the electronics cycle as key factors to watch," he said.
While the manufacturing and trade-related clusters would likely continue to underperform, Mr Chua reckons that the outlook for the services cluster, particularly those linked to hospitality and tourism, will stay robust amid the ongoing rebound in travel and return of Chinese tourists.
Policymakers said on Thursday that they are not expecting a technical recession this year.
Ms Yong Yik Wei, chief economist at the Ministry of Trade and Industry, said quarter-on-quarter growth is expected to be "fairly flattish or very low" in the first half of the year, but should pick up gradually later in the year.
"Given the downside risks and the weakening outlook, we cannot rule out the possibility that there could be some quarters of negative quarter-on-quarter growth this year but again, that's not our baseline," she told reporters at a press conference.
Ms Yong added that a technical recession, if any, would be led by the manufacturing sector, while the consumer-facing sectors and aviation will continue to be resilient.