Alternative therapies draw the pandemic-weary, but they're no substitute for mainstream medicine
Some alternative wellness providers have seen strong demand for flower baths, reiki and other services since the start of the COVID-19 pandemic. What's the draw, and when should people seek professional medical help?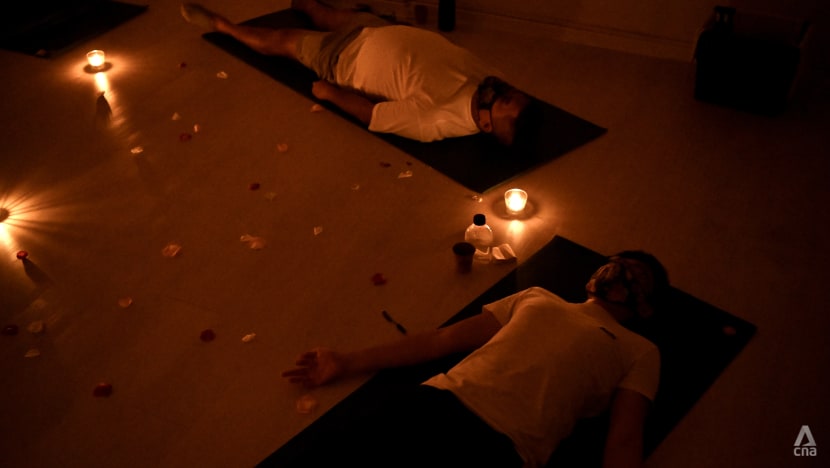 SINGAPORE: One customer signed up for a ceremony that involved singing mantras, reflecting on things she wanted to let go of, and drinking thick cacao infused with spices. This was part of her journey to recover from personal losses.
Another customer takes flower baths regularly because they make her feel more radiant and positive.
Alternative therapies remain niche in Singapore, but demand has been holding steady amid the COVID-19 pandemic as some wellness providers report a steady stream of clients turning to them for reiki, cacao ceremonies, crystal healing and other services.
While the pandemic is not the sole reason clients have come knocking, it has given rise to people seeking ways to deal with being cooped up, relationship stresses, and livelihoods hurt by the coronavirus, some alternative wellness practitioners told CNA Insider.
One fan of flower baths who only wanted to be known as Jit, a 69-year-old retiree, said:  "Of course everybody is sceptical at the beginning… because there's no scientific proof per se. You have to experience it… Another person could have the same flower bath (and) the effect might be different."
Researchers indeed note the lack of data to back up the effectiveness of many alternative therapies, and caution that they are no substitute for professional medical treatment. Those with physical or mental health problems should still consult mainstream healthcare providers, they advised.
DEALING WITH LOSS
One cacao ceremony participant, who only wanted to be known as Ms Khoo, said she felt the need to "recalibrate" her life after she went through a rough patch in her marriage and lost an unborn child.
She started doing yin yoga, a slower style of yoga that targets deep connective tissues, at the end of last year. In recent months, she has signed up for two cacao ceremonies.
One was conducted virtually, with participants receiving kits with instructions to prepare the cacao drink themselves. The other was held at a candle-lit yoga studio with a few other participants.
I wouldn't advise anyone to just choose alternative healing as the solution… It is not, but it does complement in a holistic way.
For Khoo, a 29-year-old social worker, the cacao ceremonies were "very powerful" although they felt "a bit strange" initially.
They were conducted by Fiona Teo, who goes by the handle Fiona Healer on social media. She first encountered cacao ceremonies in Bali in early 2019, and enjoyed the full-moon parties and ceremonies where cacao was served.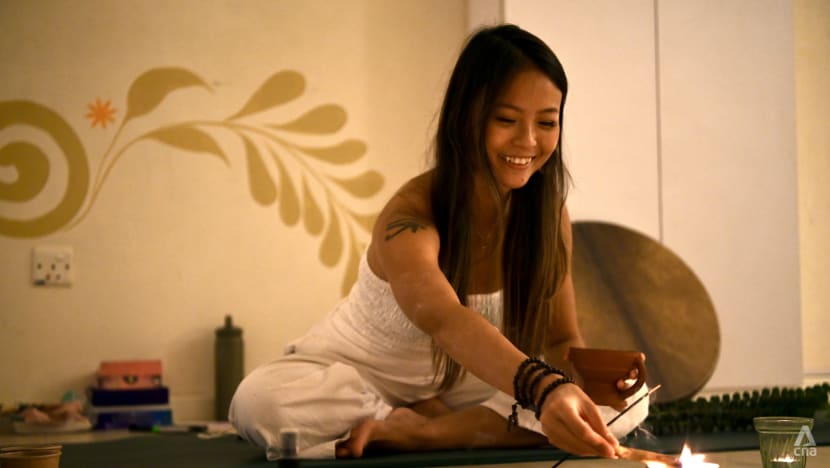 "Cacao ceremonies can be done on many occasions but during a full moon, it's nice… to set a healing intention, to clear things that no longer serve us, to rejuvenate," Teo said.
Teo's interest in alternative therapies began when she took up yoga in 2016. At the time, she was a personal assistant at a financial advisory firm, with an eight-to-five job "just like everyone", she said.
The following year, she picked up reiki because she wanted to help heal her mother, dog and friends, who were sick. Starting July last year, she ran a few cacao ceremonies with a friend before conducting her own a few months later.
Her attendees are in their mid-20s to 40s, and learn about the ceremonies from her Instagram account, yoga classes or friends of friends.
MORE CLIENTS WITH WORK-RELATED ISSUES
Similarly for psychic reader and reiki practitioner Jenny Tan, there are clients who want to improve their overall well-being, reduce stress or seek help for emotional issues.
Some want to relieve their physical ailments. There are also clients who have lost their jobs, as well as those who want to get their businesses out of a slump, said Tan, who owns Gypsee Jenny's World of Light.
The 65-year-old has practised reiki since 2000. Reiki is a form of energy healing where practitioners use their hands to channel what they call universal energy to their clients. Tan said her business has increased by 20 to 30 per cent since the pandemic, and most sessions are now conducted through Zoom.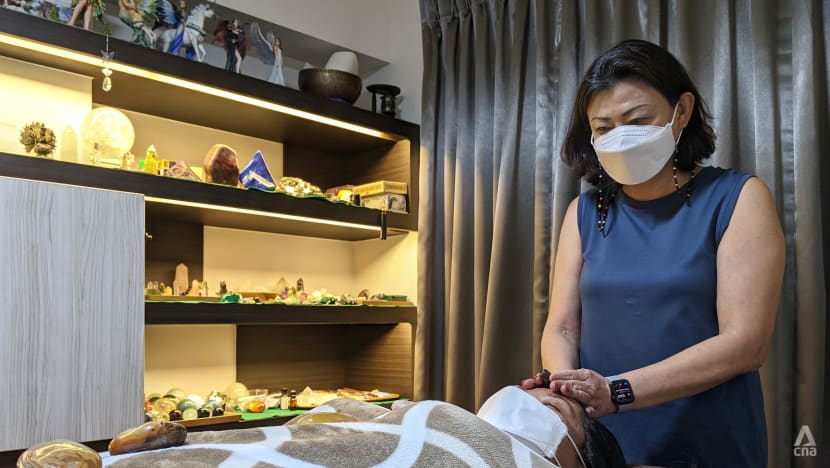 Her in-person sessions consist of reiki, sound healing using singing bowls from Nepal, and the laying of crystals on clients' bodies. Virtual sessions — which she'd started years ago to cater to customers who have moved away from Singapore — consist of sound healing and reiki.
For flower bath provider Srikanthan Balakrishnan, the number of clients has held steady in the last 18 months, but the proportion of them with work-related issues has grown. Some are job-seekers who go to him after having sleepless nights, he said.
The 54-year-old founder of Zakti Consultancy conducts eight to nine flower baths a day at his Hoy Fatt Road shop. He also supplies bath packages containing various herbs and flowers to customers who want to do it in their own homes. He has a YouTube video that instructs them how to go about the baths.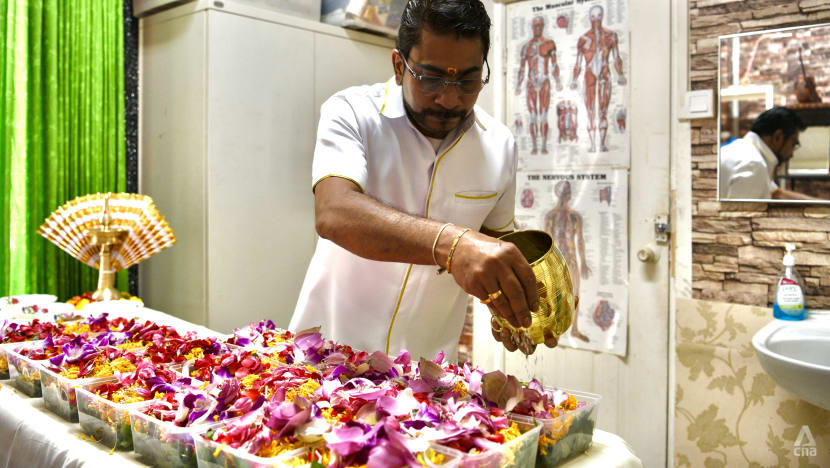 Srikanthan, who has been in the business for almost 18 years, said he learnt about flower baths from a "spiritual lady" in Indonesia. His clients wear old clothes when they arrive for the baths, which they later throw away. They put on new garments before leaving. 
He encourages clients to "talk to the water" before the baths. He also offers a listening ear to those with problems.
WATCH: I Tried a Flower Bath for Migraine Relief (04:55)
'IT'S MOSTLY BACK-UP, NOT A MIRACLE'
But alternative wellness providers emphasise that they do not make promises, and advise clients with specific health problems to see a healthcare professional.
"I want to tell people that alternative healing is not the answer to all (their) problems. It's just mostly back-up and it's not a miracle," said Tan. "If you have cancer and you have to go for chemotherapy, it means you have to go for chemotherapy."
Although more alternative therapies are becoming available in Singapore, they remain relatively niche, going by findings of the 2016 Singapore Mental Health Study.
It found that 6.4 per cent of the adult population in Singapore used at least one form of complementary and alternative medicine (CAM) for their mental illness in the past 12 months prior to the study interviews, which were conducted in 2016. 
Examples of CAM include homeopathy, herbal therapy, energy healing, relaxation and meditation techniques, and massage therapy, noted Dr Mythily Subramaniam, the Institute of Mental Health's assistant chairman of the medical board (research).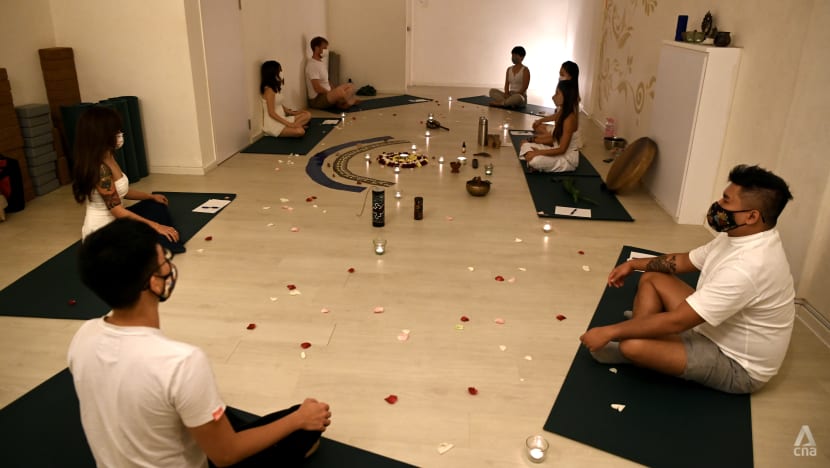 Respondents were asked if they had used any of the therapies in the past 12 months for problems with their emotions or nerves, or their use of alcohol or drugs.
The study did not look at why people used CAM, and whether they used it in conjunction with medical treatment or as an alternative to medical treatment, said Mythily.
Very seldom do sick people only receive one source of help.
People seek out alternative therapies for a host of reasons – even those they may not necessarily believe in or know much about, said National Institute of Education senior lecturer Lee Boon Ooi.
"Very seldom do sick people only receive one source of help. Often they receive multiple kinds of help, both mainstream and alternative, concurrently or sequentially," said Dr Lee, who has done research on culture and mental health and is also a psychologist.
Many people have a pragmatic attitude and want to get the best option, or combination of options, for themselves. "The reason for them to seek alternative help is actually to increase the effectiveness of something else they've already done," he said.
That said, there is also a group that seeks out alternative therapies because they believe in them. Lee has also observed an increase in types of alternative healing here over the past decade or two — animal communication, for instance.
MAINSTREAM VS ALTERNATIVE
Except for traditional Chinese medicine, alternative therapies are generally not regulated in Singapore, and training could be done through short courses or apprenticeships, he noted.
And while mainstream medical practices are based on clinical trials that assess their efficacy, most alternative therapies have very little research or data to back up their effectiveness.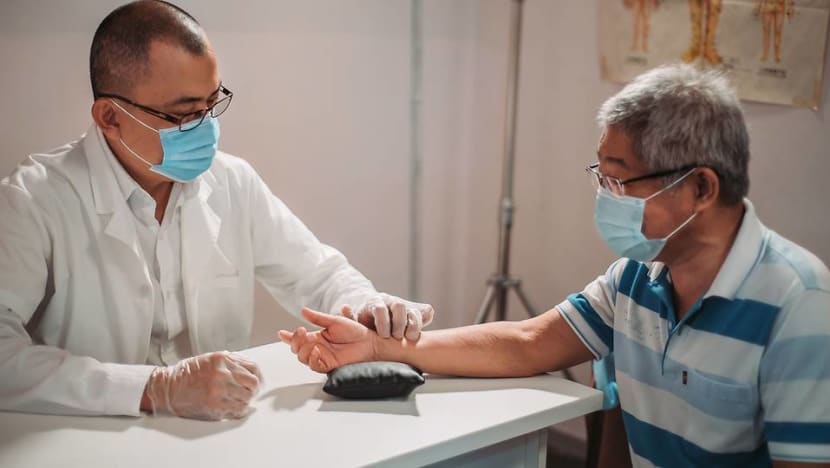 The placebo effect, where symptoms improve despite a non-active treatment, could be at work if alternative healing is effective, said Lee.
"The placebo effect doesn't mean it's not real, because now we know the placebo effect is as real as some active ingredients. Our mind and body are so intertwined that if we believe in certain things, this may have impact on our bodies," he said. 
Placebos work through patient expectations, meaningful procedures, and a positive practitioner-patient relationship, he added.
WHEN TO CONSULT MAINSTREAM DOCTORS
But people with physical or mental health problems should still consult mainstream healthcare providers, the experts advise.
Should they wish to concurrently see alternative wellness providers, they should seek recommendations from friends or people they know, and be aware of the consequences, said Lee.
"If individuals, despite using CAM, are feeling very distressed or find that their mental health issues have affected their daily functioning, they should seek help from a mental health professional," said Mythily.
"They should not rely on just CAM to address their issues and avoid professional medical treatment."
As CAM grows in popularity, such practitioners can also help refer individuals to medical services if they feel the person is not getting better or worsening in terms of symptoms or functioning, added Mythily.
Meanwhile, the alternative wellness providers say they do not try to convince sceptics about what they do. In the early days, "I would try to explain from a point of validation, getting approval", said Teo. These days, she embraces the fact that sceptics may not change their minds, and she is a "hippie living in Singapore".
Said Tan: "If people were to come (to me) and say, 'Actually your healing is all hocus pocus', I'd say, 'So be it. You need not have to come see me or heal with me'."
Said Khoo, the cacao ceremony participant: "I wouldn't advise anyone to just choose alternative healing as the solution… It is not, but it does complement in a holistic way."
Learn more about other fringe interest communities in Singapore, on On The Red Dot's new digital-only series, OTRD X Unfiltered: How To Be A Fringe Fan.