Grieved by sufferings of chained dogs, this activist engages owners to free their pets
Helping street dogs and cats is one thing; freeing dogs from chains or tiny cages is another — and much harder, says Li Bing. She tells CNA Insider how she deals with the conflicts and disappointments that come with the territory.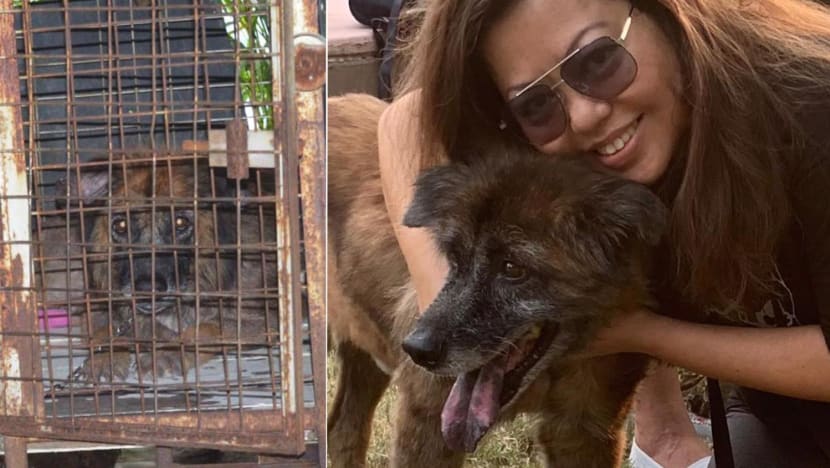 SINGAPORE: Vulgarities have been hurled at her over the years. That is a response Li Bing sometimes gets when she approaches people who chain or confine their dogs in tight spaces.
Even so, the level of hostility she recently faced from a young man — who claimed to be a secret society member and taunted the police besides using crude language — left her feeling threatened.
Li, co-founder of Chained Dog Awareness in Singapore (CDAS), posted an audio clip from the encounter on the animal welfare group's Facebook page. And she reported the case to the National Parks Board's Animal and Veterinary Service (AVS).
Encounters such as this are the reason many people who witness chained or confined dogs opt to pass the information on to CDAS, instead of approaching the owners themselves.
Li usually finds herself knocking on these owners' doors after asking feedback providers to monitor the dogs for at least a week and collect evidence with date and time stamps.
With cases that can drag on for years, what drives her to deal with confrontation for a dog's sake?
'I can't just walk away … I want to make sure I can achieve my objective of alleviating the (dogs') suffering," she told CNA Insider in Heavy Duty, a podcast series about people who see the dark side of human nature at work.
Listen to the activist fighting to free chained dogs:
While there are many animal welfare groups in Singapore, most of them help street dogs and cats. When Li co-founded CDAS in 2015, she felt the need to focus on chained and confined dogs, even though they are "a lot harder to help" because they belong to someone.
HOW SHE APPROACHES OWNERS
It grieves Li to see tethered dogs, which are often also malnourished and in a pitiful state. But she puts aside those emotions when approaching their owners.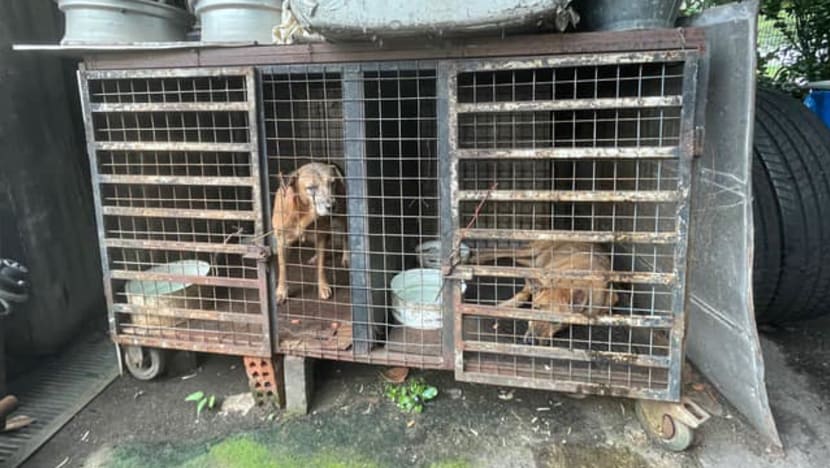 "I have to go in good faith, and I need to tell myself, 'You need to give this person a chance to explain,'" she said.
She will introduce herself and tell them about the feedback on their dogs. "I'll describe the situation as carefully as I can, in a very non-confrontational way," said Li, who makes sure to cite "feedback" instead of "complaint".
She asks them why the dog must be chained up or confined. "You need to hear them out because sometimes they feel they have valid reasons for doing what they do," she said.
They say, for instance, that the dogs will run out otherwise, are too active or have a history of biting people.
Li will offer solutions that include helping them build larger enclosures, having CDAS volunteers visit regularly to walk the dogs and paying trainers to work with the dogs.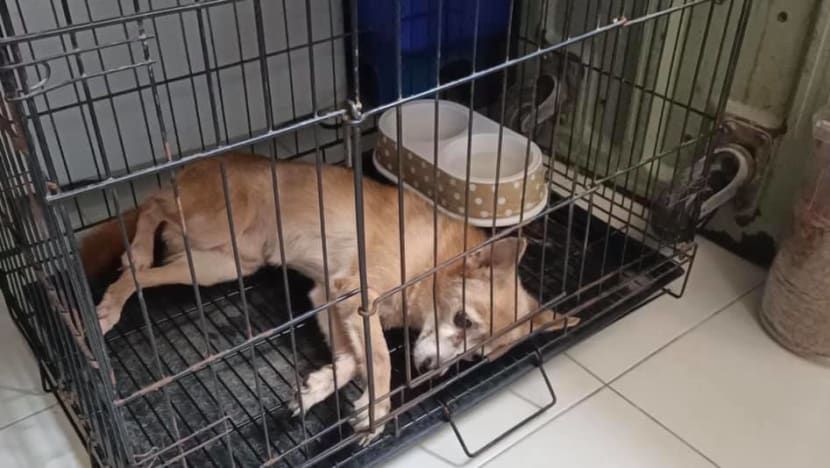 But owners are often unwilling to improve their dogs' living conditions. In eight to nine out of 10 cases, they are not receptive.
Li hears replies like, "The dog is lazy, it doesn't stand up, it only likes to sleep" or "If you care about animal welfare, then go to the shelter and adopt all the animals there — don't interfere in how I treat my dog".
That is when she uses evidence gathered by the public and works with the AVS to try to help the dogs, within the boundaries of existing rules.
PROLONGED TETHERING 'STRONGLY DISCOURAGED'
Between 2019 and March this year, the AVS worked on 46 cases reported by CDAS, said AVS group director Jessica Kwok.
Although there is no law in Singapore against confining or chaining up a dog 24/7, "dogs shouldn't be isolated or permanently confined in an unsuitable environment", she noted. "Prolonged tethering of dogs in all cases is strongly discouraged."
Singapore's code of animal welfare states that if a pet is tethered, "the equipment used, the area and the way it is tethered should be safe and comfortable for it".
If it is confined, the area should be unobstructed and "large enough for it to move around comfortably".
When cases are reported, the AVS will assess them "in totality", Kwok said, to see if owners have committed an offence under the Animals and Birds Act by failing in their duty of care.
The AVS considers the following: How the dog is chained, its medical history, whether food, water and adequate shelter are provided, the dog's health condition, its overall living environment and any other factors that could be related to the case.
Even when the dogs are assessed as physically well, the AVS will make recommendations for improving their living environment and welfare where necessary, she added.
First-time offenders caught abusing an animal may be charged under the Animals and Birds Act and could be fined up to S$15,000, jailed for up to 18 months or both.
Li, whose group helps 30 to 40 dogs a year, believes the law should prevent dogs from being chained except for specific occasions, such as when walking them or while cleaning the house.
She also believes in public education and that owners should see themselves as "pet guardians".
"I'm not advocating that every single dog should be sleeping on your bed, eating salmon every day. I'm talking about the fundamentals," she said, citing the five freedoms of animal welfare — freedom from hunger and thirst; discomfort; pain, injury or disease; fear and distress; and freedom to express normal behaviour.
"If a dog is confined to cages or tethered … can a dog (have all these freedoms)?"
NOT WANTED ANY MORE
In the remaining 10 to 20 per cent of Li's cases, she succeeds in engaging the owners, though it usually means they hand over the dogs to CDAS to find better homes for them.
The owners' reasons are often disheartening for her. "Because the dogs are old, they don't want the dogs (any more)," she cited.
She can recall only one case in her seven years of rescue work where an owner readily agreed to free her dog from chains without giving it up.
The woman, in her 70s, took up CDAS' offer to install a baby gate to prevent the dog from running out of the house. She also agreed to sterilise her dog.
"It was a very good experience. I wish everybody was like that," said Li.
Her convictions are grounded in her childhood experience of seeing her grandparents' dog tethered to a metal rack. It looked as if it had "given up on life".
Li was six or seven years old and had "this funny feeling that something wasn't right". It left a deep impression on her.
Then around 10 years ago, she adopted a dog of her own. She had gone to an adoption drive organised by animal welfare group Action for Singapore Dogs and was introduced to a black dog.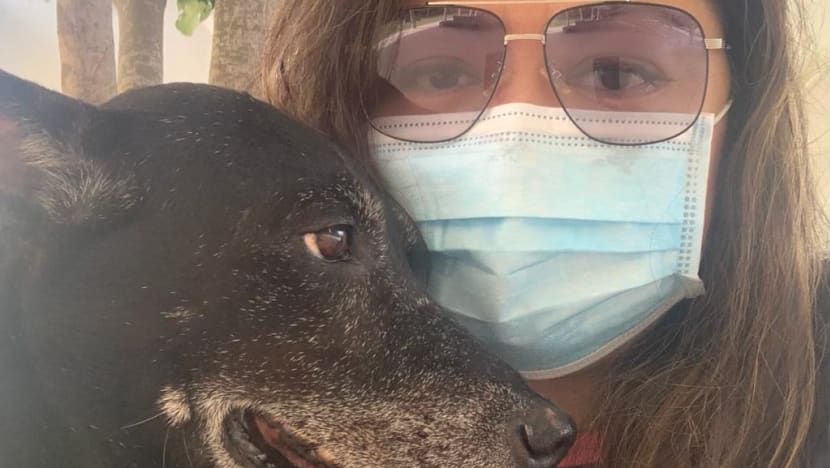 "I was a little bit disappointed because in my heart (I thought), 'Oh, you mean this is going to be my dog — just a plain black one that looks sad, with some scars on her face?'" she recalled.
But she reminded herself to give the dog a chance. Angel walked nicely on a leash and, by the next day, had found a home with Li.
"She's a huge inspiration to me," said Li, who became more involved in animal welfare through Angel.
That was how she came across a Facebook post a few years later from a woman appealing for help for a dog tethered to a pole in a house — and thus how she started CDAS with two other women.
"We decided … there were going to be many other dogs caught in a similar situation, and we should form a group to create awareness for them," said Li.
Her two co-founders have since left for personal reasons, but new volunteers have come on board and pitched in.
She declined to disclose much personal information, including her age, owing to the nature of her work in CDAS. Her day job is in advertising, where she has a capable team running day-to-day operations, allowing her to devote time to volunteer work.
What keeps Li going are her two Singapore Specials, also known as mongrels. She has another besides Angel, and they are a "source of comfort". So are the rescued dogs that have found loving homes.
"When you see photos of (them), that's a form of enjoyment (and) satisfaction … helping me to get out of the cycle of fatigue," she said.
Her message to owners or potential ones is this: "If you can't keep a dog responsibly, then please don't have one."
"The lifespan of a dog is quite short, like 10 to 15 years. Nobody, absolutely nobody, has the right to inflict unnecessary suffering on them," she added.
To hear about Li Bing's dramatic rescues over the years, tune in to Heavy Duty. This CNA podcast series is about people whose jobs deal with the dark side of human nature, and life lessons they have learnt.