Beyond Maximum Security: Inmates walk a tightrope as they taste the sweetness, and perils, of life outside prison
One inmate landed back behind bars six months after swearing he would never return. Another risked his Prison School education over a QR code. Nearly one year on, CNA finds out how the inmates in the documentary Inside Maximum Security are faring.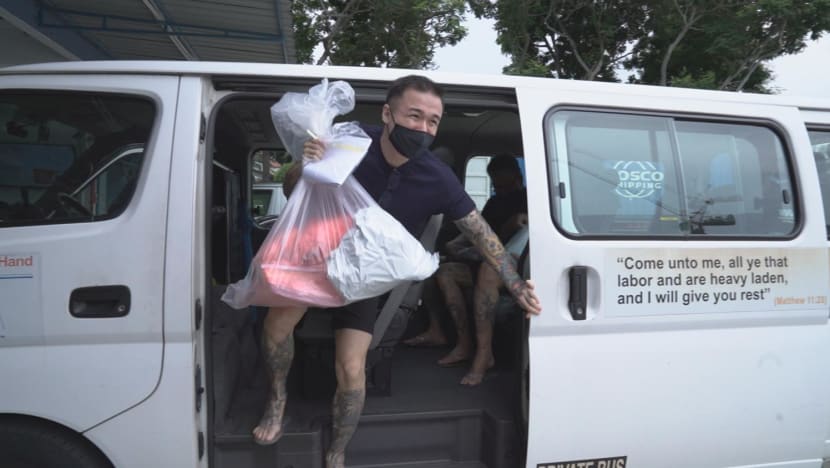 SINGAPORE: Two weeks from completing his prison term, Graceson Ang found himself handcuffed and taken back to the Singapore Prison Service's (SPS) Selarang Park Complex.
He had broken the rules of a community-based programme that allowed him to spend the tail-end of his sentence at a halfway house – not once, but seven times between September and November.
The 37-year-old had taken leave and sick days off from work without informing the halfway house and his reintegration officer Ponnarasi Gopal Chandra.
For these breaches, he landed back in a cell last month.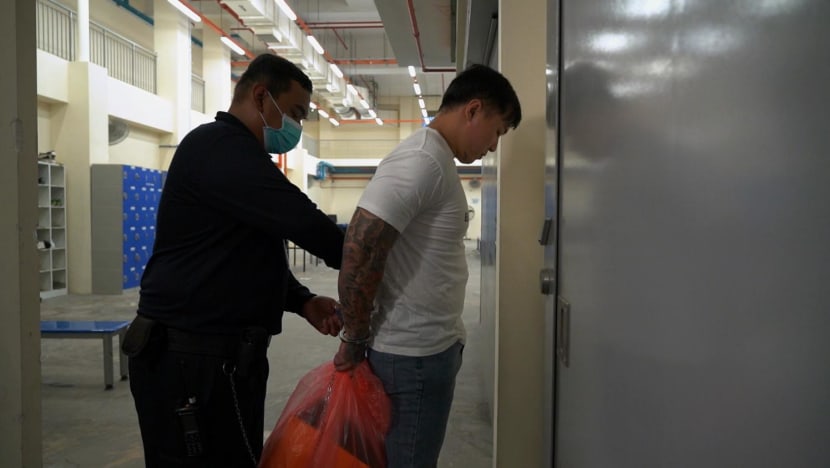 Under the SPS' Reflection Regime, he was not allowed out except for counselling sessions. The only reading materials he had were the Reflection Regime coursebook and a Bible.
"When there're no classes, we will be (in the cell the whole day). There'll be no movement, no nothing for us," Graceson lamented.
The experience, after tasting some measure of freedom for nearly six months, was "like hell".
"This is my fourth incarceration," said Graceson who, on the day he was transferred from prison to halfway house, had pledged never to return.
"While… back on this Reflection Regime, I (felt) like it's the fifth time that I'm coming back to prison," said the father of three, who was sentenced to six years and five months in jail, with 21 strokes of the cane, for drug consumption, criminal intimidation and carrying weapons.
He wasn't the only inmate featured in CNA's award-winning documentary, Inside Maximum Security, to stumble after exiting Institution B1 of Changi Prison Complex.
WATCH: A taste of freedom: Prepping for the outside world | Part 1/3 (46:46)
For nearly a year after the documentary aired, CNA continued to follow the lives of four individuals – Graceson, Tian Boon Keng, Muhammad Khairil and Mohamed Iskandar Hameed Sultan – as they worked towards their eventual release and a more hopeful future.
The result is a three-part sequel, Beyond Maximum Security, which is now available on CNA Insider's YouTube channel.
Here are some of the inmates' milestones, missteps as well as moments when plans and hopes hung in the balance.
HARD LESSONS ON FOLLOWING THE RULES
Explaining the "minimal" facilities offered under the Reflection Regime, Ponnarasi said it was for Ang to "learn from (his) mistakes" and "really reflect".
Supervisees – the SPS' term for inmates once they embark on community-based programmes – are supposed to inform their reintegration officers before they report sick to their employers "so that we are aware of their whereabouts", she explained.
They are also supposed to seek approval from the halfway house before applying for leave. "The communication should be between the halfway house and the supervisee, and not directly with the employer without keeping the halfway house in the loop," she said.
Graceson told Ponnarasi he could not remember exactly where he was while on leave.
Once, his son was sick. "Very rushed, and then I just did it my own way without informing (the authorities)," he said.
On some other occasions, Graceson admitted he "just wanted to be outside with (his) friends to relax, talk, chat". "To try to find ways to have more income," he said. "But of course, not in… illegal ways," he quickly added.
This, Ponnarasi said, is a breach as supervisees are supposed to remain at the halfway house when they are sick or on leave.
Another inmate who broke the rules was Iskandar, who escaped the death penalty for drug trafficking and is serving a sentence of 25 years' imprisonment and 15 strokes of the cane for drug trafficking, drug possession and consumption.
Into his third year in Prison School, the 42-year-old is pursuing a diploma in logistics. He recently stepped into a facility he had hitherto not had the chance to: The computer laboratory.
It was like entering another world. "Inside the computer lab, you won't have the thought that you're in prison," he said. "It's air-conditioned, you just do your work and time goes (by) very fast."
Inmates are only allowed to access specific websites for their assignments. If they access unauthorised sites, the privilege of using the device could be taken away. They could also be expelled from their course.
Iskandar landed in hot soup for generating a QR code without permission.
"We saw the QR code on Iskandar's project work. We did a scan and found out that it was his prison number," said Paruk Kothari, vice-principal of the Prison School. 
One's prison number is "equivalent to the identity card number of a person (and) can be abused", he explained. If it falls into the hands of other inmates, they can log in to access his electronic letters to his loved ones and impersonate him, among other things.
During investigation into the matter, Iskandar was segregated from other inmates. His lessons were suspended.
Isolated in his cell, Iskandar regretted the "stupid mistake". "I'm the type of person who's very cautious. I won't do stupid things. But that day, I don't know why I (went and did that)," he said. "This QR code, I (didn't) even need it… I just wanted to act clever."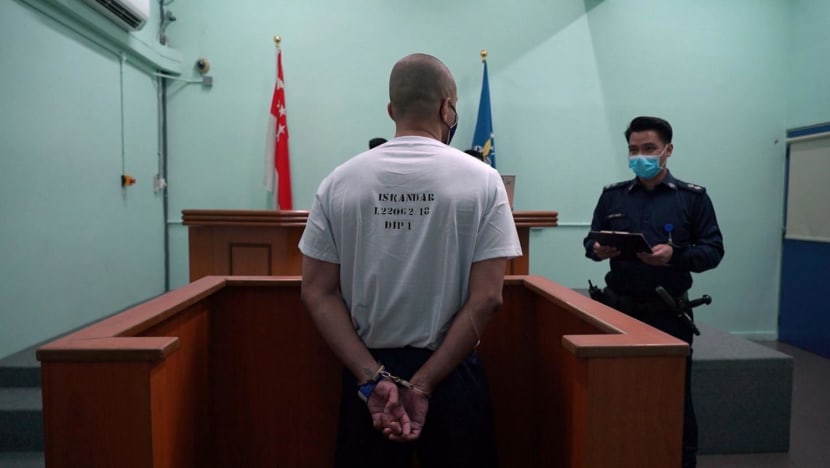 In the end, Iskandar's punishment was a postponement of his release by four days. But he was allowed to continue his diploma course and remains on track to complete it well before his release. 
This was good news, he said.
Honestly when I was charged, I (felt) angry with the officer. But after my… segregation, I think back (and realise) it's my mistake."
SOME FAMILY TIES MENDED; OTHERS REMAIN FRAYED
Throughout his 18 months behind bars, Khai, 32, had been wondering how his mother was faring.
He last had contact with her last year and had been deeply worried – to the extent he wanted to end it all. According to him, his stepbrother took his mother away after his father died in December 2020. Soon after, Khai started serving his sentence of 29 months' jail and two strokes of the cane for extortion, blackmail and voluntarily causing hurt.
While in prison, he tried without success to call his mother. He wrote to his cousin but did not receive a reply. He then called his daughter to check in on her and pass her some money.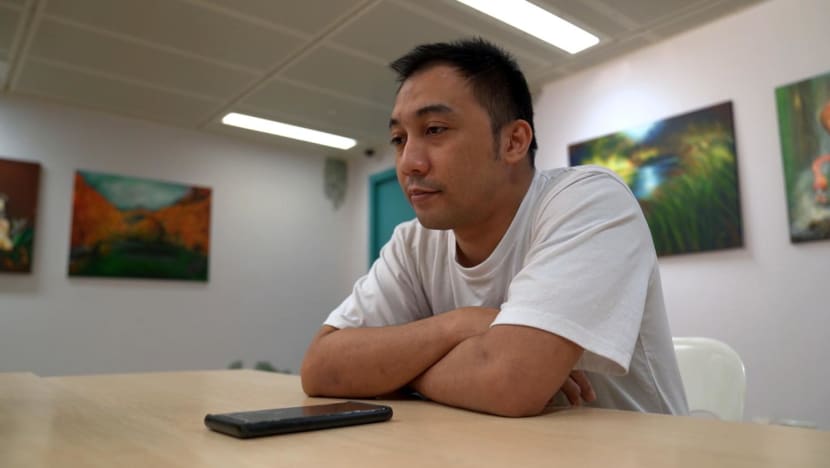 When Khai finally walked out of prison in late October, the first thing he did – after the pleasant surprise of finding two friends and his daughter waiting outside the gates – was to buy lunch and head to his late father's house in search of his mother.
His heart "was beating so fast" when he stepped out of the lift. "Don't know what's (the state) of the house, and don't know my mom's condition," he said.
His mother took a moment to ascertain it was her son, then ushered him in. They enjoyed their first meal, post-release, as a family. She feels "blessed" that he is back to take care of her, Khai said.
He also hopes his daughter will stop playing truant, focus on her studies and have a better life than him. "I always tell my daughter (to) be better than who I am," he said. "My highest qualification is only Primary Two, and I don't want (her) to study until secondary (school) and that's it."
WATCH: Counting down to a life beyond bars | Part 2/3 (47:54)
For Boon Keng, things are bittersweet on the family front.
With help from his reintegration officer Simon Lee, he has managed to reconnect with his sister, whose home he is now living in.
"Thank God that my sister gave me this place to stay," said Boon Keng. "At least I have a roof (over my head)."
The 35-year-old was released into the community in July under a remission order and the Mandatory Aftercare Scheme, which gives more intervention and support to higher-risk ex-offenders.
This enabled him to reunite with his fiancée Gabrielle.
They visited Mandai Columbarium the first chance he had to pay his respects to his late mother, who died while he was in prison. Sobbing as he pondered his failings as a son, Boon Keng said: "I don't dare to say I love her because up to her last day, I did nothing.
I keep telling myself that I shouldn't cry (on camera) and (evoke) pity, because I don't have the right. My mum is the one who has really, really suffered."
There is another loved one that Boon Keng – who was sentenced to three-and-a-half-years' jail for theft, drug consumption, criminal breach of trust and breach of personal protection order – has yet to see: His daughter.
Lee is in touch with Boon Keng's ex-wife about the issue, and said she has not decided whether to grant Tian access to their child. "She needs to speak to you first," Lee told Boon Keng. "She needs to understand you and your current mindset. She needs to assess your situation."
WATCH: Roadblocks to redemption: Will the jailbirds fly free? | Part 3/3 (47:01)
MAKING ENOUGH TO PAY THE BILLS
Employment was another big step for the inmates as they ventured back into society.
Boon Keng had to secure a job to be on board the Work Release Scheme and, with the help of statutory board Yellow Ribbon Singapore, lined up two interviews with hotels.
He scored a role with one and began work as a guest services agent in June.
By October, however, he had quit as the salary was not enough for his expenses, which include maintenance for his daughter.
WATCH: What former prison inmates do with first moments of freedom (6:25)
He became a food delivery rider, working six days a week for more than 12 hours each day. "Although it's hard work, at least whatever effort I put in, I can see the returns," he said. "I can actually start to save up."
There is a reason for making this a priority. "It's just a fear I have because in the past, I (committed crimes when I didn't have money)," he said.
This time round, I try to save up the money, so I won't have thoughts (of crime)."
Graceson quit as a mover with the halfway house after two months for the same reason. The S$500 he earned a month was not enough for his family's expenses, he said. "It's not that I am unhappy, it's just that the pay is too low for me."
His next role as a procurement assistant at flower and gift company Xpressflower came with initial struggles. Although a colleague showed him the procurement process, it took time to absorb the information and he fumbled when searching for the right basket for a floral arrangement.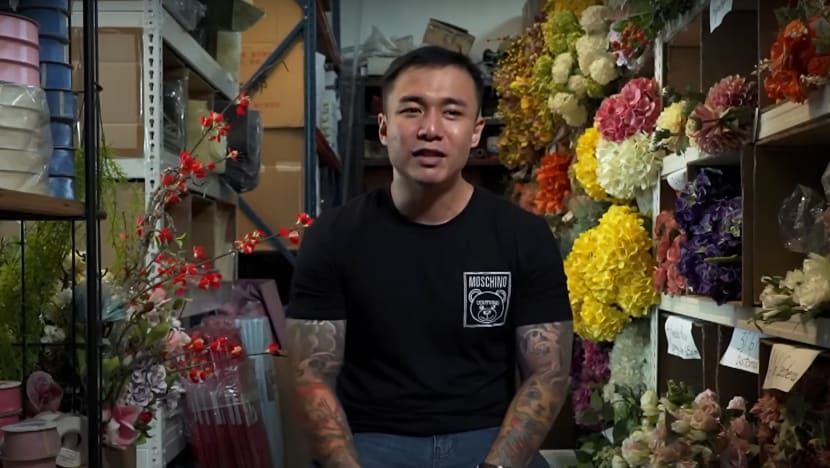 Tasked with tying a ribbon around a box of chocolates, he said: "I didn't expect (to) have to wrap (and) tie ribbons… It's a lady's job, actually."
Amid more fumbling, he remarked: "My hands (are) like (my feet)."
Graceson could hardly contain his glee on the final day of his Reflection Regime. "Freedom, I smell freedom," he said.
He feels confident about not falling back into drugs, but acknowledged he needs to work on his anger management skills.
"I'm still trying my best to change. We all have anger ... I want to try to control my anger," he said.
Then, picking up his items, he bid his cellmate goodbye. "Take care, five more days."
Catch the three episodes of Beyond Maximum Security here, and the four episodes of Inside Maximum Security here.