Can S$50 buy a kiss, or more? Inside Singapore's adult-only KTV world
How are KTV girls expected to operate? Is sex the only thing patrons have in mind? The programme Undercover Asia peeks behind the neon lights — flickering into life again as nightlife businesses reopen.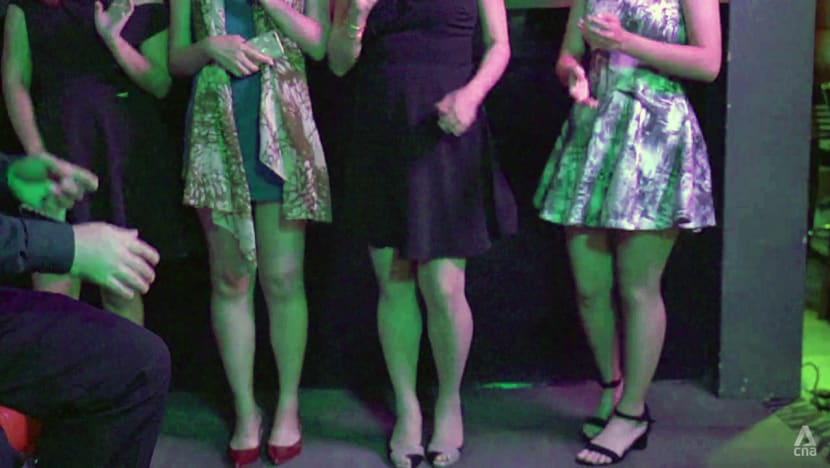 SINGAPORE: It was during National Service when "Michael" had his first taste of KTV revelry.
"We were so into sex … so hyper," he recalled. "In camp … (we'd) keep discussing, 'Weekend … go where?'"
It is a common origins story among regulars at KTVs — not the family-friendly karaoke clubs but the bars where, in Michael's words, "definitely you can get (a girl), even if you're not handsome".
And the girls he is referring to are hostesses, paid companions who drink and talk with male customers.
Insiders estimate that before COVID-19, there were at least 600 of these bars operating in Singapore. Then they were shut, together with other nightlife outlets.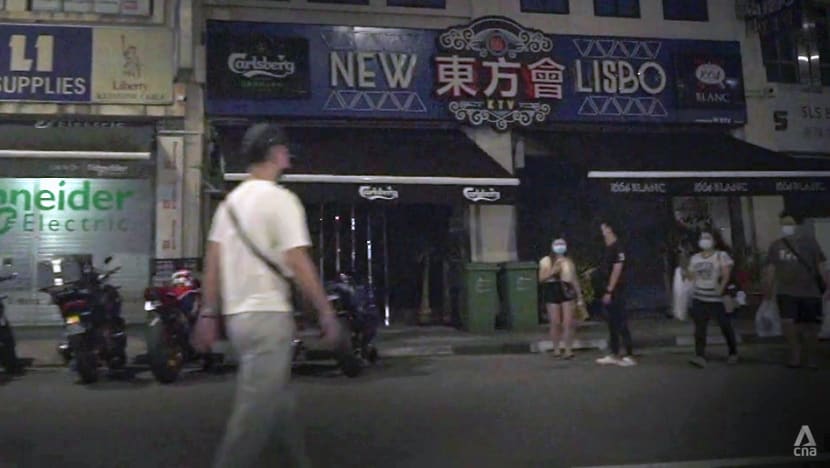 Now with the resumption of all nightlife businesses from this week, all eyes are on the industry to see whether it can bounce back.
But there remains considerable uncertainty about the future of KTVs in particular. Hostess services, which are at the heart of these bars, have not been allowed since the onset of the pandemic.
The programme Undercover Asia finds out more about Singapore's adults-only KTV world — what went on before and what still goes on behind closed doors.
THE KTV PLAYBOOK
With all the alcohol and bevies of women, a picture of hedonistic excesses might come to mind.
But according to the regulars Undercover Asia spoke to, the KTV system is governed by strict rules. Hostesses are disciplined timekeepers, for example, as they flit in and out of multiple rooms each night, spending 15 minutes with each customer at any one stretch.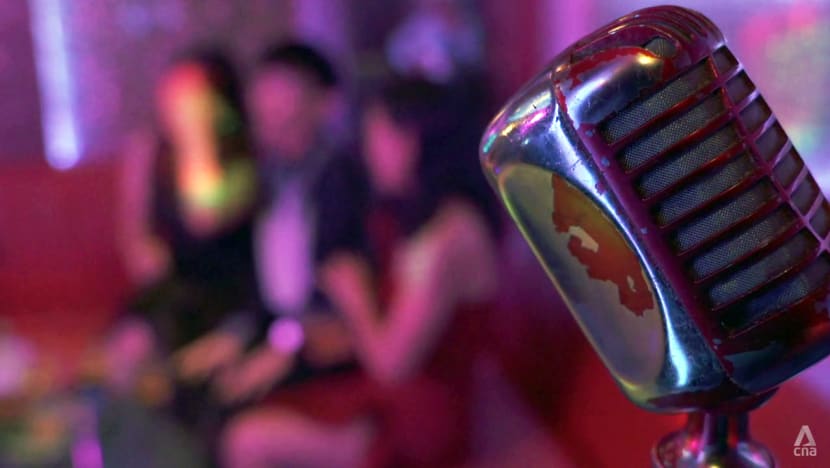 What they do during that time depends on the type of KTV in which the hostess is operating.
At low-end KTVs, the women will only drink with customers and make conversation, and the tip would be around S$30. "They'd listen to your complaints, and then (the most) you can do (is) ask them (out) for supper," said Michael. "After that, bye-bye."
At the opposite end of the spectrum, women who drink and socialise with business clients can expect S$500 to S$600 per tip.
Michael, who is in his 40s, said he has witnessed KTV high rollers even splurge tens of thousands of dollars on the room, drinks and hostesses' tips — all to impress their business companions.
"Chatting with somebody who's really rich isn't easy, so all these girls … are really smart," he said. "You talk to (the business companion), make him feel very comfortable, I clinch the deal — your tip will be S$2,000 instead of S$600."
The amount a hostess can earn also depends on her age, he added. "Usually, at all these high-end (lounges) … if you still look good, dress (well), maybe you can — (at the) maximum — stay until (age) 25," he said. "Then you drop a tier."
At mid-tier KTVs, the average market rate for a tip is S$50, and a hostess could bring in S$300 worth of tips in a night. What this S$50 buys a customer — such as a touch (and where exactly), a kiss, or more — depends on the lounge, said another regular, "Luke".
But the KTVs are not brothels, according to the regulars. Although some hostesses may choose to offer sex for money to the men they favour, any such encounters take place off duty and outside the KTV setting.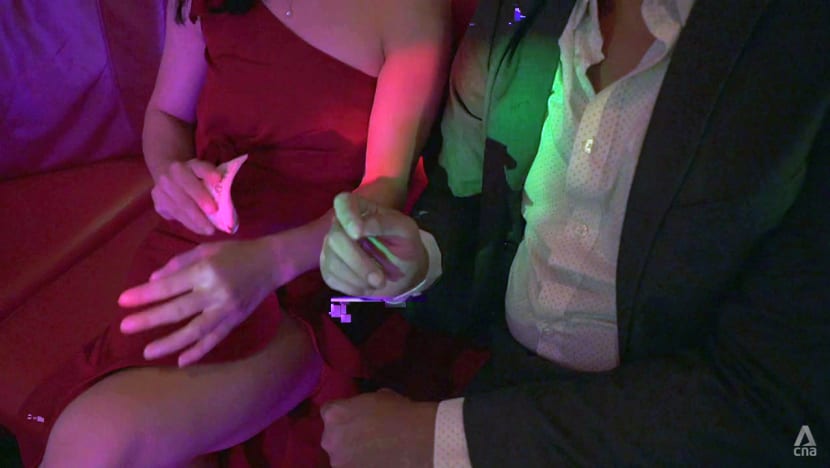 Within the confines of the bar, the experience is "like a paid date of sorts", said Luke.
"First, you start with some toasts, (then) you sweet-talk the girl. And when alcohol makes (everyone) loosened up … the lady will ask you the golden question: 'Do you want to go somewhere more intimate?'"
What "excites" the men, he added, is that "they don't know whether they'll be able to bring the hostess to a hotel room at the end of the session".
A hostess might have "six or seven people" eyeing her in a night — all willing to pay the same price — reckoned Michael. "She'll choose the one she has better feelings (for)," he said. For men looking for sex, his advice is "it's better to camp (out) in Geylang".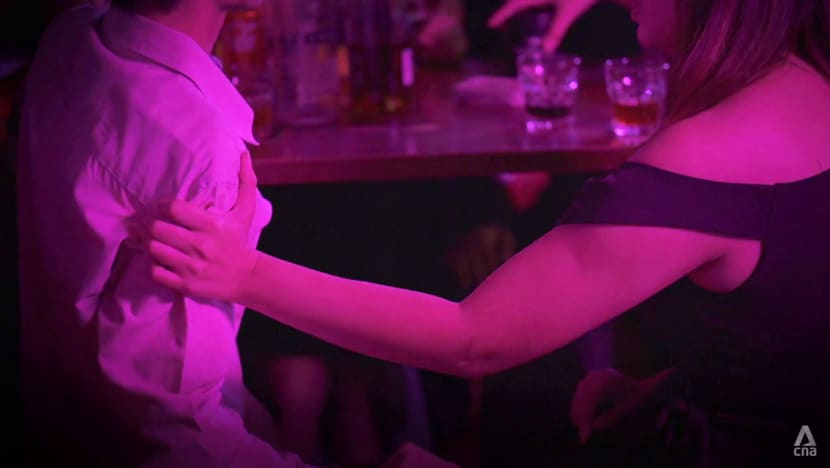 The faint prospects for sex aside, the appeal of KTVs lies in companionship for some men.
"Not every man is … handsome. Not every man is … charismatic or rich," said Luke. "Where are you going to fill that void? They need an avenue where they can find another half, who's willing to sit with (them).
"We can't stand being lonely."
Michael concurred. "When your heart's broken, who'd you like to talk to — same gender or opposite sex?" he cited. "(You) go (to the) KTV to have someone hugging you, telling you, 'Don't worry, next time will be better.'"
In fact, he met his current wife of four years at a KTV, after his first marriage ended in divorce.
THE LABOUR SUPPLY
But not everyone has had a happy ending. 
In the aftermath of the COVID-19 "KTV cluster" last July, the police came down hard on KTVs offering singing and hostess services — both illegal at the time.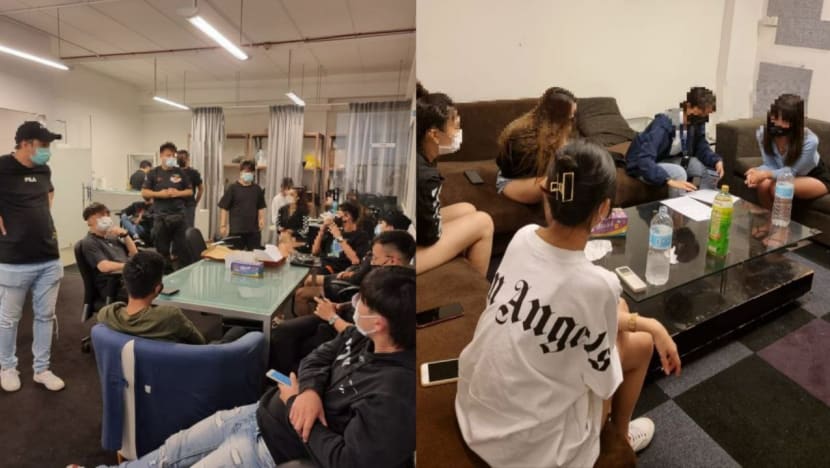 "Denise" was swept up during the enforcement checks and arrested a week after the outbreak for working illegally. She shared her story with local non-governmental organisation Project X just before she was deported back to Vietnam.
As the main breadwinner in her family of seven, she had gone to Ho Chi Minh City in 2019 to work in a bar. But she was enticed to come to Singapore by an online recruiter.
"I wanted to make enough money so that when I have children, they can go to university, have a career and not do a dishonest job like (mine)," she told Project X.
Besides online channels, Ho Chi Minh City's bars, massage parlours and cafes are perfect hunting grounds for recruiters — sometimes former KTV hostesses — looking to lure poor rural women with the promise of earning a small fortune within 30 days.
"Working at KTVs in Singapore, they can earn five to 10 times more than in Vietnam," said manager Pham Truong Son of the Tinh Than Foundation, which works with marginalised communities in Ho Chi Minh City.
"Moreover, when they go to Singapore, no one knows who they are. Their families don't know what they're doing."
Son noted that ever since Singapore and Vietnam started 30-day visa-free travel nearly two decades ago, there has been a trend involving young women from the Mekong Delta provinces coming to Ho Chi Minh City before moving on to Singapore.
"There are always glamorous stories told by people who moved to Singapore to work," he said.
Thus, many of these hostesses in Singapore arrived on short-term passes that allowed them to stay for 30 days but not to work.
The recruiters in Vietnam partner with brokers in Singapore who also can be former hostesses. For between S$1,000 and S$3,000, they will provide women with a tourist "immigration package" that includes the flight, money for an airport taxi, a cheap place to stay and a S$700 one-day-only cash loan.
This is, according to research fellow Nicolas Lainez from the Research Institute for Development, so they can pass muster during Singapore's border checks. He spent six months conducting field research in Singapore in 2015, learning the tricks of the trade from living with a Vietnamese mama-san and her girls.
"They can be asked by ICA (Immigration and Checkpoints Authority) officials to show that they have enough money," he said. "If there's a suspicion, they ask (the women) to open their luggage. If they carry many sexy clothes — (enough) for a month — that's very suspicious, and they might be rejected."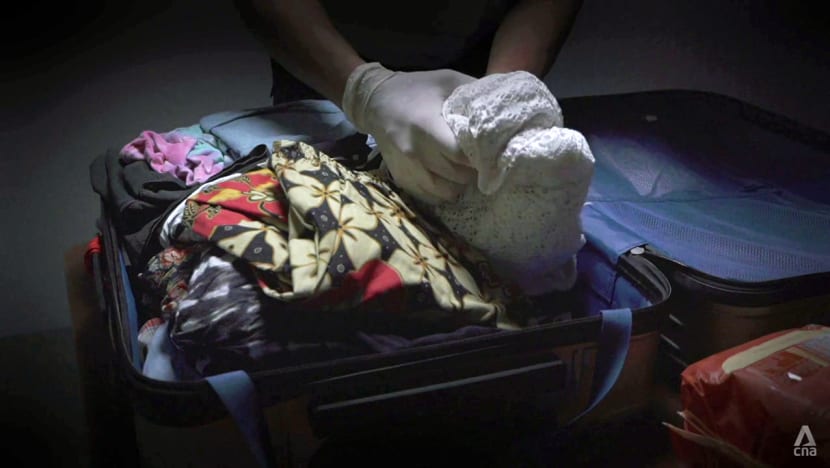 To circumvent this, the women often bought a one-week return ticket. "If they're asked by an ICA officer, they say, 'I'm just coming here for a week. You see my luggage — there's almost nothing,'" he said.
Paying for this immigration package meant membership of a "discount club" of sorts. For instance, under this package, a woman stays a month, repays the broker after 10 days, and the money she makes in the remaining 20 days is her profit, cited Lainez.
Three months later, she returns to Singapore.
"She only needs to make a phone call or send a message to the broker … and the broker will provide (a ticket, the show money and accommodation) at a much lower price than the immigration package," he said.
"It'll be S$150 or S$200 for the ticket, and the accommodation is always S$10 a day."
GOING UNDERGROUND
Before the pandemic, hostesses could apply for a work permit for performing artistes, which allowed them to work at public entertainment outlets like bars and lounges. Valid for up to six months, it is only for jobs related to stage performance, like singing and dancing.
But a parliamentary reply last July from the Manpower Ministry showed that fewer than 50 foreign hostesses in Singapore's nightlife outlets held valid work passes. By comparison, some insiders estimate that KTVs employed at least 3,000 hostesses before the pandemic.
Working outside the law means the hostesses can be vulnerable. Former KTV hostess "Wendy" has had customers who have tried to take her clothes off. Some have held her down and not let go.
"I'll shout. If there are friends working together, they'll help us and pull (the customer) out," she said.
Project X executive director Vanessa Ho also highlighted situations where women were made to drink so much alcohol that they blacked out.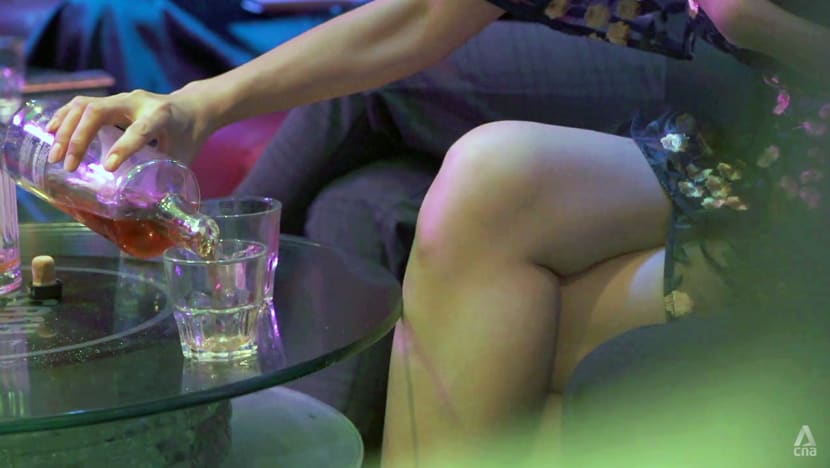 "Some of them come to us and say, 'Vanessa, I don't know what happened last night … Can you get me an STI (sexually transmitted infection) check?'" she said. "There was no recourse that they had."
The pandemic and forced closure of KTVs have only made things worse for the women. For one thing, the lounges have gone underground. Despite the ban on hostess services, Undercover Asia understands that demand is robust and outstrips supply.
"These mass arrests of short-term visit pass holders left a vacuum in the industry," said Ho. "The demand won't go away just because there aren't any more hostesses in Singapore."
WATCH: Sing city — What drives Singapore's underground KTV industry? (47:08)
Another long-time KTV regular, "Julian", has noticed a shift in business operations since the height of the pandemic: While some KTVs masquerade as bistros, others have moved into industrial and residential areas, with information being shared via Telegram group chats.
These underground KTVs, he said, operate in office spaces, landed properties, condominiums and even Housing and Development Board flats. "The moment you're in, you can see there are over 10,000 members," he pointed out.
He is not surprised that messages are posted openly despite the ban on the services offered.
"Even before COVID, these avenues of discussion of such sensitive topics have been around," he said. "Even in this period now, I don't think anything would really deter them."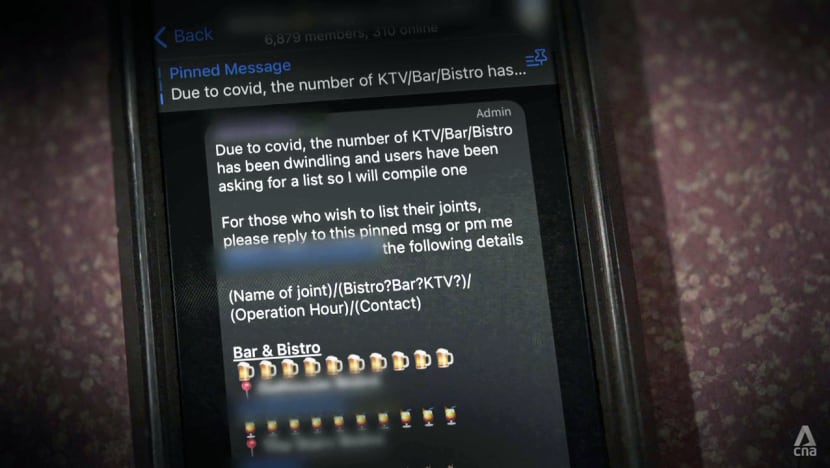 A new business model that has gained popularity recently is one-on-one hostess services at private homes. These call-out services are more lucrative but also more dangerous.
"In the KTVs, you could still run away … and shout for help," said Julian. "But now imagine if you're walking into the house unit of a person. She's entirely helpless.
"If a lady agrees to go, she'd better be damn sure that she can protect herself."
Some women have also resorted to full-service sex work, said Ho, but they might not know "how to negotiate condom use". Since the pandemic, Project X has redoubled efforts to reach out to these women.
It is too early to tell what the KTV industry will look like following the return of Singapore's nightlife on Apr 19. But as far as Ho is concerned, out of sight cannot mean out of mind.
"We often think about how we can protect the businesses. But we never thought about … the hostesses, the waitresses," she said.
"How do we protect the workers when nightlife opens again? How do we protect the workers who've been forced underground?"
Watch this episode of Undercover Asia here.