SINGAPORE: Nightlife in Singapore is back, with establishments reopening after a two-year hiatus due to the COVID-19 pandemic.
On Apr 4, the government announced it would allow nightclubs, discotheques and karaoke places to reopen their doors, as part of further easing of COVID-19 safety measures.
Such establishments are subject to the safe management measures imposed on food and beverage outlets, retail liquor establishments and live performances where applicable, authorities said.
Planning to dance or sing the night away soon? Here are some things you need to take note of:
DO I NEED TO TAKE A COVID-19 TEST?
Will there be dancing at the place you're going to? If the answer is yes, then you need to take a supervised COVID-19 antigen rapid test (ART).
That's required for any place that allows patrons to dance "as an intended activity". The test is valid for 24 hours and must cover the entire duration of the activity or event.
While this applies mainly to nightclubs and discotheques, other establishments – including food and beverage outlets, bars, pubs and karaoke businesses – could also require one if they're planning to allow dancing among patrons.
Some places offer in-house testing, so you can simply put on your dancing shoes and get swabbed there. For others, you may need to make your own arrangements to get tested before you go. Remote testing at a Ministry of Health (MOH) approved provider is also accepted.
Zouk is working with four partners to provide supervised testing: Bethesda Medical Centre, Parkway Shenton, Doctor Anywhere and Speedoc.
Zouk's chief financial officer Alex Phua said that about half of its guests get tested on-site, noting that this is a "higher proportion than expected".
"I thought most would be doing the remote testing before they come," he said. To minimise crowds and waiting times, he encouraged guests to come tested.
If you're planning to get the on-site test, remember to allocate extra time.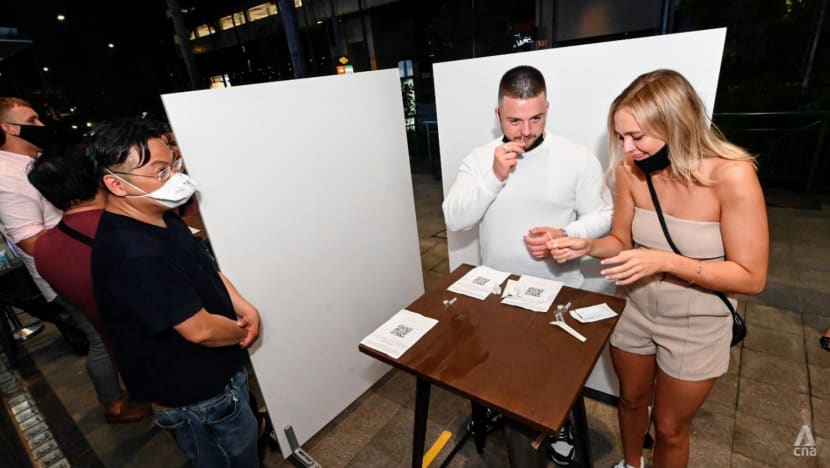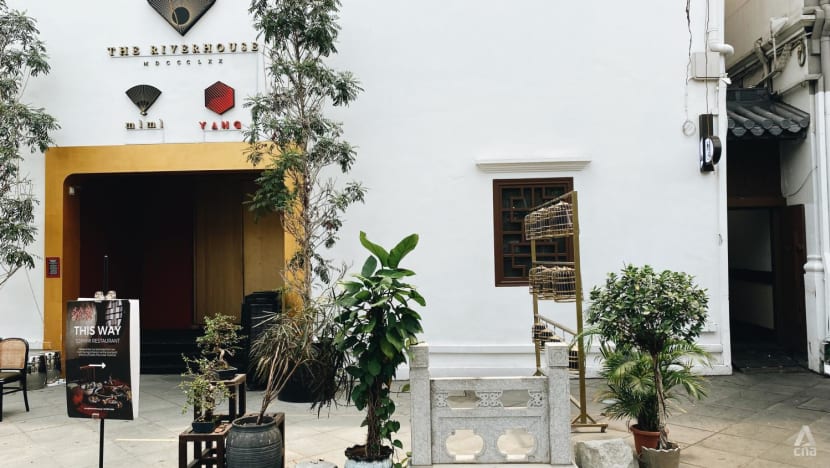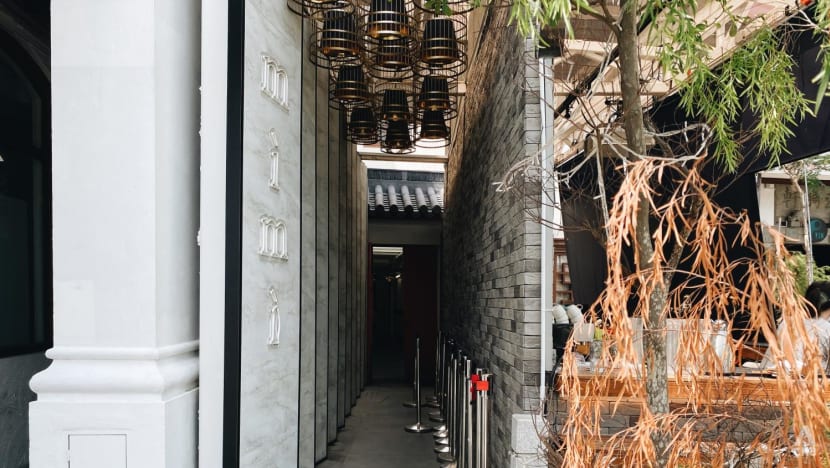 HOW MUCH SHOULD I EXPECT TO SPEND?
It depends on where you plan to go.
Some establishments will require you pay a cover charge to enter. For example, Zouk charges between S$35 and S$40 for women, and S$40 to S$50 for men. The price includes two drinks.
Of course, you will need to fork out money if you're planning to eat or drink more than that. There are also establishments that don't charge cover, but take note that there may be a minimum spend per table.
Aside from the cost of cover and drinks, you will also need to budget for ARTs before you go.
At Zouk, prices range from S$12 for an online supervised ART to S$20 if you opt for on-site testing. The cost of on-site testing, offered by Bethesda, includes a self-dispensed kit that comes with a unique bar code to register with MOH after the tests are done.
An outsourced ART booth is also located outside Yang Club in Clarke Quay, where patrons can take their test for S$15. On-site testing at Cherry Discotheque in Cecil Street also costs the same.
DO I HAVE TO WEAR A MASK AT ALL TIMES?
Don't ditch the masks yet!
According to government guidelines, you should still wear a mask whenever you're in an indoor setting. This includes nightclubs, discotheques and karaoke establishments.
Like any other place, you can take your mask off when eating and drinking but must put it back on as soon as you're done.
However, masks are optional if you're headed to an outdoor venue.
HOW MANY FRIENDS AM I ALLOWED TO BRING?
This is also subject to prevailing government guidelines, so no more than 10 fully vaccinated people in a group for now. From Apr 26, the limit on group sizes will be lifted.
And yes, the establishments will check your vaccination status. Nightlife premises are required to implement vaccination-differentiated safe management measures at entrances, so you will need to make sure you have your TraceTogether application handy to confirm it.
Although vaccination-differentiated measures will be removed from most settings from Apr 26, they are still required at nightlife establishments where dancing among patrons is one of the intended activities.
You still can't mingle with different groups in mask-off settings though – the 1m safe distance between individuals or groups must still be observed before rules are eased from Apr 26. 
Nightlife establishments are also required to have a capacity limit of 75 per cent if they intend to allow dancing among patrons.
Zouk, for example, has reduced its capacity to less than half of what it can accommodate. They had a full house when they reopened on Wednesday, and this weekend is expected to be the same, said Mr Phua.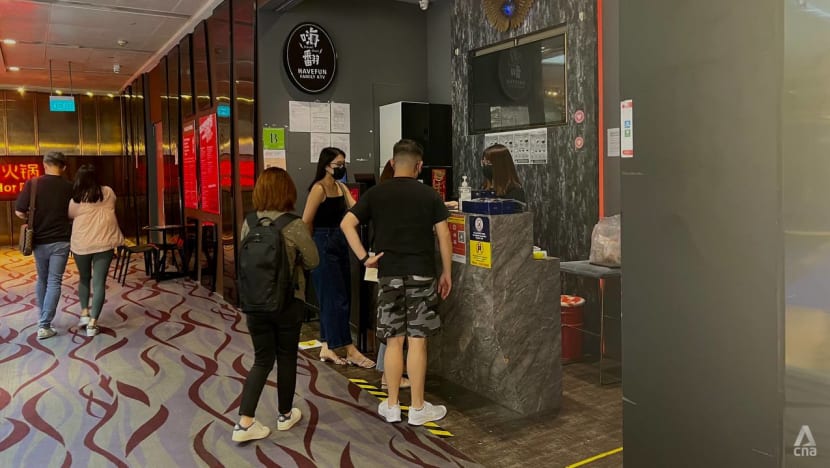 ARE WE ALLOWED TO SING KARAOKE NOW?
Nightlife establishments are now allowed to provide customers with public entertainment activities - including dart boards, karaoke equipment, and pool tables, provided they possess the requisite Public Entertainment (PE) licences.
The good news is that you will not need to take an ART before going to a karaoke place if it doesn't allow dancing among patrons.
Such outlets must make sure that no dancing takes place in their premises, so if that's where you're headed it may be best to leave the dance moves at home.
But you do need to keep your mask on, even when you're belting out your favourite song.
Now that you've read all of this - go have fun and party responsibly, everyone!