SINGAPORE: Karaoke joints welcomed back the crowds on the first day nightlife businesses were allowed to reopen, with most of them fully booked on Tuesday (Apr 19).
Business was brisk even on a weekday afternoon, with some outlets having to turn away walk-in customers as they had no available rooms until the wee hours of the next morning.
"We're ready!" exclaimed a regular Teo Heng customer who only wanted to be known as Ms Lim. 
Speaking to CNA outside the JCube outlet while waiting for her friends to arrive for their two-hour session, Ms Lim said that they had made a booking a few days after the announcement that nightlife businesses would be allowed to reopen from Tuesday. 
"Previously we know that Teo Heng is always quite fully booked, so we know that we have to make a booking (for today), especially since today is the first day," she said, adding that their session was quite short. 
"Everybody has a quota of two songs," said Ms Lim, who booked the slot for a group of 10 people. 
Ms Sally Tang, 20 and her friend Ms Wu Shi Ying, 21, were shopping in the Somerset area when they recalled that karaoke joints would be reopening. The two, regulars at family karaoke outlets before the pandemic hit, decided to drop by HaveFun Karaoke at Somerset 313 to try their luck. 
"We've been in Singapore for three years, and these were open in the first year. But after the pandemic, they all closed. It's like we were missing one form of entertainment, and I felt more bored," said Ms Tang, who works in a hotel. 
They managed to nab a two-hour session on Tuesday afternoon, shortly after the outlet opened at 2pm. 
"I'm really looking forward to coming here in a big group. Now it's just the two of us so it's a different feeling, but I can't wait to come with a huge group of people," said Ms Tang. 
"All our other friends are working now," she said. 
The Government announced on Apr 4 that all nightlife establishments, including nightclubs, karaoke outlets and discotheques would be allowed to reopen from Tuesday.
This gave businesses just two weeks to get ready. Some told CNA they couldn't fully reopen all their outlets yet due to manpower issues. 
K.STAR's Plaza Singapura outlet opened its doors today, but its Orchard Central outlet will only start welcoming customers next week.
Both outlets are fully booked until after next weekend, and they have stopped accepting bookings for now, said a spokesperson for the chain, which closed its Suntec City outlet during the pandemic. 
"The phone rings every one minute, until now. We are unable to respond, even on WhatsApp we have almost 150 messages, we can't even reply," she said. 
There was a lot of preparation to be done for the reopening, including equipment and sound system maintenance, and light repairs, the spokesperson said. 
"For the manpower, in the last two years, we only kept a few staff (members). Now I need to call them back, but it's not very easy for the service line at this moment. Manpower is our issue, so that's why our Orchard Central outlet is not opening today," she added. 
Even then, the outlet will only take evening bookings when it reopens next week because it does not have enough manpower to operate during the day.
The spokesperson added that each outlet has about four full-time employees on duty at any one time, compared to 10 before the COVID-19 pandemic. The chain has turned to part-timers to fill the shortfall, but they are hard to come by on weekdays, she said. 
"So today's our first day. It was quite messy, but we tried our best," she added. 
All six of Goodwill Entertainment's karaoke outlets reopened for singing today, said its head of marketing Sugo Rika. 
When the pandemic hit, the group acquired a multi-entertainment licence, and managed to keep all of its outlets open with new concepts, including movie screenings, games and F&B. 
The group plans to open two more karaoke outlets soon at Lucky Chinatown and Bugis Plus, she added. 
Since the outlets remained mostly open throughout the pandemic, the team did not have to make a lot of changes to welcome customers for karaoke this week. 
"All the while, we do make sure our systems are in place. Of course after two years, everything is a bit rusty, and we tested it out for the past week," said Ms Sugo. 
"We didn't downsize, but people left. Some of the people in the company, they came from overseas and they had to go back during COVID. We are getting them to come back, so it's still not as bad, but of course hiring locally is very tough."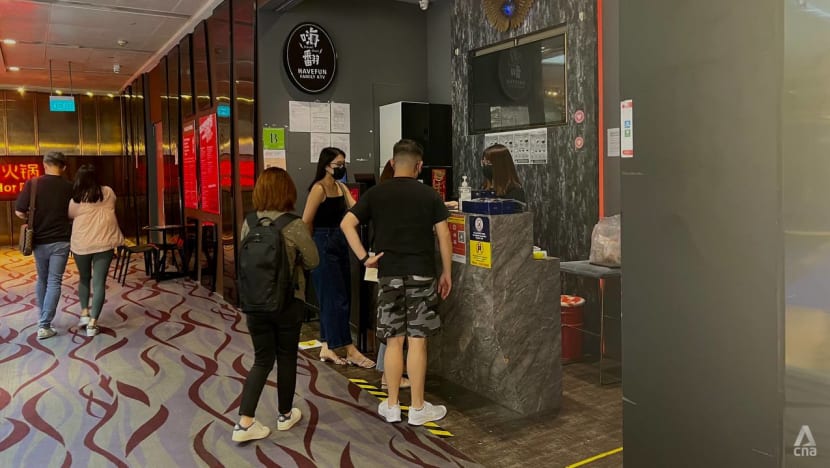 At HaveFun outlets, which are run by Goodwill Entertainment, each joint is manned by four or five employees at a time, including kitchen staff. Since their outlets typically open until the wee hours of the morning, staff work in shifts, which means each joint needs about 10 people, she added. 
Said Ms Sugo: "We actually are overbooked, because we have demand, but we don't have enough people to support the demand," she added. 
"We're trying to set up systems to make sure that everything is smooth so that our regular customers can come back with a peace of mind." 
For director of Cash Studio Karaoke, Caine Poon, reopening feels like "starting from scratch". 
Two of Cash Studio's four outlets reopened today, as the other two are waiting for their food licences to be approved, he told CNA. 
The outlets were "quite full" from about 3pm to 4pm onwards, and there were many regular customers who made a "deliberate effort" to make a booking, said Mr Poon. 
With about 16 employees - a far cry from the 80-strong pre-pandemic team - they had to clean and sanitise the outlets, as well as train the staff on safe-management measures. 
"Sometimes it can be quite difficult when customers are (not following the rules), and we have to tell them to follow them. We have to train them how to speak properly and not to do it in a way where customers get antagonised," he added. 
Mr Poon, who runs the business with his wife, said the current situation reminds him of when they first started the business in the 2000s. 
"It's really like starting from zero. Because we lost a lot of our staff, and the environment is kind of different now, a lot of protocols to follow," he added. 
While they were happy to see customers return, KTV chains were hesitant about whether they would continue to see the same high demand over time. 
K.STAR is encouraged by the response so far but the group will monitor the situation before deciding whether to open a third outlet or expand the business further next year, said its spokesperson. 
"Of course, now I believe all the people want to come back. I am not sure (what will happen) after three months. There may be more new karaoke outlets coming up, or people might already be tired," she added. 
Teo Heng's team spent "quite a huge amount" of money restoring their rooms, applying anti-virus coating and buying sanitising machines for each room, said its director Jean Teo. 
"I think this is something that we should invest in if we are looking into the long term. It's only when our customers are safe, then they are able to come to support us," she added. 
The chain's Suntec City outlet is fully booked until June, and the one at JCube is fully booked on all weekends and holidays until May. 
Because of higher utility costs, the chain has had to increase prices, said Ms Teo. During peak hours from 7pm until closing, a small room used to cost S$8 per hour. It now costs S$12 an hour normally, and S$18 an hour during peak hours. 
Now that karaoke bookings have resumed across all its outlets, Ms Teo also estimated that Teo Heng's electricity bill will triple.
She added that for each of the 10 outlets that were shut down during the pandemic, the company had to spend between S$50,000 to S$70,000 to reinstate each of them before returning the spaces to the landlords.
"These are the losses people don't get to see, and the heartache," said Ms Teo. 
But now, just hearing from customers who are angry about being unable to get a slot makes her feel optimistic about the future. 
"The best part is seeing customers all come back. They're all so excited and all so happy," she said.