I joined an investors' chat group — and lost some US$70,000 in a scam
She'd been trading stocks for a while when a chat group acquaintance showed her a crypto investment opportunity. It was a scam. Eliza then set about finding other victims like herself.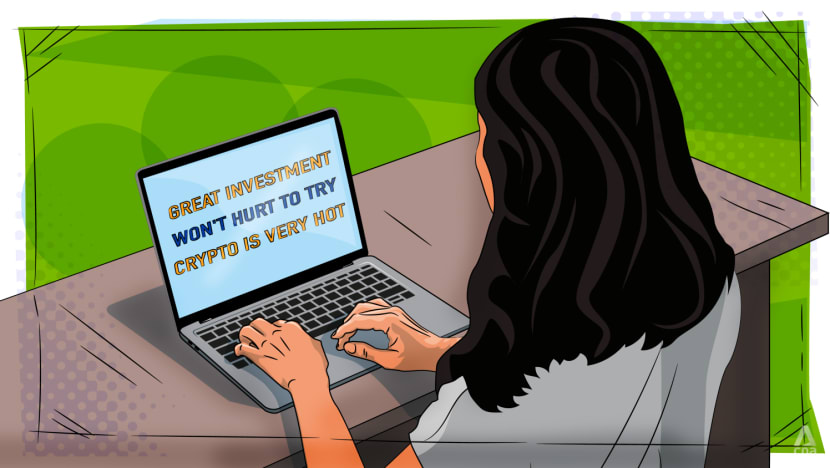 Name: Eliza (pseudonym), 40s
Status: Married, in the legal industry, living in Singapore 
In hindsight, trusting a stranger was a stupid thing to do.
In May last year, I joined a Discord group created by an investment YouTuber. It had more than 12,000 people, and every day there'd be thousands of messages about stocks.
As a free voice, video and text chat app, Discord allows people to host online servers with up to hundreds of thousands of members with shared interests. And because of the community vibe, you tend to trust people more.
So when "Andy" sent me a private message me just after I joined, I thought nothing of it.
By then I'd been investing for a long time and had been in the legal industry for more than 20 years.
He greeted me and asked me what I was trading on the United States stock markets, how my investments were going, what stocks I was buying. This was all aligned with the purpose of the group, so I shared my views with him, and we began talking.
EXPLORING CRYPTOCURRENCY
In the group, we had some unofficial leaders — people who actively shared their trades and gave advice daily. I thought Andy might've been one of them, because he seemed quite knowledgeable. You could see him getting it right when he talked about stock movements.
Although he tried to talk about our personal lives, I didn't share much because I was married and wasn't looking for love or another relationship.
We talked for about a week before he suggested moving to another messaging application, Telegram. He also brought up cryptocurrency, which was very hot about a year ago. While it was a blind spot for me because I'd never dealt with it before, I was open to all sorts of financial instruments.
I didn't think twice about it. 
He sent me a link which brought me to another platform. He showed me how he traded on the platform, bbkx DT, and it seemed easy, especially with someone guiding you. I downloaded the app.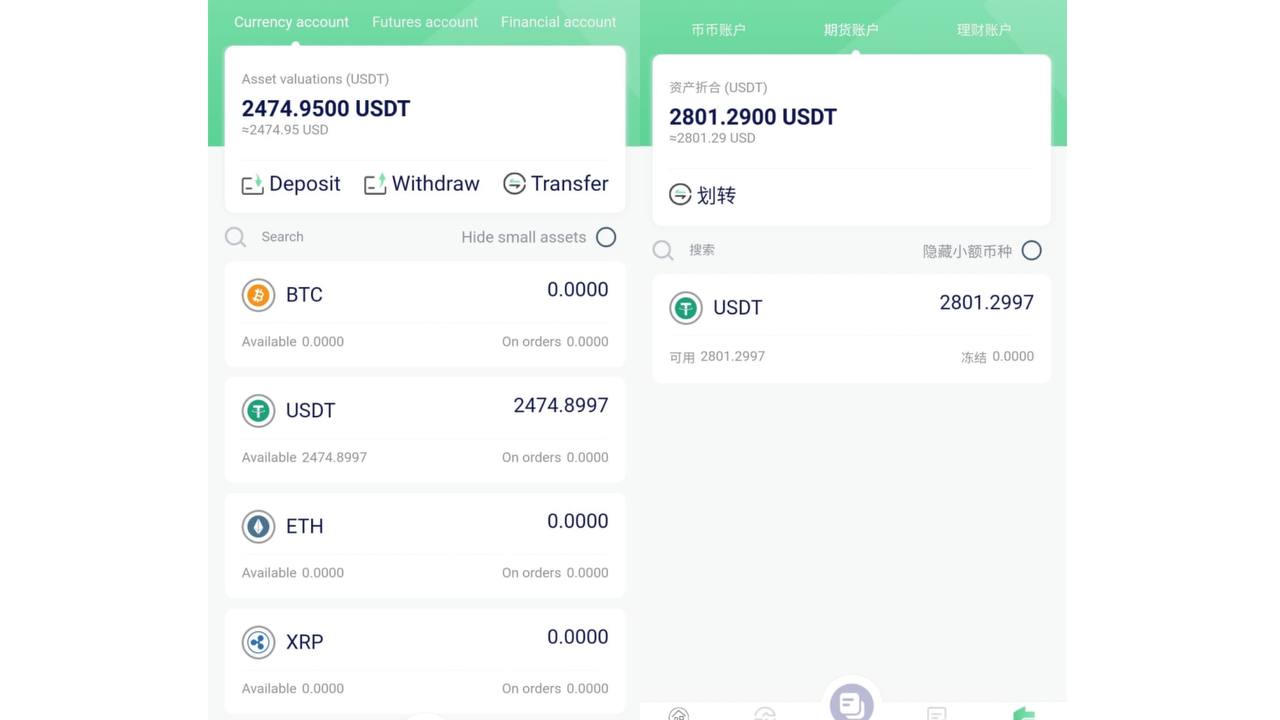 I thought a small investment of US$2,000 (S$2,790) wouldn't hurt, just to see how it worked. In one night, I earned at least 10 per cent of the amount I'd put in.
But I still didn't understand much about cryptocurrency and wanted to take it slow. He was fine with that, so we continued to talk about Ether, a type of cryptocurrency, and how crypto exchanges work.
A month later, I decided to put in a bigger sum. I just wanted to see what the returns were, then withdraw everything and close the account.
I put in US$50,000 and told Andy I wanted to end the investment after that. That's when the problems started.
LEAVING WITHOUT A TRACE
I earned about US$20,000 from that. But when I tried to make a withdrawal, I realised I couldn't withdraw anything.
Alarm bells went off. I lodged a police report online but didn't receive any form of communication.
I got into an argument with Andy. I couldn't understand why I couldn't withdraw my money while he insisted that he could take his own money out.
He told me to speak to customer service, which told me that my withdrawal had failed because I didn't activate the function for withdrawing large sums of money. They said I needed a top-up of 20,000 Tether (USDT) — another cryptocurrency — to withdraw all my money. This was about US$14,000 then.
I tried negotiating with them, but they repeated the same thing. I paid up about two weeks later because I just wanted my money back.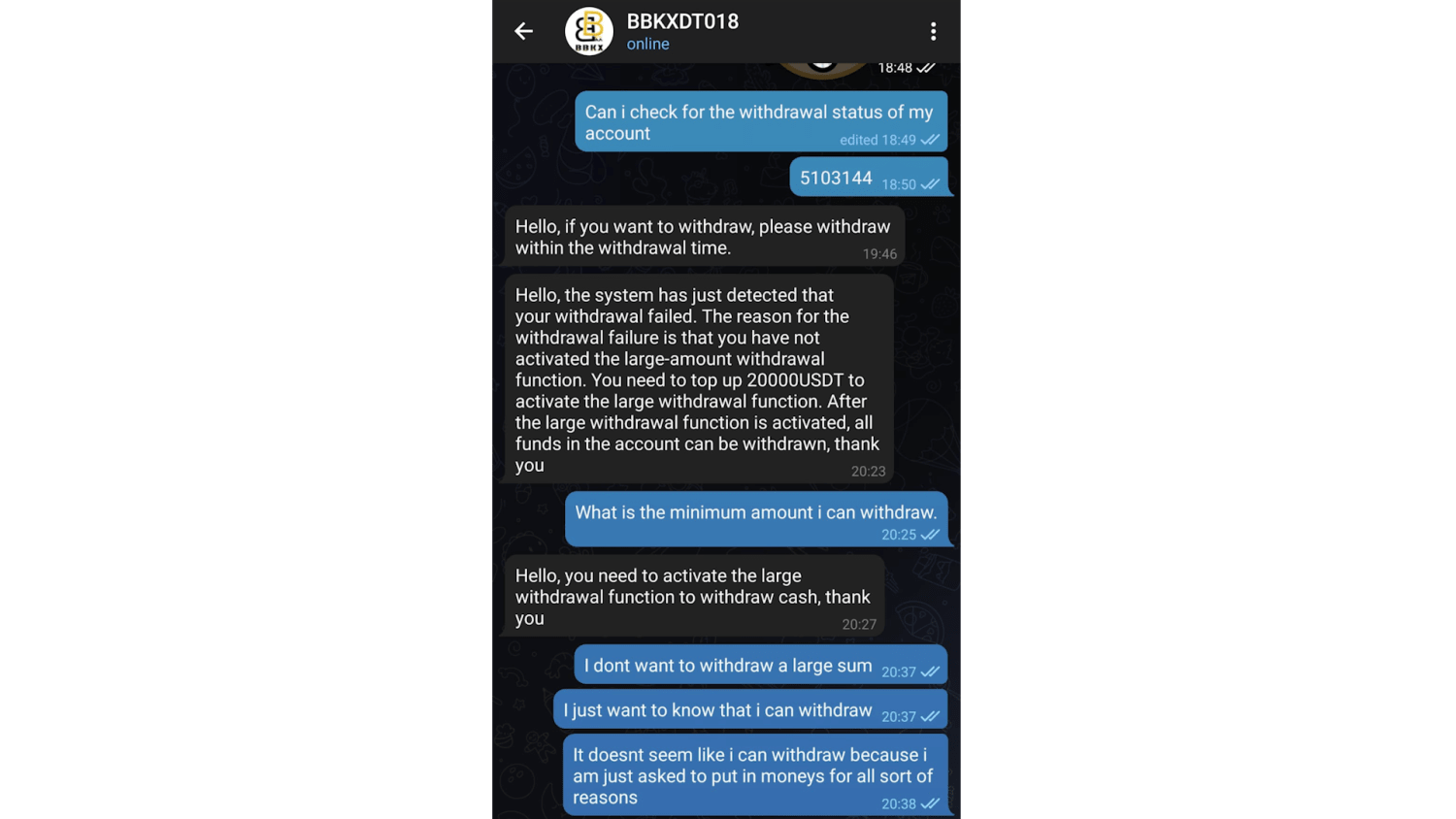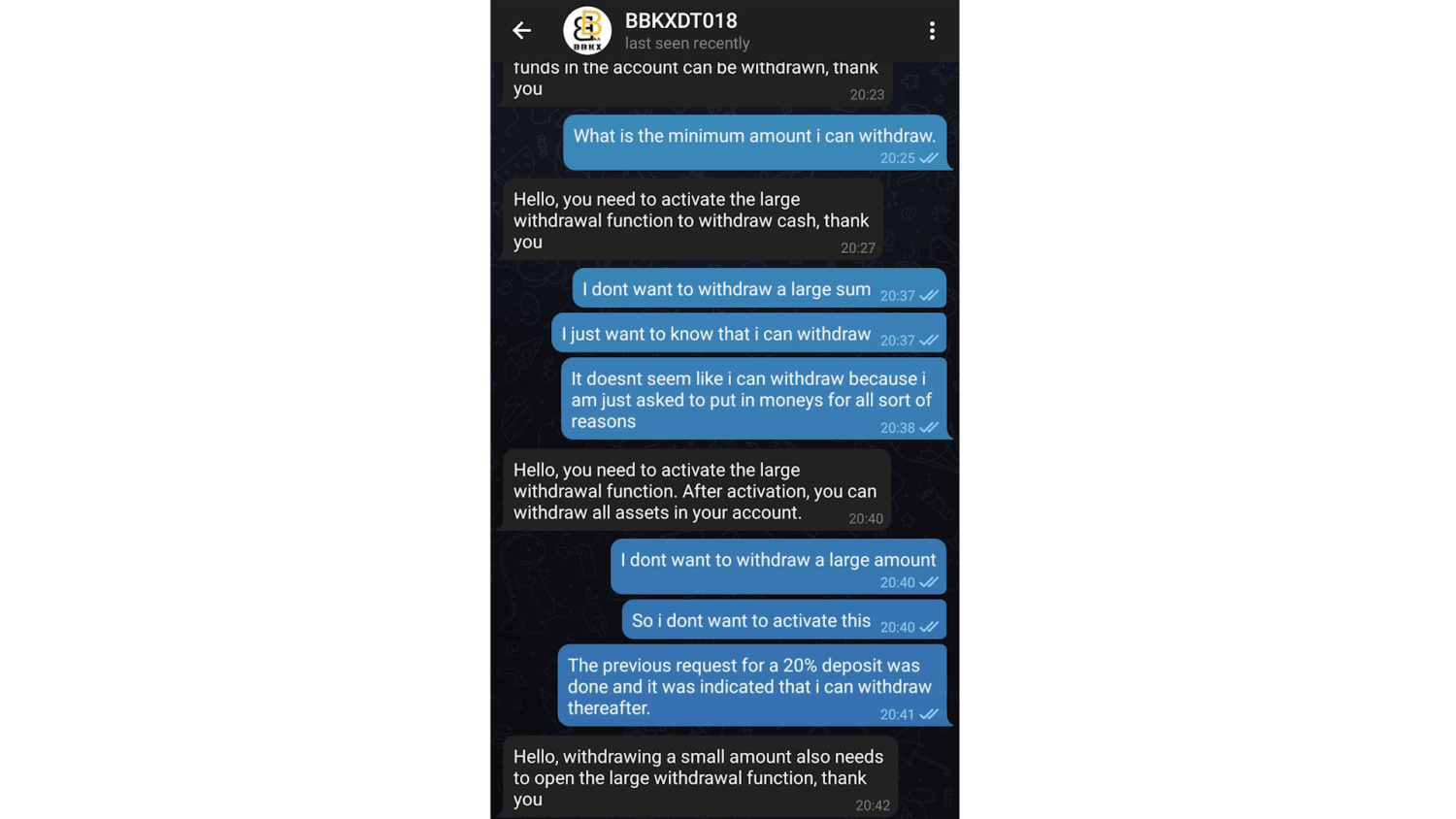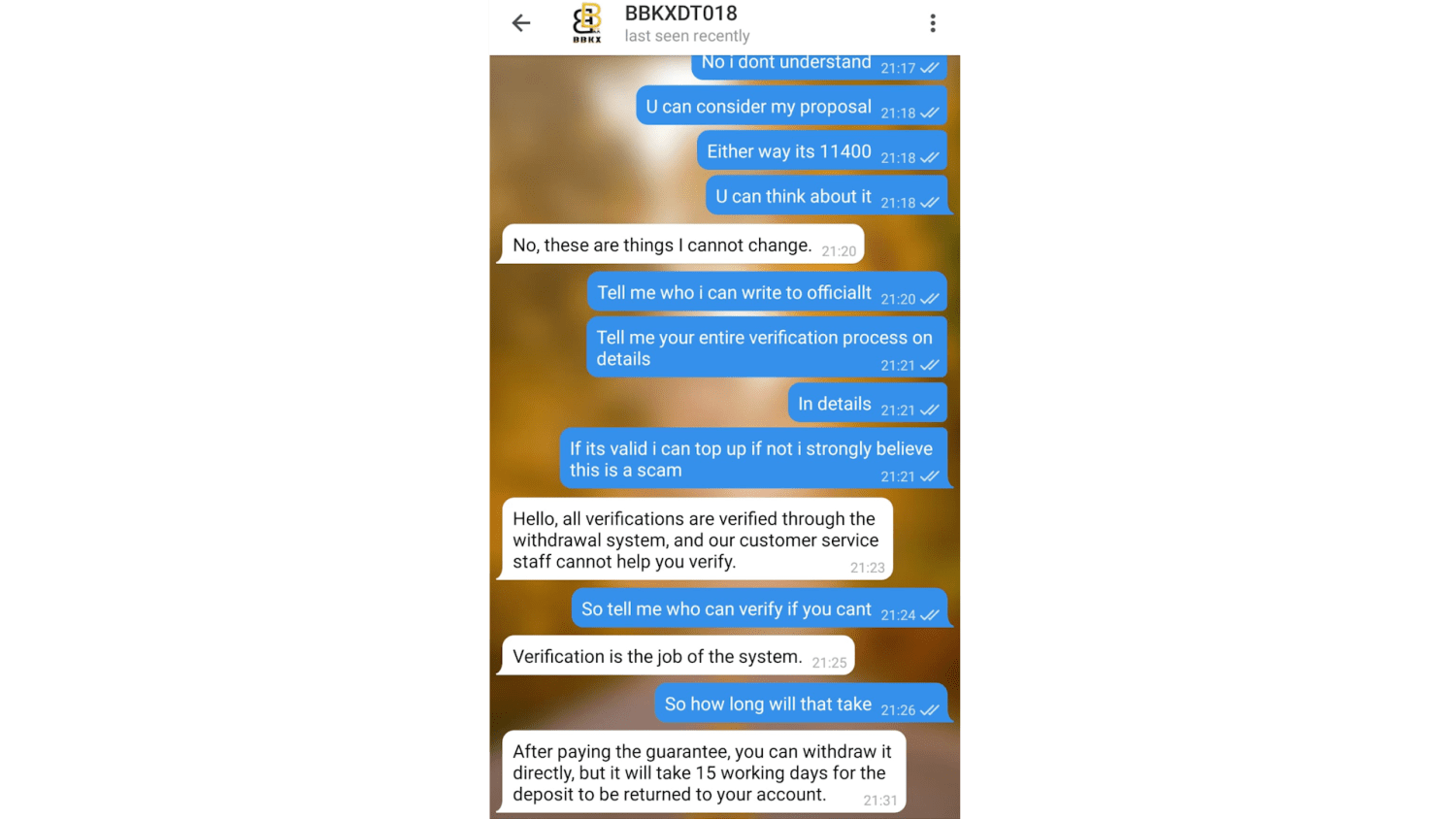 The next day — two months after Andy first messaged me — both he and the customer service disappeared. They erased all their chats with me, leaving no trace.
This was when I made a second police report, a month after the first. The police reached out to me also around this time to ask me to go to the station to make a statement.
I SHUT MYSELF OFF FOR TWO WEEKS
In all, I lost about US$70,000.
For two weeks, I shut myself off completely. I was in disbelief. "Why me?" I wondered. I blamed myself.
I can understand why there are people who commit suicide, because the stress was crazy for me.
Listen: How Eliza felt when she realised she had been scammed
I played the events over and over again in my head. Eventually, I realised it was time to think about what to do next.
I'd try to find whatever recourse or other people I could reach out to, because so far I hadn't talked to anyone else. I didn't tell my family because I didn't think my husband could've done anything, and the money belonged to me anyway.
I turned to Reddit and posted as many details of my story as I could remember. I wanted to know whether there were other victims scammed on the same platform, because I didn't believe I was the only one.
That's how I found two other victims. One of them, Abigail (not her real name), was based in the US, and I encouraged her to make a report to the police. When that went nowhere, I suggested that she call the Federal Bureau of Investigation (FBI).
We found a few more victims on other social networks, and I found out about the Global Anti-Scam Organisation (Gaso). Gaso put me in touch with others from the same platform.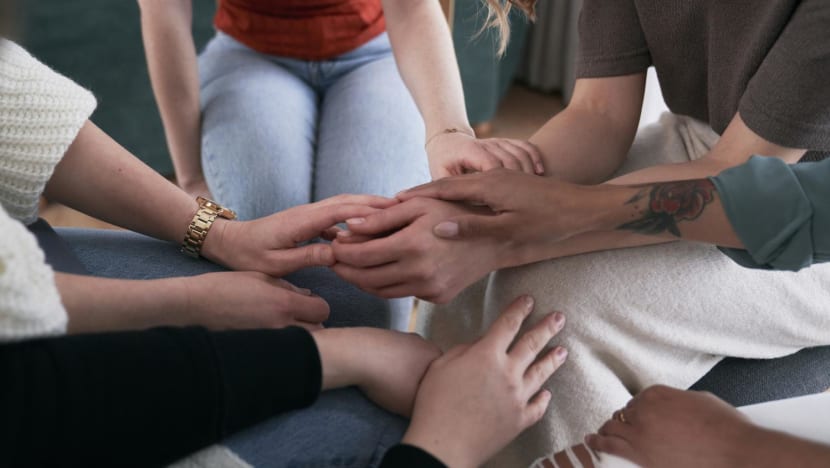 As I spoke to more victims, I realised some of them had tried recovery websites claiming to be able to recover the lost money. Those are fake, which you can read about on the FBI website. No one can do that.
When I realised that getting any money back was a remote possibility, I thought, "Okay, that's fine." But I still want to find other victims to see if, even if I can't do anything in Singapore, other jurisdictions could.
I just hope that such scammers can be caught or at least be sent some form of deterrent message.
YOU DON'T THINK YOU FIT THE PROFILE OF A VICTIM
The whole incident was a blow to my self-confidence. I stopped trading for about four months. It also made me question the way I trust people.
I don't take what anybody says on trust any more — I'm a lot warier.
In the scams we hear about in the news or from other people, the victims seem to have a distinctive profile: Uneducated and elderly. You don't think you fall into that category. You don't feel that you could have fallen victim to a scam. 
But you did. Our group of victims are in our late 20s to early 50s, and we're all white-collar workers or business owners.
Listen: Eliza on why she thinks they went ahead with the investments
We victims traded notes and screenshots, and we realised that the names, content and personas were all scripted. One of the scammers even said there isn't anyone who can't be scammed — there are only wrong scripts. That's how confident they are. 
Listen: Eliza on how everyone can be scammed 
If I could do things differently a year ago, I would. I wouldn't have clicked on any links or talked to any stranger, in real life and online. While I'm still in the Discord group now, I don't talk to anyone privately; I disabled the chat capability.
But I also think part of it was about the times we live in, and the fact that we were mostly isolated at home last year owing to the pandemic.
I discussed with the other victims whether we'd have spoken to the scammers if life had been normal. I'd say no.