They won over my kids and scammed me of S$40,000. Now I'm out to stop them
The scammers were so convincingly caring, one even spoke to her teenagers. But they left Kelly with clinical depression - and the determination to get revenge on this Internet scourge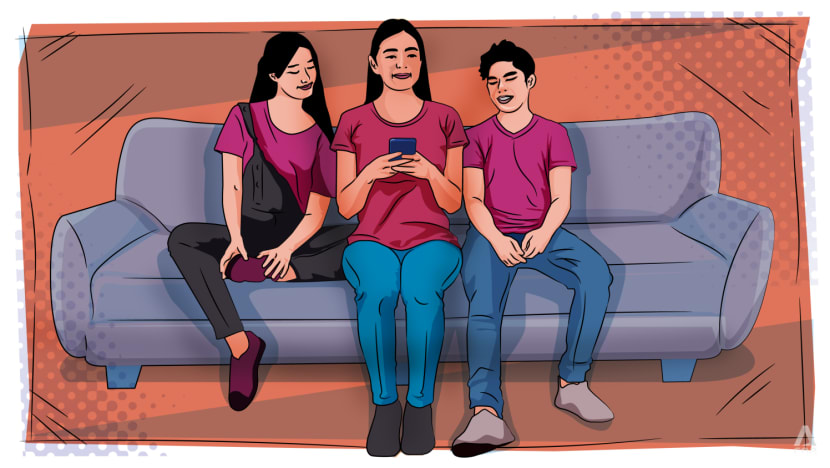 Name: Kelly (pseudonym), 40s
Status: Single, in the logistics sector, living in Singapore 
The first time I was scammed was in August last year. 
Let's call the scammer Dog One. I call the scammers dogs after the Chinese expression "gou tui zi" (dog's leg), which is slang for henchman.
He first contacted me on Instagram. We chatted for about a month, and he started asking me to make an investment. I didn't expect it to escalate to S$15,000.
Another scammer approached me two months later, also on Instagram. I lost S$24,000 to him.
Compared to some other people, I didn't lose that much money. But when an opportunity to volunteer for the Global Anti-Scam Organisation (Gaso) as a scam baiter came up, I wanted to do it as revenge on the scammers.
Gathering intel on the scammers helps us to warn others of the kinds of scams and scammers out there.
HE PORTRAYED HIMSELF AS SUCCESSFUL
I was a financial consultant when Dog One approached me on Instagram. Because of the nature of my work at the time, I'd kept my profile open, so I didn't think too much when he started asking me about the activities I'd shared on my profile.
I'd say I'm pretty outgoing, so I had a conversation with him. It felt casual, but we hit it off because he said he had similar interests.
He portrayed himself as successful and smart: He told me he was based in Hong Kong and ran his own business. I thought, "Okay, he's somebody enterprising. Probably there are things I can learn from him as well."
We talked about our lives, like what we were going to do, and he told me about his trading business. When I'd go out for dinner, he'd ask me to show him what I was eating. He also liked to leave voice notes and called me baobei (darling) and whatnot.
Listen: Kelly on how Dog One called her during dinner with friends
In hindsight, there were some red flags. For example, he couldn't speak Cantonese. He also used simplified Chinese instead of traditional Chinese, which is used in Hong Kong.
When I questioned him, he said he wasn't originally from Hong Kong but from China and was more comfortable speaking Mandarin and preferred using simplified Chinese.
Fair enough, I thought. Because he was the boss, people probably would speak his lingo.
I DIDN'T THINK ANYTHING WAS AMISS
By the third week of talking, he asked me to download an investment platform and mentioned that it was from FXOpen, a forex broker, and was very secure.
It was a bit dubious because the URL was gibberish — like a child anyhow typing on the keyboard — and I couldn't download it from the App Store. But he assured me that it was fine.
He'd already talked about his investments by then and told me to try and see for myself. He said that investing takes five to ten minutes and that I could try the platform with S$500 first. I thought it wasn't a lot, so I said OK.
Initially, I earned about 10 per cent. I started putting in bigger amounts, up to S$2,000, and was able to get my money back. So maybe it's legit, I thought.
I did think it was weird to have to key in my bank account every time I made a withdrawal, but he assured me that it was safe, so I listened to him.
The profits were similar to those I made on my legitimate investments, so I didn't think anything was amiss.
When the money stake was US$6,000 (S$8,480), he told me to put more in and try to take out my winnings, so I did. But I didn't receive the money the next day. He told me to check with customer service.
They said that I'd keyed in the wrong bank account number and that to get my money back, I needed to furnish a new bank account with the correct number. But they still didn't give me my money back.
They said it was because of my account credibility this time. I had to put an equivalent amount in to get my money back, which I did.
When I tried withdrawing the amount in the account, which was about US$12,000 by then, customer service said that my credit score had fallen to 45 per cent and that I needed to top up the account to make my credit score 100 per cent.
I'd never heard of such rules before, anywhere in the world. I told Dog One this was super ridiculous, and we started quarrelling. That's when I knew it really was a scam, so I made a police report.
In total, I lost about S$15,000 to Dog One.
DON'T TREAT ME THE SAME: DOG THREE
I didn't think it would happen again.
There was Dog Two, who reached out to me at the same time as Dog One. But when he told me he was a director in the construction industry, I wondered why rich young men had suddenly found me. Very dubious.
We didn't spend much time talking, maybe because he knew I was already speaking to somebody else. At that point, he sort of faded into the background, although we spoke on and off.
But two months later, I met Dog Three. I think he looked through my profile before he approached me, because the first thing he said to me was: "It seems like you're a foodie."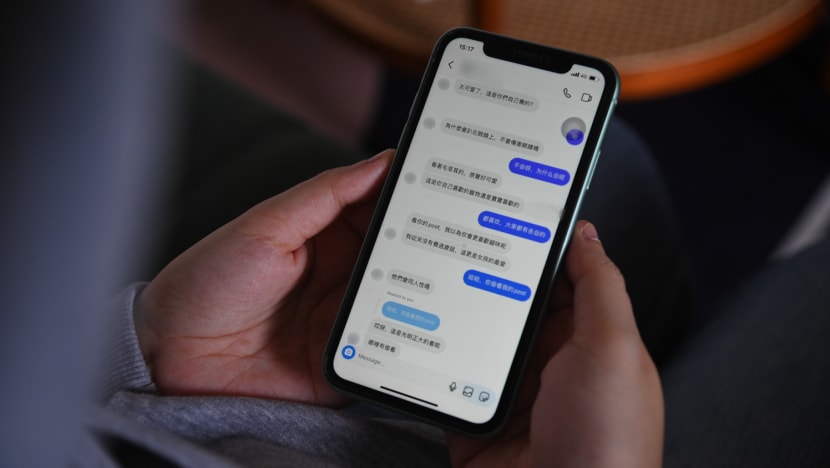 When he told me he was based in Hong Kong, I'm like, "Please lah. I don't want to talk to you because I was scammed before by someone who approached me on Instagram and said he was from Hong Kong."
But Dog Three said: "Don't treat me the same. Let's have a conversation. I'm just trying to know you as a person."
He showed a lot of concern over the first scam. I'd lost confidence at the time because I felt that as a financial consultant, I shouldn't have fallen victim to a scam. I enjoyed my job, but it also wasn't bringing in the money I expected.
He listened to me and gave me advice while I contemplated leaving the industry. He kept telling me he wanted to have a relationship with me. He was supportive and did not pass judgement.
His favourite phrase was "for our future". He could say things like, "With me around, you don't have to worry. I'll be here to look out for you." That kind of fluff.
Listen: Kelly on how Dog Three appeared deeply caring
When my period was coming, he'd remind me to check that I had my supplements at hand. He'd also say, "Remember to take an umbrella when going to work, because I checked the weather and it's going to rain."
I'd never experienced someone so warm. He even talked to my two teenage children when I had some issues with them, which made our relationship feel more real.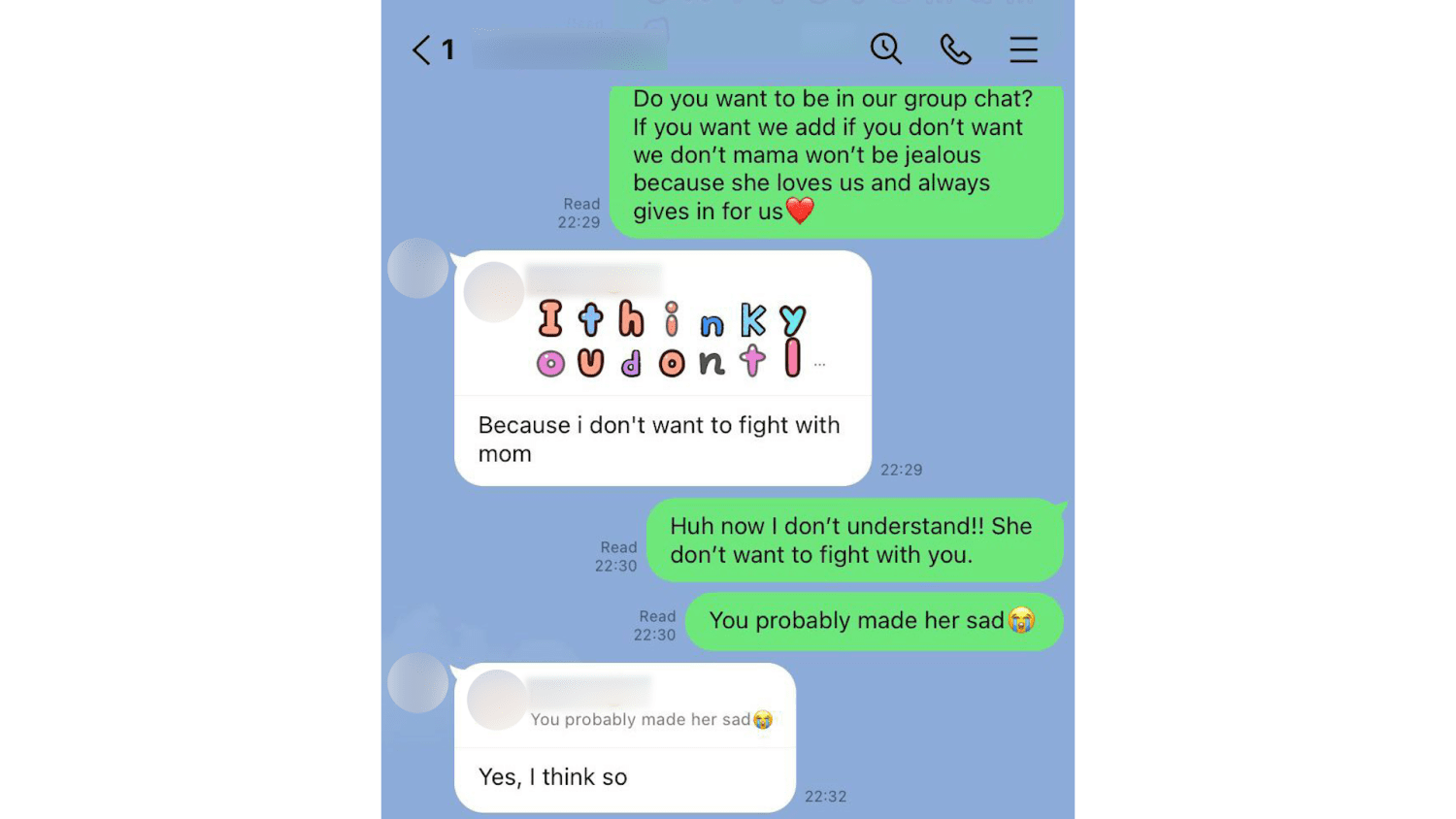 For the first two months, he didn't talk about investments. I think he was just more patient than the previous scammers.
After that, he said that he was taking on a part-time project to do website maintenance for a company and that there was an opportunity to make some money from its cryptocurrency mining.
When I said I had no more money and wasn't interested, he dropped it — unlike Dog One. I thought he was legit because we'd chatted for two months without mentioning investments at all.
Watch: How I Got Scammed Twice: Love Scammers' Tactics You Need To Know (6.41)
SCAMMED AGAIN, DESPITE CHECKING INTO IT
After being scammed once, I told myself I had to do due diligence.
I assumed that if the apps he'd recommended were in the App Store and Google Play Store, they would've been checked vigorously. I also checked online news articles to make sure the crypto exchanges he mentioned were legitimate.
Indeed, I was told to buy crypto off ZipMex - a legitimate crypto exchange -  and place it in a wallet on Coinbase - another legitimate platform. 
But then, he instructed me to link my wallet to the URL he'd sent me for the mining website.
What I didn't expect was that this URL was fake. That gave him access to my funds.
I put about S$2,000 in the wallet the  first time and was able to take it all out, with a nice profit. I started putting more money in — about S$24,000 in all.
Remember Dog Two? When he realised I was doing mining, he told me to link my wallet to his URL so I could earn money from a second URL.
I googled the URL but couldn't find anything. Dog Two kept reassuring me, so I'm like, 'Okay lor, I'll try." When I linked to the second URL, the money was wiped out within an hour. Even now I'm unsure whom I lost the money to.
When I texted Dog Three, I didn't want to tell him about Dog Two, so I said a friend had recommended a website to me. He scolded me and said I needed to find more money to plug the deficit and earn back the money. 
He grew harsh, which I thought was weird, so again I googled the URL he gave me, but with the word "scam" this time. That's when Gaso's website came up, and it said the URL was a crypto mining scam.
IT'S NOT THAT WE'RE STUPID
When it hit me that I'd been scammed again, I was stunned. I couldn't function for a week. Whenever people — even my children — tried to talk to me, I told them to please leave me alone. I didn't tell anyone about it.
I was emotionally affected for a while. At one point, I was diagnosed with depression.
I thought I'd been sure about this person, and it made me doubt myself. Why was I caught in such a predicament again?
I felt lousy. I was a financial consultant — how could I get scammed?
I spoke to my friend who was working in a bank, who also had been scammed. We're like, "Sister, we work in financial institutions, yet we can kena (be affected by) this kind of thing." It's like — what's going on?
Listen: Kelly reflecting on why she trusted the scammer
In the end, I left my job. I'm in a different industry now.
I've learnt to be smarter. I realised that I'm somebody who can't handle pressure from these scammers when they keep pestering.
When I joined Gaso as a volunteer, I met other victims. We realised it's not that we aren't bright enough or that we're stupid. These scammers really spoke to us and got us emotionally — whether romantically or as a friend. 
The closeness to them you feel sometimes even beats people you've known for years.
I understand what others might think. Most Singaporeans are highly educated, and our mindset is: It won't be me, I'm not that stupid.
But I think we must recognise that anybody can be a victim of scams because these scammers are trained people, and they don't work singly but in teams.
From talking to other victims and scam-baiting, I learnt that scammers are analysing everything you say, and because they're seeing your social media, they already have an idea of who you are.
Listen: Kelly on why she thinks victims fall for the scammers
I'd think twice about speaking to anybody online now, even if I've physically met them already. If they portray themselves as successful people, then why do they want to talk to me? I'm just another goondu (idiot).
WORKING TO EXPOSE SCAMMERS
As a Gaso volunteer, giving scam victims emotional support and raising awareness about scams gives me some fulfillment.
I also look for scammers on social media sites and pretend to fall for their tricks — that's scam-baiting, where we get information from them, like the scam websites they use, and a flavour of the scams right now. Then we post the information online.
Of course we don't use our real identity; we create fake accounts, getting back at the scammers by using their tactics. In a way, it's gratification after all that they'd put me through.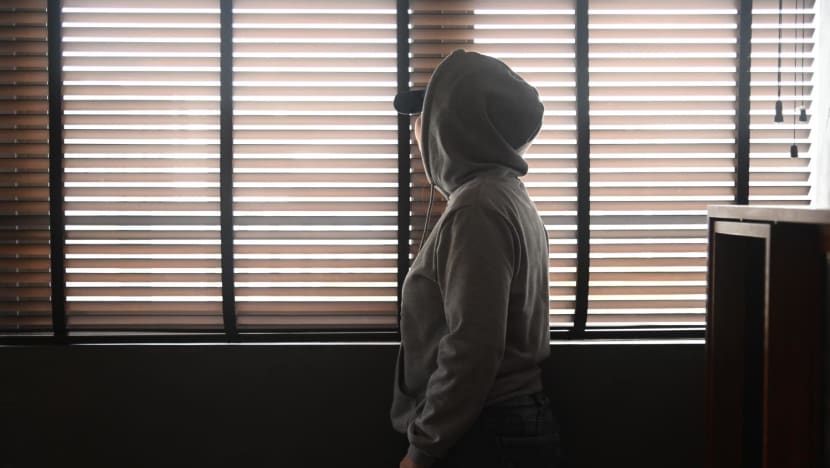 I realised through this work that scammers' tactics have changed. Their domain names look more legit now.
For example, they'll use the company's name in the URL instead of gibberish. If the company is FX BMO, the website would be something like exchangebmo.com or exbmo.com.
I also work with Gaso to rescue some people who say they've been conned into working in scam compounds. Some of them are trafficked there through fake job advertisements.
If you suspect that you're speaking to scammers, you should reach out to our organisation, and we can try to help you. We can tell you what the red flags are.
In general, if these people portray themselves as successful and handsome or pretty, I don't think they have time to find random people to speak to on social media.
Dog Three taught me a lot of life lessons. Their stories were presented to me as a fairy tale -- I wanted to be a successful person, which is why I liked speaking to the scammers who portrayed themselves as successful.
I won't beat myself up again. It's not worth it. I did my checks; it's just that he got lucky.