The real reasons behind Malaysia's chicken shortage and farmers' woes
Why are the country's farmers not producing enough chickens? What is being done to stabilise supply so that exports can fully resume? The programme Talking Point investigates.
JOHOR: Daing Mohd Haidir has reared chickens on his farm in Johor for six years now. This is the first time he has experienced a chicken crisis this severe.
He used to rear up to 90,000 broilers — chickens bred specifically for meat — but is now producing 60,000 per breeding cycle.
Nationally, supply started dropping in February, and in April was 15 per cent lower than the 69 million chickens a month that Malaysia needs.
In Singapore, which gets almost all its live chickens from across the Causeway, the impact was felt when Malaysia banned the export of fresh chicken from last month.
But for Daing, the ban has "not really" helped in any way. What will instead? Are cartels behind the chicken shortage? The programme Talking Point delves into the issue.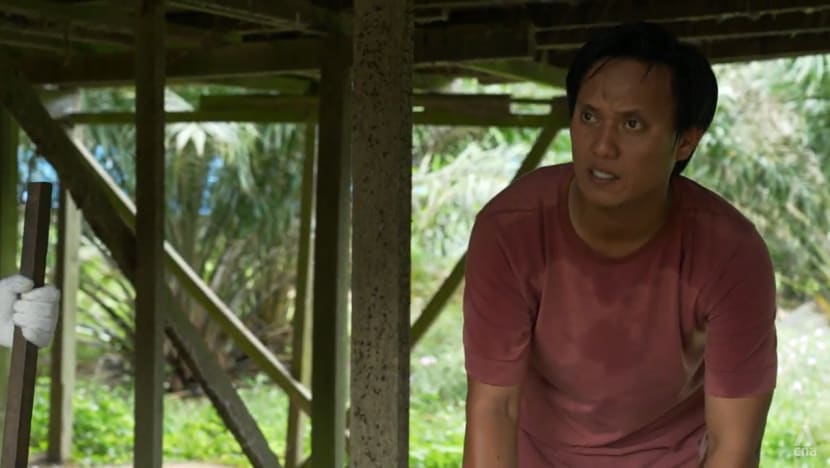 TRIPLE WHAMMY
A shortage of labour, the skyrocketing costs of chicken feed and sick, dying chickens — these are some of the challenges that farmers are facing.
"How am I supposed to rear more chickens?" questioned Daing.
He relies on migrant workers, but with the pandemic, many were sent back. Then in March, after the borders reopened, the Malaysian government announced a 25 per cent increase in the minimum wage, which is now RM1,500 (S$473).
With the salary increases, he cannot afford to bring in new foreign workers. One farmhand must manage 12,000 chickens, instead of 10,000 before the pandemic hit. He is now operating 10 chicken houses instead of 15.
In every breeding cycle, about 5,000 of his chickens usually end up dead as well, which is a loss of almost RM7,000.
Chickens can experience various illnesses from bacteria such as E. coli, depending on a farmer's livestock management. But some diseases are more dangerous, like Newcastle disease, "and farmers themselves don't know how it happens", he said.
He was referring to the contagious and fatal viral disease affecting the respiratory, nervous and digestive systems of poultry. Recently, there has been an increased incidence of the disease in Malaysia, he noted.
Erratic weather also affects chickens, which require specific temperatures for their growth. "Sometimes it's too hot, sometimes it can get too cold," he said.
He covers his chicken houses with canvas when the young chickens need it; and for bigger chickens, he uses fans in hot weather. "We'll also give them vitamins to bring down their body temperatures," he added.
Spending more to keep them healthy, however, is nothing compared to the cost of their feed, which makes up 70 per cent of the total cost of rearing chickens.
Daing said a 50-kilogramme bag of chicken feed that previously cost RM90 now costs RM120, a 33 per cent price increase over a span of two years.
If the cost of the feed goes down, then production cost comes down too, and farmers can afford to produce more chickens. Daing reckoned, however, that he can go back to producing 90,000 chickens only next year.
"I know three to four medium-scale farmers like myself, who are no longer interested in this industry because of the rising costs," he said. "This actually causes the shortage in chicken supplies domestically."
AUTOMATED FARM = MORE CHICKENS?
There may be a solution, however, to a couple of the farmers' problems, namely manpower shortages and sick chickens.
Universiti Putra Malaysia (UPM) has been experimenting with a closed poultry house in Selangor since 2019. It is a building with a controlled environment that cost RM750,000 to construct and where much of the chicken-rearing process is automated.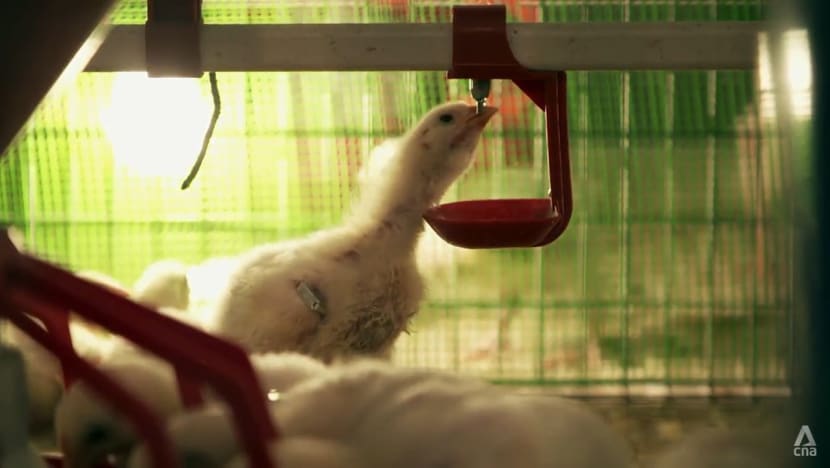 In this type of poultry house, a worker can take care of about 15,000 to 20,000 birds, compared with 10,000 birds normally in an open chicken house, said Loh Teck Chwen, who is spearheading the research facility.
Minimising the number of workers can minimise the introduction of zoonotic diseases, which can be transmitted from animals to humans and even humans to animals, noted the professor.
Temperature controls, meanwhile, will turn the fans on automatically if the house is too hot and make it comfortable for the chickens to grow well, said Loh, who is also the director of UPM's University Community Transformation Centre.
They take 32 to 35 days to reach their market weight, instead of 35 to 38 days for chickens in open poultry houses, he cited. That helps to save on their feed.
WATCH: The truth behind Malaysia's chicken shortage and farmers' woes (22:19)
But it will take some time and incentives for more farmers to invest in a system that is 50 to 60 per cent more expensive than a traditional farm of a similar capacity.
CHEAPER CHICKEN FEED?
It may take even longer to scale up corn production sufficiently to bring down the cost of grain corn, the core ingredient in processed chicken feed, and reduce Malaysia's dependence on imports.
The country needs about two million metric tonnes a year for its broilers. But as grain corn is laborious and expensive to produce, Malaysia imports almost all of it from countries like Argentina, Brazil and the United States.
Their export prices have doubled, however, owing to post-pandemic disruptions and the Russia-Ukraine war, among other things.
Ramana K Naidu, one of Malaysia's main cultivators of grain corn, has been searching for an answer to this problem for six years. And the owner of Famox Plantation in Kedah thinks he has now got one.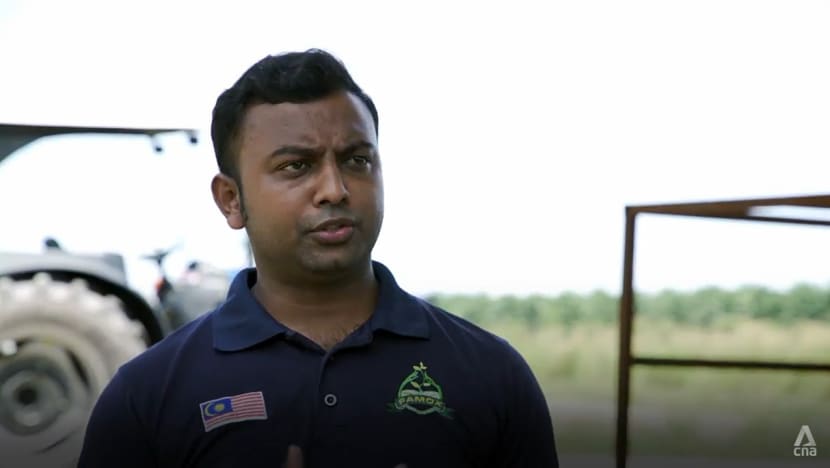 "We've got a lot of technologies, but there's one game changer," said the 32-year-old, referring to the mobile grain dryer he bought to dry his harvests.
Without being dried, grain corn cannot keep for long. And his company has managed to reduce the cost of producing one tonne by about RM1,000 compared with imported corn, he said.
With this mobile grain dryer, corn farmers need not "rent a big drying area" and transport their harvests there.
"All the farmers can afford (the dryer)," said Ramana. "We're working with small-scale farmers. I lend them my machinery, and I take all the output (for) a good price."
Other technologies he has include tractors with implements that make the planting and harvesting processes more efficient. And if more small-scale growers "join (him) in this journey", he is confident of increasing Malaysia's grain corn output.
THE CARTEL QUESTION
Some newspaper reports have alleged a more insidious reason behind Malaysia's chicken shortage: Five cartels controlling the amount of chicken that farmers supply to the market.
The reports state that cartels have a hold on small-time breeders because of loans given to them. The cartels dictate prices to the breeders, which are then marked up for consumers.
Consumers' Association of Penang president Mohideen Abdul Kader, who has followed the news of the allegations, said people have described the price increase as "exorbitant".
To stabilise prices for consumers, the federal government has imposed price ceilings on necessities like chicken since last year. But the cartels are alleged to have responded with pressure tactics.
"A couple of big producers suddenly shut down their production. And the excuse given was that the chickens were underweight; they had to shut down to increase the weight," said Mohideen.
"When it happened, there was a demand for price increases. There was a very strong suspicion that (the shortage) had been artificially created to force the government to agree to increase chicken prices."
He cannot say whether the allegations are true, however. "The government also hasn't admitted there are cartels," he noted. "The government's position has been to say that 'we're investigating'. And everybody's waiting for the report of the (Malaysia) Competition Commission."
But economist Carmelo Ferlito, who has worked in the poultry industry in the region, does not think cartels are causing Malaysia's chicken shortage, even if there may be suppliers that "find an agreement to stabilise production or to control prices".
"The poultry industry in Malaysia is an oligopoly in which a few big players control a big chunk of the market," noted Ferlito, now the chief executive officer of the Centre for Market Education, a think-tank in Kuala Lumpur.
"But it's the same in Indonesia, in the Philippines, in Thailand … When (the industries) move toward technological improvement, they move toward consolidation.
"In a nutshell, we don't have a cartel. We have an oligopoly. But this has been very beneficial for chicken production in the country, which is the most technologically advanced agriculture industry in Malaysia."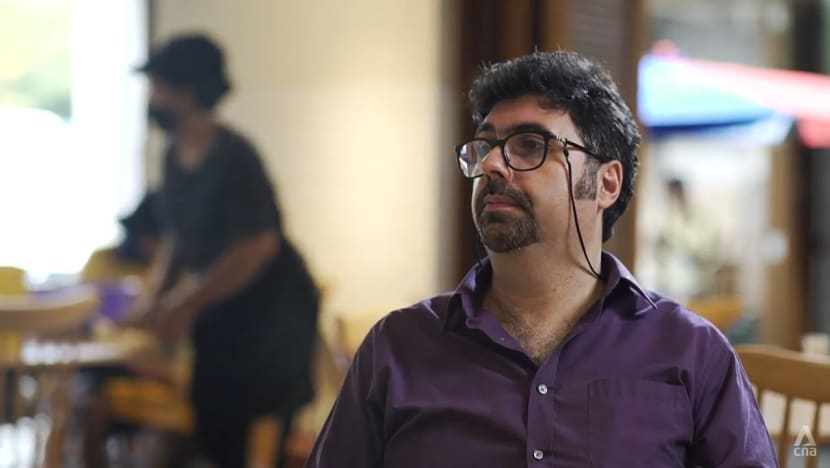 THE PROBLEM WITH THE EXPORT BAN
Ferlito thinks the chicken shortage issue "has been a bit overstated", with a policy "overreaction" to a problem that has its roots in the pandemic lockdowns, when "tourists weren't coming in, hotels were shutting down, restaurants were closed, et cetera".
"The consequences on the supply side were radical. Imagine a chicken farm that's set to produce 100 chickens, and all of a sudden it has to produce 50," he said.
"It means you have to shut down certain plants, to eventually fire workers, to stop replenishing your raw material stocks.
"The effects of these lockdowns are now felt in an imbalance between supply and demand, because a readjustment of the production process is much slower than the readjustment in the demand side."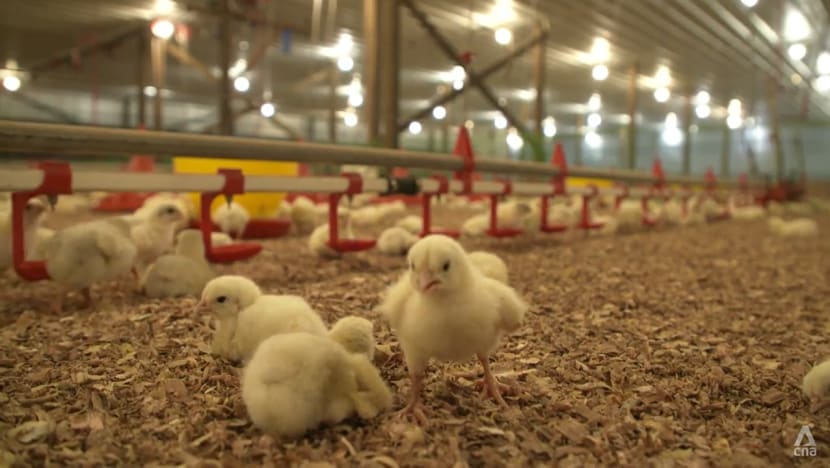 What is needed, he said, are high prices for a limited time to signal to chicken suppliers that "guys, there are profit opportunities, start to exploit them".
While he believes the government will look to the industry to meet local demand first, he urged caution given how important Singapore is as an export market for Malaysian producers.
"Prolonging the export ban can eventually create more shortages because you're removing another source of profit opportunities for local chicken producers," he said.
"Rather than have more chicken available domestically, you'll have less chicken available for the whole country and (for) export."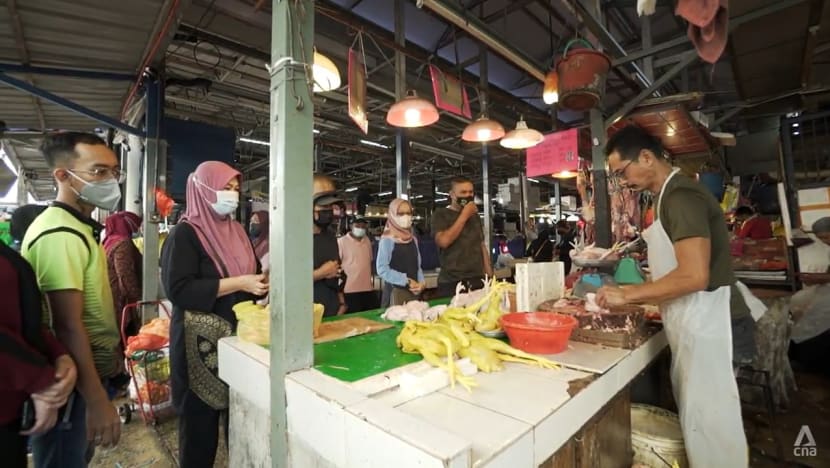 While he is certain the sooner exports resume the better, he foresees that happening probably only when the price ceiling is lifted.
The last update on this was on June 29, when the government announced a new ceiling price of RM9.40 per kg for standard chicken, up from RM8.90. It took effect this month.
Watch this episode of Talking Point here. The programme airs on Channel 5 every Thursday at 9.30pm.