A virus scuppered this Singaporean's trial with EPL side Everton. This is how he moved on
Nabeel earned a two-week trial with the Premiership club, only to see his golden chance thwarted by SARS. Twenty years on, the former national youth footballer tells CNA Insider he is happy with the way his life has turned out.
SINGAPORE: Long before the Great Disruption known as the COVID-19 pandemic upended lives and messed up even the best-laid plans, Mohamed Nabeel Mohamed Yusoff knew how it felt to have a deadly virus throw a dream into disarray.
At age 17, he flew to England to chase the opportunity of a lifetime.
He had earned a two-week all-expenses-paid trial with Everton Football Club after impressing at a football camp in Singapore that had youth academy coaches from three English Premier League (EPL) clubs in attendance.
But after he arrived at the club in late April 2003, Nabeel learnt that he would not be able to train and play in front of Everton's coaching staff owing to fears over the severe acute respiratory syndrome (SARS).
He could not even stay at the youth academy's hostel and was put up at the home of Ted Sutton, Everton's then head of Football in the Community. Sutton was the one who had picked him up from Manchester Airport and driven him to Liverpool.
"There is a level of hysteria in the UK surrounding the mystery virus, and this peaked during the time of your visit," Sutton wrote in a letter dated April 28, 2003, to Nabeel and his family.
A number of concerns from the parents of boys in the Academy added to the issue and made it difficult to go through with the plan."
Nabeel was "like a tourist" instead: He could only go on a stadium tour, watch an Everton match and visit other facilities.
Sutton arranged for him to train with third-tier club Tranmere Rovers, but that also proved to be short-lived. Concerns over SARS caught up, and the club halted his training sessions with other players.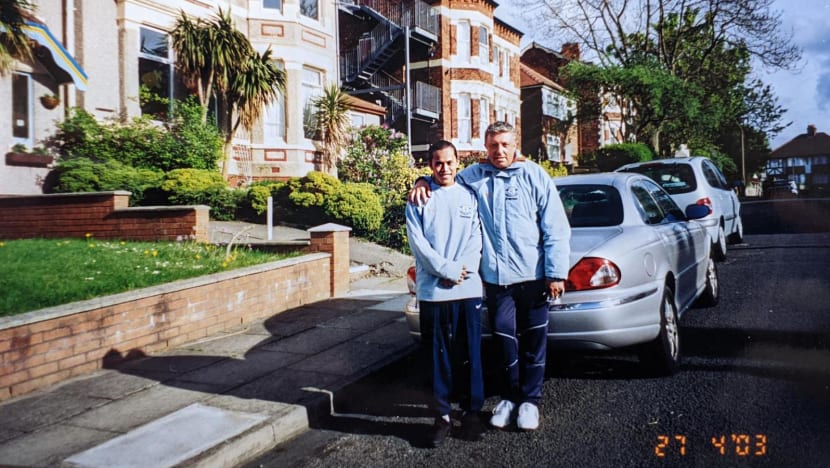 With his options exhausted, Nabeel joined his family on holiday in the United Kingdom and returned on May 9, 2003.
Nearly 20 years to the day since SARS forced his return, CNA Insider caught up with him to find out how the experience shaped his football aspirations — and his life.
FROM FOOTBALL TO FLYING
Even after the disappointing trip to England, Nabeel felt all was not lost and continued to be buoyed by youthful optimism.
Sutton had said in his letter that the club would like to invite Nabeel to visit once SARS was under control. In a separate letter, the then academy director, Ray Hall, said the same and suggested sometime in September or October 2003.
This kept Nabeel "very, very hopeful" that the club would call when the SARS situation improved. On May 30, 2003, the World Health Organisation declared Singapore to be SARS-free.
But "the better time didn't happen", and the call never came, he said. Soon afterwards, he was called up for National Service.
With a spot in Singapore's national under-18 team at the time, he took things in his stride. "We had a couple of tournaments lined up, (and I thought), just work hard, you never know if there'll be scouts coming," he said.
He continued to play football during NS. While doing his basic police training, he got a call from the Police Sports Association (SA) to prepare for the World Police and Fire Games in 2005 in Quebec, Canada.
"It's like the Olympics for the police and firemen; there were so many sports. We were treated like Olympians," Nabeel recalled. "I felt, 'Wow, I get to skip (part of NS training and) go overseas. … Very fortunate.'"
He trained with Police SA in the Division One League, followed by Home United in the S.League.
After NS, he returned to Geylang United's youth team. But uncertainty as to whether he would be in the S.League or the then Prime League, which was mainly for youth players, led to dissatisfaction on his part.
He had set himself the goal of making it to the national team by age 21, and time was ticking away. He toyed with the idea of going overseas to study and pursue football, but his mother told him that his sister's studies in Perth were already a major cost for the family.
In the face of these factors, Nabeel decided to look for a job. He worked as an operations executive at FedEx, then saw an advert for Singapore Airlines cabin crew and embarked on "three months of rigorous interviews". Thus began his 12-year career with the carrier in 2007.
He had a whale of a time. Interestingly, football helped on the work front — he joined the airline's football team and made many friends, which made his job "much easier". "When you fly with kakis (friends), they're more willing to help you," he said.
But much as he enjoyed flying, after several years Nabeel began wondering what was next. He decided he needed to be "marketable" once his flying days were over, so he studied part-time for his degree in mass communications. Then in 2016, he began dabbling in real estate.
In 2019, he quit flying and switched to real estate. "I was so fortunate to be doing it full-time and to have a base of clients when COVID-19 happened," he said.
Asked about his knack for planning ahead, he said: 
I was always forward-looking because I didn't want to settle for second best."
He added: "My pay (as a member of cabin crew) wasn't going to increase that much. And with inflation, is it enough for a family? I felt maybe I should (be in) sales until I feel like (retiring). While I'm capable, … I should push (myself)."
Now married with 21-month-old twins, the 37-year-old is happy with the way life has turned out. As he sees it, each step in his life has led to the next.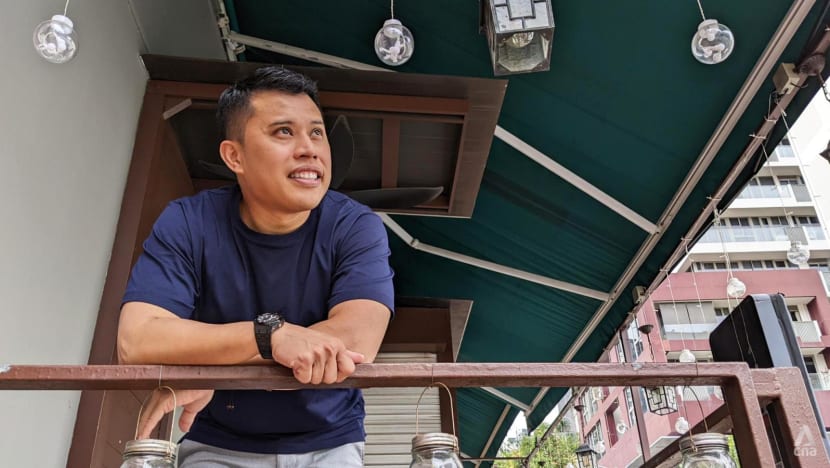 HE GAVE "100 PER CENT"
Nabeel had started playing football at about the age of nine, joining other neighbourhood kids at a field near his parents' home. The other boys were older and made him pick up the ball when they kicked it too far, but he did not mind as he "just wanted to be there".
In Primary 6, his devotion to football upset his father, who wanted him to focus on his studies. "But I told him, 'Dad, it's okay if I don't make it in my studies; I want to be a pro footballer,'" he said.
Becoming a national youth footballer at age 13 was a source of pride because it showed "you're the cream of the crop in your cohort", he said.
Nabeel gave "100 per cent" during trials and in training, and football gave back — he had opportunities to travel to many countries on training tours and for invitational tournaments.
The favourite players of his youth were the "no-nonsense" midfielders Edgar Davids of the Netherlands and Gennaro Gattuso of Italy. Nabeel himself preferred playing in centre midfield, although he had also been fielded as a striker and defender.
After his O levels in 2002, he signed up for the football camp that would land him the Everton trial. "A friend of mine said, 'Do you want to come to this camp with me? We've finished our O levels; we deserve to play football,'" Nabeel recounted.
He pleaded with his mother to pay the camp fee of several hundred dollars. "I played the guilt trip card (and) said, 'I just finished my O levels — so stressful!'" he quipped.
A few months later, when SARS hit in March 2003, Nabeel felt worried about his forthcoming trip to the UK but not overly so. "At that age you're a dreamer, very hopeful," he said.
The virus was not the only bump in the road. He said that when he told the national youth coaching staff about going away for the trial, he faced the prospect of being dropped from an Asean youth tournament taking place soon afterwards.
"I was weighing my options — did I want to sacrifice this trip just to please (the coach) and go for the tournament, (which we might not) win?" he said. "No, man, I wanted to go to the UK."
While the trial turned out to be a downer, the UK trip made him realise a few things.
For example, it might have been more beneficial had he secured the chance at a younger age. Then if he performed well enough to earn a place at Everton's youth academy, it would have allowed him more time to develop his skills and match up to the best players of his age, he said.
During his brief training at Tranmere Rovers, he reckoned Singaporean players "wouldn't fall short if we were to train together with them".
But it also made him think that "if Tranmere Rovers players were this good, Everton players would be better, and honestly, I don't know if I would've stood a chance".
"If I was there earlier, for example (at age) 14 or 15, maybe I (could have)," he said.
He also realised there was a wider range of opportunities for footballers in the UK. Players could be semi-pro, and those in the lower-tier leagues could still be paid "quite handsomely" and stand to progress, he said.
The highest earners in a League Two club can earn an average basic salary of £2,192 (S$3,660) a week, while those in League One can earn, on average, £4,753 a week, according to a 2020 report by the Daily Mail news outlet, which cited a leaked questionnaire.
In Singapore, Nabeel said players could benefit from more representation — in the form of a union or having a lawyer present when they sign contracts with clubs, for example — and access to sports science professionals.
His experience has enabled him to relate to youths who have missed out on opportunities owing to the COVID-19 pandemic.
"It all boils down to fate, and maybe it wasn't the path they were supposed to take," he said. "It was a path you thought was good for you, but maybe God has other plans."
His advice is to always look forward, no matter what the circumstances. "Pick yourself up, and always find alternatives," he said. "Just give it your all, and then you won't have regrets."