Important to discuss, manage expectations put on athletes serving National Service: Joseph Schooling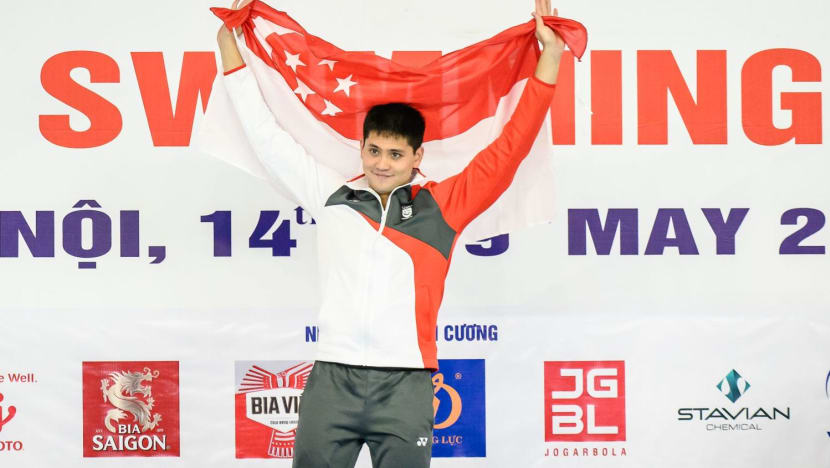 HANOI: It is important to discuss and manage expectations put on athletes who are serving National Service, even as they strive to bring success to Singapore in the sporting arena, said swimmer Joseph Schooling on Wednesday (May 18).
Speaking to reporters on the sidelines of the 31st SEA Games in Hanoi, the 2016 Olympic champion said that athletes often have high expectations of themselves and hope to match up to that of others.
But at the same time, he noted that it is also crucial to have a dialogue to discuss what these expectations are and be realistic about them.
"It's all about how we can both grow together, and how NS and sporting achievements can coincide," he said.
"I think we're on the right track. We just need to sit down and ask some tough questions. It's gonna be rough, but I think we're going to come out on the right side at the end of the day." 
Schooling had just wrapped up his Games campaign with 2 golds and a bronze.
In response to a question on how he has been juggling National Service and swimming, Schooling said that he's made "strides" in the past few months.
At the same time he also admitted that it has been "pretty challenging" for him as a swimmer.
He elaborated that the challenge comes from being "stuck in the middle of what the nation expects you to be as an athlete ... versus the things that you can commit to in terms of training requirements or the time needed to do the things that you need to do". 
And for athletes having to juggle National Service and sporting commitments, the former Olympic champion, who enlisted earlier this year, noted that a discussion would be useful.
"It's about time we had like a national dialogue, sat down together and discussed what are the expectations that our athletes are facing as they are serving national service," said Schooling.
"National service is something that everyone needs to do. None of us are shying away from that. But we also need to manage expectations, the reality of it."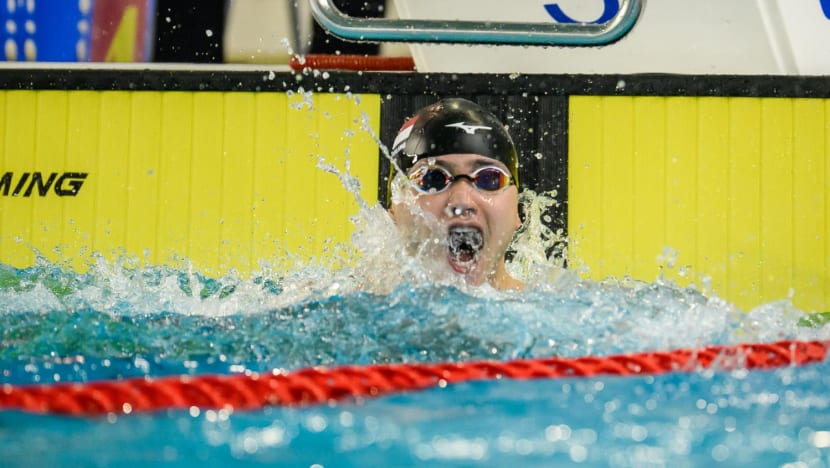 The 31st SEA Games has been a mixed bag for Schooling.
On Monday, he successfully defended his 100m butterfly title by clocking a time of 52.22 in a one-two finish with compatriot Quah Zheng Wen.
He then picked up a second gold, teaming up with Quah, Jonathan Tan and Maximillian Ang to win the 4x100m medley, ahead of Vietnam and Thailand.
Two days before, Schooling, Quah, Tan and Mikkel Lee had touched home first in the 4x100m freestyle relay but were - along with Malaysia - later disqualified, leaving Vietnam to take gold, Indonesia the silver and Thailand the bronze.
"IT'S TIME TO LIVE LIFE"
While Schooling's future plans have been the subject of much speculation, he told the media that he hopes to make a decision on what his next steps are in the weeks to come.
"You don't want to keep postponing things. This is just the start of my future. Swimming has been great to me. It's given me a lot of things, it's opened a lot of doors, but now it's time to live life. Time to do normal things," he said.
"I'm not ready to be done for sure. But what I do know is we need a plan, and hopefully in the next few weeks really, not months.
"Hopefully in the next week or two, I'll actually understand what I can do, given the current circumstances versus what's realistic as well."
Schooling noted that this will be a conversation he would need to have with his coaches and his mother May.
"I'm not 19 anymore where my parents can hold down the fort and I'm free to do whatever I can," he said.
"I need to be cognizant about these things as well. For sure, I like to swim if I can, but at the same time if this is my last SEA Games, then I think this has been a great Games to end off. But you never know."