Selling kueh tutu might not be a piece of cake, but it's in her blood
"We are more than 80 years in the making!" Tan Bee Hua of Tan's Tutu Coconut Cake talks about her family's role in creating a uniquely Singaporean delicacy.
SINGAPORE: It's almost noon at Havelock Food Centre, a busy time for kueh tutu-maker Ms Tan Bee Hua.
But despite the impending arrival of the lunchtime crowd, the 55-year-old hawker who runs Tan's Tutu Coconut Cake was kind enough to take a break for a special bit of show-and-tell.
From an old folder, she pulls out one brittle document after another: Her late father's certificate of registration after arriving in Singapore from China in 1932. A hawker licence, also her father's, that dated back to 1957. There's even a 1964 receipt for two pushcarts her family used to ply their trade.
There are also wonderful old photos of her late brother selling kueh tutu around Chinatown, and even some old kueh tutu moulds.
"My father invented tutu kueh and my brother opened this," she said proudly, gesturing at the stall. "We are more than 80 years in the making!"
For many, the kueh tutu – small rice flour steamed cakes with fillings served over pieces of pandan leaf – is one of those uniquely Singaporean delicacies. But for Ms Tan, it's much more than that – each piece tells the story of her family.
FROM SONG GAO TO KUEH TUTU
The story goes, her late father Tan Yong Fa had migrated from Hui'an County in Fujian Province in 1932, where he proceeded to sell song gao, a popular Hokkien plain rice cake. 
He would later innovate on it, adding coconut shavings or peanuts, and making it smaller. Ms Tan's older brother, Cheong Chuan, would later take over the business in the 1970s, calling it Tan's Tutu Coconut Cake, which has another branch at Clementi Ave 3.
While it was primarily his parents who were running the business back in the day, Ms Tan remembers how everyone would chip in.
"When I was in secondary school, during the school holidays, we would help clean the pandan leaves and fry the peanuts. Then I would help sell at the roadside before my elder brother, who was working part time at a machinery hardware store, would come in the evening," she recalled, adding that their family actually used to stay near the very same hawker centre she works at now, a two-storey house near Bukit Ho Swee.
In fact, she still has some vivid memories of the fire that swept through the area in 1961. While their house wasn't affected, "I remember my parents just fetching me and I remember chickens and pigs all running into our backyard," she said, with a laugh.
Back then, hawkers would go to where the crowds were. "We moved around Singapore – we'd go to the Cathay where there were midnight shows, or Great World City," she said. Another regular spot was in Chinatown's Smith Street or People's Park Complex, just outside the Majestic Theatre – before they eventually moved into their first hawker centre in 1973.
"Back then it wasn't so easy. They would be using charcoal and every night, you would have to wash the steamer because charcoal made everything black!"
LABOUR INTENSIVE JOB
In 2004, Ms Tan quit her office job of 25 years and took over the reins from her brother. "He had become sick and then after he passed away, I looked after the business," she said.
Today, Ms Tan runs two branches with her brother's wife, Mdm Ho Cheng Khim, who is already in her 70s.
Getting help has been quite tough, said Ms Tan, who is single. "We've shortened our business hours because it's not easy to get staff to make kueh tutu. It's a big problem because no one is interested. This is very labour intensive."
Every day, she comes to the Havelock branch to prepare the materials – cooking the coconut in gula Melaka and preparing the peanut fillings. Most importantly, a lot of time is spent sieving the rice flour – which has been ground using the same machine they've been using since the 1960s – to make it as fine as possible.

Meanwhile, her sister-in-law has to wake up around four o'clock in the morning once a week to wash and cut the pandan leaves, which takes half a day.
Once all these are done, then it's time to make the kuehs – which Ms Tan does very fast. She can't recall how exactly how many she can produce in a day, but they run up in the hundreds.
TASTES BETTER THAN CUSHIONS
Ms Tan admits she worries about the future of the business. "We're one of the very few left making it the traditional way – and not the more commercial ones you find in the markets or food courts," she said.
There's also the fact that it's not really popular among the younger generation. "It's a true Singaporean delicacy but nowadays, the youngsters only know Western type of snacks, like muffins or waffles. They don't know much about these traditional things unless their parents buy for them."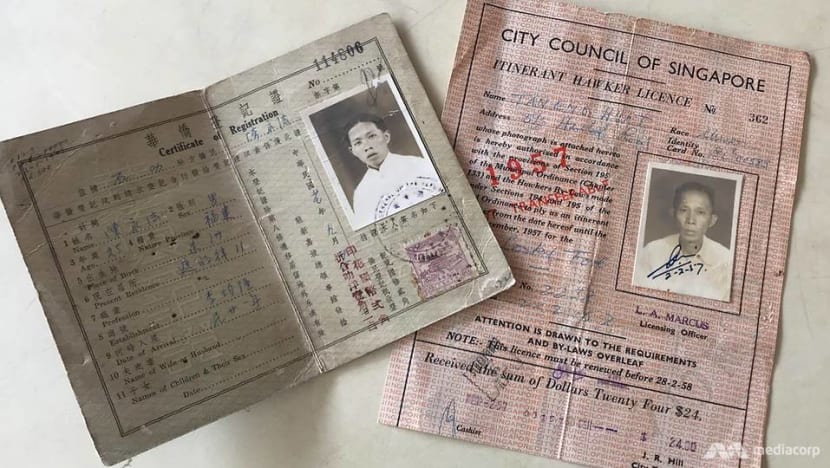 That said, she has noticed a slight change during the past two years – with more younger people dropping by the stalls, thanks to a resurgence in interest in Singapore hawker food. (Incidentally, their stall was included in the World Street Food Congress' Top 50 World Street Food Masters list this year, landing at No 26.)
Food heritage has also become such a buzz word that iconic Singapore food – including the kueh tutu – have become popular souvenirs.
When asked what she thought of the street snack that her father created more than 80 years ago becoming pop erasers and cushions, she laughed. "I think the real one looks and tastes better!"