How a S$3,000 bill became S$30,000: The truth behind retailers' instalment plans
Lured by low monthly repayments, some buy their electronics and furnishings on hire purchase, not realising how much higher the price will be in the long run, as Talking Point finds out.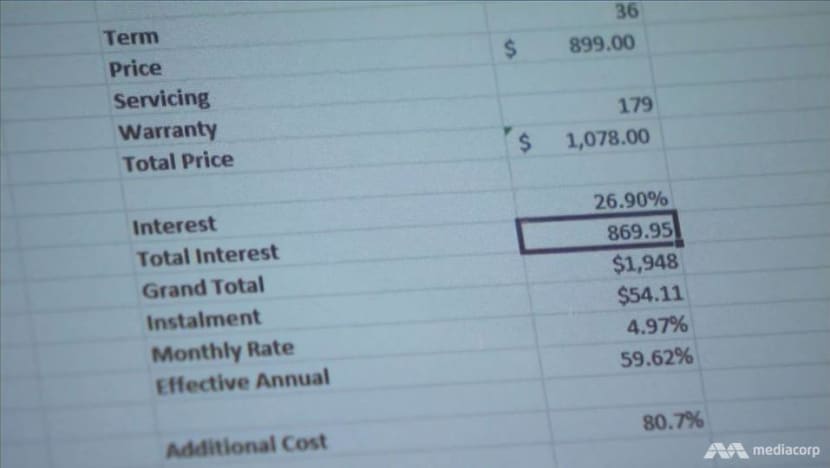 SINGAPORE: Hard-pressed for cash, Linda took out an instalment plan with a retailer for a laptop, a washing machine, a sofa and a bed totalling about S$3,000 back in 2010.
It turned out to be a mistake. She is still paying for those items today, but the value of her debt has ballooned to S$30,000 over the years.
"It has really hit me. I think, for now, if I don't have the money, I won't buy the thing. I'll save up," said a regretful Linda, who declined to use her real name.
She is among a group of people who have bought on hire purchase from electronics and furnishing retailers in Singapore, lured by the low monthly repayments.
But few realise that the interest rate can be as high as 33.99 per cent per annum, as the programme Talking Point discovers. And that does not include late-payment charges. (Watch the episode here.)
While there are interest-free instalment plans, consumers need a credit card and must spend a minimum of S$500. Those who do not qualify might turn to the retailers' payment plans for their big-ticket items – without doing their sums.
NO FINANCIAL SENSE?
One furnishing store, for example, offers an instalment plan with 26.9 per cent interest per annum, plus a 1 per cent late-charge interest per day. An employee from the store said that those who take these plans "don't have money".
GYC Financial Advisory vice president William Cai, who helped Talking Point to calculate the final amount consumers would be paying for some items at 26.9 per cent interest, does not think these instalment plans make financial sense.
A television that costs S$399 would eventually cost some S$720 based on repayments of S$20 over 36 months. That is 80 per cent more than its original price.
A refrigerator that retails at S$899 would set you back S$2,108, if you pay S$35 a month for five years – a 134.5 per cent price jump.
"What I'd rather do is to look for a really cheap brand or really cheap second-hand product. Or if I can't afford it, I'd get one of my friends to … help me out," said Mr Cai. "It's better than paying so much on interest."
But are retailers offering unfair interest rates?
"These types of loans are unsecured, like credit cards … Based on that as a reference, it's fair," said Mr Cai, who noted that credit card interest rates typically range between 24 and 26 per cent.
Consumer products also depreciate fast. "The value could go to nearly zero in a short period of time, and the retailers face quite a high risk getting involved in such a business. So I'd say it's pretty fair," he added.
What he would like to see, however, is more clarity for consumers, whereby retailers compute everything for them so that they know the total amount of interest they would be paying.
In a Talking Point street poll, most of those surveyed said they would not take out these instalment plans if they knew how much they could be paying.
But one respondent reasoned: "An air-conditioner is probably a necessity because of our hot weather … so to pay, like, S$100-plus a month with a monthly salary of, say, S$1,600, I think makes sense to (people whose income isn't high)."
'MEETING BASIC FAMILY NEEDS'
Courts Singapore said it offers zero per cent instalment tie-ups with the major bank credit cards, but recognises that such options typically have a minimum income threshold, which not all consumers can meet.
"Courts' intention is to serve such customers who need to purchase big-ticket items that meet basic family and living needs," said the retailer, which offers them interest rates ranging from zero per cent to 33.99 per cent per annum.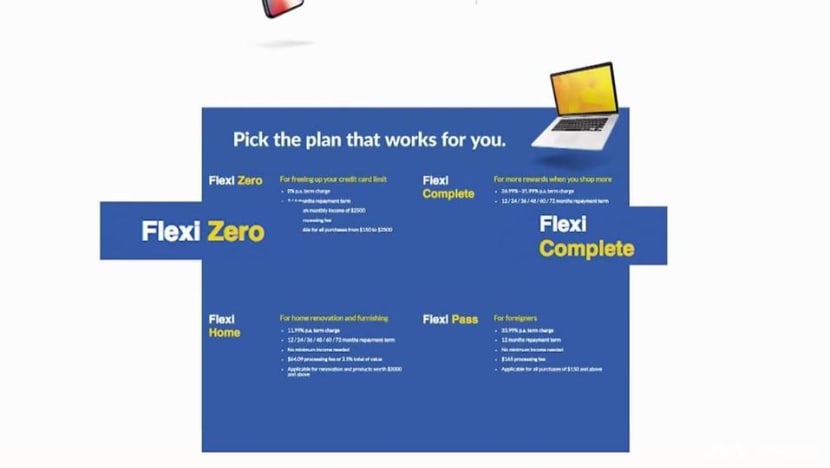 When asked if its interest rates were fair, it said the rates are benchmarked against the consumer credit market and "assessed based on verification of the risk profile of the customer, through reference and credit bureau checks".
The company said its staff would ensure that customers "have the full details they need to make an educated financial decision" during the application process.
Should customers face financial difficulties during the repayment process, the retailer works with them on a "suitable repayment plan", including restructuring their repayments into lower monthly instalments "to keep within the customer's budget".
Courts added that non-repayments form "a very small percentage" of its FlexiPlan customers, and they are handled on a case-by-case basis.
Its late-payment term charges are at 18 per cent per annum for two of its plans, or at the same rate of the deferred term charge for other plans. The charges apply when an account is more than three months in arrears, and only to the overdue instalments.
Another retailer, Gain City, offers instalment plans for air-conditioners, with interest rates of up to 18 per cent, but only 1 per cent of its customers are on this plan.
Gain City senior manager (special projects) Sheena Hu said this caters for those who "genuinely" need help buying an air-conditioner, such as families with seniors, children or persons with skin allergies.
She said the retailer offers the lowest rates in the market and keeps "all aspects of the hire purchase fees low vis-a-vis other retailers". It has only had one default case so far, owing to its "prudent assessment" of applications.
We don't have any cases, to date, of customers who are unable to pay up for the remaining payments because our customers are … utilising hire purchase due to a genuine need and not for frivolous reasons.
"And our approach to potential default cases is conciliatory," said Ms Hu.
She added that staff would contact the customers if there are any failed Giro deductions and follow up on the expected payment date, the penalty and late interest to be incurred. But it does not send monthly statements unless requested.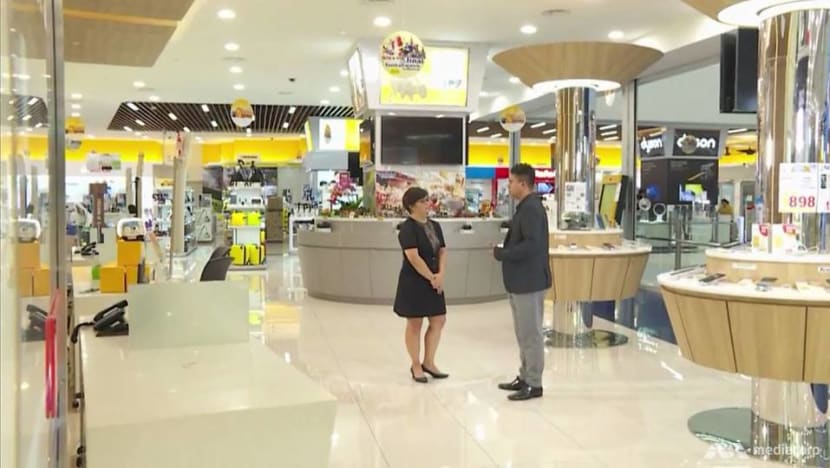 FALLING ON TROUBLED TIMES
Most of these instalment plans would work if the buyer has a steady income, but what happens in troubled times, when making those repayments is a struggle?
The Debt Advisory Centre, which helps individuals with debt problems, said that about 20 per cent of its cases are related to payments by instalment. Out of this 20 per cent, about 65 to 75 per cent are from the low-income segment.
Mr Saiful Nizam Jemain, the centre's social services manager, said: "The retailers provide credit facilities that don't discriminate against income levels. So these low-income earners are attracted to them because … they're able to get these items within their means.
While some retailers indicate the item's cost at the end of the payment period, many do not inform the consumer of the penalty charges for defaulting on payments, or provide monthly statements, he added.
"If you own a credit card, you'd get a statement at the end of every month, (telling you) how much you owe and, if you had paid late for the last month, the penalty charges," he noted.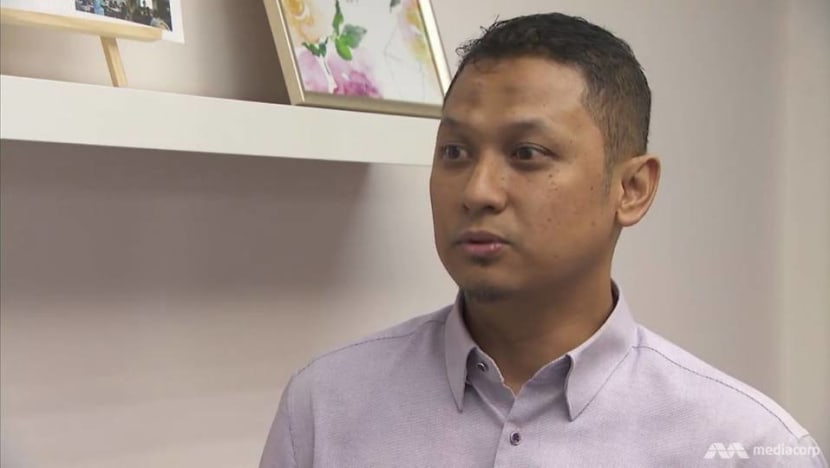 It is hard to say how many people in Singapore use instalment plans, as retailers Talking Point approached did not give exact figures.
In December, the Monetary Authority of Singapore said that since January last year, an average of 4,000 borrowers a month have increased their unsecured debts to above 12 times their monthly income from the previous month.
But, it added, "the vast majority of unsecured borrowers" are prudent.
For Linda, who could make her monthly payments at the beginning, things changed after her husband met with an accident. "He wasn't working for almost a year. So from that moment in time, I started to default," she explained.
She has almost S$20,000 left to pay, which includes late-payment charges, and has received letters from the retailer's lawyer demanding payment and SMSs from a debt collector warning that if she defaults again, debt collectors would go to her home.
She had asked one of the salespersons about the interest incurred if she were to default. "He only told me, 'Only a little bit – never mind, we can understand,'" she said ruefully.
Watch this episode of Talking Point here. New episodes every Thursday at 9.30pm on Mediacorp Channel 5.