Commentary: Is it considered art when artists use AI to produce books and images?
As artificial intelligence evolves, human-created art and AI-generated art will not be be binary opposites, says NAFA's Winson Ho.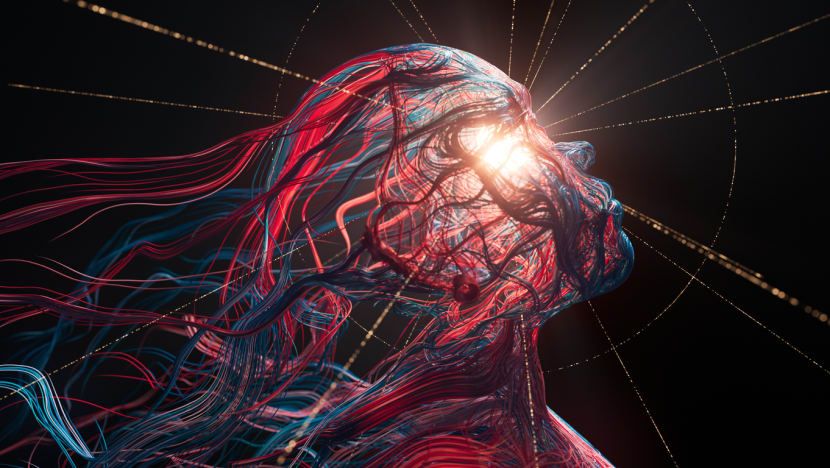 SINGAPORE: Have you heard of Lensa? If not, you have probably seen friends on the photo editing app, which uses artificial intelligence (AI) to turn selfies into cartoon characters and artsy avatars.
What about children's book Alice and Sparkle by Ammaar Reshi, which was created using AI tools ChatGPT and Midjourney?
Both Lensa and Alice and Sparkle have sparked debate from conflicting perspectives and ideologies surrounding AI. However, this topic is not new. Even pop culture has carried the AI discourse in films such as Ex Machina, The Matrix and Star Wars.
In the realm of art and design, digital software and Internet technology were already blooming in the 1990s, where artists leveraged AI by using automated run programming in looping commands to generate random shapes on screen to render digital artworks.
In present day, Narrow AI, a specific type of artificial intelligence, is designed to execute repetitive, specific and complex tasks to cut down time and manpower like data searches, facial recognition and driving a car.
Evolving from Narrow AI to General AI, the technology can comprehend, learn, and perform intellectual tasks much like humans. General AI makes it possible for more cognitive tasks to be performed, such as chatbots, investment tools, virtual characters, and art generators.
With AI permeating facets of our daily lives, this inevitably leads to deeper discussions on whether AI is challenging the value of human artists.
The fact is, the world is in constant change and AI could possibly replace humans in most jobs. Tesla co-founder Elon Musk has repeatedly warned that AI could one day outsmart humans and endanger us, citing AI as one of the biggest threats to civilisation.
AI VERSUS A HUMAN TOUCH
Although AI is increasingly prevalent in every facet of our society, we should remain positive that robots could enhance our capabilities and assist in more tedious and dangerous jobs rather than replace us completely.
In the creative industry, artworks convey an artist's thoughts, expressions and values. It is not only about technical execution or the manifestation that we see physically or digitally. Every piece carries its story and an intangible value. This includes the artist's experiences and history, motivations, perspectives and spirituality.
Art is a platform for human communication in a desirable, unique and creative way. The intrinsic humanised drive and value of art creation will never be replaced.
There are people who prefer hand-crafted works and the imperfections that reflect our human touch. They prefer to uncover stories and unravel emotions that parallel their lens and their lives.
The benefits of art are plentiful. Aside from stimulating imagination and enhancing observation skills, studies show that art creation can benefit mental health and improve brain elasticity. Creativity helps to develop motor skills and has a large impact on social and emotional growth. It also enhances cognitive development, which can uplift math skills and other related subjects.
Instead of being wary of AI, art educators should nurture students to work with AI to amplify desired outcomes.
AI could potentially help educators personalise tutoring further, helping to identify knowledge gaps down to an individual level to accelerate and strengthen learning. Meanwhile, the fundamentals of technical expertise, pure grit and hard work remain imperative for art students and apprentices to transfer ideas and creativity onto canvas.
When it comes to ownership of works in our current context, the US Copyright Office is clear on this - an AI can't copyright its work.
According to the US Copyright Office's Copyright Compendium, "the Office will refuse to register a claim if it determines that a human being did not create the work".
In Singapore, the Copyright Act was updated 2021 for the digital age, but there is no mention of whether AI-generated works can be registered.
It is clear, however, from various sections that human authorship is required for copyright protection. For example, it states that the duration of copyrighted works is protected for 70 years after the death of the author.
AI-generated art has no owner if a work is produced by a machine or mere mechanical process that operates randomly without any creative input or intervention from a human author. However, should humans use and leverage AI in their art creation process, these works could be attributed to them - although this is still open for debate.
THE FUTURE
We do not have the crystal ball to predict the future. AI will have its own evolutionary path whether it is under our hands or through its own intelligence. Some are suggesting that it would be good to have regulations for AI development to ensure it would be safe, so that humanity can be protected.
Regardless, AI tools are not going anywhere. AI is not a threat, and we need to learn how to use it well, work with it and fully utilise its benefits. Machine intelligence is going to improve and become a fixture of our society. In the same spirit, AI art can be an alternative option. Digital renderings and AI-assisted artworks can be impressive and perfectly crafted by AI artists.
Take Brian Gothong Tan's series of 10 digital artworks labelled "Speculative pre-colonial histories" that were created using AI, and his recent Singapore Art Week exhibition #Metazomia.
Or consider Scott Eaton's Contemplating Mass Unemployment II that was created using neural networks. Both creatives leveraged AI tools as an alternative pathway to create art, opening new worlds of possibilities.
Perhaps it might be more constructive to think outside of binaries, as in an ever-evolving universe, human-created art does not live in an opposite paradigm from AI-assisted or AI-crafted art.
Having to choose one over the other is not a discourse we must adopt. Rather, as creatives, artists and wayfinders - it just might be time to open our minds to new opportunities. Change is the only constant.
Winson Ho Khoon Sung is Senior Lecturer, School of Design & Media, Nanyang Academy of Fine Arts.