Commentary: Blackpink in Singapore - what is proper concert etiquette anyway when it comes to fan filming?
Concertgoers recording their favourite acts while watching them "live" is nothing new. Standing pen ticket holders should know what they are in for by now, says April Zara Chua, who was there on the first night of the concert.
SINGAPORE: I was there when Blackpink member Jennie said on Saturday (May 13), the first night of the K-pop girl group's concert at the National Stadium: "I'm seeing more cell phones than faces today, I don't know if I like that."
There were more smartphones than light sticks in the air, the standing pen bopping less enthusiastically than I'd expected to Jisoo, Jennie, Rose and Lisa's infectious songs - as the fans tried to stay still to keep their recordings steady.
As a shorty at 152 cm (154 cm on good days, if I may add), I had a different vantage point in the seated section. A friend in the standing pen directly in front of the stage texted me before the concert started that he might be a tad short to see the stage. Unsurprisingly, his view got worse once the phones went up.
I can understand the disappointment of fellow Blinks - what Blackpink fans are known as - who had paid between S$168 (US$125) and S$398 only to see more arms and phones than stage.
CAPTURING THE MOMENT AS DIGITAL NATIVES
I admit it: I too am guilty of recording bits of the concert.
Though my phone camera quality isn't that great and a delay tower was directly in my line of sight, I wanted short snippets of my favourite songs as keepsakes, to look back on the experience a few months down the road.
As my cousin and concert buddy put it, the recordings help freeze the memories of the performances from our own perspective. While we were both living in the moment by getting on our feet and singing (screaming) along to our favourite lines, memories fade in detail and vividness with time. Having these short clips meant I had something to help me relive the thrill of my first K-pop concert.
Not filming at all would just feel like the concert never happened. And that's exactly it - the "pics or it didn't happen" attitude in today's world.
Perhaps it's a norm these days for younger concertgoers who grew up in the era of smartphones and social media. One young lady in front of me was even recording, editing and uploading everything in real time!
WHAT IS PROPER CONCERT ETIQUETTE ANYWAY?
Should concert organisers or performers insist on banning phones?
It is not unheard of. American musician Jack White's concert at the Capitol Theatre in December 2022 had a strict no video and no photos policy which he enforces in all his concerts to give the audience a fully immersive experience.
Unlike video cameras and tablets, it's hard to ban phones at concert venues, especially in one as big as the National Stadium. It's not necessarily in their commercial interests to do so either - fans sharing their concert experience helps keep the fan community engaged and growing.  
Event platform Eventbrite pointed out the following paradox: Surveys show people want to share their experiences during events but also don't want to be disrupted by phones.
It has also been suggested that concertgoers should adhere to the "don't shoot above your eye level" rule. But this was new to me.
A friend, who in the past six months, has gone for nine overseas and local concerts - including the Maho Rasop Festival in Bangkok, the Hammersonic Festival in Jakarta, and Red Hot Chili Peppers and Kings of Convenience here - observed and confirmed a few things: Concertgoers everywhere recorded above eye level, and in the standing pen, it's every man for himself.
It's not just Blinks or K-pop, nor is such behaviour unique to Singapore.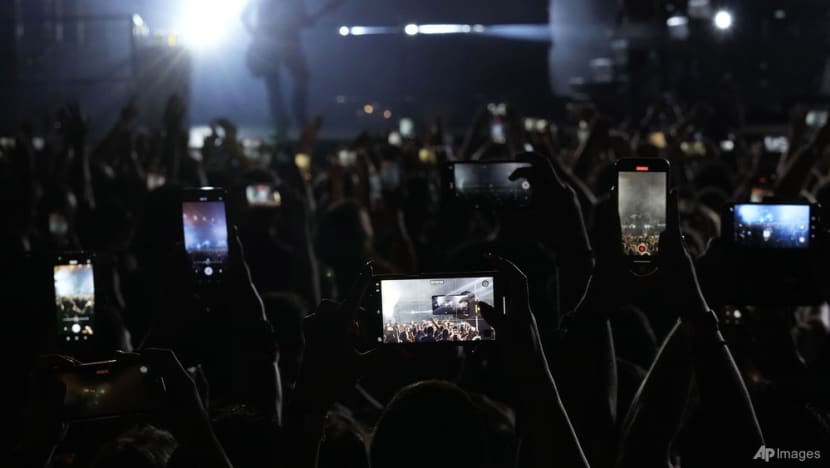 A quick YouTube search showed the same smartphone situation at the standing pen of other concerts in Singapore like Guns N' Roses and Maroon 5 in November last year, and even BTS way back in January 2019.
It's quite possible this unspoken rule isn't widely known. Or it could be that when your idols are up on stage, all rules are out the window. Either way, smartphone recording is here to stay.
MAKE IT A GOOD CONCERT EXPERIENCE FOR YOURSELF
It's a digital world we live in these days and to many, it's part of the whole concert experience to record and share the fun times you're having with your friends.
Considering some Blinks had been on-site even before the queueing zones for the standing pens officially opened at 2.30pm when the concert only started at 8pm, the adrenaline, fatigue, hunger, and overall waiting can add up, and the smallest inconvenience can trigger immense frustration.
It's unrealistic for concertgoers at the standing pen to assume that no one should take the spot in front of them just because they were there first. Perhaps those in the standing pen just couldn't see the stage very well - with or without smartphones blocking their view.
I noticed there wasn't a lot recording around me in the seated section. And when there was, it didn't last longer than a minute.
At the end of the day, it boils down to having situational awareness and knowing when and how to be more considerate to everyone around you. After all, everyone at the concert is a fan.
April Zara Chua is a freelance content developer and mother to a preschooler and a 7-year-old cat.