Commentary: The Jack Ma test for China's promised shift
Beijing's treatment of fallen entrepreneurs will provide evidence of how far it has shifted on the private sector, says the Financial Times' Tom Mitchell.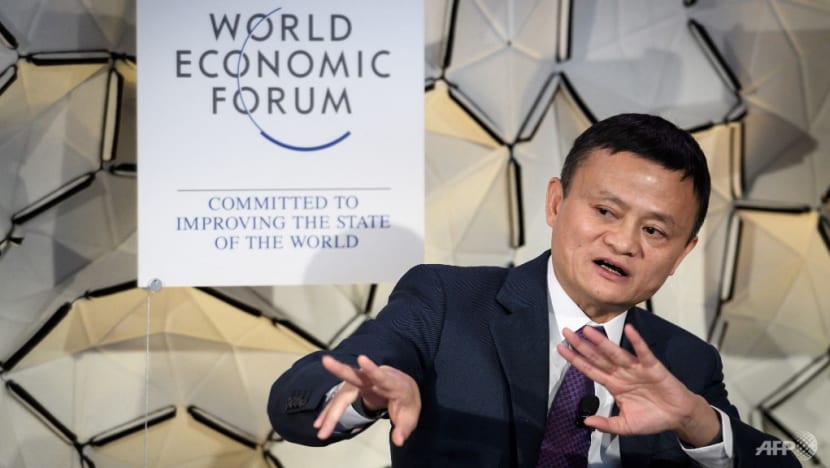 BEIJING: This month Liu He, China's economic tsar, sought to reassure global elites and the heads of some of the world's biggest companies of two things. First, China is back and open again for business, he said in a speech to the World Economic Forum in Davos. And second, the Chinese Communist party is more committed than ever before to implementing bold economic and financial reforms.
"Entrepreneurs, both Chinese and foreign, will play an important role as the engine driving China's historical pursuit of common prosperity," Liu, a vice-premier and longtime confidante of President Xi Jinping, said. "If wealth doesn't grow, common prosperity will become a river without source or a tree without roots."
Liu is clearly correct on his first point. After almost three years of self-imposed isolation to weather the pandemic, Xi's administration ditched its futile "zero-COVID" policy in early December. The flow of world leaders, business executives and academics that characterised Beijing before the pandemic has resumed. A sharp economic rebound will follow.
As for the vice-premier's second point, the problem was that it was him saying it and not Xi. Xi's transformation of party politics has been such that policy pronouncements by anyone other than the president do not carry as much weight as they once did. And even then, what Xi says matters less than what Xi does.
CONCERNS AMONG TOP LEADERSHIP
In November of 2018, at a hastily assembled meeting with Chinese entrepreneurs, Xi said that "all private companies and private entrepreneurs should feel totally reassured and devote themselves to seeking development - private enterprises and private entrepreneurs belong to our own family".
Within two years, China's best known entrepreneur, Jack Ma, the Alibaba founder who was once a ubiquitous presence on the international conference circuit, had all but disappeared from public view. Xi's crackdown on the tech sector damaged one of the country's most important economic motors.
A year after Ma's downfall, Liu's long-running war on financial risk triggered the default of one of the country's largest real estate developers. The property sector, ultimately responsible for about one-third of total economic output, has yet to recover from Liu's shock treatment.
Liu's trip to Davos was, of course, no unauthorised walkabout. His message reflected real concerns at the top of the party about the damage done to the world's second-largest economy by zero-COVID.
But Liu plays an important role for the party that should be borne in mind whenever he is addressing foreign audiences. Ever since he emerged as Xi's most trusted economic and financial adviser a decade ago, an important part of Liu's job has been to send soothing messages to US and European interlocutors.
Sometimes this is communicated in public, as at Davos. More often it is done in private, in the knowledge that the seeming valuable intel on "what Xi Jinping is thinking" will be transmitted to Western heads of government.
LITTLE EVIDENCE OF CHANGE ON THE GROUND
In addition to his public remarks at Davos, Liu also met privately the chief executives of large US and European multinationals. "They are reversing everything that has been done in the last three years," one invitee told the Financial Times. Back on the ground in China, there is little evidence of any major changes of policy towards the technology and property sectors that support this claim.
Beyond believing and transmitting what Liu and other party elites tell them, trusted "friends of China" are also expected not to ask embarrassing questions.
The most important policy issue in China-EU relations, affecting all other bilateral policy issues, is Xi's de facto support for Russia's war on Ukraine. As one senior European executive puts it: "Everybody in the EU looks at China through the prism of Ukraine." But the war, according to participants at Liu's Davos meeting with chief executives, was not discussed.
Similarly, onstage after his speech, Liu took two soft questions from the forum's founder and chair, Klaus Schwab. A more incisive interviewer might have seized on Liu's comments about the importance of entrepreneurs and noted that when the vice-premier was last at Davos, in 2018, so was Jack Ma, who regaled forum attendees in his inimitable and always entertaining style.
"So where is Jack and when can he come back?" Schwab might have instead asked. Until China's most famous entrepreneur is indeed free to speak publicly at Davos and other forums, Liu's assurances should not be taken at face value.
You may also be interested in:
Source: Financial Times/aj