Commentary: Live to eat or eat to live? The amusing trend of 'white people food' in China
Chinese netizens are posting photos of boring salads and sandwiches on social media. There's good reason why these plain meals went viral, says cookbook author Pamelia Chia.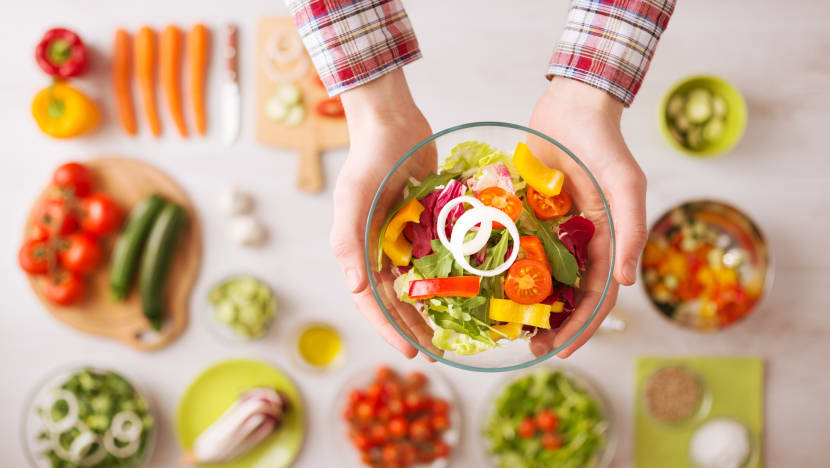 BREDA, The Netherlands: To this Singaporean who has grown up eating two - sometimes three - hot meals a day, the thought of a cold lunch can be bewildering. However, in the Netherlands, where my husband and I recently moved to, lunch is typically a cold meal, consisting of a sandwich with a few slices of cold ham and cheese perhaps.
This is a spartan affair made with unremarkable ingredients, nowhere as glamorous or "Instagrammable" as lunches that one typically sees on social media, so it intrigued me that the "white people food" trend has taken off in China. Supposedly sparked by a netizen's encounter with a Caucasian woman eating plain lettuce and ham on a train in Switzerland, some Chinese office workers have begun packing themselves cold lunches and sharing them online.
From raw celery sticks to cold deli meats, the meals have gained traction on Chinese social media platforms Xiaohongshu and Weibo, garnering comments of light-hearted mockery. One blogger, for example, described them as the "lunch of suffering". Why, then, did they go viral?
COLD LUNCHES, A FOREIGN CONCEPT
Having an entire meal that is cold, such as in the form of a salad or sandwich, is a startlingly foreign concept to many Chinese. In China, dishes are almost always served hot, and even chilled appetisers are accompanied by a bowl of freshly steamed rice. Fire control is a central tenet of Chinese cooking and "wok hei", translated as "breath of the wok", is something chefs dedicate entire careers to mastering. 
The propensity towards a hot lunch is no different in Singapore, where even on a hot, sunny day, you'd find Singapore foodies tucking into piping hot bowls of bak kut teh or laksa. 
While entirely cold dishes do exist in Asia, they tend to require much skill to prepare and consist of elements that have been cooked for a considerable amount of time. Korean naengmyeon, for example, is a combination of beef broth that has been simmered for hours and fermented radish, producing a deeply umami and complex dish that belies its simple appearance. 
Even banh mi on the streets of Vietnam is an elaborate affair, consisting of radish and carrot pickles, pate, and meat options that range from pork terrine to roast pork belly.
WHAT WE EAT IS WHO WE ARE
Food and drink is also, of course, deeply connected to culture and identity.
Discerning the puzzlement of the Chinese when encountering cold meals for the first time lies in an understanding of Chinese traditional medicine, which teaches that our bodies respond better to warm food and beverages.
It is a common Chinese practice, for example, to drink boiled water even if water from the tap is potable. "You know that water from the tap is safe to drink right? You are so Asian," an Asian-Australian friend said to me when he observed me boiling water in a kettle when the water in the jug had run out.
And then there's a Chinese saying: Food is the paramount necessity of the people. 
Given the complicated cooking techniques present in so many Chinese cuisines, a photo of a ham sandwich can turn into a meme of mockery, an obvious parody of Western food. Some "white people food" that have gained virality exaggerate their simplicity to the point of absurdity, even to someone from the West - three whole carrots or a heap of undressed baby spinach leaves in a lunchbox, for example. 
Food in the Netherlands has a reputation of being uninspired and boring. The running joke is that the Dutch built an immense global empire fuelled by the spice trade and yet they never thought to use spices in their food. "White people food" being bland, pale and unseasoned has become a barb on which even self-deprecating Westerners throw themselves. 
Some might argue that this satirisation on Chinese social media platforms is a positive means for food to be decolonised, as it rejects what is conventionally regarded as normative. However, when we stereotype "white people food" as being all about raw salads and sandwiches, we gloss over the diversity of entire regions and reveal our own ignorance of foreign food cultures – just as how a generalisation of "Asian food" does a disservice to our continent. 
LIVE TO EAT OR EAT TO LIVE?
This viral trend could be understood more simply: As work puts a squeeze on the contemporary worker's time and energy, it's easy to see the widespread appeal of these fuss-free meals. What more in China, with its notorious "996" (9am to 9pm, six days a week) culture in some sectors? 
The devolution of a pleasurable work lunch to mere fuel with minimal preparation that keeps us going might be but another reality of life to be accepted, a reflection of our hectic modern life. Indeed, some Chinese netizens add another hashtag to their social media posts: "White people food is still food".
Finally, in a culture obsessed with social media, where users routinely feel the pressure to present a highlight reel of their lives, snapping a mundane photo of a banana and a handful of nuts in a lunchbox can be especially freeing. 
Perhaps a broader lesson here is that not everything in life has to be an event, and that with fresh eyes, even a lunchbox of raw leaves can be a revelation. 
Pamelia Chia is the author of the cookbooks Wet Market to Table and Plantasia: A Vegetarian Cookbook Through Asia. She also writes Singapore Noodles, a newsletter with the mission of keeping Singaporean food heritage alive.