Commentary: If we want to preserve Singapore's hawker culture, we need to be willing to pay for it
Inflation is putting the squeeze on all in Singapore, including hawkers, who cannot operate within a low price ceiling given such economic pressures, says Pamelia Chia.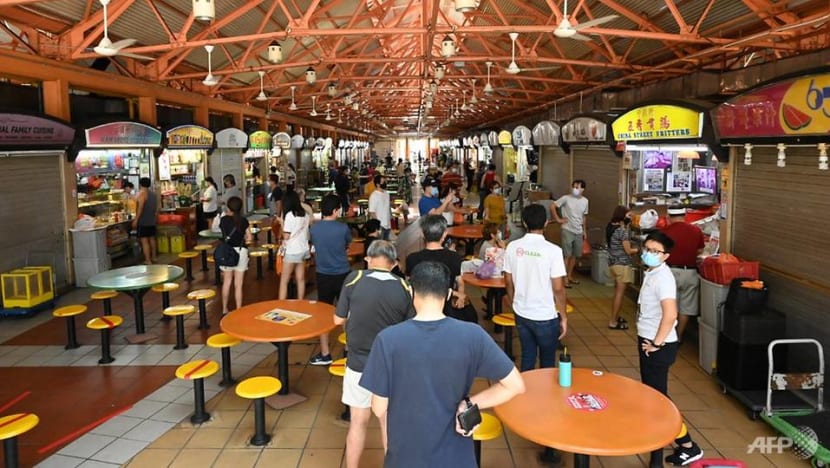 DAYLESFORD, Australia: Hawkers are finding it hard to maintain people's expectations of low food and drink prices with rising operation costs, particularly with Singapore's core inflation rate at 5.5 per cent and a Goods and Services Tax (GST) hike to 8 per cent.
Coupled with manpower challenges, some hawkers have no choice but to shut down for good – like the owner of Zhao Ji Claypot Rice at Chinatown Complex after 43 years in business.
Yet hawkers are still reluctant about raising prices out of fear of driving customers away. An Institute of Policy Studies (IPS) survey released on Mar 13 found that out of 263 stalls visited in January, many have not increased prices since late 2022. For those that did, price increases did not exceed 30 cents.
But when I went back to Singapore in December 2022 for the first time since the pandemic, one of the biggest changes that I noticed was hawker prices.
Three years ago, a typical hawker meal for me fell in the range of S$4 to S$5 (US$3 to US$3.80), and on this trip, it averaged S$6 to S$7. I'm not going to lie - it did bother me and made me feel like a hypocrite. After all, in October 2022, I had written an article that challenged Singaporeans to view hawker prices as being too low.
Had I been out of touch with the realities of living in Singapore? Was my commentary, in fact, salting the wound of Singaporeans who have been battling inflation and rising costs of living?
HAWKER FOOD AS A SOCIAL GOOD
In Singapore, hawker food is seen as a social good. A big part of this comes from the positioning of hawker food as affordable.
In a 2012 interview, Ravi Menon, Managing Director of the Monetary Authority of Singapore, described hawker centres as offering "good quality meals at almost Third World prices", a kind of "general subsidy that is available to all those who patronise hawker centres - rich and poor alike".
In the 1970s to 1980s, itinerant street hawkers were offered subsidised rents to encourage them to relocate to hawker centres. Because rent was controlled and low, hawkers were able to make their living providing meals to Singaporeans at a reasonable price.
As of August 2020, about 40 per cent of hawkers are on the subsidised rent scheme, where stall rentals are substantially below market rates. But the majority of hawkers - those who joined the trade from the 1990s onwards - had to bid for stalls put up for tender monthly by the government.
The upper limit of bids for monthly rental fees, dictated by the free market, can go as high as S$5,000. On top of that, there are table-cleaning and dishwashing fees to think about.
Yet as the IPS study suggested, hawkers are mindful of how price-sensitive customers can be. I was ordering fish noodle soup from my favourite stall and told the hawker auntie that I wanted to add bittergourd and deep fried fish roe to my meal. How apologetic she was surprised me. "That will be S$7 - are you sure you are okay with that?"
I encountered a similar sheepish expression on another auntie's face as she told me how much the assortment of Hakka yong tau foo I had selected would cost me.
Senior Minister of State for National Development Sim Ann recently announced that all coffee shops leased from the Housing and Development Board will have to offer budget meal options as a condition for the renewal of their three-year tenancy. This is to "make the availability of cheaper food options in coffeeshops more certain and pervasive".
But at the end of the day, hawkers are business owners. While inflation is putting the squeeze on Singapore residents, are hawkers not one of us as well? How are they to operate within a low price ceiling amid the economic pressures that they face?
PASSION ALONE CAN'T FEED HAWKERS
In 2017, the Singapore Tourism Board rolled out its new slogan "Passion Made Possible". The campaign highlighted locals, such as hawkers, who are making "indelible marks on our landscape with their talents, cultures and dreams".
It is undisputed that our hawkers have passion - it takes immense grit to do what they do - but how much of it is "made possible"?
Founder of the now-defunct nasi lemak stall OG Lemak, Shen Tan, said on the Singapore Noodles podcast: "Passion doesn't feed people - it doesn't pay your CPF, it doesn't pay your mortgage, it doesn't pay for medical insurance… How do Singapore's hawkers put out the food at such low prices? It's because they are subsidising with their salaries!"
While our hawkers are UNESCO-recognised cultural symbols, they struggle to run viable businesses. As consumers, it can feel like we are caught between a rock and a hard place.
But despite the initial flinch that comes from years of being used to artificially low prices for food, I'd much rather pay more as an investment in what I believe is such a big part of Singaporean culture.
In recent months, multiple long-time hawkers have shuttered their operations - one of which is a favourite Hokkien mee stall of mine at ABC Brickworks Food Centre. If we do not value our hawkers in the years to come, we may find ourselves in a position of trying to salvage what's left of our culinary heritage, only to discover how much we have already lost.
Pamelia Chia is the author of the bestselling cookbook Wet Market to Table, and the founder of Singapore Noodles, a newsletter with the mission of keeping Singapore's food heritage alive.