Commentary: Why aren't Singaporeans cooking at home anymore?
Cooking is not only difficult for time-poor people in Singapore, but also more expensive unless done regularly and for a large family, says cookbook author Pamelia Chia.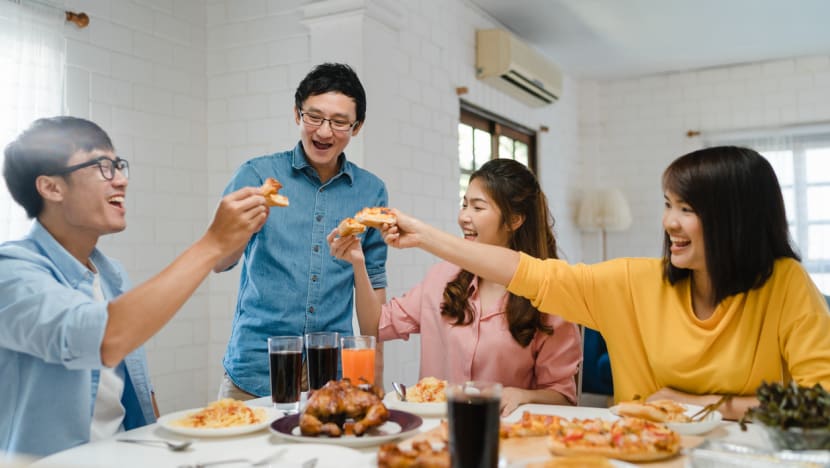 DAYLESFORD, Australia: At the height of the pandemic, I got on a Zoom call with a pair of newly wedded friends. They had just moved into their BTO flat and, in true Singaporean fashion, gave me a virtual tour of their house.
They hesitated at the kitchen, but upon much prodding, swivelled the camera to reveal a single induction stove and a fridge that functioned as a storage space for beverages and yoghurt cups.
Surprised that the fridge had not once ounce of meat or vegetables, I asked, "What do you eat for your daily meals?"
"Dabao lah. By the time we come back from work, we are both too tired to cook and clean up."
It might not surprise you that this is a common phenomenon amongst my time-poor millennial friends in Singapore. A recent survey has shown that just 22 per cent of Singaporeans cook at home daily, compared to those in other cities such as Shanghai and London.
Out of all the year-end gatherings you attend this festive period, hosts that cook up a storm are probably in the minority. Why bother when you can cater or order in?
A CULTURE OF EATING OUT
If I could pin down what's behind the demise of home-cooking in Singapore, it would be the affordability, convenience and accessibility of hawker food. When Singapore became a trading port, it lured a migrant force of predominantly male labourers. These men lived in tight quarters with a lack of proper sanitation, let alone cooking amenities.
The food peddled by hawkers thus became not just the meal du jour, but the only viable choice. This is not to say that this was a terrible option - far from it. Because the hawkers tended to sell just one dish, they perfected their food through years of practice.
Soon the bar was raised incredibly high, making it possible to get a truly delicious meal for a few dollars. Eating out thus became woven into Singapore's food culture and customs, while remaining a luxury in other countries.
To this day, so affordable are hawker meals that it is often more expensive to cook unless done regularly and for a large family. Before the 1970s, Singaporean families tended to be large (my grandmother and grandmother-in-law each bore more than five children), but with the fall in birth rate and multi-generational living no longer the norm, cooking now plays a less vital role than it had before.
THE PLACE OF A WOMAN
As Singapore developed, the evolving place of women also resulted in the loss of culinary skills. Sharon Wee, author of Growing Up in a Nonya Kitchen, spoke of how her mother represented a lost generation of "professional housewives", whose identity revolved around food and homemaking as more women entered the workforce.
But because "getting an education was seen to be more important than picking up culinary skills" in the 1980s, according to cookbook author Matthew Lloyd Tan, women soon embraced their careers more fully.
Shameen Akbar, a project manager in her 30s, told me that spending time in the kitchen conjures the image of a domesticated female, a stereotype she did not want to fit into.
"Growing up, I honestly didn't want to be in the kitchen because I was trying to fight the whole 'daughter needs to learn to cook' mentality", she said. "My mum will be like, 'You need to learn how to make chapati', and I'd say, 'There's Rotimatic, I don't need to learn.'"
In addition, as Singaporeans became more affluent, cooking started to be perceived as low-value work, something that you only did if you had no choice, otherwise relegated to domestic help.
I recall my paternal grandmother's horror when I first told her that I wanted to cook professionally. To this day, I've not spent any time in her kitchen because she prohibits any of her grandchildren from cooking in her presence.
THE JOY OF COOKING
I once asked an Australian colleague what he was getting up to on the weekend, and he told me that he bought a beautiful slab of porchetta that he was planning to barbecue with friends.
The refreshing ease and casualness with which he said it took me aback. The arguments for home-cooking are numerous, but perhaps none are as convincing or as simple as this – finding joy in the act itself.
For Gladys Foo of Kuehdys Foo, preparing love letters at her mother's place is a communal activity that her five siblings and her look forward to, an act that cements the ties they share.
As it is for Shiny Phua of Ah Mah's Legacy, whose kueh business pays tribute to her late grandmother, food can also be a tangible connection between us and the ones that we have loved and lost.
Perhaps it is time to reframe the act of preparing a home-cooked meal less as a tedious chore, and more as a road to meaning and pleasure. Even if it is just for the party of one.
Pamelia Chia is the author of the bestselling cookbook Wet Market to Table, and the founder of Singapore Noodles, a newsletter with the mission of keeping Singapore's food heritage alive.