Commentary: Xi Jinping's 'common prosperity' looks more like populism rather than socialism
China is not facing a new cultural revolution, but its socialist market economy has just become a bit more popular, says Bert Hofman, Director at the NUS East Asian Institute.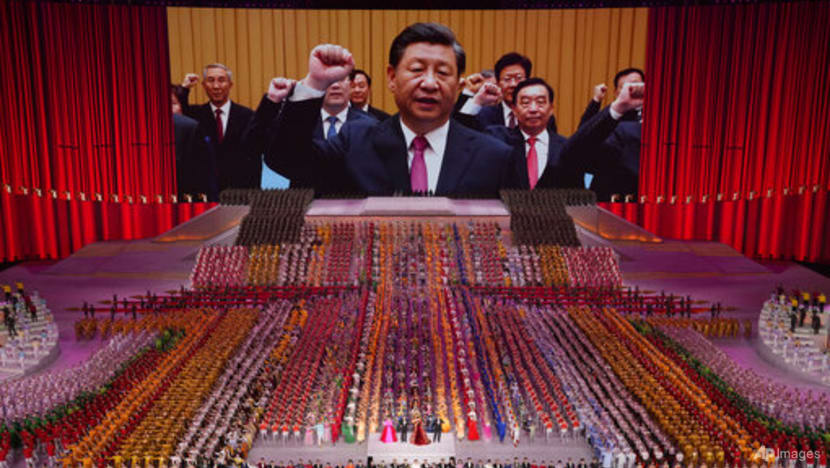 SINGAPORE: Not often is Hu Xijin the moderate in the room. The editor of the Global Times is known for his fiery comments on China's affairs and his left-leaning tendencies. 
Recently, however, he was outflanked by Li Guangman, a relatively unknown retired editor, whose viral blog post cheered the Chinese government's recent clampdowns on everything from Internet companies, tax dodgers, online gaming, tutoring and even insufficiently masculine stars. 
Li hailed this as the dawn of a new Cultural Revolution. 
The post, titled Everyone Can Feel A Profound Change is Under Way, and reposted on the People's Daily Online and the Global Times Website, states: "All these tell us critical changes are taking place in China and these changes are economic, financial, cultural and political."
"In other words, this is a significant revolution, a return from the capitalist camp to the people's camp, a pivot from the capital-focused centre to the people-focused centre."
But Hu countered that there was no such thing brewing and that a cultural revolution was the last thing China needed.
He wrote on his blog: "I hope everyone believes that China's reform and opening-up line will not change … and the major policies since the 18th National Congress of the Communist Party of China (CPC) will be adhered to. No one should believe any extreme interpretation of national regulatory measures."
(The 18th National Party Congress appointed the current generation of leaders including general-secretary Xi Jinping.)
NO NEW CULTURAL REVOLUTION
Both the fears and hopes of a new Cultural Revolution are overblown. 
Mao Zedong unleashed the decade-long Great Proletarian Cultural Revolution to reassert his power after being sidelined for the failure of the Great Leap Forward, a mass agricultural collectivisation exercise that resulted in famine and national economic distress. 
Xi is in a very different position today, firmly in control of the party and most likely assured of a third term as general-secretary after the 20th Party Congress in the fall of 2022. 
Though he often refers to Marxism, he also knows that he cannot do without the market to achieve his vision of the Chinese dream of national rejuvenation.  
Since 1978, China has been living with an awkward compromise between Marxist ideology and an increasingly market-driven economy. 
Deng Xiaoping had solved the contradiction by declaring that China was only in the "primary stage of socialism" where private markets could be harnessed to aid with the overarching goal of the modernisation of the Chinese state, much like Lenin's New Economic Policy in the Soviet Union of the 1920s.
Former President Jiang Zemin's Three Represents doctrine gave private property legitimacy by recognising it constitutionally and by arguing that the CPC not only represented workers and farmers, but intellectuals and entrepreneurs too. 
No one really knows how long this primary stage of socialism will last, but the tea leaves suggest it is not likely to end anytime soon.
To signal his support for the market, Xi last week announced a new stock market in Beijing for small- and medium-sized enterprises.
Days later, at a digital economy conference, vice-premier Liu He assured businesses that China remained supportive of the private sector, which generates the lion's share of employment, innovation, growth and tax revenues for China.
THE END OF CHINA'S GILDED AGE
Yet it is becoming increasingly clear that this market will be different from before.
The Decisions of the Third Plenum of the 18th Central Committee of the CPC in 2013 had stated that market should not only determine the allocation of production resources but also that this should be a regulated market, not a free one.
It reads: "The main responsibility and role of the government is to maintain the stability of the macro-economy, strengthen and improve public services, safeguard fair competition, strengthen oversight of the market, maintain market order, promote sustainable development and common prosperity, and intervene in situations where market failure occurs." 
For many, this regulatory storm of recent months is, as James Kygne wrote in the Financial Times, marks the end of China's "Gilded Age".
The term refers to that epoch in US history in the late 19th century dominated by the Carnegies, Rockefellers and Vanderbilts, who used their wealth and power for political influence to increase their fortunes. 
Those years then ushered in the reformist Progressive Era, where an expanded array of social programmes and anti-monopoly legislation were introduced, the latter of which led to the split up of Standard Oil. 
The market economy survived quite well after that, though some would argue that the country is currently reliving another Gilded Age.
China is now experiencing some of the same. Though far from a new cultural revolution, Xi is rewriting China's social contract.
After achieving the xiaokang (moderately prosperous) society, Xi's new promise is "common prosperity", a collective ideal he has repeatedly articulated several times since August.
His speech at the centennial anniversary of the CPC also foreshadowed the more populist themes of the common prosperity agenda: With "the Chinese people" the most cited term at 88 times, followed by "the Chinese nation" (44 times) and rejuvenation (26 times). Marxism (12), socialism (16) and reforms (eight) played a subordinate role.
NOT SOCIALIST, BUT POPULIST
While China's sweeping reforms have been interpreted as a sign that the country is returning to its socialist roots, they should be more accurately seen as a means to win popular support and shore up the CPC's position.
Regulating against monopolistic practices in e-commerce, tackling labour abuses in food delivery, and pushing companies to protect personal information are pro-worker, pro-consumer steps taken by many developed nations struggling to find their footing with a booming platform economy.
Others, such as the ban on for-profit tutoring, limits on online gaming by Chinese youth, and real-estate regulations bring relief to an increasingly squeezed middle class, and are for the most part quite popular in China.
The correction in market power of the Internet companies also conveniently limits any political influence Internet entrepreneurs may have amassed along with their wealth.
This rhetoric around income distribution is also not new and has been reflected as far back in the Decisions of the Third Plenum in 2013, which emphasised redistribution of income through taxation, social security and transfers, and regulation of "excessive" incomes.
An almost identical set of words were used at the Central Committee on Economy and Finance chaired by Xi in August this year where he first outlined an emphasis on common prosperity. It was then he also highlighted how high-income individuals and enterprises should give back to society through charities – what he termed the "tertiary (mode of) distribution".
NOT REALLY THAT SOCIALIST
However, for a socialist country, China does surprisingly little redistribution of income. 
Most egalitarian European countries and the US are all less equal than China in terms of gross incomes but have a more equal distribution after redistribution through taxes and transfers, according to the Standardised World Income Inequality Database.
China's income tax takings are still rather modest, yielding only 1.2 per cent of GDP or 4 per cent of total government revenues. These are far less than the 8.4 per cent of GDP in the average OECD country, where personal income taxes constitute some 20 per cent in government revenues.
Moreover, an important income source for the rich is untaxed in China: Capital gains. Property taxes, long discussed in China, have yet to be applied in a meaningful way. 
In fact, as Xi's focus shows, China much prefers to leave the tax stick at home and to resort to charity as a channel for redistribution instead —a channel that even in the most generous country barely yields 1 per cent of GDP, insufficient to make a dent in income inequality
POLITICKING HAS STARTED
Perhaps the mystery remains how Li Guangman's blog post made it into the People's Daily Online.
It signals that the manoeuvring for the 20th Party Congress has already started, and common prosperity is the agenda that general-secretary Xi will use to secure a third term then in the fall of 2022. 
The blog post also suggests there are more radical opinions out there, who may have sufficient popular support to land their perspective in the paper of record. 
This only begs the question who will be on Xi's team after the Party Congress, and most importantly, whether the CPC will anoint a successor to Xi who may incorporate more radical views.
Bert Hofman is Director of the National University of Singapore's East Asian Institute.