Commentary: We're drowning in a fast fashion ocean of clothes
Resale platforms must contend with stigma, superstition and lack of trust to change the tides of sustainable fashion in Singapore, says Retykle founder Sarah Garner.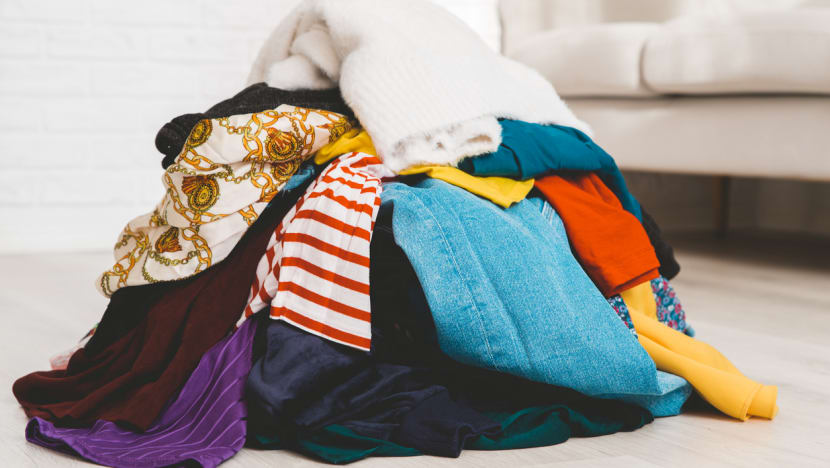 SINGAPORE: The secondhand fashion space has seen a meteoric rise, with the market expected to grow more than 10 times faster than traditional retail by 2025.
The world has seen the growth of secondhand platforms. Thredup and Depop achieved valuations in 2021 of US$1.3 billion and US$1.6 billion respectively. 
Changing consumer behaviours, environmental concerns and the increased sophistication coupled with the digitalisation of secondhand trade have turbocharged this trend. 
Despite seemingly global widespread acceptance of buying and selling secondhand clothing, adoption within Singapore has been slower, with a traditional preference for brand new and a pursuit of fads. 
Barely five years ago, a YouGov survey found one in three Singaporeans throw away clothing after wearing it just once. 
But as environmental consciousness rises, could such trends change – for good?
CULTURAL STIGMA
The Chinese New Year is a litmus test for whether old notions of "out with the old and in with the new" remain.
Cultural apprehensions and a perceived stigma to buying secondhand are considerable barriers. It is believed that the luck of the previous owner is passed forward through the garment to the new owner. 
Many pieces have also been tossed aside once deemed unfashionable or in need of repair – no surprise when brand new clothing is additionally a demonstration of wealth.
This belief is magnified during Chinese New Year when wearing new clothes signifies a fresh start for the new year.
A poll conducted in 2019 by Milieu, a consumer research and analytics firm,  showed that 82 per cent of Chinese Singaporeans usually purchase new clothes for Chinese New Year, with only 38 per cent considering the environmental impacts of their purchases. 
Many are tempted to buy from fast fashion brands such as Zara or Shein due to their inexpensive, trend-driven styles. However, their low prices and constant cycle of producing new trends also ingrain a mindset of disposability and unconscious consumerism.
ASIA ASPIRES TO BE MORE SUSTAINABLE BUT CONTINUES BUYING AND THROWING
Despite consumers stating they care about sustainability, overconsumption is still a considerable problem.
A recent study by Globescan revealed a large aspiration-action gap. In Asia, 44 per cent of respondents desired to lead a more sustainable lifestyle but only 23 per cent had undertaken major changes to achieve this. 
Singapore's love for shopping in Singapore has also come into sharper focus over the festive season when charity donations escalate. 
The Salvation Army recently reported the volume of donations tripling in December as households perform traditional spring-cleaning in the run up to the new year. Workers there say most items dropped off were unusable or soiled. 
It appears clearing away bad luck also means more incinerated waste in landfills, with textile and leather waste peaking in 2018 with 205,800 tonnes disposed of in landfills. 
Carbon emissions and sustainability are still not top priorities when people buy things. In a recent survey by Retykle carried out among Singapore parents, price, quality and style were the main drivers behind purchasing decisions with sustainability only coming in fourth. 
There is also little conversation about the true cost of our fashion choices, and even fewer discussions over sustainable and ethical supply chains, or improving transparency and standards among brands and retailers. 
SHIFTING RETAIL TRENDS, GROWING CONSCIOUSNESS
Fortunately the tide is shifting with an increasing awareness of how our purchasing habits can impact the environment. 
The pandemic has accelerated an otherwise slower transition towards conscious consumerism. As consumers spend more time at home, they have re-evaluated the importance of their health and by extension, the planet: Why do we need so many clothing when most of us work from home most days? 
There is a general realisation that we can all make do with less coupled with a desire to lead a more sustainable lifestyle. A key topic discussed at the annual climate change conference COP26 was the concept of "degrowth" and how we must dramatically reduce consumption. 
Education is paramount to facilitate this coupled with a greater awareness of the environmental issues caused by the fashion industry. 
Local brands and retailers too are starting to focus on how they can help themselves and their consumers reduce their carbon footprint.
Love Bonito, Southeast Asia's largest omnichannel women's wear brand started in Singapore, has just started advertising for its first sustainability hire indicating that a consumer shift is being acknowledged in the market.
SHIFT AWAY FROM DISPOSABLE WARDROBES
As customers wake up to the true cost of a fast-fashion purchase, that collective shift away from disposable wardrobes is inevitable.
Resale platforms provide consumers with the opportunity to buy better brands with better quality and durability at more affordable prices while also benefiting our planet. Besides, who would want fast fashion replicas when they can get "the real thing" in the form of designer fashion for an equivalent price? 
Fashion should endure over the years, both in style and condition. Clothing used to be built to last and was purchased with consideration - often with the intent to pass to the next generation, or family, after we are done with them. 
Personally, a few of my favourite wardrobe staples are hand-me-downs from my mom - vintage pieces from her wardrobe in the pre 2000s including a Gucci belt I wear regularly and a timeless Chanel jacket that hasn't shown any signs of wear. 
The key to unlocking participation in the secondhand market in Singapore is trust. Many consumers are concerned about the quality and authenticity of buying second-hand goods, particularly in Asia. 
They are sceptical about the reliability of listings that have not been verified on other listing platforms. A rigorous and transparent authentication and quality control multi-point check system, where retail teams inspect items to detect defects, and allow for returns can allay consumer fears about quality and counterfeits. 
Online clothing resale has taken off quicker in the West where customers  have been trading secondhand items. Offline consignment shops, shopping at charity shops and the ease of donation and recirculation have made it an integral part of everyday life.
GROWING RESALE MARKET
The resale market within Singapore is still nascent and small but growing quickly. Singapore-founded Carousell is one of the world's largest and fastest growing secondhand market places in Southeast Asia. Last year it reached a valuation of US$1.1 billion. 
The platform has played an important role in seeding the market for acceptance of secondhand and has seen increasing numbers come online during the pandemic as Singaporeans sought to earn some extra cash while finding bargain buys. 
There are also more specialised platforms as well as larger international names, such as Vestiaire Collective, offering ready options for those wanting to shift to buy preloved clothes instead of brand new items. 
As I look ahead to Chinese New Year, I will be shopping from my own closet and not buying anything new to signal that luck can also be awarded for making conscious fashion decisions. 
Sarah Garner is founder of Retykle.