Commentary: A quieter Chinese New Year celebration for my family, even with no COVID-19 restrictions
To be honest, we quite enjoyed our cosy celebrations during the pandemic. And we're still erring on the side of caution when it comes to COVID-19, says Vivian Teo.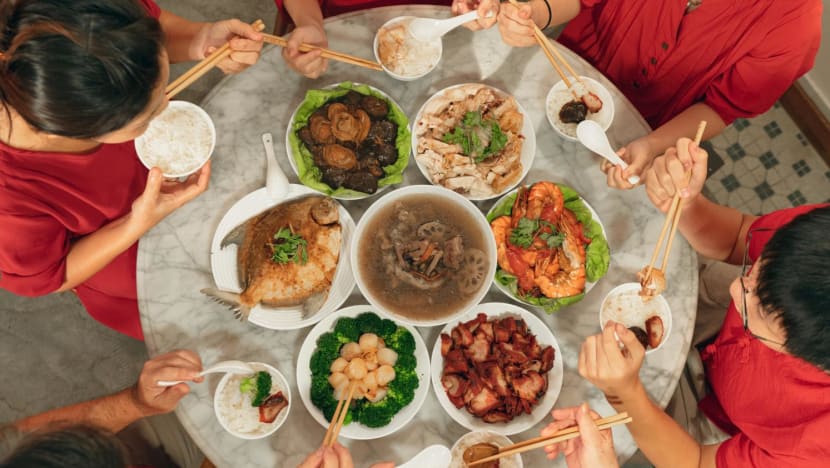 SINGAPORE: All it took was a day for Santa Claus and reindeer in my neighbourhood supermarket to be replaced by the God of Fortune and rabbits. Pineapple tarts and other festive goodies in those red-lid tubs already hit the shelves well before Christmas.
As if we needed reminding that less than a month separated Christmas and Chinese New Year this year. I'd barely had time to pack away the tree, and it's already time for spring cleaning and preparing for the reunion dinner.
The lead-up to this year's Chinese New Year, starting on Jan 22, feels like an awful rush. There are only so many days to get things done. Already, there are long queues at banks and supermarkets.
It doesn't help that this will be the first Chinese New Year celebration with no COVID-19 safe management measures, after two years where the number of household visitors and diners at F&B outlets was capped.
CNY celebrations for my family, like most in Singapore, had been more muted the past two years. COVID-19 restrictions meant staggered reunion dinners and forgoing some visits.
BACK TO THE WHOLE SHEBANG?
As Chinese New Year approached, I found myself discussing with my husband if we were going to return to our pre-pandemic CNY celebrations – and preparation.
While that might sound exciting for some, returning to how things used to be also sounds exhausting and stressful.
There's coordinating reunion dinners between families, planning who will visit on day one and who will host on day two, ordering and buying cooking ingredients, and sourcing for restaurants or caterers. Then there's the spring cleaning and putting up decorations, buying new clothes and snacks and changing new notes at the bank.
And that's just the before. On the days themselves, it's shuttling from house to house, entertaining and receiving guests, stressing if there's enough food to feed the horde and cleaning up after guests leave.
The work doesn't end after the two-day public holiday either. Many of us will have equally packed schedules in the weekends that fall within the 15 days of Chinese New Year.
WARY OF COVID-19 RISK
At the end of our discussion, my husband and I were on the same page: No, we won't be rushing back to our pre-pandemic ways.
The past two years of muted celebrations had meant a simpler and less stressful holiday, and it had taught us to appreciate a less hurried and harried lifestyle. To be honest, we quite enjoyed our cosy celebrations with our immediate families.
But we aren't choosing to do so just to avoid the hassles of Chinese New Year. Another reason is that we are still wary of COVID-19 and rather err on the side of caution by limiting social interactions. There was a rise in the week-on-week COVID-19 infection ratio shortly after the year-end festive season.
Health Minister Ong Ye Kung had said in December that more COVID-19 infections and a new coronavirus wave are expected amid an increase in year-end travel and as more people take part in the upcoming festivities.
Furthermore, with China's reopening its borders, new waves of COVID-19 infections and the emergence of new viral variants are still a worry.
But what's to say when the pandemic is truly over, quiet Chinese New Year celebrations might not be a new norm for us?
STARTING NEW CHINESE NEW YEAR TRADITIONS
We've all learned a thing or two from the pandemic – be it appreciating your loved ones more or learning to better utilise technology - and I'm sure that includes how we prefer to spend our precious holidays.
Those who preferred boisterous celebrations with friends and relatives may return to celebrating the festival like before. But let's face it: Two years of COVID-19 restrictions probably gave us more reason or excuse not to visit some not-so-close extended family and friends.
A friend remarked the other day he wasn't looking forward to resuming long and tiring house visits during Chinese New Year. If the COVID-19 situation in Singapore worsens, it'd be an excuse not to go house visiting, he had quipped.
An easier way for him might be to visit more selectively – and make it a new tradition.
Just like how some have switched to e-hongbao as an environmentally friendly option that also removes the hassle of queueing for and then depositing cash at banks. Or how others might start a tradition of having reunion dinners at home after finding good caterers during the pandemic and realising dining at restaurants on Chinese New Year's Eve can be too rushed and costly for them.
Some might see such changes as a loss of tradition but why not see it as an opportunity to start new traditions?
THE NEW FESTIVE NORMAL?
My mum has always been a hospitable host and enjoys seeing friends and relatives during the festive season. She was rather upset in 2021 when COVID-19 restrictions first made it hard to invite them over, but she has taken these two years in her stride.
With no COVID-19 restrictions this year, I expected her to whip out a long waiting list of guests. But when I asked if she was going to do so, she said no. While her concerns stem mainly from the risk of COVID-19 infection, I get the sense she is contented with the quiet celebrations we have gotten used to.
This year's Chinese New Year will likely take on a whole new meaning for many. Throw a big bash or keep it quiet like the past two years - no matter how we choose to celebrate it, I hope we do what we're most happy and comfortable with, while finding a middle ground for old and new traditions.
Vivian Teo is a freelance writer and children's book author. She is also a mother of two who blogs at her parenting and lifestyle website at vivianteo.com