Commentary: Could corporate gifts like mooncakes be cut down as more work from home?
Together with the drive towards sustainability, mooncakes are coming under stress. And yet this broader gift-giving culture is likely to persist for a few reasons, says Audrey Chia.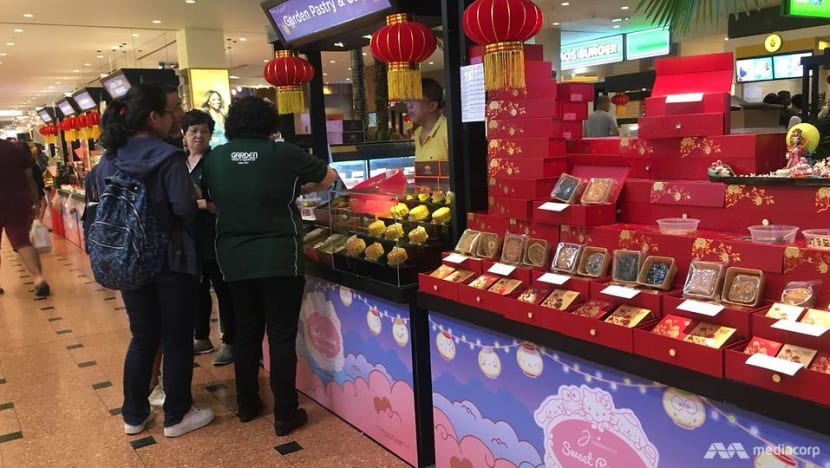 SINGAPORE: Each Mid-Autumn Festival, mooncakes draw flak for the food and packaging waste they generate - and it is easy to see why.
They have come to represent an arms race of unnecessary packaging, with increasingly lavish boxes rolled out each year. Lacquered, embroidered, sequined, or adorned with ornaments, they are not only almost impossible to resist, but also to recycle.
Mooncakes have been a common gift companies and organisations routinely send to business partners and clients as a form of goodwill to maintain network ties and cultivate social capital.
It makes good business too when some 20 to 50 per cent of mooncake businesses come from corporate sales.
This is the second Mid-Autumn Festival celebrated under the shadow of the pandemic. With many companies maintaining work-from-home arrangements, should organisations scrap the giving of mooncakes?
More than half of the businesses and households surveyed said that they would rather not receive mooncakes, according to a pre-pandemic 2019 survey in Hong Kong.
With many offices largely empty on most days, it seems pointless to send perishable gifts to workplaces, and it is unclear if people are comfortable revealing their home address just to receive corporate gifts at home instead.
In Singapore, firms also told the Business Times last year they planned to reduce or stop the practice of giving mooncakes altogether, to mitigate costs after losses suffered from COVID-19. Anticipating a sharp drop in demand, many mooncake businesses, like Tai Chong Kok, ordered 30 per cent fewer ingredients like lotus seeds.
SCRAP CORPORATE MOONCAKE GIFTING TO REDUCE WASTE?
This trend of organisations moving away from corporate gifting during the Mid-Autumn Festival may aid in Singapore's drive to reduce waste.
About 40 per cent of mooncake packaging is unnecessary and wasteful, according to the Singapore Environment Council.
A major paper recycling company in Singapore interviewed by CNA in 2019 estimated receiving just under 5 tonnes of paper and cardboard waste from mooncake boxes alone every year. It processed about 5,000 to 8,000 tonnes of waste paper monthly in 2019.
Most mooncake boxes end up in the incinerator. More fanciful designs and inner linings to prevent damage during delivery invariably result in more waste. The outer frills added to attract customers make mooncake boxes difficult to recycle.
Is sustainability about buying "greener" or just buying less? Listen to a business school professor weigh in on CNA's The Climate Conversations:
Mooncake-associated waste also goes beyond the extravagant packaging.
In Hong Kong, food recycling organisation Food Grace reported that over 2.88 million mooncakes were discarded last year - an average of 1.07 mooncake thrown away by each household.
The main reason for dumping them? People did not like the flavour of mooncakes they received.
And with more new-fangled mooncake flavours developed each year, including Mala, pandan or milk tea, that risk of more seeing the bin grows.
INFUSING BUSINESS RELATIONSHIPS WITH MEANING
But should corporate gifts be done away with completely? In the era of remote work, such actions can be pleasant reminders of our human relationships.
There is an inherent symbolism to the gift of mooncakes in the corporate world - a time-honoured emblem of fullness, bountiful harvest and togetherness - a value that has never been closer to our hearts as we remain socially distanced during the pandemic.
Givers and recipients understand it is the gesture of appreciation that gives meaning to business relationships. The mooncake box, or indeed the mooncake itself, are symbols of the sentiment, albeit with shiny bells and whistles.
A survey found that employers in the United States actually handed out more corporate gifts during the pandemic. Most reported doing so to motivate their teams and maintain connections with their clients.
On their part, mooncake producers have also been experimenting with more ways to reduce packaging waste, by rolling out containers that can be reused or repurposed.
Recent mooncake boxes have taken the form of tiffin carriers, jewellery boxes, wine cases, leather bags and storage drawers. Zero-waste community groups have also shared creative suggestions on how to transform simpler packaging for alternative uses though it remains unclear what happens if recipients themselves have no need for such storage options.
RETHINKING OUR RELATIONSHIP WITH MOONCAKES
The practice of corporate gifting is unlikely to disappear completely although the pandemic has made companies relook corporate practices for their financial implications.
Spending on items steeped in tradition and culture – while incorporating consideration about their sustainable production and consumption, in the spirit of saving the environment - is a win for all parties.
Using simpler packaging and reducing the use of materials can have their own ecological appeal. This effort can be linked to elements of the festival: The moon, plants and harvest, all parts of nature. It is relevant at a time when companies are striving to mitigate their environmental footprint and hiring chief sustainability officers.
E-vouchers that allow the recipients to select mooncakes of their choice, fewer if they would like to, and even collect them with their own containers can curb waste, while arrangements to donate mooncakes to charity organisations and other beneficiaries can also provide new meaning to the business relationship.
Going green does not have to take an all or nothing approach.
Simply getting rid of mooncakes as corporate gifts to reduce waste comes across as a piecemeal approach that ignores the deep cultural significance and benefits they bring.
Companies can, as part of their own sustainability practices, choose to support retailers who can help them preserve valuable and joyful traditions in a sustainable manner.
This is a mindset that should extend to broader gift-giving customs including new year greeting cards, other holiday presents and conference packs.
Gift-giving and sustainability are not mutually exclusive. We can have our mooncake and eat it too.
Audrey Chia is an associate professor of management and organisation at the National University of Singapore Business School. The opinions expressed are those of the writer.