Commentary: For the sake of its democracy, the US should welcome Donald Trump back to Twitter
Former US president Donald Trump's tweets will continue to remind voters of how dangerous he is, says NTU's Mark Cenite.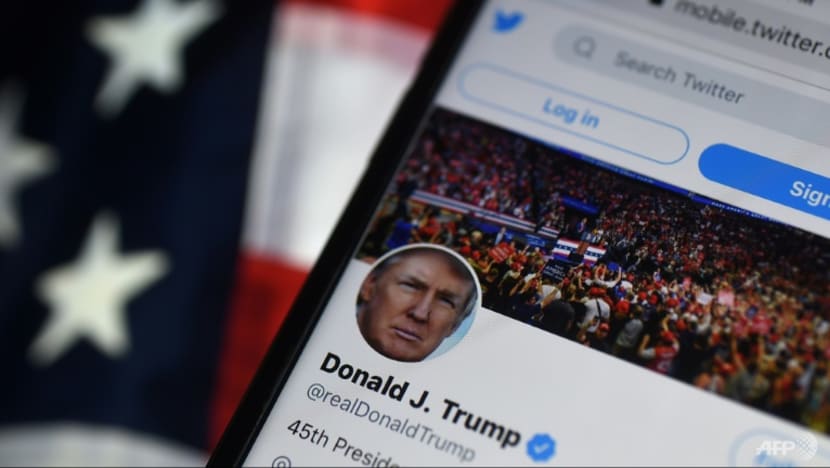 Though Trump says he sees no reason to return to Twitter, since he is active on his own platform, Truth Social, it will likely be difficult for him to resist the larger audience of Twitter in his bid for the Republican nomination in the 2024 presidential race.  
Those of us who use Twitter need not follow Trump. We may choose to block him, so we don't even see his tweets.
But American democracy may ultimately benefit from more of Trump's bombast. Hear me out.
TWITTER WON'T HELP TRUMP GET ELECTED
I voted against Trump twice because of his positions on immigration, gun rights, reproductive rights, the social safety net and his approach to the pandemic – among other things. I find Trump's character obnoxious, and his relationship to facts is demonstrably tenuous.
But many Americans, fed up with economic challenges, will be looking for an alternative to the Democratic Party in the 2024 election. Whether the Democratic nominee is President Joe Biden or someone else, some may see Trump as worthy of reconsideration.
Ardent supporters are unlikely to be enough to get Trump re-elected. He needs to attract independent voters. So, the more mainstream and respectable Trump appears, the greater the likelihood that moderate Americans will back him.
But Trump is unlikely to appear mainstream and respectable on Twitter. If Trump begins tweeting again, we know what to expect: Rambling, impulsive, emotional tweets, including personal attacks on his critics, at all hours of the day and night. Tweets like those aren't likely to help him get elected.
IT'S NOT 2016 ANYMORE
Americans have lost their appetite for what some described as Trump's refreshing willingness to "tell it like it is" and speak up for the common man in 2016.
I grew up in rural Wisconsin, where Trump's motto, "Make America Great Again", appeals to many. Some White families there find it troubling that the nation looks less like them than before. Their jobs in agriculture or manufacturing have been threatened by globalisation.
Americans like these voted to give Trump a try in 2016. A little less than half of voters chose President Trump; he won the election in America's complex Electoral College system without winning the popular vote.
But as president, Trump overplayed his hand. We all recall the daily chaos, including his politicisation of the pandemic and denial of its severity, much of which played out on Twitter.
By 2020, Americans had enough. They elected the far blander candidate, Biden. Democrats retained their majority in the House of Representatives and took control of the Senate.
The culmination of four years of chaos was Trump's election denial, which led to the deadly Capitol riot and his exile from Twitter. Among the gravest threats to any democracy is the rejection of the outcome of legitimate elections.
Republicans who embraced "the Big Lie" that the election was stolen from Trump proved unpopular on the 2022 midterm ballot. Among them was Kari Lake, a news anchor who lost the race for Arizona governor, and, not surprisingly, has refused to accept her loss.
Many analysts conclude that 2022 voters once again rejected a return to chaos. If Trump resumes tweeting his every thought, Americans will get daily warnings of just how high the stakes are for the 2024 election.
A FREE MARKETPLACE OF IDEAS
My hope that Trump returns to tweeting is not just based on political analysis. It is based on belief in the broader principle that in a free marketplace of ideas, falsehoods are exposed and inferior ideas lose.
Since Trump announced his candidacy last week, we must scrutinise what he has to say. Content policies can help.  
Musk has called himself a free speech absolutist. But Musk has also said, "Twitter obviously cannot become a free-for-all hellscape, where anything can be said with no consequences!" Indeed, few advertisers would run ads on a platform with no rules.
Musk tweeted last week that he'll allow freedom of speech but not freedom of reach: "Negative/hate tweets will be max deboosted & demonetised, so no ads or other revenue to Twitter. You won't find the tweet unless you specifically seek it out, which is no different from rest of Internet."
This goes some distance to mitigate concern that the site is trying to profit from incendiary content.
Moreover, another set of controls is that the site is subject the local law of jurisdictions in which it operates, including Singapore.
Before January 2021, Twitter and Facebook would often put warning labels on Trump's tweets, letting users know that they may contain misinformation or that they violate the terms of service.
To me this was an ideal form of content moderation. We needed to know what the president had to say, yet we deserve to be warned when it was false, offensive or potentially dangerous.
The argument to keep Trump on Twitter, and my hope that he returns, assume that Twitter will survive and remain relevant.
Neither are assured. Many are fleeing the platform for alternatives like Mastodon, in part because of Musk's reckless management, and now because of Trump's reinstatement.
But if Twitter remains relevant, Trump should be there, baring his soul for all to evaluate as we make our decisions about the role he will play.
Dr Mark Cenite is Associate Dean (Undergraduate Education) at Nanyang Technological University's College of Humanities, Arts, & Social Sciences. He teaches communication law at the Wee Kim Wee School of Communication and Information.