Commentary: US considers ban on non-compete clauses - should Singapore follow suit?
The US Federal Trade Commission has proposed banning non-compete clauses. Amid the recent mass layoffs within the tech industry, employment law specialist Clarence Ding looks at how enforceable such agreements are in Singapore and if they should be similarly outlawed.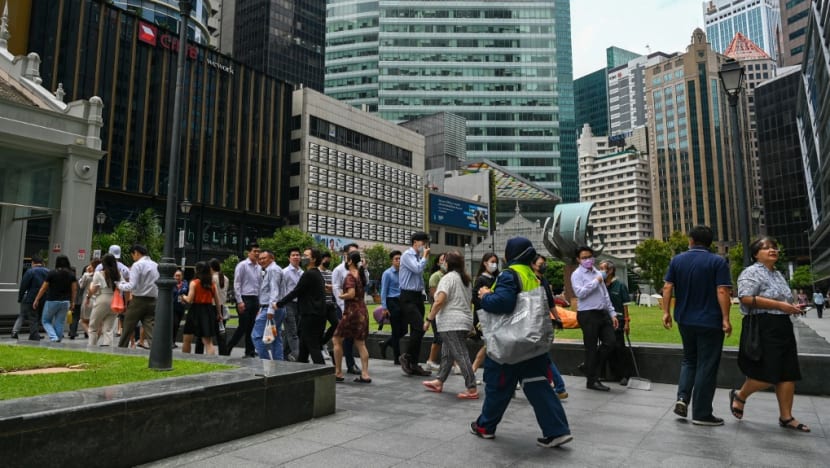 SINGAPORE: The US Federal Trade Commission (FTC) in January proposed a new rule that, if enacted, would ban employers from imposing non-compete clauses on employees across the US.
According to the FTC, non-compete clauses are anti-competitive, oppressive to employees, economically inefficient and amount to a waste of an employee's talents.
This follows a law introduced by the California Attorney-General that prohibits employers from enforcing non-compete clauses within the state, largely for the same reasons.
If non-compete clauses are really that odious, why have they persisted in employment contracts for so long? Should such restraints be similarly outlawed in Singapore?
With retrenchments in Singapore more than doubling in the fourth quarter of last year from the preceding quarter, is it time too to rethink non-compete clauses in redundancy situations?
WHAT IS A NON-COMPETE CLAUSE?
Non-compete clauses were first developed as a way for employers to safeguard against nefarious employees who might, if given the opportunity, attempt to misappropriate confidential know-how or trade connections when they decamp to a competitor, which can be severely detrimental to the employer.
Against this backdrop, non-compete clauses were never intended to penalise by stymieing an employee's prospects or livelihood; they were instead meant to be a prophylaxis against corporate subterfuge, and to prevent one's trade rivals from gaining an unfair competitive advantage.
In recent years, however, the use of non-compete clauses has proliferated - particularly in places such as the United States.
Non-compete clauses have the effect of preventing an employee from working in the same industry for a given period of time.
In Singapore, this could range from anywhere between three months and two years, and has been enforced against persons across a myriad of occupations ranging from dentists to florists. By and large, the industries where such clauses are most frequently used are financial services and tech, owing to the highly sensitive nature of the work and the importance of cultivating strong trade connections.
That being said, it is increasingly common to find employers including them in employment contracts, in some cases without actually having considered the need for such clauses, just because everyone else is doing so.
In other instances, employers are deliberately inserting them into employment contracts as a deterrent, to dissuade employees from leaving to join a competitor. The employer's oversized bargaining power means that employees are often left with no choice but to accept these terms.
It is little wonder, then, that the FTC's proposal has galvanised various interest groups within the US and provoked a range of responses. The US Chamber of Commerce has decried the proposal as "blatantly unlawful". The Society for Human Resource Management has urged the FTC to adopt a more nuanced approach that distinguishes between clauses that restrict market mobility (bad) and those that protect confidential information (good).
The public, who are by and large rank-and-file workers, have generally been supportive of the proposal.
While it is tempting to look at the FTC's proposal as a barometer of the way things ought to be in a free market economy, one should not read too much into such a development. There are fundamental differences in approach taken by the Singapore and US courts to non-compete clauses, which lead to differing outcomes for employees at the receiving end of such restraints in each country.
THE ROLE OF THE JUDICIARY
As a common law jurisdiction, the Singapore courts play an important role in the development of legal principles. The judgments of the courts and the grounds of decision articulated by the judge are binding precedents. This means that they must be followed unless distinguished (typically on the facts) or overruled (which can only be done by a higher court). The Singapore courts may also be guided by the legal positions taken by the courts in other leading common law systems.
In the employment context, the widely accepted starting position is that post-employment non-compete clauses are void unless the employer can show that it has a legitimate interest to protect, and that the scope of the restraint is not excessive. This is because such clauses are onerous. They interfere with individual liberty and effectively prevent employees from earning a living by exercising the skills of their trade.
The Singapore courts are sensitive to this issue and have consistently erred on the side of caution when asked to uphold such clauses. In fact, they have gone further than the UK, Australia, or Hong Kong courts in recent years.
The Court of Appeal, which is Singapore's apex court, has held that even if a legitimate interest exists, it will still decline to enforce a non-compete clause if the interest in question is already sufficiently protected by another obligation or contractual term (for example, a non-disclosure agreement or a non-solicitation clause).
Non-compete clauses may therefore only be enforced in Singapore within a narrow set of parameters. Given these stringent legal requirements, it should not come as a surprise that there has not been the same propagation of such clauses in employment contracts as witnessed elsewhere. Employers in Singapore are also aware that they run the risk of having their entire suite of restrictive covenants stuck down if a successful challenge is mounted, and have generally been more circumspect about imposing such restraints on their employees as a result.
With the courts having set a high bar, the propensity for abuse and oppression as highlighted by the FTC has largely been absent in Singapore. To date, there has also not been any deluge of ensuing litigation by reason of employees jumping ship to a trade rival.
RETRENCHED EMPLOYEES
In light of the recent mass layoffs within the tech industry - more than 300,000 workers since the start of 2022, according to layoffs tracking site layoffs.fyi - there have also been calls to re-think non-compete clauses in redundancy situations.
This is on the basis that the affected employees were forced to leave the company through no fault of their own, and should not be doubly penalised by being prevented from finding alternative employment commensurate with their skills and expertise.
Such an argument is effectively an appeal to one's better angels, but does not quite address the question of how an employer might safeguard its legitimate interests through alternative means. For example, while an employer may require its departing employees to sign a confidentiality agreement, such undertakings are notoriously hard to police, especially when any attempts to pilfer the employer's trade secrets are likely to be done clandestinely.
In practice, this issue often boils down to a point of negotiation between the employer and its departing employees. From experience, employers are generally sympathetic to retrenched employees and can be prevailed upon to consider tweaking the scope of the non-compete obligation, if not do away with it altogether.
There is undoubtedly an element of risk involved with such a concession, but this is often mitigated by the fact that not all retrenched employees would have lined up alternative jobs immediately, and any time spent out of the market job hunting would give the company substantively the same protection in any event.
For these reasons, any attempt to outright ban the use of non-compete clauses in Singapore, particularly in circumstances where an employer has a legitimate interest to protect, would be a ham-fisted response to a nuanced and often complex issue. It would also be excessive and akin to throwing the baby out with the bathwater.
Clarence Ding is a partner and the head of the Singapore employment practice at international law firm Simmons & Simmons. This commentary reflects his personal views and is not intended to constitute legal advice.