Commentary: More people are in pain – from sitting at their desks all day
While the pandemic has seen an uptick in people exercising, some have stopped physical activity for fear of catching the virus. This is leading to more suffering from musculoskeletal conditions, says a Tan Tock Seng Hospital physiotherapist.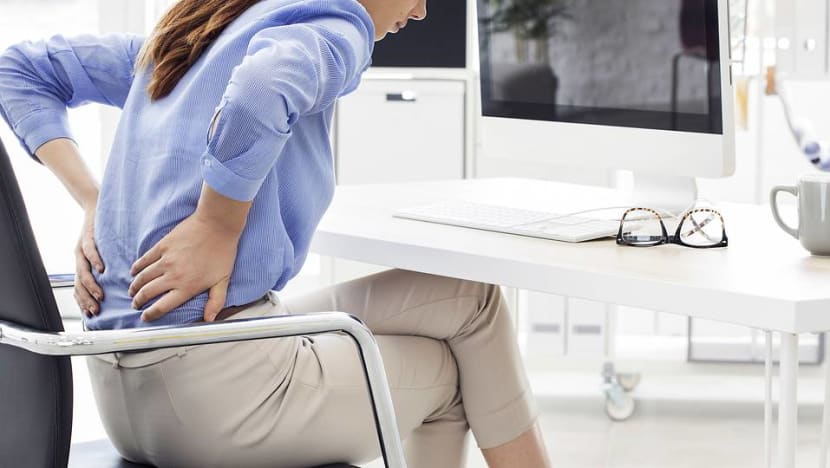 SINGAPORE: I was shocked when Mr Wong* limped into the consultation room.
Just three months ago, he seemed like a different man – despite pain in his knee he was able to climb the stairs and go on regular morning walks.
Mr Wong, 67, was diagnosed with osteoarthritis of his knee and was referred to us as he was not keen for surgery. He had completed three sessions of physiotherapy.
But after those sessions, he cancelled his previous physiotherapy appointments because the number of COVID-19 cases were rising and he was afraid of contracting the virus.
So he stopped his daily walks, stayed home to keep safe and subsequently put on weight because of increased snacking.
On the same day, Ms Loh*, a working adult, came in to see us for pain in her neck. This pain developed when working from home became the norm in her company. Her persistent pain was down to prolonged poor ergonomics and sitting posture.
Ms Loh worked long hours on her laptop, without frequent breaks and her daily step count fell by more than 70 per cent since she started working from home.
GROWING TREND OF PREVENTABLE CONDITIONS
Mr Wong and Ms Loh are not isolated cases. At the Tan Tock Seng Hospital (TTSH) Outpatient Physiotherapy clinic, we are seeing a trend of patients developing sedentary-related musculoskeletal conditions.
On average, I see about 10 cases a week, up from three to four cases before the pandemic. These new cases would not otherwise require physiotherapy if not for the pandemic. Such preventable musculoskeletal conditions may be avoided if  they had adequate physical activities.
Added to this is a worrying trend of Singapore's obesity rate, which has risen to the highest level since 2010, according to the Ministry of Health's survey published in November 2021.
What we see in our clinic shows how the pandemic has increased sedentary lifestyles. An example of a direct impact is the lack of movement when people work from home – if they go into the office, they are likely to take public transport or walk to lunch.
These opportunities to move are completely taken away and it is common for patients to sit at their desks from 9am and not move until 6pm. And after work, they sit even more – if they watch TV or scroll through social media to wind down.
The trouble is, human bodies are not designed to sit for long hours behind a desk nor be cooped up in an apartment for days. All our joints and muscles require regular movements and good musculoskeletal health helps reduce pain.
Studies show that physical activity is a modifiable risk factor for cardiovascular diseases, Type 2 diabetes, cancer, obesity, osteoarthritis, osteoporosis, hypertension, and depression.
This means that the risk factors may be improved or prevented with physical activity. I have patients who changed their lifestyles and then had medication for hypertension and diabetes reduced.
There is also ample research proof that exercise also eases anxiety – the release of endorphins plays a critical role in regulating our thoughts and feelings.
Physical activity and exercise are such a critical part of pain and disease management in TTSH that we have an Early Mobilisation Programme to get patients to exercise, even if they are in the Intensive Care Unit (ICU).
Those in ICU are also encouraged to get out of bed and walk the moment they are medically stable. Getting them to move even when they are critically ill have proven to help these patients maintain close to their pre-hospitalisation physical strength after discharge.  
COVID-19 AND CO-MORBIDITIES
You may have read in news reports that patients who died from COVID-19 had multiple co-morbidities. These include obesity, hypertension, diabetes and heart disease.
While some of these conditions are genetic and unmodifiable, there are many which can be modified through lifestyle changes – chiefly, with regular exercise.
Recently published in the Journal of Infectious Disease, 511 people in the military who contracted COVID-19 were studied. The findings showed that obesity had a strong correlation to COVID-19 severity.
In another large study of over 387,100 adults in the United Kingdom, the findings concluded that those who were physically less active, smoke and are obese had a four-fold risk of getting COVID-19 compared to those who had healthier lifestyles, suggesting that exercise and nutrition could lower the risk of severe infection and hospitalisation.
Similarly, a Swedish study of 279,455 adults found that cardiorespiratory fitness and lifestyle played a large role in preventing severe COVID-19.
Is intermittent fasting a helpful tool for weight loss or just a fad diet? Dieticians weigh in on CNA's podcast Heart of the Matter:
DECIDING TO BE ACTIVE IS HALF THE BATTLE WON
The Health Promotion Board recommends at least 150 minutes of moderate intensity exercises or 75 minutes of vigorous intensity exercises along with strengthening exercises at least twice a week.
They also recommend incorporating balance training exercises for the elderly to prevent falls. The greatest difficulty, based on the patients we see, is getting started and keeping a routine going.
Which is why, we often start with getting patients to decide what bothers them the most – it could be constant pain for instance. Then we identify why they want to change – again, it can be to be free of pain, medication, to travel, play with their grandchildren and so on.
A common reason people give about not exercising is that they cannot find the time. But one doesn't need to carve out time especially for exercise to incorporate them in your day.
Think of it this way: 15 to 20 minutes of exercise at the start and end of your day is like a good vitamin pill you take. If you have no physical activity in a day, then snacking and processed foods should be cut.
Make time to walk when you can, instead of driving or taking the bus. Climbing the stairs is good option too. While you are watching a show, use a sack of rice as weights or just spend 20 minutes at a fitness corner in your neighbourhood on your way to get groceries.
The reason most of us have trouble keeping to our exercise commitments is because our goals are not specific enough.
Using the SMART goal system, be specific (walk 5,000 steps daily), make it measurable (30 minutes of walking, 10 squats, five push-ups) and make it achievable (if your current average daily steps are 3,000, 10,000 steps may be too high. Start by setting 5,000 and then 8,000).
Goals also need to be realistic. In the case of Ms Loh, her target was to perform one minute of stretches every hour of work. Finally, set a time frame (I will do 50 squats daily for one month).
DON'T BE HARD ON YOURSELF
Having said all that, it is important that missing targets are part of the journey. Many patients I see feel discouraged when they don't comply with the prescribed plans or they don't see any progress.
It is okay to miss a day or two, what's important is to get back to it. And if you hit milestones, don't be shy about celebrating your success. We also live in a time where there are a wide array of resources. TTSH for instance has a Get Active e-booklet people can use to get them started.
If you are struggling, you can always make an appointment with your doctor to help you.
*Pseudonyms were used in this commentary.
Justin Wee is principal physiotherapist at Tan Tock Seng Hospital.