Commentary: Postponed football games are a missed opportunity to honour Queen Elizabeth II and Lim Kia Tong
Football games were postponed after the recent deaths of Queen Elizabeth II and Singapore football chief Lim Kia Tong. This is a missed opportunity to pay tribute to them in a more meaningful way, says John Duerden.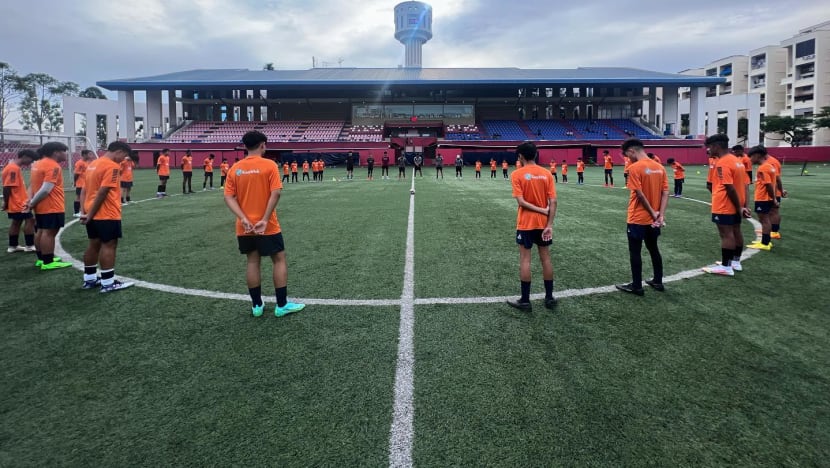 SEOUL: Queen Elizabeth II died on Sep 8, ending her 70-year reign as the monarch of the United Kingdom. Just this Wednesday (Sep 14), the Football Association of Singapore announced the death of its president, 70-year-old Mr Lim Kia Tong. 
They clearly had different impact in sport and in people's lives. But in a similar fashion in Singapore and the UK, football games were postponed. It seems, in football at least, not playing is one way of marking respect.
The England Football Association (FA) - to which the queen was patron - met with government authorities in London to confirm that there was "no obligation" to cancel or postpone sporting fixture and left the decision to the "discretion of individual organisations".
Many in the UK probably expected matches to continue as scheduled, just like they did the last time a ruling monarch, Queen Elizabeth II's father, died in 1952.
Yet, it was soon announced that all games from the biggest in the English Premier League (EPL) right down to the grassroots level and children's football would not take place that weekend. Soon after, cricket, rugby and horse racing decided to maintain their events, leaving football as the outlier.
ALL SORTS OF PRACTICAL ISSUES ARISE
Was cancelling football matches the right move? There has been some debate in England on this, and it remains unclear as to why the decision was taken so quickly. 
On a practical level, postponing games just a day before they are due to take place means inconveniencing fans and hurting their pockets, especially for away matches. This would not be as big a factor in Singapore, but can still cause inconvenience to some.
"There's a big question there about refunds, advance train tickets that have been booked for away games and all of that," said Michael Clarke, chairperson of the Football Supporters Association. "We would certainly expect the rail industry and the football authorities to take a very sympathetic view of that. It's not a good time to ask fans to spend money on things that don't happen."
There is also the issue of part-time and casual staff that clubs employ, missing out on much-needed work. Consider too the clubs themselves, especially those that are lower down the league pyramid and not part of the rich Premier League set, missing out on much-needed revenue.
The English FA may be regretting their decision even more. Most EPL fixtures will resume this weekend. But with the queen's state funeral on Monday, three more games - including a crowd favourite between Chelsea and Liverpool – will be postponed as police are needed to deal with the massive crowds expected in London.
MISSED OPPORTUNITY TO PAY MEANINGFUL TRIBUTE
And what does postponing games actually achieve?
As a sport, football tends to do official mourning very well. Players could wear black armbands and gather around the centre circle. Messages from fans and players, accompanied by images of the queen's life could have been shown on the scoreboard.
A sombre minute of silence could have been a collective, cathartic and emotional experience. As former England international striker Peter Crouch wrote on social media. "Isn't that a better send-off?"
It is a missed opportunity to pay tribute in a more meaningful way. "Particularly with things like kids' football," said fan association chair Clarke.
WOULD THEY HAVE WANTED GAMES POSTPONED?
And there is also the question, even if the answer can only be guessed at, of whether the queen or Mr Lim would have wanted the games to be postponed on their behalf. Indeed, the British head of state was a well-known sporting fan and is thought to personify the phrase "keep calm and carry on".
Mr Lim may not have been a household name, but fans of Singapore football would know of his passion for the beautiful game.
FIFA chief Gianni Infantino said that the world of football had lost "a great friend" and the Singapore flag was flown at half-mast at FIFA's Zurich headquarters as a mark of respect.
It's not a leap to imagine that Mr Lim may well have wanted the Singapore Premier League programme to go ahead as planned. Fans could have paid tribute to him and enjoyed the sport that he and they all loved. 
Football is a community event and one of the most regular and popular ways for large numbers of people to gather together. Not allowing fans to attend just means they will simply go and do something else.
It's hard to see how watching TV, going shopping or going to the pub is a greater show of respect than watching or playing football.
Everyone mourns in different ways. Let football fans do so together if we want.
John Duerden is a Seoul-based writer who covers the region's sporting scene. He is the author of four books including Lions & Tigers - The History of Football in Singapore and Malaysia (2017).