Commentary: To tell or not to tell your boss you have a mental health problem
We may fear judgment and affecting career prospects if we share mental health challenges with our manager. Workplace psychological safety has never been more important, says Calm Collective Asia CEO Sabrina Ooi. 
SINGAPORE: It was nearly a year into my job before I told my boss that I had bipolar disorder. 
Up till then, I had successfully hidden my condition. I was doing well at work; my clients were happy. Therapy sessions and psychiatrist appointments were scheduled outside of working hours or I'd take half a day of leave.
When I started my new role at a multinational software company, it seemed an obvious choice not to share my condition with my boss and colleagues. I feared the judgment and discrimination I might face and that my career prospects would be hurt if they thought the condition hindered my ability to perform at my job.
I am not alone in feeling the pressure to keep my mental health struggles to myself. A CNA-commissioned survey showed that 66 per cent of those polled were concerned about mental health stigma. A recent survey conducted by Calm Collective Asia and Milieu Insight on mental health at the workplace found that 62 per cent of Singapore respondents felt uncomfortable sharing mental health challenges with their managers.
WHEN TO TELL YOUR MANAGER 
Just like a physical illness or condition, you do not have to share your mental health condition if it does not affect your ability to do your work. But if and when you face problems functioning in work activities, it might be necessary - even beneficial - to do so.
The death of my grandfather during a busy work season triggered a depressive episode. It was hard focusing during client calls, and I made basic mistakes in daily work tasks - to the dismay and disappointment of my boss. 
My inability to function properly snowballed into an unending loop of self-criticism, worsening the depression and anxiety.
At that point, my psychiatrist prescribed antidepressants and two weeks of rest. Holding a medical certificate didn't change the fact that I had a choice to make: Plough through work and risk both my mental well-being and job performance further suffering, or tell my boss about my condition and follow my doctor's advice?
NAVIGATING MENTAL HEALTH CONVERSATIONS TACTFULLY
The risk for those who avoid bringing up their mental challenges with their bosses or colleagues altogether is they end up quitting once they reach breaking point. 
I chose to speak to my boss. Though initially apprehensive, he eventually accepted that I was dealing with an actual medical condition.
It's certainly a difficult and uncomfortable conversation to have. People understand more easily when they can see a broken leg but may be suspicious of feigning mental health conditions to avoid work - especially when an absent teammate means extra work for colleagues covering duties.
There are ways to navigate mental health conversations tactfully and gain the understanding of one's manager and colleagues. 
Consider the timing, when you and your boss are both calm, and not rushed or distracted.

Plan what you will say including what your mental health condition or challenge is, and how it affects you. 

Reassure your boss that you are committed to your work and capable of performing your duties. Be clear that the reason you're even having this discussion is because you want to do your best work while managing your mental health challenges.

Be clear and specific about the accommodations or support you need to manage your mental health at work.

Offer to provide additional information to help them understand your condition and needs.
DON'T SHY AWAY FROM DISCUSSING MENTAL HEALTH
How employees deal with mental health also depends a lot on how their bosses are. Managers should not shy away from such sensitive discussions when work is a major contributor to deteriorating mental health during the COVID-19 pandemic.
There are clear benefits to supporting the mental health of your team. Whether the employee is dealing with work-induced burnout, anxiety or managing a diagnosed condition, providing a supportive environment for mental health encourages better engagement and performance in the mid to long term. 
A United Kingdom mental health group report found that work productivity could be improved by 12 per cent by keeping employees happy. Additionally, this helps retain employees, and avoids the need for hiring and re-training replacements.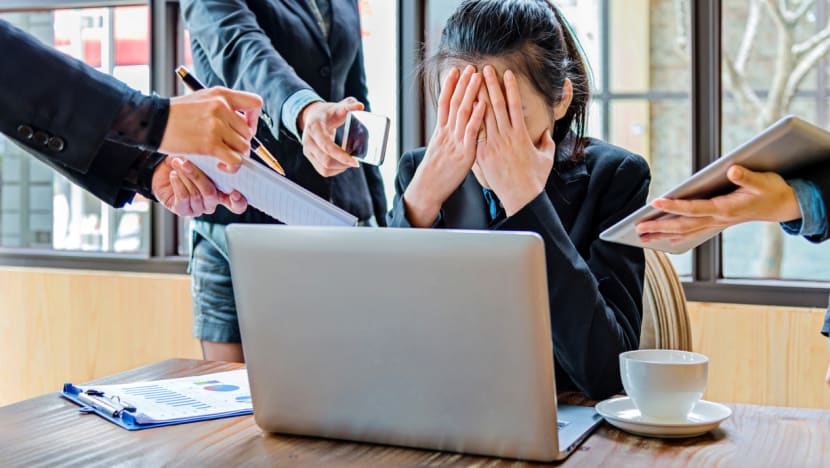 If your work environment provides the psychological safety to discuss mental health openly, there is also an opportunity for productive discussions and accommodations to support your work and well-being - before they become badly affected.
Managers can support the mental health of their teams by sharing their own challenges. This can cultivate trust and help foster psychological safety - and opens the door for them to reach out for help without the risk of humiliation or punishment.
Checking in with the team in one-on-ones beyond their work tasks can help. Simple questions like "How are you feeling?" or "What's been worrying you lately, in or out of work?" can help get the conversation going.
A Wellness Action Plan can also be a practical tool to take the difficult first step and encourage continued conversations about mental health support. Employees may share details such as triggers or early warning signs of poor mental, steps they can take to manage stress, and support they might need from their manager. 
SUPPORTING EMPLOYEES PROPERLY
It's become somewhat easier to talk about mental well-being at the workplace after the pandemic shone a light on it. But companies and managers must walk the talk and support employees reasonably in difficult moments or risk losing out in the talent pool. Employees need to also show they can deliver their best work and not abuse the trust and accommodations.
When I returned to work, my boss and I were able to have an open conversation about my bipolar disorder, and discussed ways to help me manage my work duties and condition effectively. 
A more flexible work schedule was key: If I needed to see my psychiatrist or therapist during work days, I could make up for the time by adjusting my working hours.
He also encouraged me to practise self-care actively by scheduling fewer client meetings each day and downtime between them.
This turned out to be significant to improving my mental well-being, which also increased my work productivity. Most importantly, I no longer had to hide my mental health condition and suffer in silence.
Sabrina Ooi is the Co-founder and CEO of Calm Collective Asia, a social enterprise with the mission to normalise the mental health conversation in Asia.
Should you tell your manager you have a mental health condition? Listen to Calm Collective Asia's Sabrina Ooi on CNA's Work It: