Commentary: Don't pay people to leave Tokyo. Make more Tokyos
Trying to arrest rural depopulation, Japan wants people to quit its greatest metropolis. How about creating new ones instead? Bloomberg Opinion columnist Gearoid Reidy explores the idea.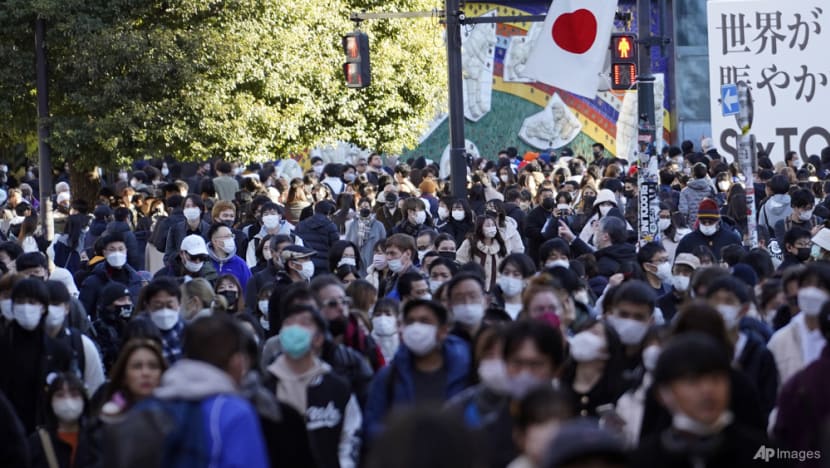 TOKYO: How much would you accept to leave one of the world's greatest cities?
Japan is offering families in Tokyo ¥1 million (US$7,550) per child to depart to a more rural location, in a scheme aimed at halting depopulation of the countryside.
It's the latest in a series of ill-advised incentives to stop a relentless influx to the capital, which has seen its population grow more than 16 per cent in the last two decades despite a decline in numbers nationwide.
With an existing flat ¥1 million payment per family for moving, a couple with two children would from April 1 be eligible to receive ¥3 million in support if they leave, so long as they fulfil certain conditions. 
But don't expect a mad rush to the exit: The government aims for just 10,000 people to take part in the programme per year by 2027 - or 0.03 per cent of the metropolitan area's population of 37 million.
For decades, every Japanese administration has talked of revitalising the countryside - indeed, there may be few subjects that attract so much attention for so little gain.
REVIVING THE COUNTRYSIDE
In recent years, in a cart-before-the-horse form of logic, many have posited that it's a necessity in order to revitalise the economy. Japan has had a minister in charge of reviving rural areas for the better part of a decade, while one of the signature policies of current Prime Minister Fumio Kishida is the Digital Garden City, an overwrought scheme aimed at using technologies such as drones and self-driving buses to overcome the disadvantages of living in the Japanese inaka.
But it will take more than autonomous gadgets and one-time payouts to encourage more than a handful of people in the Tokyo area to relocate. No one knows better the attraction of the city than the politicians and bureaucrats of Nagatacho, Tokyo's centre of power, who themselves promote such relocation programmes but nonetheless concentrate there - having effectively rejected the the idea of building a new and artificially soulless capital like South Korea's Sejong and the under-construction Nusantara in Indonesia.
As an increasing number of people are beginning to realise, through a combination of design and happy circumstance, that Japan created something incredible in Tokyo - a bustling, walkable metropolis with a world-leading public transport system, relatively unencumbered by the entrenched problems of crime, pollution, homelessness and inequality that plague so many other giant cities.
It's a towering centre of culture where even city-centre property is still relatively affordable (by the standards of comparable cosmopolitan capitals), built with the types of combined-purpose micro-neighbourhoods that urban planners can only dream of creating. 
The advent of post-pandemic remote work might make it easier than before to live in a rural area - and did result in the first decline in Tokyo's population in a quarter-century. But that phenomenon can't capture the best parts of the Big City - a place where, as the 20th century anthropologist Margaret Mead said, "Any day in any year, there may be a fresh encounter with a new talent, a keen mind or a gifted specialist."
MORE TOKYOS NEEDED
The opportunities presented by living so close to many potential life-changing encounters is, consciously or not, one of the reasons people flock to places like Tokyo, even with downsides such as cramped living space. Schooling and superior job prospects attract parents and those just entering the workforce. 
Paying people to leave this network of opportunities makes no more sense than the Furusato Sosei (Hometown Revitalisation) project of former prime minister Noboru Takeshita, who gave ¥100 million each to more than 3,000 municipalities of the late 1980s to build boondoggles such as the UFO Museum in Iino, Fukushima, which then had a population of just over 7,000.
It's certainly problematic that so much of Japan's political, economic and cultural influence is concentrated in Tokyo. The number of firms headquartered elsewhere is dwindling, while the risk of an earthquake that could devastate the capital and paralyse the country's nerve centre is ever-present. 
What Japan needs is not just more people outside Tokyo - it needs more Tokyos. Instead of having 1,300 city, town and village administrative districts all competing for the more mobile workers who can take advantage of this scheme, Japan should instead dust off a long-dormant proposal to consolidate municipalities - and create larger, more attractive population centres with the advantages of scale of Tokyo, but with their own regional differences that would draw in people. 
In the 2000s, the administration of Junichiro Koizumi proposed combining the current 47 prefectures - a system that dates back around 150 years ago to the Meiji era, Japan's first great opening toward western-style modernisation - into around 10 much larger states, each with its own capital and greater, devolved powers.
The idea was that the decentralisation would eliminate waste between the more than 1,700 local governments (exemplified by prestige projects such as the proliferation around the countryside of tiny, loss-making airports) and enable state administrations to build their regions into more attractive locales.
It would also concentrate power greater into second-tier cities such as Hiroshima, Sendai or Fukuoka, which would become not just prefectural capitals but regional hubs for tens of millions of people. 
Like labour market reform or a revision of the constitution, the doshusei system, as the idea is known, has been left on the shelf for years, stymied by opposition from the most rural areas, already the worst hit by the country's ageing. The often-cited drawbacks are a likely drop in local government services and even greater population decline as people who wouldn't perhaps make the move to Tokyo migrate to state capitals.
But that decline is happening anyway, and local services, already too people-intensive, will inevitably follow. Kishida has called for 2023 to be the year when he takes measures to raise the country's low birth rate "to another dimension". One-time payments, such as Tokyo's latest, separate scheme to pay US$38 per child a month until the age of 18, might help a family's accounts but won't change the trend.