Commentary: 'I couldn't balance it all anymore' - former national swimmer Joscelin Yeo sheds light on unseen struggles of elite athletes
To say that sacrifice is required for an athlete to compete on the world stage feels shallow because not many understand what that sacrifice really entails, says former national swimmer and four-time Olympian Joscelin Yeo.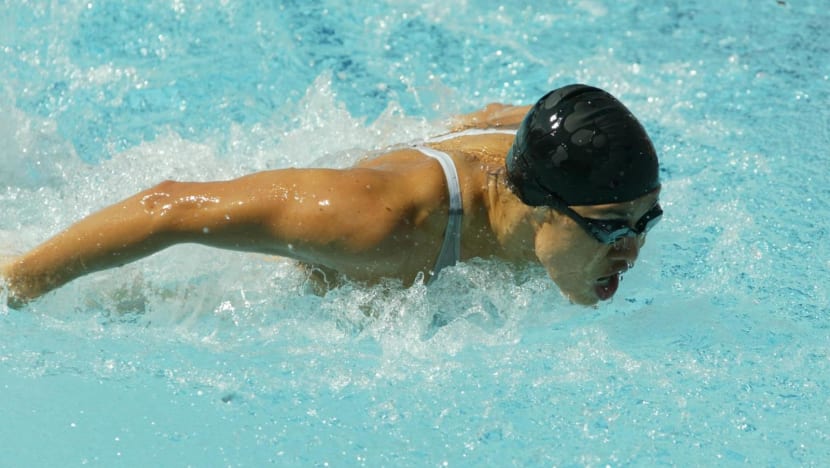 SINGAPORE: "My hard work, preparation, training, competition results from the past year leading up to this month [were] all for nothing, because it was decided by them that these three training sessions I missed weighed far more than all my effort and work I've put in to prepare for the SEA Games."
Those were the words of Singapore national fencer Samson Lee last month, in the lead-up to the Southeast Asian (SEA) Games. He was dropped from the 2023 SEA Games team for missing three training sessions reportedly due to the birth of his firstborn, his father being hospitalised and his business, SG Academy of Fencing.  
Fencing Singapore has said that due processes were followed, and that full consideration was given to Samson's mitigating factors before the decision was reached.
INVISIBLE SACRIFICES
I represented Singapore in swimming for 17 years. In that span of time, I went to four Olympic Games, broke a world record as part of a medley relay, and won 40 gold medals at the SEA Games. 
To say that sacrifice is required for an athlete to compete on the world stage feels shallow because not many know and understand what that sacrifice really entails. 
I began my swimming career at 11 years old. A typical day would see me waking up at 4.30am. By 5am, I had to be at the pool warming up and getting ready to go. Training went from 5.15am to 7.45am. And at 8.30am, I was in my first class for lessons. Our next training session would begin at 2.30pm and would go till 6pm. 
Gruelling? Yes! Athletes spend countless hours honing their craft. In fact, as a meet nears, the months before that also include mental preparation work, which does not factor into the physical hours we put in. 
I trained six days a week, 52 weeks a year, for four years, for a golden opportunity to compete in the Olympic Games; the highest pinnacle for the sport of swimming. And all that, for a race that lasted not even two-and-a-half minutes, or less than a minute for my shorter event. 
With all that time spent on training, there isn't much time left for family and friends, a social life, or other interests. It's not uncommon for athletes to miss out on important family occasions.
Having to travel for frequent competitions also means that we have to be away from home for extended periods of time. But we make those sacrifices because that is what is required of us. 
As I read the news on Samson, I reflected on what I went through as an athlete and also what is required of a world-class athlete. 
DARK PLACES LURK BEHIND THE GLORY AND GLAMOUR
Athletes are known to not only be physically tough but also mentally tough. A question was posed to me: Should athletes put their sport above all else, including their mental health and personal lives? Is this an unfair task or is this something that is needed for them to perform at the highest level? 
As the topic of depression and anxiety became less taboo to talk about, I realised that many athletes also struggle with their mental health. 
When I was a national athlete, people often saw only the glory and the glamour. But the intense pressure that the nation had put on me, and that I had put on myself, eventually took a toll. 
When I had a bad swim, or I didn't perform up to what was expected of me, I would be torn down. I would feel like I let everyone down and I would beat myself up. So much so that I spiralled into depression. I went to places so dark that I didn't care to live anymore.
Michael Phelps, unequivocally the greatest Olympian of all time having won 28 medals (23 of which are gold), has also shared candidly about his mental health struggles. So has Simone Biles, the most bemedalled American Olympic gymnast, and Naomi Osaka, four-time grand slam singles champion in tennis.
I think it is evident that mental well-being is an important factor even for a world-class athlete who is supposedly mentally tough. The next question I would explore is: Can we separate the mental well-being we need for sport from the mental well-being we need to live life? Should we compartmentalise? 
Quite honestly, I tried to. But the problem came when all that emotion was stacked so high that I couldn't balance it all anymore. That crash was almost deadly for me. I learnt that true mental toughness, first of all, came through vulnerability - learning to open up about the struggles and then learning to work with them. And in working on those struggles, my mental strength grew. 
I accepted that those struggles will always be there, and I learnt to find tools to cope with them. I found that my mental well-being was integral in order to perform optimally. 
Compartmentalising emotions and feelings in the pursuit of sports don't work; in fact, mental well-being is needed to do well in sports. 
IT TAKES A VILLAGE
When I was a student, I had to learn how to excel in both sports and studies. But for an adult professional athlete, the dynamics and the demands change as the layers of life change.
Financial stability is not just for oneself, but for the family as well. Concerns for health and well-being extend beyond ourselves. Time is stretched even thinner across the various responsibilities we carry to make life work. 
To perform at the highest level requires not just physical optimality, but also mental optimality. The sheer intensity that is demanded of a professional athlete requires both. In fact, many would argue that what separates the good from the great is what is between our ears. 
We cannot have a linear view of the path to success for an athlete. The approach to professional sports is not just one of dedication and sacrifice, but also understanding, recognising, and supporting the holistic needs of an athlete. 
An athlete is in it to win it - be it for country or self. The governing bodies and the organisations that encompass them also need to be on board for an athlete to be successful. As the saying goes, it takes a village. 
Former national swimmer Joscelin Yeo is a four-time Olympian who also won 40 gold medals in the SEA Games during her 17-year swimming career. Yeo, a former Nominated Member of Parliament, is now the co-founder of Into The Wild, which organises wilderness camps for children.
LISTEN - Heart of the Matter: Olympians Quah Ting Wen and Joan Poh open up on the pressures of elite sports