Commentary: Everyone loves gold, but Singapore athletes' achievements at SEA Games deserve celebration too
While gold medals are celebrated at the 31st SEA Games, we should remember our national athletes' achievements are so much more than the results of their events, says CNA senior journalist Matthew Mohan.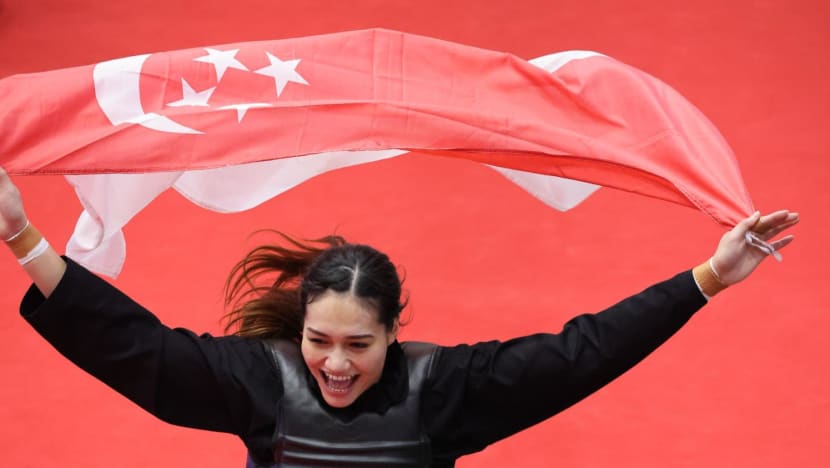 HANOI: My question about her joyous reaction to winning gold elicits a pause from silat exponent Nurul Suhaila Mohamed Saiful. As she composes herself to reply, there are tears in her eyes. By the time she finishes, there are tears in mine.
"So many years of doubting myself, getting the bronze three times was very hard for me. I spent a lot of time away from my family," the 27-year-old said, striking gold at long last in the women's Class E (65-70kg) tanding event on Monday (May 16).
"So this time, I wanted to make my parents proud and prove to them that the time away is worth it, it's for me to grow, to be the best athlete that I can be. I hope my parents are proud of me."
For the newly-crowned SEA Games champion, it was about more than just defeating her opponents. It was about conquering self-doubt.
There are many stories like Suhaila's among our national athletes at the 31st SEA Games. Their journeys differ, but their tales are bound by a common thread: Determination, strength, perseverance and sacrifice.
Hours in the gym, on the road, away from their loved ones - all to be at their peak. Getting to Hanoi has taken hard work but they will leave with achievements far beyond their results.
CRUEL WORLD OF SPORTS
You win or you lose, there is hardly room for anything in between. The world of sports is a cruel one.
In match reports, contests distilled down to the bare bones: The score, the result, the victory. Headlines are written, opinions are formed.
"No one remembers who took second place and that will never be me", the late Italian race car driver Enzo Ferrari once wrote in a letter.
At every major Games, the medal tally is a constant reminder of where nations stand and how they compare to others. It is a barometer of whether there has been improvement, whether training regimens are working.
For many, it is gold that glitters brightest. Which country has won the most golds? Which athlete has won the most golds? After all, the number of gold medals generally determines order in the medal table.
Famously, American media favour the total medal count, which almost always puts it at the top. This practice brought a wry smile to the faces of observers in the Tokyo 2020 Olympics, when the United States trailed behind China in gold medals right up to the last day when the Americans edged ahead by one.
'TO BE BETTER THAN OUR PREVIOUS SELF'
Many of us remember the euphoria watching Joseph Schooling touch the wall first at the Rio 2016 Olympics to bring home Singapore's first Olympic gold. One of our own had done it.
Or the outpouring of joy when badminton player Loh Kean Yew defied all odds to become world champion in December 2021.
Winning is important. But for our athletes, gold is one of many motivations. For one, they compete to better themselves.
"I swim to see how good I can be. I swim because I actually enjoy what swimming teaches me … and that translates into performance as well," said Schooling. "You just want to keep getting better than the day before." 
After winning the 200m indvidual medley, swimmer Quah Jing Wen was asked if she knew the significance of her victory. This was the first time in almost two decades a Singaporean had won the event.
"Having that extra knowledge does make it kind of cool," she said. "(But) a lot of the swimmers we don't chase titles or anything. We chase to be better than our previous self. These extra things are all a bonus."
Beyond the headlines are the personal bests. Take Reuben Rainer Lee, who finished fifth in the men's 200m athletics final, but who set a new national record and personal best with his time of 21.07. Or Nur Izlyn Zaini, who set a new national record and personal best in the 100m hurdles as she finished fifth. 
In the pool, Quah Zheng Wen clocked a personal best in the 200m freestyle - all while serving his National Service.
A BEACON TO OTHERS
Our athletes fight not just for themselves but for others too. Like 42-year-old Jasmine Goh, who competes to send a message that age is just a number. Goh finished fifth in the women's marathon.
"I can use my story to inspire people to aspire towards sporting dreams," she said before the Games. "I don't want them to think that you have no chance just because you're 42."
For kickboxer Nazri Sutari, the SEA Games was a milestone in the quest to fulfil his dream of becoming the world's best. "(As athletes) ... we do our part to prepare, we sacrifice a lot just for this moment. And to have that taken away ... it's actually heartbreaking and disappointing," he said after being eliminated in the men's Under-71kg low kick quarter-finals.
Earlier this week, Nazri hopped on a plane to Serbia, where he is already training for his next big competition, the Hungarian World Cup. 
What keeps him going in his quest for greatness? His reply to me is thoughtful, of someone who refuses to be deterred by the challenges of the road less taken.
He wrote about the love he has for kickboxing and how he used to think his sporting goal was a "self-serving endeavour". It wasn't until he met more people who supported his dream and believed in him that he realised he could also be an inspiration to others.
"These precious group of people gave me the strength to keep going, and I must honor their belief and support for me."
CELEBRATE MORE THAN VICTORIES
And what happens when medals differ by the slightest of margins? In the men's changquan event, Wushu exponent Jowen Lim was decimal places from victory. To be precise, 0.001. Most of us would rue the missed opportunity, but to Lim "silver is more than enough".
One image from these Games that will stay with me is the sight of 25-year-old Fong Kay Yian - resolute, almost defiant - back on the diving board to practise, mere minutes after her earlier event ended in disappointment.
Dive after dive after dive.
Fong took a bronze in her last event the next day - her first medal at this edition of the Games. "I'm very proud of her," Fong's father Alex told CNA. "It was pure determination." 
Having competed in five Games, Fong has earned medals of all different colours. Yet this one matters "quite a lot", she tells me. It is a medal not for herself, but for others, including her coach who has never given up over the last few years, she explained.
Looking only at medals risks reducing our athletes to mere instruments, and we sometimes forget the human behind the athlete. The resilience, the mettle, the passion - that's what counts. 
And that's what we should celebrate, gold or bronze, medal or not.
Matthew Mohan is a senior journalist at CNA.