Commentary: COVID-19 paved Lawrence Wong's path to 4G leader, but we should look beyond that
Finance Minister Lawrence Wong has been endorsed as the People's Action Party's fourth generation leader. It's not just about his performance in Singapore's COVID-19 response, but his willingness to step up, says the Institute of Policy Studies' Woo Jun Jie.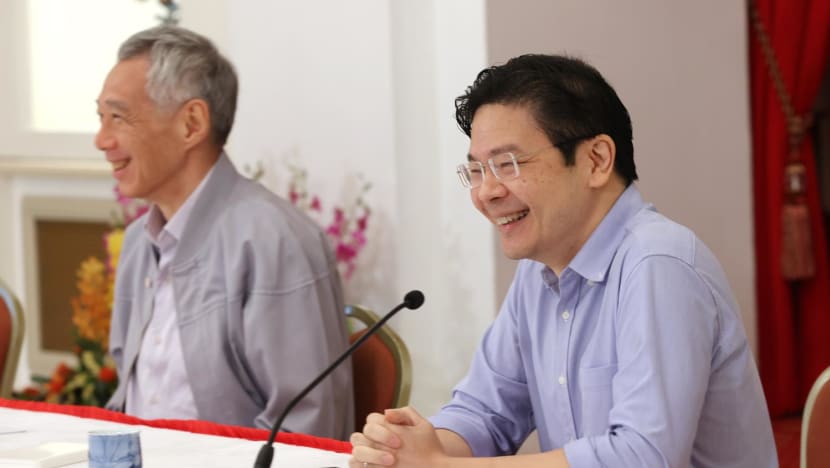 SINGAPORE: On Thursday (Apr 14), Prime Minister Lee Hsien Loong announced Finance Minister Lawrence Wong as leader of the fourth generation (4G) team, paving the way for him to become Singapore's next Prime Minister.
This comes almost exactly one year after Deputy Prime Minister Heng Swee Keat's decision to step aside as 4G leader, which threw the question of succession wide open.
COVID-19 had already disrupted earlier succession plans, delaying Mr Lee's plan to step down after the 2020 General Election.
Much has been said and written about why Mr Wong was eventually selected, pointing to his strong policy background and communication skills as key reasons.
But there is more to that. A critical aspect of Mr Wong's emergence as 4G leader is his willingness to step up to the plate.
In political science, this distinction between policy need and policymaker is often described as structure versus agency. It is often when structural problems are met with a capable policy agent that the policy output gap is closed and problems can be addressed.
This is most evident with the COVID-19 pandemic, which has created a compressed timeline within which multi-ministry taskforce (MTF) members could exercise strategic leadership. As Mr Heng recounted, Mr Wong readily accepted the request to co-chair the MTF.
Mr Wong himself said, in his first press conference as 4G leader on Apr 16: "My philosophy in life, instilled by my parents from young - is that whatever task I'm assigned, I will give of my best."
This catapulted Mr Wong into the spotlight. Given his strong performance at the forefront of Singapore's COVID-19 response, it isn't entirely surprising to political observers that Mr Wong has since emerged leader of his peers.
POLITICAL STANDING BOOSTED BY COVID-19
Difficult decisions had to be made in near-daily MTF press briefings about the COVID-19 situation during the early stages of the pandemic.
One example came in July 2021, when the MTF decided to tighten restrictions in the wake of the Jurong Fishery Port and karaoke lounge COVID-19 clusters. Public frustrations were high after months of community cases in the single or low double digits and vaccination coverage was steadily rising to about half the population.
The MTF had the unenviable task of moving Singapore into Phase 2 (Heightened Alert), where dining-in was once again ceased and group sizes were reduced to 2 people. Then, Mr Wong said: "I know many are feeling disappointed and frustrated about the recent COVID-19 cases at KTVs. I feel the same."
Another scene that stands out for many in the early stages of the pandemic is Mr Wong tearing up in Parliament in March 2020, midway through thanking frontline workers who had continued providing services to everyone in Singapore.
Beyond policy problems, it connected with our sociological and human need for compassion, particularly among frontline workers and concerned members of the public. Such displays of compassion and solidarity bolstered public support for both Mr Wong and the MTF.
ECONOMIC, SOCIAL AND CLIMATE CHALLENGES AHEAD
But it would be short-sighted to look only at Mr Wong's COVID-19 performance, when Singapore faces emerging challenges such as climate change, energy shocks, an ageing population and global geo-economic instability.
As was the case with COVID-19, there were structural policy problems and a need for policy agency.
In the role of Finance Minister since May 2021, he has had to keep one eye on COVID-19 and the other on a post-COVID Singapore.
Mr Wong's maiden Budget statement this year will be remembered by many as the one announcing a Goods and Services Tax (GST) hike - a decision that is difficult and unpopular, but given Singapore's growing public expenditure in healthcare and ageing population, necessary. The GST hike is expected to raise an additional S$3.5 billion in revenue to support growing public expenditure.
Tackling Singapore's future challenges requires a leader with deep understanding of our fiscal positions and emerging needs across ministries to support Singaporeans, as well as the ability to explain trade-offs and rally support for unpopular solutions.
More importantly, the GST hike and other tax changes (including taxing wealth through higher property taxes) in Budget 2022 signalled a shift towards a more progressive approach to managing Singapore's future and tackling inequality.
This readiness to tackle pressing policy issues and respond to the call for public service may stem from Mr Wong's prior career as a civil servant.
His stint as Chief Executive of the Energy Market Authority (EMA) was particularly notable, having led the test-bedding of electric vehicles and evaluated the possibility of their large-scale adoption. This comes full circle with the Government's plan to phase out all petrol and diesel vehicles by 2040 and have all cars run on cleaner energy.
PUBLIC SUPPORT
The 4G may have needed "a little longer" to choose a leader, but Mr Wong seems to already have some public support and popularity.
In a Blackbox survey conducted in 2021, he was voted Singapore News Personality of the Year by Singaporeans who were surveyed, attributed largely to his role in the MTF. The survey also found that his popularity "skyrocketed" after being appointed Finance Minister, which placed him in the eyes of the public among the frontrunners to become Singapore's next Prime Minister. There are certainly "trust dividends" that have accrued from these roles.
Political observers have also noted that Mr Wong's calm and measured tone during media briefings and other public communications has also been well-received by the public.
Though there are differing views on how quickly Singapore is, or should be, easing COVID-19 measures, Singaporeans were generally satisfied with what the Government was doing to contain COVID-19, according to a study by the Institute of Policy Studies.
CABINET RESHUFFLE WILL SHOW HOW 4G TEAM COMES TOGETHER
What would a Lawrence Wong Prime Ministership look like for Singapore?
For one, the public will continue taking cues from the 4G's performance as Singapore moves to living with endemic COVID-19, while tackling the pressing issues of inflation and higher costs of living, against a backdrop of geopolitical tensions.
The imminent Cabinet reshuffle will give some clues. We know Mr Wong possesses deep experience and strong expertise in economic strategies, energy and healthcare finance, which will be critical. His policy expertise will be complemented by valuable private sector expertise of his 4G colleagues. We can also expect other MTF members, particularly fellow co-chair Health Minister Ong Ye Kung, to play key strategic roles.
Retired minister Khaw Boon Wan said on Saturday that Mr Wong was chosen as 4G leader by an "overwhelming majority". Leading Singapore into the next leg of our journey is a team effort.
If the Prime Minister is the conductor of a symphony orchestra, he will need strong 4G leaders across orchestral sections and to coordinate them as a cohesive whole.
Dr Woo Jun Jie is Senior Research Fellow in the Governance & Economy Department of the Institute of Policy Studies, National University of Singapore.