Commentary: Migrant workers keep Singapore running smoothly. Let's keep them safe on lorries
After adding rain covers to lorries ferrying migrant workers, there is still a case to be made for the installation of seatbelts, says Richard Hartung.
SINGAPORE: From next year, lorries that transport workers must be fitted with rain covers, while onsite workers who double up as drivers will get a mandatory 30-minute rest period and a "buddy" for the drive.
These were among new measures announced in October to improve the safety of workers who are ferried on lorries.
While staying dry is pleasant, migrant workers need more protection than rain covers. A case can be made that installation of seatbelts in commercial lorries is still needed to make transport safer.
HISTORY OF SEATBELTS
Hesitancy towards installing seatbelts is not new.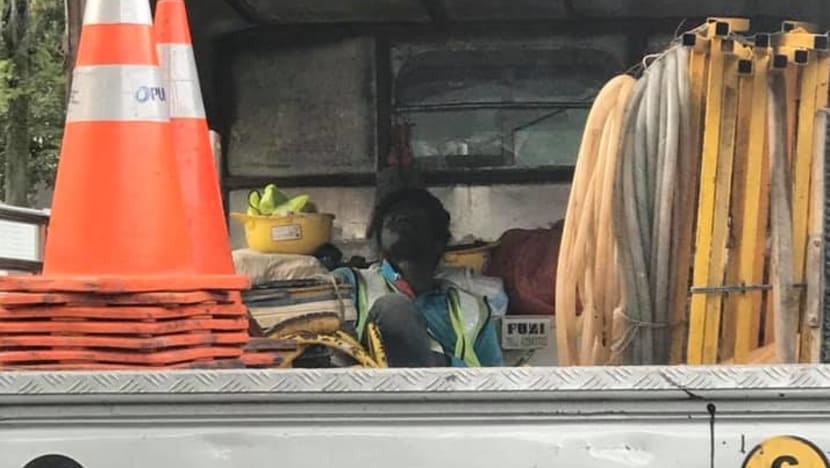 Since 1973, all drivers and front seat passengers have been required to wear seatbelts. Seatbelts for passengers at the back were added in 1993. Years after these were made mandatory, some drivers and passengers still flouted the rules.
When the original law requiring seatbelts was proposed, drivers objected because they said they were uncomfortable, and never expected to be in accidents.
By the new millennium, even though seatbelts were required in cars, there was no change for buses.
When Members of Parliament (MPs) raised the issue in Parliament after eight Mayflower Primary School were injured in a school bus accident in 2006, then transport minister Yeo Cheow Tong said the ministry had asked the Land Transport Authority (LTA) and the Traffic Police to review the need to require the installation of seatbelts on school buses. Mr Yeo also cautioned that installing seatbelts could increase fares and reduce seating capacity.
Only in April 2008, after eight-year-old Russell Koh died when he was thrown out of a school bus, did regulations move forward.
Rules for small buses to have seatbelts were approved in April 2009, with requirements for passengers to wear seatbelts from January 2012 onwards. The Government set aside S$35 million to help bus companies make the transition.
Nine kindergarten children wearing seatbelts escaped with "very minor injuries" after an accident near Upper Bukit Timah Road in 2013, exemplifying the importance of being strapped in.
SAFETY ON LORRIES
Lorries ferrying workers to and from worksites are one of the few remaining types of vehicles where seatbelts are not required.
In 2010, three workers died and six were hurt when the lorry they were in overturned and they were thrown off the vehicle. When MPs called for measures to ensure worker safety, the transport minister said the Government would speed up requirements such as fitting canopies and higher side rails on lorries.
The issue rose to the fore again after two workers died and another 15 were injured in an accident in April 2021.
When the issue was raised in Parliament in May 2021, Senior Minister of State for Transport Amy Khor said the ministry was reviewing safety measures for lorries ferrying workers but that more regulations amid the COVID-19 pandemic would likely affect the completion of building projects and cause some companies to fail.
Last month, policymakers finally announced their plans. New regulations will soon require rain covers on lorries to shield workers from bad weather, a rest period for workers who double as drivers and assignment of a buddy to ensure the driver stays alert.
WILL SEATBELTS PROTECT WORKERS MORE?
While these incremental changes are helpful, there is still a case to be made for lorries to have seatbelts in lorries.
Research at Michigan State University, for instance, showed that seatbelt usage is critically important in reducing the likelihood of fatal and serious injuries in traffic crashes.
Global research on 46 countries by United Arab Emirates University faculty showed that unbelted passengers of vehicles have a 70 per cent higher likelihood of dying compared with those wearing seatbelts.   
A key reason for the lack of action, ItsRainingRaincoats founder Dipa Swaminathan told TODAY in October, is the cost.
She also noted, though, that mandatory seatbelts in school buses had been implemented despite being costly: "We don't say, 'Oh, it's expensive to take all schoolchildren in buses fitted with seatbelts'. It's just non-negotiable, right? But if for the rest of us it is non-negotiable, how come it's negotiable just for workers?"
As former Nominated MP Kuik Shiao-Yin also said after the 2021 crash: "We would never put up with a lorry transporting our children, our students, our own workers this way."
The changes approved in October will help. Rest for drivers can reduce accidents. Rain covers make riding in lorries drier. However, more can be done.
Responding to a question in Parliament in April, Minister for Transport S Iswaran said that LTA has had talks with the industry on proposals including strengthening the floorboard of the lorries' carriage deck for seatbelts.
However, the feedback from original equipment manufacturers (OEMs) was that the retrofitting of seats, seatbelts and reinforcements required for the floorboards may compromise the structural integrity of the lorry. There are also liability issues as the OEMs do not support and vouch for the safety of such lorries retrofitted with seatbelts.
Indeed, the hesitation on lorry seatbelts is similar to ones dating back nearly five decades.
Putting seatbelts in lorries may further protect workers and reduce injuries. Installing them will clearly take time and incur a cost. With funds having been provided in the past for retrofitting buses, there is precedent for helping companies upgrade lorries.
More than just adding rain covers, perhaps it's time to ask what else we can do to keep our migrant workers safe on lorries.
Richard Hartung is a freelance writer and consultant who has resided in Singapore since 1992.
Does the rising number of worker deaths point to poor safety culture in Singapore? Listen to CNA's Heart of the Matter: