Commentary: Mindsets must change before drivers will give up their cars
Changing mindsets will clearly take more than expanding public transport and ride-sharing, says Richard Hartung.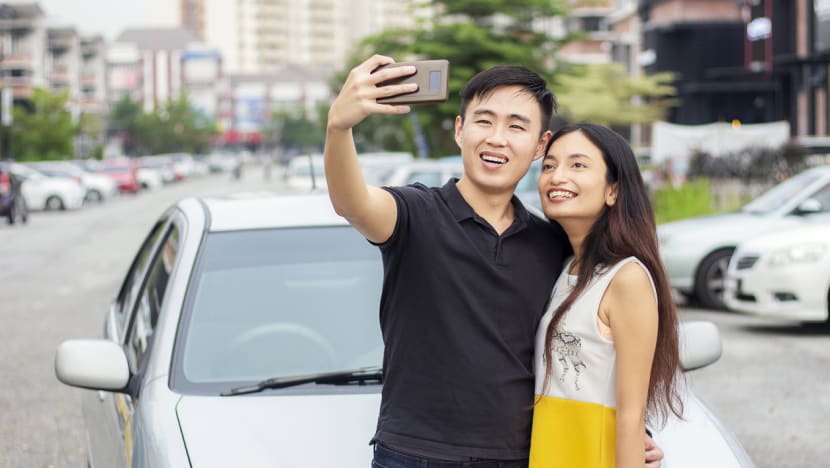 SINGAPORE: Before the turn of the decade, Certificates of Entitlement (COEs) for small cars cost about S$33,000 and drivers complained about the high price. Prices jumped to almost S$50,000 in April 2021, and people complained again.
This year, COE prices spiked even higher and visits to showrooms plummeted as consumers complained about the high premiums for large car COEs after they rose to a record level above S$113,000 in early September. In tandem, COEs for small cars rose to nearly S$75,000 by end-June, and to S$86,000 in early September.
When prices of COEs then dropped slightly to around S$96,000 for large cars and S$80,000 for small ones in early October - still dramatically higher than a year earlier - buyers flocked back to car showrooms.
DRIVERS STILL WANT CARS
The car buying and price increases are happening despite policymakers' efforts to get people to drive less and purchase fewer cars.
In 2017, the Land Transport Authority (LTA) announced a 15-year plan for Singapore to reduce its reliance on cars and move towards public transport, cycling, walking and car-sharing.
The solution included expanding rail transport, infrastructure for cycling and an electric car-sharing scheme. In 2019, LTA director Lina Lim told GovInsider that the government hoped to decrease car use by 2040 with on-demand buses, driverless vehicles and public transport.
She said that private cars are not necessary at all for most residents.
Some recent surveys have made it seem that consumers are less interested in cars.
A study of white-collar workers in 2019 run by business app Tigerhall showed that consumers had shifted from the long-held 5Cs of cash, credit card, car, condominium, and country club to new 5Cs of cash, career, cultural proficiency, credibility, and convenience. Only 30 per cent of respondents felt it was important to own a car.
Ask consumers specifically about cars, though, and responses change.
A study by LTA this year, for instance, found that 47 per cent of youth say they plan to own a car before they turn 35. A recent study commissioned by Budget Direct Insurance found that 72 per cent of Singaporean adults plan to buy a car or a motorcycle because of COVID-19.
MINDSETS MUST CHANGE
The concept in Singapore that high prices would constrain buyers does not seem to have happened. After steadily decreasing from 607,292 cars in 2013 to 546,706 such vehicles in 2017, Singapore's vehicle population has risen in recent years.
In 2021, Singapore had 579,369 cars, and the number rose to 581,488 as of September.
The question is why mindsets about car ownership have not changed and how policymakers can reduce demand for cars.
The key issue, NUS researcher Dr Pallab Saha suggested back in 2013, is mindset. Greater awareness and education are necessary for a mindset shift to "decouple car ownership and car access," he said. "We have to address the mindset so that cars no longer remain as the preferred mode ... This is not dealing with the physical infrastructure or hardware, this is dealing with the mental models."
Centre for Liveable Cities director Hee Limin similarly said in 2017 that a paradigm shift in Singaporeans' mindsets towards cars must occur. "There is a need to promote the car-lite vision as a lifestyle. If you send your kid to school every day in a car, your kid will get the idea that it's impossible to go anywhere without one."
Another challenge is that many people still view owning a car as a status symbol. While they may talk about the necessity of having a car, many could do without one.
To change mindsets, research led by Samuel Chng of the Lee Kuan Yew Centre for Innovative Cities suggested that public engagement and effective communication are important.
To be successful, however, moving beyond traditional models of communication is essential. Several highly effective campaigns here and elsewhere have shown that the right messages presented in the right way can be effective. Learning from these campaigns rather than using old models may be successful.
Go back to 2002, for instance, and the reaction to drinking treated sewage that became NEWater seemed overwhelmingly negative. PUB used an effective outreach programme, a mascot, education and more in a campaign to change attitudes. Not long afterwards, drinking NEWater became acceptable.
The campaign to gain public acceptance of COVID-19 policies provides another example. Government leaders publicly received vaccinations, task forces provided information and a multitude of organisations promoted civic-mindedness and social responsibility.
Changing mindsets will clearly take more than expanding public transport and ride-sharing or car-sharing. Creative research that analyses people's desires and innovative campaigns modelled on successful examples such as NEWater could work better.
Initiatives could include government leaders and social media influencers taking public transport, inspiring social and traditional media messages, cute mascots and public education.
Focusing on changing mindsets may do more to reduce consumers' interest in buying a car than putting in the infrastructure.
Richard Hartung is a freelance writer and consultant who has resided in Singapore since 1992.
COE at an all-time high: Is the system due for a change?