Commentary: Miss Universe national costumes may make us snigger - but that could be the point
We may laugh and criticise all we want when we watch the annual beauty pageant's national costume segment, but the outfits still generate publicity, says Karen Tee.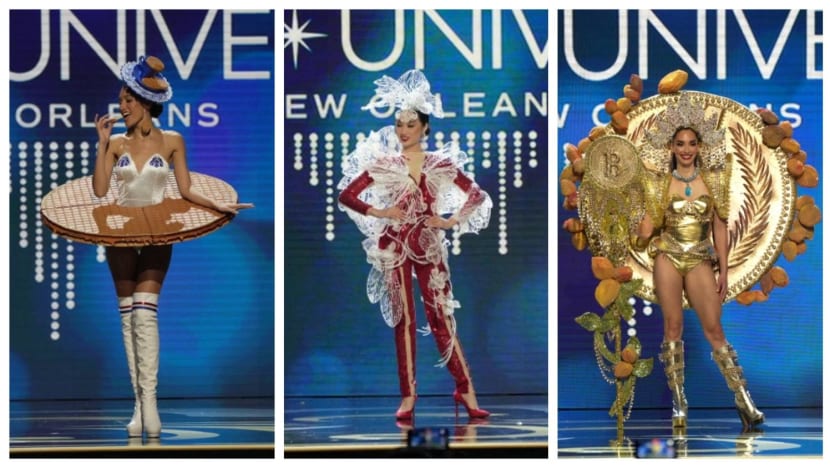 SINGAPORE: While the Miss Universe pageant – and its narrowly defined standards of beauty – may seem out of step with the times, there is no escaping the wave of publicity that accompanies each annual event.
The news that goes viral can be touching - such as the gown made of soft drink tabs by this year's Miss Thailand who paid homage to her garbage collector parents. But commentary can be snarky, especially when it comes to the national costume segment.
For instance, in this year's competition, Miss Netherlands dressed up as a human-sized stroopwafel, a popular biscuit snack in the country. Miss El Salvador wielded a Bitcoin sceptre, a nod to her country being the first in the world to make the cryptocurrency legal tender.
Sometimes, costumes are even downright controversial like Miss Russia's "The Crown of the Russian Empire" tiara, mini dress and cape combo, which could be seen as being insensitive during a pageant purported to be about world peace. (In contrast, Miss Ukraine came dressed as the archangel Michael, the defender saint of the capital of Kyiv in a costume put together from limited materials over the course of four months by candlelight.)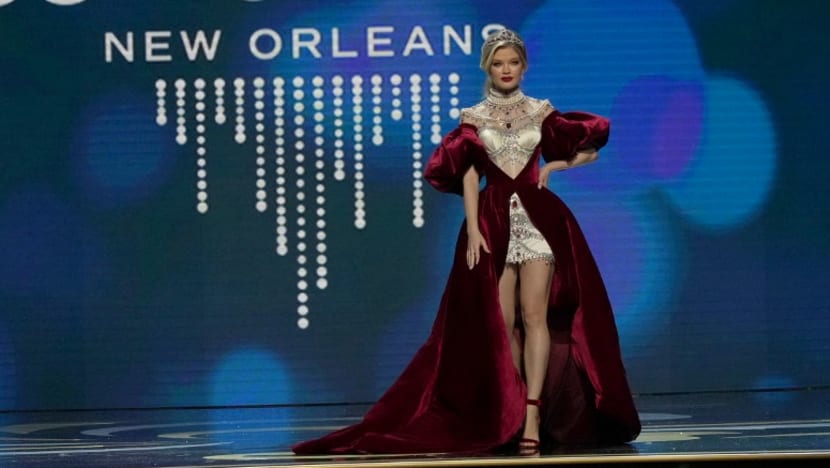 What's behind these provocative or baffling outfit choices?
MEANT TO GRAB ATTENTION
While it may initially seem puzzling as to why contestants and designers seem to go to great lengths to get tongues wagging with their questionable creations, a clue perhaps can be found in the competition title itself.
After all, a "costume" is often meant to be outlandish and attention-grabbing - exactly what the contestants hope to do during their few seconds on stage to stand out amid a sea of almost 90 other young women.
At the same time, after all these years of pageants, it must be challenging to constantly find a unique aspect of the country to emulate via a costume. This may explain why sometimes they choose to highlight something obscure or with just a tenuous link to their nation - like Miss Bahamas with her fireworks costume, which supposedly referenced the fireworks when her country gained independence 50 years ago.
That said, it is often the most controversial costumes that people tend to remember for a long time to come. In 2021, Miss Japan's incorrectly worn kimono (which was folded in a manner worn only by the dead) and an amateurishly scrawled temporary tattoo of the word "Japan" in kanji was so inappropriate it managed to offend her entire country.
At home, who can forget Miss Singapore 2018's questionable Trump-Kim summit inspired dress? Featuring tacky souvenir postcard-style prints of iconic buildings in Singapore including Marina Bay Sands and an oversized image of two hands in a handshake to signify former United States president Donald Trump and North Korean leader Kim Jong Un, it had many people scratching their heads.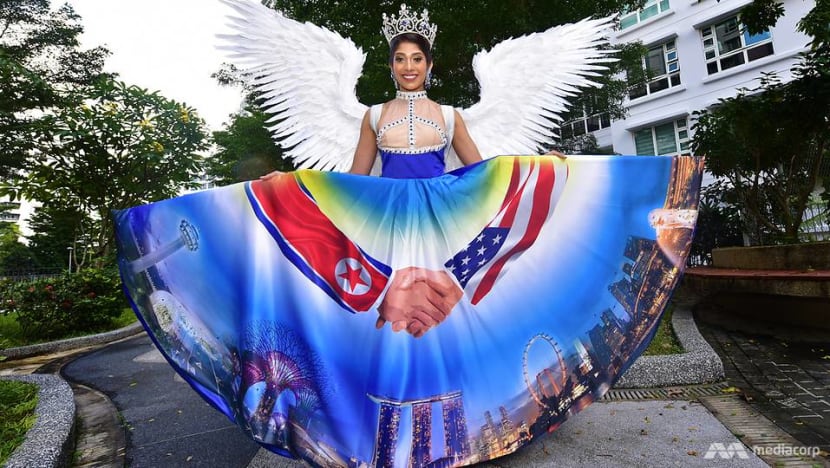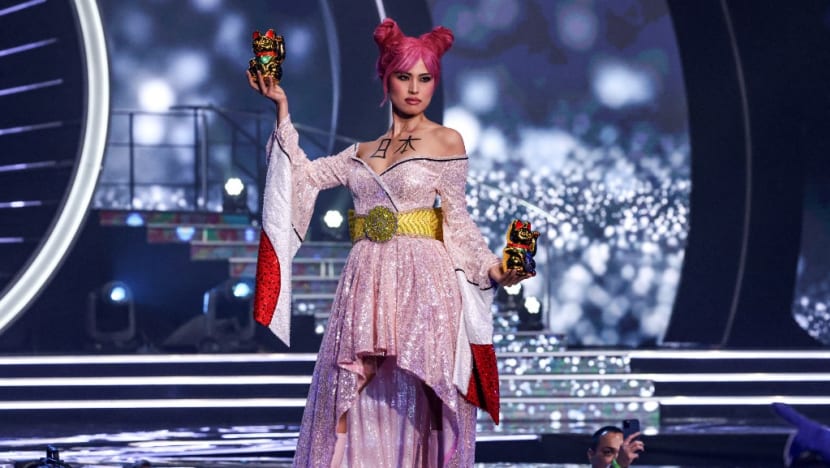 LEANING INTO THE KITSCH
Often, the Miss Universe contestants appear to lean into the whole kitsch element of a costume, perhaps knowing it will make people stop and stare. A good case in point is this year's Miss Indonesia dressed as a ship because of her country's seafaring history.
Still, there is nothing like iconic food items that really seems to get designers into outright cosplay territory. Besides this year's Miss Netherlands and her stroopwafel as well as Miss Switzerland's chocolate and cacao costume, Miss Malaysia 2017 rocked up to the pageant in a nasi lemak gown.
What's next? A spaghetti outfit? Or a dumpling? I almost can't wait for next year to find out.
So, for observers whose taste runs towards something more subtle, it can almost come as a relief when contestants try to achieve a more elegant aesthetic with their national costume.
This year, Miss Singapore Carissa Yap wore a sleek red jumpsuit decorated with a 3D-printed lattice of orchid petals, which was quite the crowd pleaser. Designed by local couturier Frederick Lee and Baelf Design, the outfit showcased the floral icon of the country via cutting edge technology - something the little red dot excels in - and the beauty queen pulled off the look with panache.
Others like Miss Germany paid tribute to the late German designer Karl Lagerfeld with a comparatively understated black jacket he had adopted as his personal uniform.
That said, neither of the contestants made it to the final stage of the competition. So, perhaps in this case, the adage "there's no such thing as bad publicity" is indeed what the organisers are going for.
In this crowded entertainment landscape where so much content vies for attention, the spectacle of women parading outlandish apparel still works extremely well to draw eyeballs and get people talking.
Karen Tee is a freelance lifestyle and travel journalist based in Singapore.