Commentary: Pakistan faces another lost decade as the army takes on Khan
With the army encroaching on every facet of Pakistan's public sphere, it is no doubt that Pakistanis - who have endured a decade of chaos - want a populist ruler, says Mihir Sharma for Bloomberg Opinion.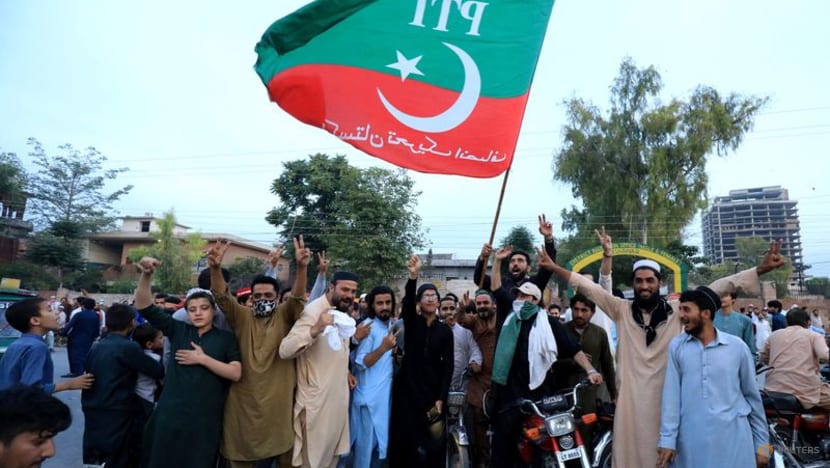 NEW DELHI: Pakistan has, once again, descended into chaos. The past decade has seen the country struggle with disruptive street politics, a collapsing economy and the growing distrust of its patrons in Beijing and Washington. Now, with the detention of its most popular politician, it's hard to see how it will recover stability for another 10 years at least.
In any other country, former prime minister Imran Khan's arrest this week would have been considered the most dramatic event of the decade. Khan, who had successfully evaded a similar fate earlier this year, turned up at court to answer some corruption allegations. 
Paramilitary forces broke a window to get to him and take him into custody - for a whole other set of corruption allegations. All this is happening amid renewed concerns over the sustainability of the nation's sovereign debt. Moody's Investors Service said Monday that Pakistan could default without an International Monetary Fund bailout and warned its financing options beyond June were uncertain.
ALL EYES ON KHAN
Yet there's little attention to spare in Pakistan for its financial peril. All eyes are on Khan instead, who was handed over to the country's anti-corruption tribunal, the National Accountability Bureau, before being released by the Supreme Court. 
Meanwhile, the army has been deployed after riots erupted across the nuclear-armed nation of 240 million people. We don't know how bad they are, because the internet has also been shut down in much of the country. We do know that police cars and stations, a Radio Pakistan office, and Lahore's bus system - associated in the public mind with the current prime minister, Shehbaz Sharif, who took credit for expanding it - were targets of arson.
But so was a model Pakistan Air Force jet, army installations in the garrison city of Rawalpindi and even the house of the senior military officer in Lahore once owned by Pakistan's founder, Mohammed Ali Jinnah. There's no doubt in the protestors' minds of who is to blame for Khan's arrest: Pakistan's military, which has run the country openly and from the shadows for most of its independent history.
We don't know the truth of the many corruption allegations against Khan. The one he was arrested for involves Pakistan's largest construction magnate, who was supposed to hand over £190 million (US$238 million) to the treasury, but was allowed to use it to pay down his tax debt instead. The government has accused Khan of receiving "donations" for one of his university projects as a payoff.
FROM BEING THE ARMY'S CHOICE TO ITS BANE
Unfortunately, however, the facts of this or other cases don't matter. Khan's supporters will argue that his troubles are all because the military wants him out. And that is undeniably true. It's equally undeniable, however, that the military wanted him in first. 
Khan's two decades in the political wilderness only ended when the army put its massive thumb on the electoral scales in 2018, jailing and intimidating Khan's opponents and ushering him into the prime minister's office.
That it's the National Accountability Bureau (NAB) being used against Khan is particularly telling, since it was originally set up by a former military dictator, Pervez Musharraf, to "put the fear of God" into Pakistan's political elite. And it was, most recently, used to go after the military's previous public enemy number one, former prime minister Nawaz Sharif, as well as his brother, the current PM.
The military succeeded in pushing Nawaz Sharif out of politics to get Khan in; and now they have made peace with his brother, in order to push Khan out. They have used the NAB, the media, and even judges to keep Pakistan's politicians under control.
Today's army chiefs have learned from Musharraf's failures. He launched a coup against Nawaz Sharif in 1999, only to lose power a decade later and end up being prosecuted himself, eventually dying in exile in Dubai in February. 
As a consequence, the army has replaced direct rule with subservient institutions as a method of control. Military power in the 21st century isn't about coups but about ensuring that the various organs of the establishment, from courts to the media to the public sector, do your bidding.
Pakistan's institutions were never that strong anyway; the military was, famously, the only thing in the country that worked. Now that it has turned every other institution to its service, it isn't surprising that many Pakistanis have no time for normal democratic norms, and want a populist ruler instead. 
Imran Khan would dearly like to be that populist ruler. Would you prefer a civilian authoritarian or a military that rules through subversion of the public sphere? Those seem to be the only two options on offer for Pakistan today.