Commentary: Should online job interviews become the norm in a world of virtual work?
Job interviews shifted online during the pandemic, but should it be the norm in the era of hybrid work? Crystal Lim-Lange weighs in.
SINGAPORE: A minor online ruckus occurred some weeks ago when an irate Singapore employer posted on social media that he had cancelled an internship interview after the candidate requested to meet virtually instead of face-to-face.
Many online had an opinion about who was in the wrong. On the candidate's side were those who felt that virtual interviews were efficient, eco-conscious and should be the norm.
On the employer's side were those who saw face-to-face interviews as more effective, saying it was disrespectful to ask to change the interview format and that the candidate showed a lack of commitment and resilience for not making the effort to show up in person.
A 2020 Gartner survey found that 86 per cent of organisations were conducting virtual interviews due to the pandemic. Just as they transformed other aspects of work, automation, artificial intelligence (AI) and digitalisation are becoming unstoppable trends in hiring.
But between employees taking up hybrid work or those returning to the office for a five-day work week, which way will the job interview go – virtual or in-person?
LESS TIME AND INCONVENIENCE
The obvious advantage of a virtual interview is that it can lessen the time and inconvenience wasted on both sides.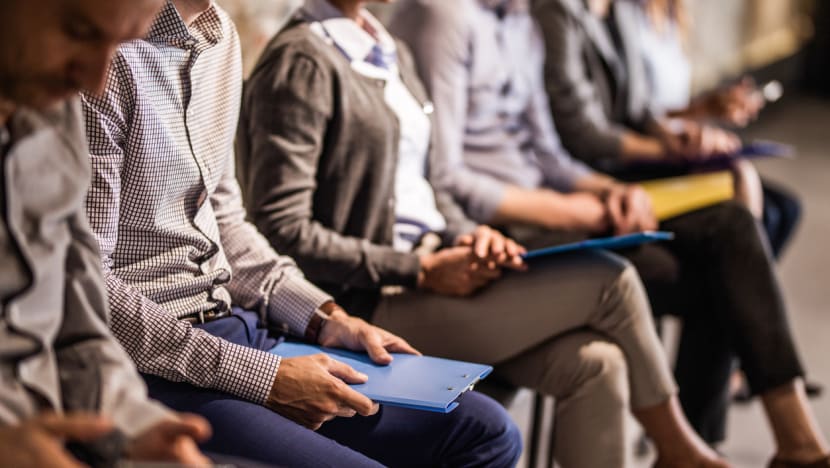 Recruiters know it often only takes a few moments to realise the candidate may be a wrong fit for the role. A virtual interview process can mean more candidates screened in less time, without the commuting time to boot.
Many virtual interviews now also include a pre-recorded video component known as automated video interviews (AVIs), where candidates answer a series of questions and their responses are either screened through artificial intelligence evaluating visual information, verbal keywords, or tone of voice, or passed to hirers who can sift through the recordings.
This is extremely convenient for hirers as it is an asynchronous process. Videos also may be especially valuable if the job they are hiring has an element of being able to present and communicate well virtually.
MORE TECHNOLOGY IN THE HIRING PROCESS
Certainly, virtual interviews also have a few drawbacks that can make in-person meetings more attractive. First, there is the issue of access – for both interviewer and candidate - to a stable Internet connection and a computer to make the interview effective.
I have seen corporate human resources staff with such poor Internet and shoddy microphones that it severely impaired the flow of the interview. It can also be unfair and discriminate against candidates of lower social-economic status if access to technology impacts their chances of getting the job.
Technology like AI can also be deployed downstream by companies to parse through virtual interviews. This has also had its controversies, where AI neural networks made racist or sexist decisions after "learning" from biased data.
In one Georgia Institute of Technology study, robots were less likely to select women when asked to search in the "doctor" category because women currently only make up a minority percentage of practising physicians.
A CHANCE TO SUSS OUT WORK CULTURE
Second, not all candidates may be comfortable being on camera and this adds to the already significant stress of a job interview. Some companies may relish this added level of stress testing, but it could also rule out candidates who do not present well but are capable of doing the job.
Third, face-to-face interviews can be an opportunity for the candidate to get exposure to the company culture - seeing the work environment for themselves, getting a sense of whether the office is quiet or chaotic, formal or informal, and even assess the work commute for themselves. This allows the candidate to better assess if the role and culture is a good fit for themselves.
The interviewer can similarly learn more about the candidate's attitude and personality from a physical interview than through a screen. How they carry themselves, interact with the receptionist and support staff, how they make small talk - such informal moments are important clues as to how a candidate will fit in and engage socially, especially for small companies.
Candidates may end up shortchanging themselves if they cannot adequately convey their energy and personality through a screen.
WINNING THE WAR FOR TALENT
Each interview format has its advantages and drawbacks and it boils down to the job itself, like whether it is intended to be entirely remote.
In a world of hybrid work, it would not be surprising to see more hybrid recruitment – perhaps a mix of virtual interviews to screen for fit and competence and a return to face-to-face interviews for the human touch with the final few.
Ultimately, a job interview is a time when very important decisions with far-reaching consequences are made in a very short period of time.
Whether virtual or face-to-face, the more companies can be intentional and human-centric with their processes, the better set they are to win the war for talent.
Crystal Lim-Lange is the CEO of Forest Wolf, a global leadership and talent development consultancy and the co-author of bestseller Deep Human – Practical Superskills for the future. 
Does your personality matter at the workplace? Listen to leadership coach Crystal Lim-Lange break it down on CNA's Work It: