Commentary: The Russian economy has not collapsed under the weight of sanctions – are they working?
Are sanctions against Russia working? Almost five months into the Ukraine war, the rouble is strong and oil and gas exports still rake in billions. But there are signs Russia's economic outlook is bleak, say Sidley Austin lawyers Tai-Heng Cheng and Faraaz Amzar.
SINGAPORE: Sanctions were swiftly imposed on Russia in the hours and days that followed Russian troops invading Ukraine. Global leaders warned Moscow that they would bring the world's 11th-largest economy to its knees.
The rouble soon fell to a record low of 150 to the US dollar on Mar 7. The Russian stock market ceased trading for a month. Its economy was forecast by Wall Street to contract considerably - by 9.6 per cent.
Since the invasion began, more than 300 companies are halting Russian operations, and hundreds more are suspending nearly all or some significant business activities, according to the Yale Chief Executive Leadership Institute.
Almost five months into the Ukraine war, have reported predictions that sanctions would damage the Russian economy come to pass?
The rouble is today far stronger, recently rising to a seven-year high of 52.3 against the dollar – higher even than pre-invasion levels. The Russian government has pointed to the rouble's recovery as proof that sanctions are not working.
JPMorgan announced new predictions in July that the Russian economy is beating expectations, with gross domestic product now estimated to fall by only 3.5 per cent.
SOARING ENERGY PRICES ARE FILLING RUSSIA'S WAR CHEST
Energy prices are sky high right now. According to the independent research organisation Centre for Research on Energy and Clean Air, Russia earned US$97 billion from oil and gas exports in the 100 days since the start of the Ukraine war, despite exports coming down and selling Russian crude at discounted prices – or almost US$1 billion a day.
Sanctions and Russian oil import bans have pushed up demand for oil from other producers, driving up prices. Europe remains the main destination for Russian oil, gas and coal exports, followed by China and India.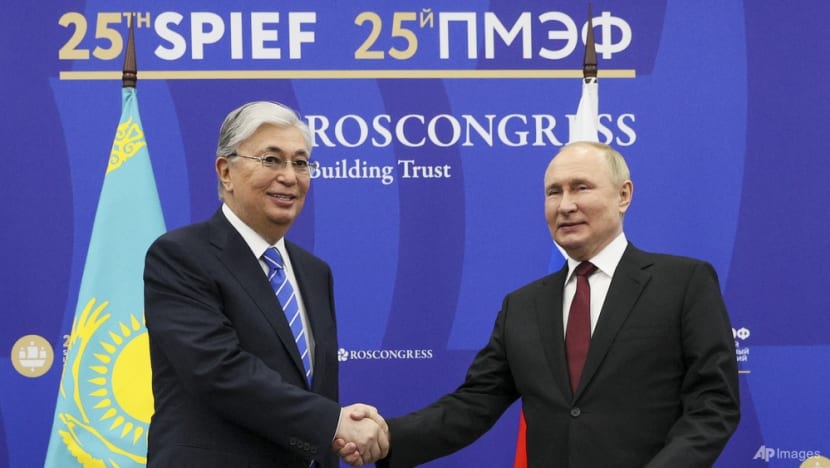 But it is possible that Russia's bounty will diminish as countries take steps to bring down energy prices that hurt them domestically. The European Union said that it intends to cut 90 per cent of Russian oil exports by the end of the year. The Group of Seven (G7) wants to cap the price of Russian oil.
US President Joe Biden's trip to Saudi Arabia that concluded on Saturday (Jul 16) was intended to convince the country to boost oil production to bring energy prices down, though whether that was effective remains to be seen after the August meeting of the OPEC+, Organization of the Petroleum Exporting Countries and non-OPEC oil producers (which includes Russia).
With the US mid-term elections in November looming and prices at the gas station a key election issue, we can expect the United States to do everything it can to control spiralling energy prices.
RUSSIAN ECONOMY SHOWING SIGNS OF STRAIN
But there are signs that the Russian economy could be running on fumes. Russia defaulted on its foreign debt for the first time since the end of World War I.
The Kremlin has denied that Russia has defaulted on its debt obligations, with Russian Finance Minister Anton Siluanov calling the default label a farce and President Vladimir Putin declaring at the St Petersburg Forum that the West's economic blitzkrieg on Russia had failed. But this will potentially further hurt Russia's ability to attract investors and increase the cost of borrowing.
As sanctions continue to bite, the Russian economy has been starved of critical imports. Aeroflot, Russia's flagship carrier, announced that it will be using spare parts from older airplanes to upgrade its fleet.
The French company, Renault, which has historically played a huge role in Russia's automobile industry, left Russia in May. The Russian government has decided to nationalise factories and produce the cars themselves. However, without key foreign components, Russian manufacturers will have to make cars without anti-lock brakes or airbags. Russia may be able to launch its own version of McDonald's, but this is impossible in its import-intensive automobile and aviation industries.
Even the stronger rouble should be seen as a reflection of collapsing Russian imports due to sanctions while Russia continues to maintain tight capital controls. This means that Russia is simply spending less roubles on foreign imports.
Against the backdrop of skyrocketing commodity prices, Russia has recorded a burgeoning trade surplus – which props up the rouble.
There are serious shortages of essential consumer goods. Prices of imported foreign consumer goods have risen and have fallen out of reach for average Russians.
Putin could also come under increasing domestic pressure as ordinary Russians continue to suffer. Inflation levels – a two-decade high of 17.8 per cent in April and 20.5 per cent for food prices – are much higher than faced in the West.
CONSTRAINTS TO RUSSIAN WAR EFFORTS?
Right now, it is hard to conclude that sanctions have defeated Russia's war effort. Russian forces are intensifying attacks on the Donbas after it recently declared victory in Luhansk.
It appears that Russia is preparing for a long-drawn war. The State Duma is seeking to pass legislation which will force businesses to supply the military with goods and make their employees work overtime. Essentially, this places Russia on a wartime economic footing for the foreseeable future.
But importantly, there are signs that sanctions are directly undermining Moscow's ability to sustain war.
Captured Russian military equipment has been found to contain computer chips taken out of refrigerators and dishwashers. Advanced military technology requires sophisticated components like microchips, almost all of which are imported. 
Once energy prices fall, Russia's war chest should also deplete.
The late US Senator John McCain once called Russia "a gas station masquerading as a country". This is probably still true of Russia today.
As Europe weans itself off its dangerous dependence on Russian energy exports, and commodity prices stabilise, sanctions will increasingly degrade Russia's ability to press on with its war effort. Despite the costs of sanctions on everyone in the world, including in Southeast Asia, the world must soldier on. Russia cannot go unpunished for its unilateral invasion of Ukraine.
Tai-Heng Cheng is global co-head of international arbitration and trade, and co-managing partner of Singapore, of the law firm Sidley Austin LLP. He was formerly a tenured international law professor in the United States. Faraaz Amzar is an associate of Sidley Austin. He was formerly a Justices' Law Clerk for the Supreme Court of Singapore. The views expressed in this article are exclusively those of the authors and do not reflect those of Sidley Austin LLP and its partners.