Commentary: Why the New York Times' 'Singapore chicken curry' cannot get a free pass
The sting of local cuisine getting mangled on the world stage hurts in a country where food is serious business, says CNA's Lin Suling.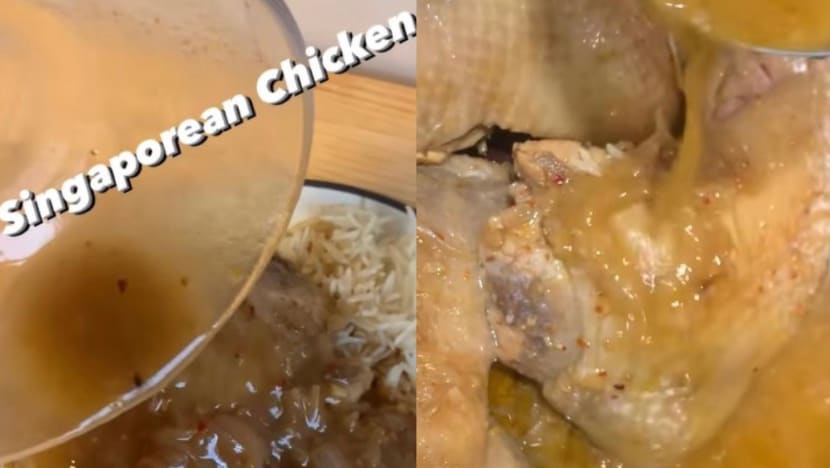 SINGAPORE: As it did to many Singaporeans, the New York Times' Singapore chicken curry dish this week made my stomach turn.
It conjured a long-buried memory of when I was studying in New York City. Some well-intentioned American classmates took my mother and me out for dinner and ordered Singapore noodles.
Now, I am not sure if you've tried Singapore noodles overseas but it can be a non-starter – mostly because it doesn't even exist here. I suppose there is the Singapore-styled noodles (or xing zhou chao mi fen) sold at coffeeshops but even those aren't a radioactive yellow.
Like many in her generation who thought refusal was rude, my mum simply grinned and politely tried a few spoonfuls of the luminous abomination. 
I, on the other hand, could not eat one bite. While I later thanked my friends for their gracious effort, I explained why this was not the dish to chase away a homesickness uniquely Singaporean: Craving local food.
NO SUCH THING AS 'SINGAPORE CURRY CHICKEN'
Just as there is no such thing as Singapore noodles, in my mind, there is also no such thing as "Singapore curry chicken".
There's a rich spectrum of curries in Singapore. Every Eurasian family has a rendition of curry devil and many of us fight over whether scissors-cut Hainanese curry rice beats the Redhill Market's one. Hjh Maimunah makes a killer ayam kalio and Muthu's fish head curry is food coma-inducing.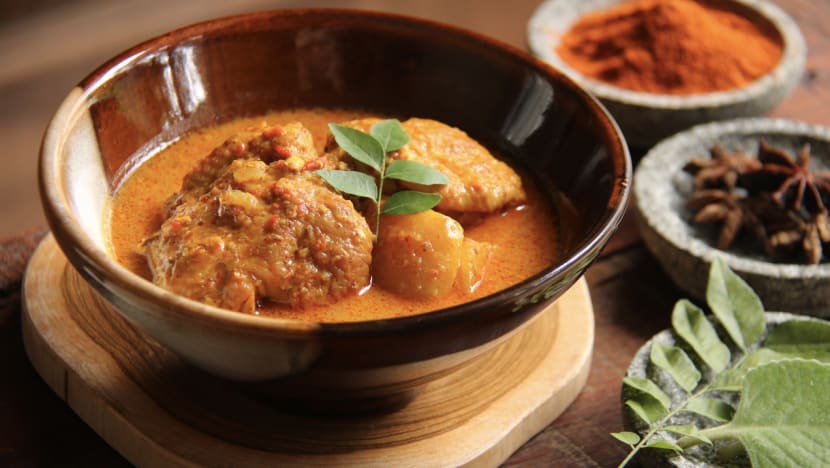 Each has a different taste and distinct appeal. They're all Singaporean curry and yet, none can really be said to be Singapore curry on their own.
Ready-made Prima Taste's chicken curry mix can be passed off as home-cooked (just not cooked from scratch) curry if you are a homesick Singaporean overseas.
Even so, few chefs in Singapore would be foolish enough to claim their dish is a Singapore representative of curry.
So when NYT ran this recipe and the accompanying video as a "Singapore curry", we were triggered. It assumed one type of curry is dominant here, which trampled over our rich and diverse multicultural tapestry.
My friend Lavinia Thanapathy tweeted that she will vouch for Shila Das' recipe which NYT carried. Even the picture they ran of a beautiful thick tangerine orange curry got a nod of approval. 
But things went sideways when Taipei-based freelance writer Clarissa Wei's demonstration of how to cook the dish produced a creation with an unfortunate brown, watery texture. Whether it was bad lighting or failure to follow the recipe, watching it made us cringe.
This was no curry. It was brown slush. Cue keyboard warriors who needed to say something about this offence straightaway.
WHY DO WE GET SO RILED UP ABOUT FOOD?
Singaporeans can be forgiven for feeling like this is more of the same fumbles we have gotten in international press coverage - whether it's the BBC calling Minister Ong Ye Kung accompanying Kim Jong Un on a visit to Gardens by the Bay an "unknown man" or incorrectly putting St Regis and Shangri-La on a map of Sentosa island. It feels a little disrespectful when these are things that are easy to get right.
And in this curry chicken episode, at best, it was a display of unintended cultural clumsiness. At worst, it's stubborn cultural misappropriation that refuses to make an effort to understand the subject behind the camera lens.
There are few things that define us as a country as much as food does. Maybe it's because in all our multicultural culinary glory, our tastebuds have been spoilt silly. Maybe it's because we are a small country and travelling 20 minutes to queue for an hour for the best nasi lemak doesn't seem an odd thing to do.
We get riled up because food is something we are really good at. Singapore's hawker culture is internationally recognised with a UNESCO status saying it's worth protecting.
Many of us also grew up with some form of curry being cooked at home. We have memories of sitting in our grandmother's kitchen as she spent hours pounding a complex configuration of chillis, garlic and onions, and then smelling all that deliciousness wafting around the house.
Lovingly marinated chicken with chopped potatoes are the ingredients undergirding millions of cherished childhood memories.
Even if we can't cook to save our lives, you can bet we know how to tell this char kway teow has better 'wok hey' (literally, breath of a wok) than another, or which fish ball noodle stall offers up the perfect mix of vinegar and chilli. All of this is baked into our collective DNA: Singaporeans love their food.
American chef Anthony Bourdain understood this perfectly when he said: "Singapore is possibly the most food-centric place on Earth, with the most enthusiastic diners, the most varied and abundant, affordable dishes on a per-square-mile basis.'' 
Just asking who invented chilli crab first and whether Johor bak ku teh is better than Singapore's can start enthusiastic arguments.
Which is why, when a foreign publication represents us in a dish that looks way off, you can bet your last chicken wing we're not going to mince our words.
"It's a national defence issue," quipped influencer Lee Kin Mun's alterego Kim Huat. "Our own ancestors are whispering into our ears … 'don't you dare cook like this'."
"That poor chicken suffered such injustice … can y'all stop making fun of our makan (cuisine)," makansutra founder and food maestro KF Seetoh said.
GOOD SIGN WE ARE TAKING OUR CULTURE SERIOUSLY
Now, Singapore rarely gets mentioned on the world stage, culturally speaking. When the outside world looks at us, we are seen as an attractive investment destination, an efficiently run garden city filled with our PISA-topping kids' mathematics ability.
Even when then US president Donald Trump was speaking with Prime Minister Lee Hsien Loong while he was here for his historic summit with North Korean leader Kim Jong Un, his words of praise for us were that we were "professional" and "hospitable". But isn't that code for "boring"?
So it's nice every now and then not to be seen as the stereotypical no-nonsense, high-performing nation, but as a people who are fun and relatable. Food is a big part of that.
Tempers have cooled after a few days, and it's heartening to see public agencies like the Singapore Civil Defence Force and the Housing and Development Board making fun of this curry chicken blunder - showing that we do have a sense of cultural confidence and can afford to be generous and laugh off the whole thing.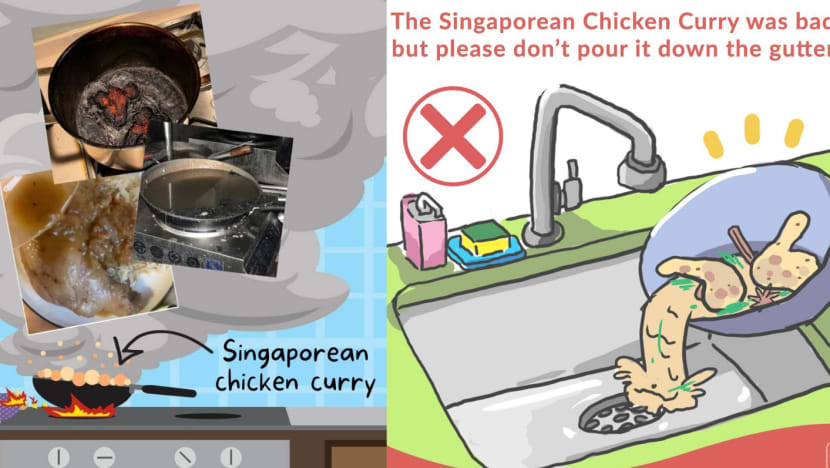 HOW TO UNDERSTAND SINGAPORE CUISINE BETTER
Still, I would advise anyone who truly wants to cook Singapore cuisine to take a leaf out of Bourdain's book: Understand the culture. 
To him, grasping a local cuisine involves hard work. In an interview he gave before his untimely end, Bourdain said: "We think about it a lot … There are often consequences to our having put a place, a cuisine or a culture on TV. We understand that and try like doctors to do no harm."
He understood boiling down Singapore cuisine would be near-impossible.
But is it too much to expect everyone to understand our approach to food? As someone who admittedly doesn't cook often and probably can't put together a curry dish without my grandmother giving me the evil eye, I feel some sympathy for Clarissa Wei.
The New York Times' food page is nothing to scoff at – millions of subscribers faithfully follow its reviews and recipes. So their attempt at a beloved dish in Singapore didn't go quite as well as planned. Maybe that's okay too. It's like messing up a family recipe and getting ticked off by a family member hovering over, watching every move.
You simply can't escape the heat of criticism if you wade into a food-obsessed country's kitchen and muck it up.
But like my grandma often hopes for me, maybe they'll get it right next time.
Lin Suling is supervising editor at CNA Digital where she oversees the Commentary section and hosts CNA's Heart of the Matter podcast.
How can hawkers continue their craft in an uncertain pandemic world? Listen to CNA's Heart of the Matter: